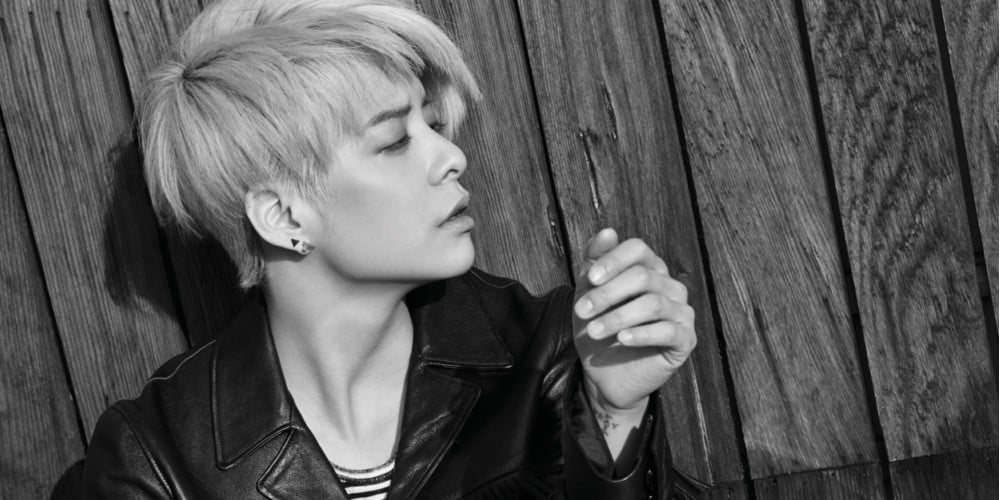 F(x) has always been one of the most distinctive groups in K-pop, experimenting with sounds and elements not often seen until their debut, in 2009. Taiwanese-american artist Amber Liu seemed a good fit for this group that was born to be different – from haircut to clothes, the group's rapper had her own cool style that differed from what female idols used to look like, and apparently SM Entertainment, the group's agency, respected that.
But was it enough? Was Amber happy? How would Amber sound if she could make art in her own terms? With the release of Rogue Rouge on April 15, we have some answers.
This sixtrack mixtape was not the first time fans could see a different side of Amber, though. While in f(x) she had the position of main rapper, a role she also played in her bright/energetic solo release "Shake That Brass," Amber has released several singles showcasing her singing voice: "Beautiful," "On My Own," "Borders," and "Need to Feel Needed." Amber also directed the Music Video for f(x)'s "All Mine," and released a duo with f(x)'s colleague Luna, "Lower."
One could say Amber has had multiple opportunities to do something different than what she does in f(x), and that's true. But one can also say that, as an artist, she still has more to show and has the right to seek for creative freedom, and that's true too.  
That being said, Rogue Rouge may not have come as a total surprise for those who paid attention to Amber out of f(x); however, the mixtape can still shine new lights on what we know about her life and career.
---
---
Format
Releasing a mixtape nowadays might have some sort of a charm, like a countercultural alternative to the polished and well planned release of albums and EPs. It's also a popular way for a group's member to show their individual colours, like what happened with the solo mixtapes released by BTS members Rap Monster, Suga, and more recently, J-Hope.
In Amber's case, though, a mixtape released on a democratic platform like Soundcloud says a little more. Rogue Rouge is an independent work, made without any connection or money from SM Entertainment. Everything about Rogue Rouge was 100% the result of Amber's personal efforts and collaborations with friends, such as Singaporean artist Gen Neo, who co-wrote "Closed Doors" and "Right Now," who also provided vocals for this last one; and model and photographer Stefanie Michova, who directed the music video for "Closed Doors."
There is no confirmation that Amber is still under SM Entertainment. Therefore, the very fact that Amber is able to do this mixtape suggests that her contract with them allows the space for a bit of artistic freedom. But, if the mixtape is available for free download, it could also mean that Amber isn't allowed to make money out of her agency.
---
---
Music
If you're waiting to hear anything near K-pop or f(x)'s past music on the mixtape, just know that you won't find it here. Sonically speaking, Rogue Rouge is quite an homogeneous piece of work, sticking to R&B tunes ("Get Over It," "Closed Doors," "Right Now") and pop ("Three Million Years"), with little presence of EDM elements ("High Hopes," "Lifeline").
The production is far from the grandiose that K-pop instrumentals sound like.ut whether it's due to being independent work or just Amber's personal choice, it doesn't really matter. The simplicity works perfectly fine here. Amber's beautiful voice and interpretation are the big stars of every single track. Even the simpler songs sound so meaningful because it's obvious that she's putting a lot of love into them. It is possible that her choice to go for smoother jams could be saying something about how she feels towards the effusive, loud music she has been doing as an idol. But, just like any artist who has to deal with limited creative freedom (or no freedom at all) when they're under a group, maybe she just wanted to do something for herself.  
Lyrics
Amber wrote all the 6 tracks, with the help from Gen Neo in two of them.
They're all in English, her native language, and most of them about heartbreak. Yes, it seems like someone broke Amber's heart – and while such person deserves to be punched (!), seeing such a stripped and honest side of Amber's lyricism is a delight.
It's a not a side often seen from K-pop idols: they have to act, speak, sing in a certain way. No matter how bold is the concept, they can only go so far – and even if it's very far, it's only to cause an impression.
But in Rogue Rouge there's just an adult woman being an adult woman, and it includes occasional cursing, heartbreaks, desire, the dilemmas of public versus private life etc.
Overall Feeling
From the emblematic instance when Amber spoke on social media about being neglected as an artist to how independently Rogue Rouge was done, it seems that Amber's main wish is to just sing a story that's all hers, rather than to prove anything to anyone.  
Rogue Rouge has no climax or wow moments. It sounds genuine, though. The lyrics for "Closed Doors," the best track, sums up the whole purpose of Amber with this mixtape: no overthinking or reinventing the wheel; no need to run, hide or "keep on choosing sides." This is just Amber being Amber and doing what she feels like doing. If that really is her purpose, then, indeed, she wouldn't need sumptuous instrumentals and complex songs to do that.
In Brazil, we have a saying for when we're gifting someone we care about yet we can't afford something expensive: "It's simple, but it's from the heart." That seems to be the case here: simple (compared to K-pop) but meaningful music. Again, I don't know if money has anything to do with the crude sonority of Rogue Rouge, but I don't even care, and it seems like Amber doesn't care either. She's pouring her heart out, and for a project that aims for expressing individuality rather than charting, that's more than enough.
Amber Liu's 'Rogue Rogue'
Let us know what you think of Amber Liu's "Rogue Rouge" in the comment section below and be sure to subscribe to the site and follow us on Facebook, Twitter, Instagram, and Tumblr to keep up with all of our posts.
https://kultscene.com/wp-content/uploads/2018/05/Amber.jpg
500
1000
Ana Clara Ribeiro
http://kultscene.com/wp-content/uploads/2018/02/KULTSCENE-LOGO-2018-TRANSPARENT-RED.png
Ana Clara Ribeiro
2018-05-04 14:35:38
2018-05-04 14:35:38
Amber Liu's 'Rogue Rouge' album review