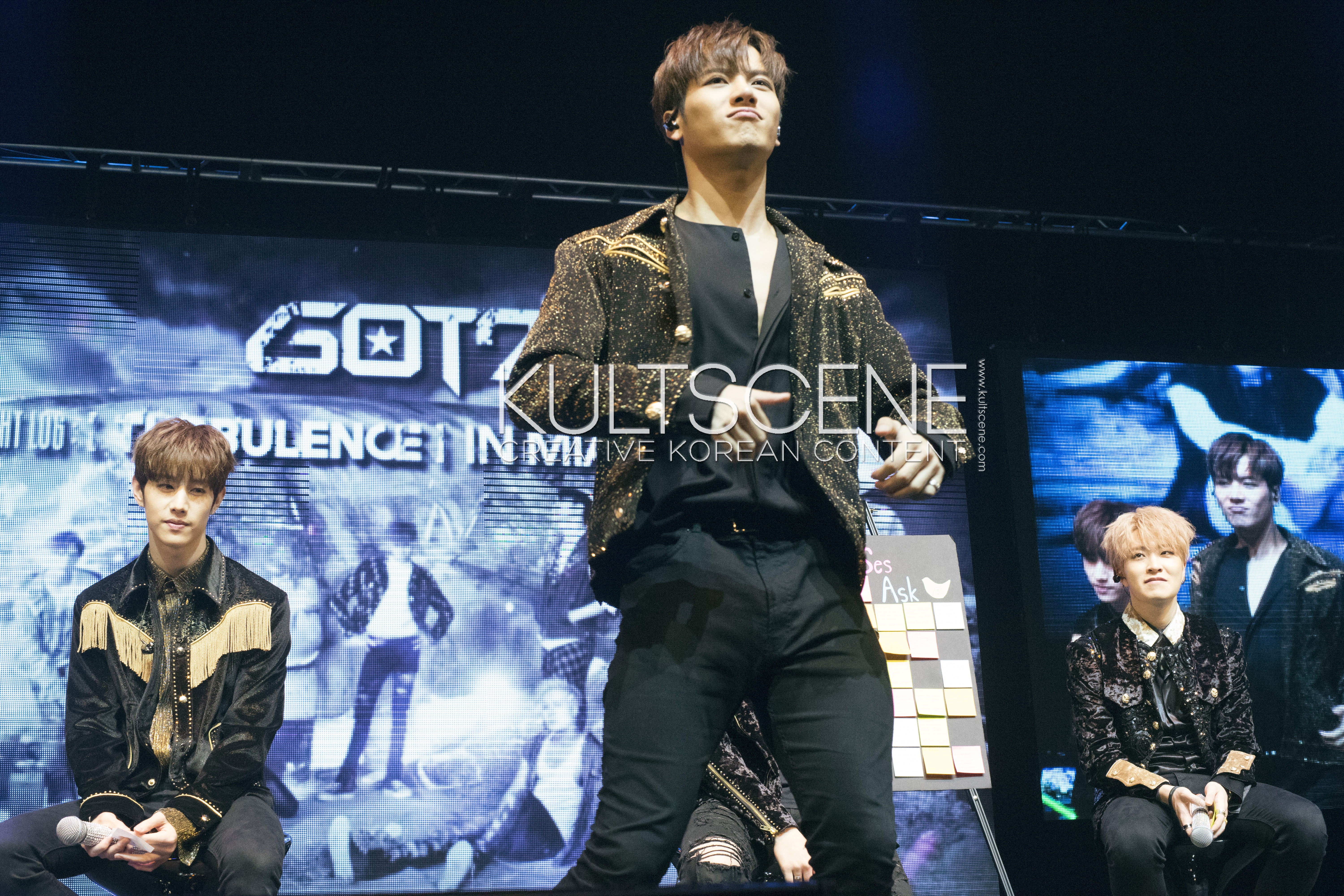 When JYP Entertainment debuted idol boy group GOT7 three years ago, never did it cross my mind that I'd be seeing them perform in North America on a yearly basis, let alone 5 times in a span of eight days. Wait, what? Yup, you read that right. This writer recently attended all five stops of GOT7's Flight Log: Turbulence in USA 2017 fan meeting tour. The tour started in Miami on Jan. 21st, followed by Washington D.C. on Jan. 22nd, Chicago on Jan. 25th, Houston on Jan. 27th, and ended in Los Angeles on the 29th. And after attending the same show five times, you pick up a few things. In my case, this is what I learned while on tour with GOT7.
[Disclaimer: I paid for my own flights, living accommodations, and show tickets. Press access was only provided for Miami.]
Idols Are Human Beings Too, You Know
We're dealt with various cards during our lifetime, some good and some bad. What you and I experience throughout our lives might not be anywhere close to the kind of extreme and rigorous practice idols take on and live through mentally, emotionally, and physically on a daily basis. But no matter the situation(s) and how different their life may (seem to) be, at the end of the day, idols are still human beings, just like me and you. Miami, the first stop, was a clear reminder of that.
As soon as the lights hit the stage and the seven members appeared, you could instantly tell from their facial expressions that they were all running extremely low on energy. Who can blame them, though? Considering the countless back-to-back schedules they had for weeks on end prior to that nights show. Even though they all looked like they could use some sleep, well, month's worth of sleep actually, the guys still powered through and tried their best to to put on a lively and interactive fan meet. Fans wanted leader JB to sing "Holic," his recently released unofficial Soundcloud solo, but he wasn't in the best condition and had a sore throat and said he'd sing it at a later time (four cities later and I'm still waiting for a live version!). Despite their fatigued start, they quickly gained momentum by their next stop.
Dab Dab & Sexy Dance
These are words that I can guarantee you will always hear at a GOT7 U.S. show, whether it be five months or three years from now. Within the last 12 months, member Bambam has gained himself the title of Dab King and undeniably lives up to that name every day. And of course, without a single drop of hesitation, introduced himself as "Dabdab" instead of Bambam at the group's Miami stop. There's been countless occasions where the crowd has chanted for him to dab and he's replied with a "dabbing is so old now," but that never stops him. Oh, but what's better than a dabbing Bambam? The hyung-line (older members/brothers), especially Jackson, insisting on maknae and dance machine Yugyeom to do his sexy dance, is what. Even though the members are always egging him on, they still manage look away and cringe in embarrassment as soon as he starts to pop his chest. You can almost always expect a sexy dance solo from Yugyeom almost immediately after a Bambam dab-off. While Bambam and Yugyeom are continuous victims of the hyung-line, dabbing and doing sexy dances, don't seem to bother this maknae duo whatsoever!
Derp Kings & Self Shippers
Time and time again, GOT7 has proven themselves to be the kings of making derpy faces. Whether it's a penalty for losing a game or because they simply feel like it, just like clock work, these guys will surprise you with their infinite amount of derpy facial expressions. It was in the middle of a game during their Houston stop, Bambam aligned himself with the cameraman in the pit and started making one of many of his notorious faces to which led JB to come over and also start doing the same.
---
---
And just when you thought you had these guys all figured out, just when you thought you're over being surprised with the things that come out of their mouths, GOT7 goes ahead and self proclaims their "ship" names for one another! What?! That's so wild right? When have you ever met a group who openly talks about these kinds of things? As soon as the members mentioned it, l you could hear the fans break out into massive shrieks and then almost simultaneously hear immediate laughter on stage from the members in acknowledgement of the names "MarkBam," "MarkJin," and my new favorite "Parkson" (Park Jinyoung, Mark, and Jackson).
AmeriThaiKong & Jinyoung?
GOT7 is known as an international group; eldest member Mark Tuan is Chinese-American, Jackson Wang is a Hong Kong native, and Bambam hails from Thailand. Usually, if English needs to be spoken, you can count on these three to deliver and be the group's very own translators. But wait a minute, it looks like they've gained themselves a fourth English speaker, Park Jinyoung. I may not know him on a personal level but Jinyoung's always come off a studious fella; he's mentioned his love for reading, enjoyment of studying, and wandering curiosity. That all showed as he made a conscious effort to speak in English during each of his closing statements for every leg of the tour. Jinyoung surprised the crowds with his almost fluent and strong pronunciation every time he spoke. It'll only be a matter of time before he can hold an entire conversation [in English] with Mark, Jackson, Bambam, and even fans.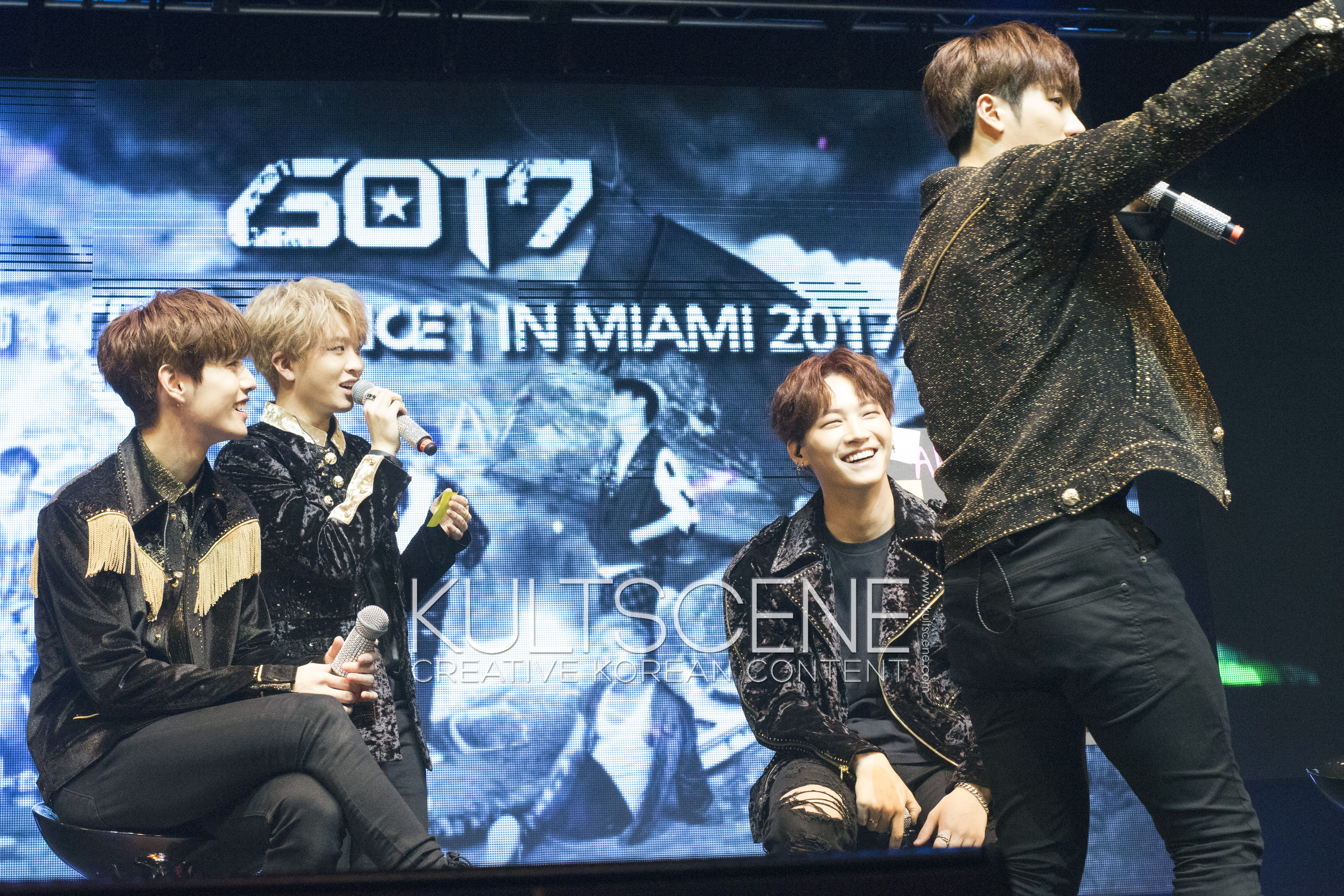 Comeback and KCON 2017
At the end of each stop, the members hinted that although they're leaving us [tonight], we shouldn't be too sad since they'll be "coming back" soon. Interpret that however you will, but it has been four months since the group released and finished promoting Flight Log: Turbulence, so it's only Korean music scene norm that they're in the process of making another comeback. As much as we all want them to get some much needed TLC and vacation time, we're all just as psyched about their new music (especially with all the teasing JB and Youngjae have been doing with their Soundcloud accounts). To top off it off, Mark mentioned during his speech in LA that they might even be coming back for KCON, which lead the crowd to erupt in ecstatic cheers. If all of this is indeed true, you all better start saving, like yesterday.
"If You Do" Is Iconic
In a previous review, I mentioned that "If You Do," was GOT7's best song to date, and 16 months later, I still strongly stand by that statement. I've seen them perform this song live eight times since it came out and have absolutely loved every single second of it, all the eight times. It's no doubt that this song was an extremely pivotal moment for a lot of fans. "If You Do" transformed these seven delicate and goofy guys (which in reality they still are) into one hell of a charismatic bunch. If you weren't a part of the fandom before this song came out, then you were definitely in when it was released. As if this song wasn't already the creme de la creme in my life, I enjoyed it a hundred times more when Team JMJ (JB, Mark, and Jinyoung) danced to the slo-mo version of "If You Do" as part of their "random play dance" segment in Houston. Just when I thought it couldn't have gotten any better, it did.
L.A. Knows How To Turn Up
The crowds in Miami, Washington D.C., Chicago, and Houston were loud, but L.A. easily took the cake home for the most "turnt up" crowd. Could it be that it was the last stop on their tour? Or maybe because it's Mark's hometown? Or even perhaps it was the fact that Elliott Yamin (placed third on American Idol, Season 5) was there and we all got to hear Youngjae sing "Wait For You" sort of as a dedication song? Regardless of the reasonings, the Pasadena Convention Center was on fire from beginning until end.
---
---
Although the L.A. show was shorter than the four cities prior to it, GOT7 made sure to never let there be a dull moment, whether that meant Bambam and Yugyeom dancing to "Juju On That Beat," when Mark was sprawled out on the stage in defeat from not being able to name the correct song, or every time the members rushed over to Danny Lim, the MC for the tour, during a game, corner and surround him, causing him to burst out into laughter every time. But what really determines L.A. as the winning city? Probably when Mark got a bit choked up during his closing statement, thanking everyone for coming out, because every audience member knew how much it meant to him to be back on his home turf and being able to perform in front of his family once again.
GOT7 adores IGOT7's
This isn't breaking news because if you're an ahgase (their fanclub name), then you should already know that you're the apple of these guys' eyes (no matter how crazy some of you may be). Fans have heard time and time again from GOT7 about how grateful they are for this fandom and for all the love and support they've been shown, but most of us have only ever heard these things online, as we're watching an awards/music show or celebrating an anniversary. In reality, it's a completely different feeling when you're hearing and seeing something over the internet versus when you get to witness and experiencing it in the flesh. Just like anything else in life, really, you can't get the full effect and truly tell how someone or something may be until you're actually given that opportunity to see it upfront. There might be people out there who consider some members to be cold and standoffish, but in fact — and I've been lucky on numerous occasions to witness this — all seven members are well beyond affectionate and remarkably lovely people.
Sometimes when you go to any kind of show, at the end, the artist usually thanks the crowd and in some instances, they feel like empty words. But whenever GOT7 says it, especially when Jackson comments and asks things like, "Did you guys make sure you ate before coming here?"; address situations on how you need to take care of your own health and not worry about them (GOT7) because they can take care of themselves; make sure that you work on your own happiness first and then you can worry about others , shows you how mindful he is of the fans, and it's something that sticks with you and will forever be ingrained in your head.
2017 WILL Be GOT7's Year
Every fan wants their faves to be able to say "this is our year" and actually accomplish it. Sometimes it works out, other times it doesn't. However, considering the firm rate that GOT7's been peddling at, with the year only just beginning and having just finished a five city US tour, leaving us all in anticipation for a new album and future concert(s), my biased heart truly believes that 2017 will indeed be GOT7's year. The group is headed at a solid pace to truly making it theirs.
I crunched a few numbers together and found myself running on tens hours of sleep in a span of nine days days and had flown for a total of 8,274 miles. With all of that mileage, I could've made my way over to South Korea, WITH a layover! But that trip can wait a bit longer. Flight Log: Turbulence in USA 2017 not only allowed me to see the extraordinary performers that GOT7 are again, but this tour also gave me the opportunity to visit cities I usually wouldn't think of visiting otherwise. In addition to traveling to new cities and experiencing new things, this tour also gave me the chance to do one of my favorite things, and that's to meet up and spend time with friends, both new and old! Don't you love how music can bring people together?
This slideshow requires JavaScript.
Were you at any, if not all, of the stops? Share your experiences in the comment section below and be sure to subscribe to the site and follow us on Facebook, Twitter, Instagram, and Tumblr to keep up with all of our posts.
https://kultscene.com/wp-content/uploads/2017/02/got7KULTSCENE_2.jpg
4000
6000
Tam Huynh
http://kultscene.com/wp-content/uploads/2018/02/KULTSCENE-LOGO-2018-TRANSPARENT-RED.png
Tam Huynh
2017-02-02 07:30:04
2017-02-02 10:29:56
9 Things I Learned While On Tour With GOT7