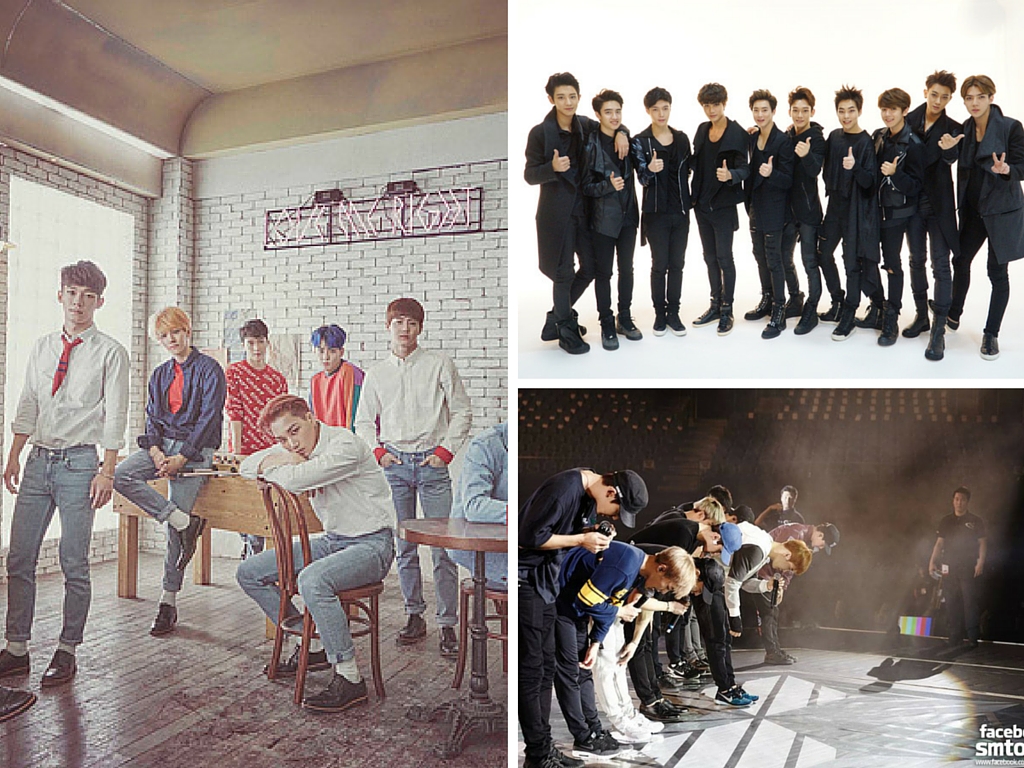 As far as K-pop acts go, EXO has kept it pretty simple when it comes to their stage outfits. While SHINee is the SM Entertainment poster boy for colorful skinny jeans, EXO is the company's spokesperson for varsity prep fashion.
EXO keeps it typically pretty safe with less than shocking outfits (a la VIXX's "Chained Up"), but they make the least-embellished outfits seem high class with a few key touches. Throughout much of last year, we've seen EXO keep it simple in the best way possible.
Jean on Jean
Jean on jean may make you think of Britney and Justin, but wipe that image from your mind and replace it with EXO's take on the 2001 style. Because during their "Call Me Baby " performances, EXO showed off a variety of different ways to wear the basic jeans and t-shirt combo.
From the members who kept it simple with a button down shirt paired with their jeans, or the more daring approaching like Xiumin's vest-shorts combo and Kai's zippered short-sleeved jacket, this may not be for everyone, but it works for EXO. (Except Chanyeol's jumpsuit. Nobody should ever wear a denim jumpsuit except under threat of death.)
College Prep
Needless to say, 2015 was a busy year for EXO. So keeping it cozy was probably the best way to play it. They definitely did just that with their promotional images for their Japanese release of "Love Me Right."
With button down shirts, sweatshirts, denim letterman jackets, jeans, loafers, and white socks, EXO could be mistaken for extras in a 70's college film ("Animal House," maybe?) Retro is the trend in K-pop, and this "Love Me Right" promo pic makes it blatantly obvious why. You take the style of the past, make it comfier for the present, put it on nine of the most popular men in Asia, then looking good is easy as 1,2,3.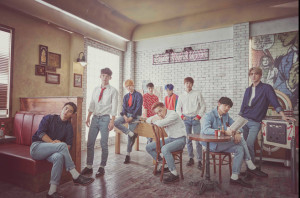 ---
---
Black, Black, and More Black
If other looks donned by EXO this year were low key to the nth degree, their ad campaign for KFC had the members of EXO back in black. This urban take on their jacket and jeans concept had EXO looking a bit like a group of biker wannabes, and that's okay.
High tops and ripped jeans kept it comfy, but the different styles of black jackets and black shirts showed off the individuality of each EXO member. The detailing is nuanced, but appropriate for each member: Suho (peddled as the most high brow of the group thanks to his family background) still has a blazer on, while the rappers are in similarly draped jackets.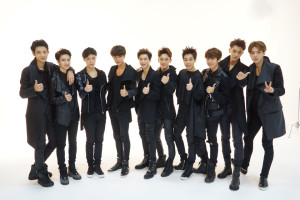 Colorblacked Shirts
Perhaps it's not color blocking if it's just a few parts of their shirts, but whatever it is, EXO looks good. Tight leather jeans aside, putting the EXO members in what could be boring button downs is one of the best things SM Entertainment's stylists have ever done. Offering a new take on a simple, old school style is one of the things that EXO (and their stylists) are the best at and this is a look EXO should hold on to.
The shirts, each of which is differentiated to highlight each member of the massive group as individuals, are all white bases with black portions. Some come off as being more traditional, with just the collar or arms blackened, while others offer up a post-modern take on the white collar style. In the picture, Suho and Chen are in traditional white suit shirts that have been heavily altered, while Baekhyun's shirt, with its rolled up sleeves and mostly black portions, looks more like a simple button down than something meant to be worn under a suit jacket.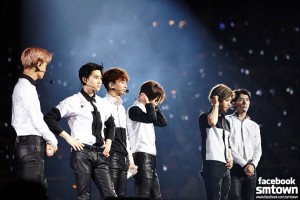 ---
---
Twenty-Something Chic
EXO's members definitely don't pick all of their own clothes out, so it's nice to see what they wear in between the live shows and in front of the paparazzi. SM Entertainment provides regular photos of its artists behind the scenes, which means that this is EXO camera ready, but on their own terms.
The outfits are all similar to what EXO wears on stage (likely because of personalized corporate gifts and sponsorship). There are the varsity tees, jackets, and button downs. But they look comfortable, and each member of EXO is doing his own thing, looking like the 20-somethings they are. Their personalities are obvious; it's easy to tell which member doesn't care at all about being anything but cozy (spot the member in sweats) while other members practice in leather jackets, dress shoes and/or parts of their stage outfits.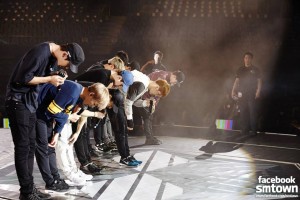 Speaking of stage outfits, some lucky North American fans are going to see EXO for the first time next month at EXOPLANET #2 – The EXO'luXion – in NORTH AMERICA. MyMusicTaste is working with SM Entertainment to bring the group on their first ever North American tour, and tickets are going on sale later this week.
Here's all the information that you need to know if you're interested in buying tickets. Seating charts have yet to be released, but MyMusicTaste shared ticket prices through their Facebook page.
All tickets go on sale Saturday, Jan 16 at 8PM EST/5PM PST.
Feb. 10 Verizon Theater [Dallas, Texas] — Tickets on sale through Axs
Section A: 195 USD
Section B: 165 USD
Section C: 110 USD
Section D: 75 USD
Feb. 12 Thunderbird Arena [Vancouver, British Columbia] — Ticketmaster
Section A: 195 USD
Section B: 165 USD
Section C: 110 USD
Section D: 75 USD
Feb. 14 Los Angeles Memorial Sports Arena [Los Angeles, California] — Ticketmaster
Section A: 195 USD
Section B: 175 USD
Section C: 160 USD
Section D: 130 USD
Section E: 80 USD
Section F: 60 USD
Feb. 19 Rosemont Theater [Chicago, Ohio] — Ticketmaster
Section A: 195 USD
Section B: 165 USD
Section C: 110 USD
Section D: 75 USD
Feb. 21- Prudential Center [Newark, NJ] — Ticketmaster
Section A: 195 USD
Section B: 175 USD
Section C: 160 USD
Section D: 130 USD
Section E: 80 USD
Section F: 60 USD
Which EXO look do you like the best? Are you going to their tour in North America? Share your thoughts in the comment section below and be sure to subscribe to the site and follow us on
Facebook
,
Twitter
,
Instagram
, and
Tumblr
to keep up with all of our posts.
https://kultscene.com/wp-content/uploads/2016/01/Untitled-design-6.jpg
768
1024
Tamar Herman
http://kultscene.com/wp-content/uploads/2018/02/KULTSCENE-LOGO-2018-TRANSPARENT-RED.png
Tamar Herman
2016-01-13 06:09:55
2016-01-13 13:39:59
5 Everyday EXO Looks We Love [+ North American The EXO'luXion Tour Information]