Every time there is a new concert, especially a K-Pop one, I start thinking what outfit I'm going to wear. Being a fashion aficionado, one of the first things I do when I get to the concert is to check out everyone's outfits. So naturally, when we attended BTS Show & Prove at Troubadour in Los Angeles on July 14th, that's one of the first things we checked out. The concert was free, and while we waited for the show to start, we chatted with some fans and took street style photos of our top picks for best Fan Fashion.
First off, I want to start by saying how much I appreciate to see when men take time and really think of what they are going to wear; attention to detail is a very important key to give a very unique taste to your look.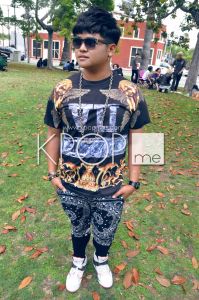 Here he made emphasis on the different prints, almost creating an ombré effect. His accessories were simple statement pieces that matched well with the overall look . The look was obviously inspired by BTS and gave a very KTZ and Givenchy feeling.  
Check out these cool articles around the web
I love when girls mix masculine elements with feminine ones. These girls really knew how to implement this style very well. Flowers (which are  one of the hottest trends for summer) were their main point of focus.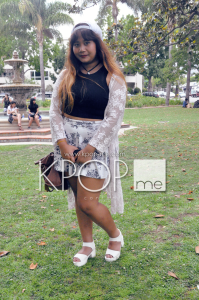 She was definitely one of my favorite looks. Mixing white lace with the flower circle skirt was very on-point. The black crop-top created a great contrast for the look.  Her ying-yang chocker necklace and backward hat was a cool nod to the '90s. And those sandals! Those sandals! Good, good job!
As we were about to leave to have lunch,  I spotted this cutie. Even though her dress is an eye-catcher, I went straight to her shoes. I love creepers with monk straps and this is one of my favorite styles of shoes to wear.  The print of her dress not only features flowers, but also really cool looking angels (they are even wearing sunglasses!). Her gold accessories and hat gave her a really badass look!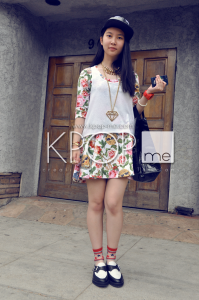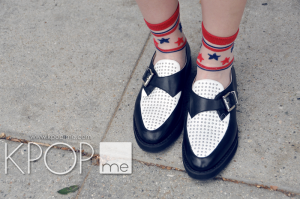 There is nothing wrong with wearing kids plush toy backpacks, epecially if it is a Pikachu (one of my favorite characters of all time). This obviously caught my attention. Moreover, her blue hair was really cool, and her pop of color with the varsity orange cropped top was paired very well with her black ripped jeans. Remember when I talked earlier about attention to detail? Look at her necklace! It makes you want to read the word in her shirt with the word in her necklace creating "Perfect Faith".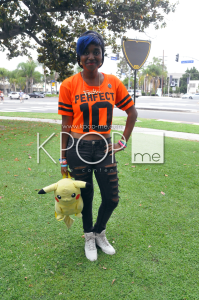 These next two ladies had different styles, but both of them were very chic. The  girl on the left reminisced the grunge scene while making it her own with those pretty platform sandals. Usually for a grunge look, people pair boots or something tougher. But she made it look very chic with her choice of footwear.
Shift dresses are very wearable for summer since they are comfortable and can look very well-put together. The girl on the right chose a leopard print but in gray and black, making the print a little more demure. The gladiator sandals with gold buckles are the only accessory she needs.
After having lunch and heading back to the park, we sat down to rest and I spotted these ladies. They both were wearing pieces that I would love to have in my closet. That tropical varsity jersey was beautiful (I am already thinking of how many ways I can style the jersey). And the cherry on top was the customized classic ADIDAS with the platforms. I really really want them! If you are the girl on the right and are reading this, please let me know where you customized them or found them!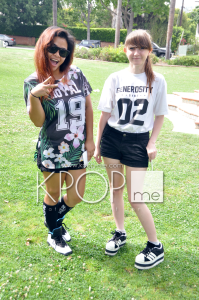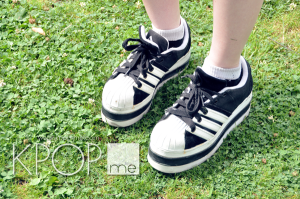 I met this lady last year at KCON while she cosplayed as Crayon Pop with her friend and they looked amazing. But this time she seemed like a female member of BTS back when they were promoting in all red outfits. I forgot to take a picture of her Totoro backpack, but her Rilakkuma purse was really cute too.  I loved how she added the blue tights; it made the outfit look so much more fun.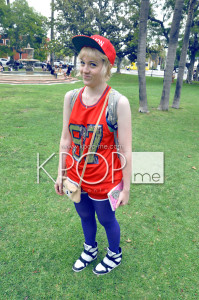 The BTS show was a blast. One of the best concerts I have been in a while. Make sure to check out KPOPme's review of BTS free showcase in Los Angeles to find out how it went.
Make sure to put on your best outfit so you can be featured in the next Fan Fashion. Don't forget to subscribe to the site and follow us on Facebook, Twitter, Instagram, Tumblr, and Bloglovin' so you can keep up with all our posts.
https://kultscene.com/wp-content/uploads/2014/07/fan-fashion.png
372
672
Alejandro Abarca
http://kultscene.com/wp-content/uploads/2018/02/KULTSCENE-LOGO-2018-TRANSPARENT-RED.png
Alejandro Abarca
2014-07-16 16:23:56
2014-07-16 16:23:56
Fan Fashion: BTS Show & Prove in Los Angeles