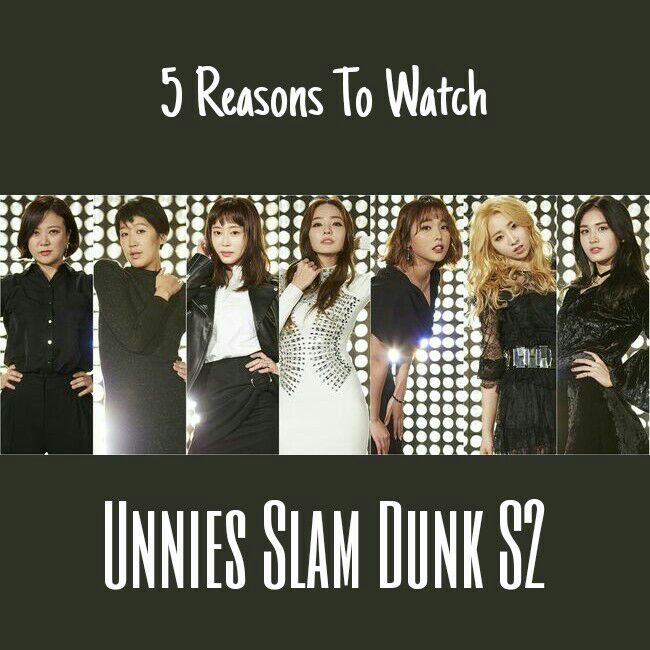 The second season of the KBS variety show Unnies Slam Dunk premiered in the middle of last month and has been consistently bringing a lot of laughter and entertainment for its viewers. Though less of a ratings hit than its predecessor, the series is creating a lot of buzz among international fans, especially because of its star-studded cast. As a fan of the first season, I'm happy to say that the second season of Unnies is even more enjoyable, so here are five reasons why you should give the show a try!
1. The Friendship
Viewers might have been skeptical at the beginning about how the relationship or chemistry between this cast would turn out, what with middle-aged variety veterans forming a girl group with actresses and a teenage idol or two. It was an idea that seemed inconceivable but it really worked out for this show. The cast gelled pretty quickly despite their age differences and grew closer week by week, even reaching a point where they were able to share their most personal difficulties and thoughts comfortably with each other. It was touching to see how they found support in each other and also interesting to see that the cast members shared or had gone through similar struggles in their entertainment career. They were celebrities but they were as real as you or me, and this show did a good job of foregrounding their true selves.
2. Minzy
This might come across as slightly biased but there is no denying that this former 2NE1 member is an integral part of this show. While she is the second youngest in the cast, she is also the leader of the girl group and has been doing a fantastic job guiding those who are less experienced in the idol industry. Her special friendship with her fangirl Somi has also been fun to watch, especially since they are the closest in age and the youngest. It's been ages (at least in the fast-paced realm of K-pop) since Minzy's been active, especially on television, but she remains an inspiration not just to viewers but to her fellow cast mates with her amazing abilities and caring nature. Watching her work so hard and diligently on the show despite already being used to this entire idol business makes viewers root for this girl group to succeed even more, despite the huge odds stacked against them.
---
---
3. The Trainers
The girl group definitely isn't alone on their quest to debut successfully, as there is a team of experienced trainers guiding and helping them along. What really differentiates this season from its predecessor is the sheer amount of professional effort being put into the production. While Season 1 featured Park Jinyoung (JYP) as the main coach for the Unnies, this season featured an entire team of veterans in the K-pop industry. Heading the team is legendary music producer Kim Hyung Suk who has already produced not one but three catchy songs for the Unnies. With him is famed lyricist Kim Eana, who penned hits such as "Dream" (Suzy & Baekhyun) and "Piano Man" (Mamamoo). For dance, there are two trainers, Kim Hwayoung and Kim Kyu Sang, both of whom have created notable dances such as Sunmi's "Full Moon." Finally, the vocal trainer who has been making waves among fans ever since his first appearance on the show a few episodes back, is Jang Jinyoung. A former idol singer himself, he is now the vocal trainer of many well known K-pop groups and idols, mostly from SM Entertainment. With his good looks and affectionate nature, he has been gaining a lot of attention from fans as well as the Unnies themselves (Somi in particular), especially because he is truly experienced and works hard to help the members improve their singing in innovative ways. These trainers add a whole new, and more serious dimension, to the show but they make it more enjoyable to watch as well.
4. The Music
The songs that the Unnies are preparing are really catchy and extremely suited to their image, perhaps even more so than "Shut Up" from last year. Producer Kim Hyung Suk did a fantastic job with the two tracks as he took into account the varied vocal qualities of the members and created parts that were just right for them. It seemed so unimaginable that a trot singer like Hong Jinyoung and a former classical singer like Kang Yewon would be able to sing a song together but this show made the impossible happen and I can't wait to see the final fruits of the Unnies' labour!
---
---
5. The Comedy
Even without trying (or perhaps even more so when she is really serious), Hong Jinkyung is really hilarious in this show. As a returning member from Season 1, she definitely shows how comfortable she is in the show and puts her many years of variety experience into good use. With her around, there's never a boring moment, and she plays an important role in lightening up the atmosphere for the members. Unfortunately at times, she brings humor because of her (lack of) singing and dancing skills but she definitely tries hard week after week to improve. Another unexpected comedic character of the cast came in the form of beauty queen Han Chaeyoung. She came on the show with a glamorous image but is unlikely to leave quite the same way. Since the start of the program she has proven herself to be another dancing/singing "hole," along with Jinkyung, and the pair provide a lot of laughs to the viewers, the cast and even the trainers because of the disparity between their confidence levels and their actual skills. While it's a running joke that I do enjoy, I do also look forward to each improvement that they make and am rooting for these underdogs to finally succeed on the stage.
Unnies Slam Dunk is a refreshing variety show that I look forward to week after week, equal parts heartwarming and hilarious, but it also offers a somewhat behind the scenes perspective into the creation of a K-pop girl group and the work that goes into it all, which would be a really interesting watch for all K-pop fans around.
Have you been watching Unnies Slam Dunk? Tell us what you think in the comment section below and be sure to subscribe to the site and follow us on Facebook, Twitter, Instagram, and Tumblr to keep up with all of our posts.
https://kultscene.com/wp-content/uploads/2017/03/IMG_2017-03-28-214951.jpg
650
650
Anna Cheang
http://kultscene.com/wp-content/uploads/2018/02/KULTSCENE-LOGO-2018-TRANSPARENT-RED.png
Anna Cheang
2017-03-29 04:52:25
2017-03-29 04:52:25
5 Reasons To Watch "Unnies Slam Dunk Season 2"