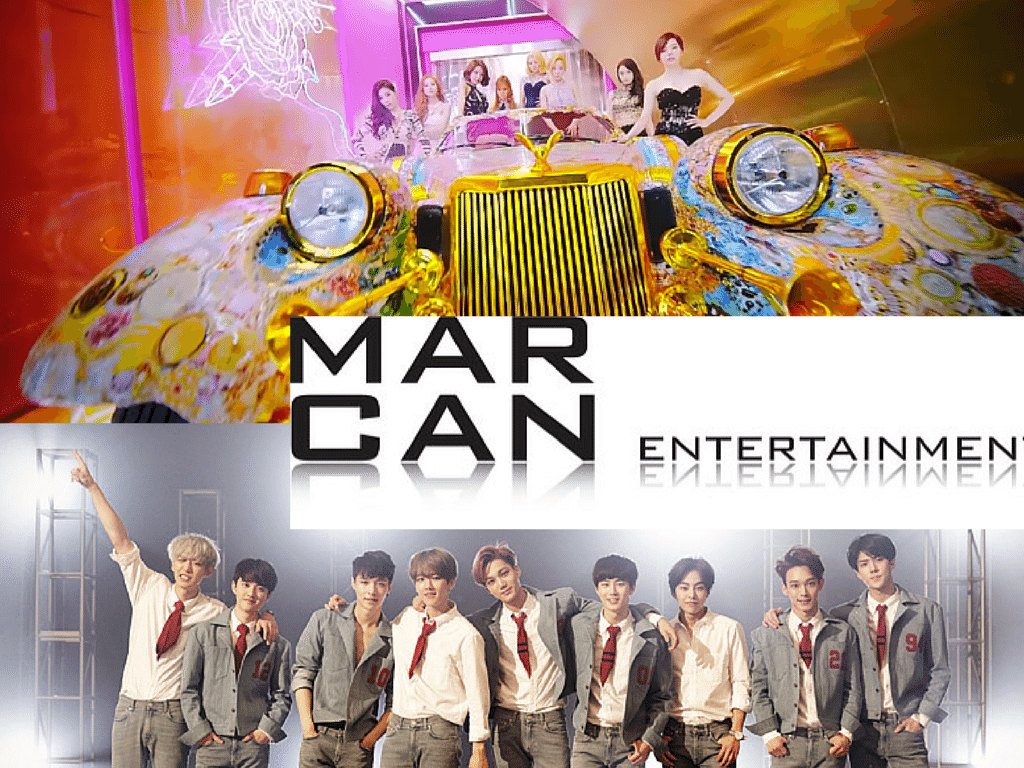 They may not know it, but most K-pop fans owe their soul to Marcan Entertainment.
If you've ever heard SHINee's "Lucifer," U-KISS's "Neverland," or EXO's "Love Me Right," then you've heard a song that Marcan Entertainment had its hands behind. As a music production company that brings foreign producers and music writers together with South Korean musicians, Marcan Entertainment works closely with many Korean entertainment agencies. In particular, the company has a long-lasting relationship with SM Entertainment, and many of K-pop's most popular groups have sung songs put together by Marcan Entertainment.
Marcan's managing director Mark Yom spoke with me to discuss what the company is doing within the K-pop world.
So what is it that Marcan Entertainment does exactly?
"We facilitate music," Yom said, as we sat in a cafe in the heart of Seoul, less than 100 feet from K-pop powerhouses SM Entertainment and FNC Entertainment.
"We have tons of writers and producers consistently sending us music, and we filter them and we see what will be good for SM or any other label," he explained, describing the first way that Marcan Entertainment connects K-pop with songwriters. Marcan also works with Warner Chapell, which helps the company access thousands of musicians.
Foreign producers send their demos to Marcan, and Marcan decides where to pitch it. "We pitch songs that they [the agencies] don't even ask for," said Yom. "They're always looking for something that is different."
---
---
Marcan Entertainment began in 2009, with Ryan S. Jhun as the creative producer and Yom as the managing director. Almost before things were underway, Jhun had already closed a deal with SM Entertainment, and the two have honored their loyalty to the Korean agency ever since.
"A mutual friend happened to know one of the staff from SM, and that person introduced Ryan [Jhun] to the A&R team leader," explained Yom. "Lucky for us, he was able to close a deal and when he came back to New York, that's when he asked me to work together with him, to partner up and I said 'sure, why not?'"
Since then, the "sure, why not?" attitude has gotten Yom and Jhun working with a variety of K-pop agencies. Marcan Entertainment has produced songs for JYP Entertainment (15&'s "Somebody",) B2M Entertainment (SPICA,) NH Media (U-KISS,) and more. According to Yom, YG Entertainment and FNC Entertainment have their own sounds and in-house producer that Marcan Entertainment doesn't usually tailor to.
Regardless of the other agencies, though, Marcan works closely with SM to the degree that they provide music writers for multiple songwriting camps run by SM each year, the second way that Marcan generates K-pop songs.
"Every month, songwriters from all over the world come to write songs for them. We do anywhere from three to five song camps with SM per year. So the last one we did was March. This one [in July] is not as big, but normally we have 20 different songwriters and producers from all over the world for anywhere from 2-3 weeks."
Marcan chooses producers and songwriters that they think will be able to tailor songs to SM Entertainment's tastes and invites them to Korea.
"At the beginning of writing camps, SM A&R's gives them leads, gives them reference," Yom told me. "'Hey, these are the kind of songs that we're looking for at this moment. These are the artists that we're aiming for.'"
Those songwriting camps have resulted in some of SM Entertainment's latest hits, including SHINee's most recent single "View," and EXO's "Love Me Right."
According to Yom, the songwriting process can take anywhere from a few hours to two weeks, but forcing the producers and songwriters to produce hundreds of songs during the songwriting camp isn't what Marcan is there to do. "It doesn't make sense for us to make 10-15 songs a week if they're all – excuse my language – shitty songs. If it's shitty, it's shitty. … Sometimes they [the songwriters] can work on one song the whole day or a few hours, or a few weeks, cause that's how long it takes to make a song."
So what happens exactly when an agency like SM Entertainment hears a song at the songwriting camp that fits their image? "Love Me Right" is a good example, even though it took a bit longer than usual to create.
"As soon as they heard the hookline 'love me right uh huh' while we were having this songwriting camp, they were like, 'we want to use this as a single so can you build more upon it?'" Yom recounts SM Entertainment's interest in the song. "So we had iDR [the producer] working on just that song for two weeks, we had him do nothing else. We had other writers working on other songs, like Adrian [Mckinnon, who wrote SHINee's "View] and other guys working on stuff for SHINee, with a lot of other stuff going on at the same time."
For his part, Mark Yom is mostly involved with the business and legal side of things, but his relationship with Jhun is like to two hands attached to one body. One hand is better at doing one thing, while the other is good at another, but they still have to know what the other is doing and where they are at all times.
"I've learned that just because I'm on the business side of things doesn't mean that I have to close my ears and can ignore what's going on. Even though I'm not part of songwriting or producing, I'm there just to give them [the creative side] support."
Working so closely with SM Entertainment, Yom has a good idea of what the company is angling for, and highlighted SHINee's latest album, "Odd," as SM's ideal sound for the foreseeable future.
"They don't want too much going on from the production side. They want something light and minimal, but with very catchy hook lines and melodies…For the last two or three years, trap and EDM style music was in but now they're trying to phase that out. The recent single that we had with SHINee, the song called "View," it's very light and a mix of dance, R&B, and pop sounds. We did their song "Lucifer" too, and that was very electronic, EDM heavy, but that was almost four years ago."
The deep house song became a huge hit in South Korea. If there's more where that came from planned for SHINee, every music fan in the world should be excited.
So what exactly happens to all of those songs that they create that don't get accepted by SM Entertainment or wherever they think they should go? They sometimes go unproduced, but Marcan Entertainment will re-pitch. "Just because it [a song] was rejected doesn't mean it's bad quality, but it's not what they're looking for or not in their musical direction," explained Yom. "There were songs that were supposed to come out with SM but didn't. For example, U-KISS's 'Neverland,' was pitched for Super Junior but for some reason it didn't get cut on time, and went to U-KISS."
Even though that didn't work out, Marcan Entertainment has worked with Super Junior on other projects, such as their single "No Other." Marcan has worked with just about every top SM Entertainment artist in the past six years. Marcan Entertainment's latest song for SM Entertainment was "Champagne," a solo track by TVXQ's Yunho prior to his enlistment in the Korean military.
Next up from Marcan are two of the biggest K-pop comebacks of the year.
---
---
"We have Girls' Generation's [comeback]. One of the songs, "You Think," was produced by us and the songwriter, SAARA. She's a Finnish artist. We brought her over, she's working with Marcan, and she wanted to meet Girls' Generation so she met Tiffany yesterday."
"You Think" is one of the two follow up tracks to the hit single "Party" that Girls' Generation will release later this summer. SHINee's repackage album is also expected to be released soon, with a few Marcan Entertainment songs.
Marcan Entertainment is one of the only companies doing what it's doing, and hard work has truly paid off.
Six years ago, when Yom and Jhun began their work, Yom admits that it was a bit more difficult to convince producers and songwriters to get on board the K-pop train. That's not the case now. "We don't even have to convince songwriters or producers to work with us because they've already heard about the K-pop market so we don't have to sell them as much as we used to, because they didn't know about the market."
While Marcan Entertainment is a relatively small agency, Yom and Jhun have big dreams, and have around 30 songwriters signed to their company. "There's a lot of other areas that we're interested in getting into, for example having our own artist someday, and we're going to continue producing music for K-pop. Clearly, we're open to working with US writers. That's eventually what we want to do and we'll keep on pushing to reach that level. We want to not only be K-pop music producing team or company but we want to be able to produce all sorts of music, for anyone."
What do you think of Marcan Entertainment's work in the K-pop industry? Share your thoughts in the comment section below and be sure to subscribe to the site and follow us on Facebook, Twitter,Instagram, and Tumblr to keep up with all of our posts.
https://kultscene.com/wp-content/uploads/2015/08/Marcan-Ent2.png
768
1024
Tamar Herman
http://kultscene.com/wp-content/uploads/2018/02/KULTSCENE-LOGO-2018-TRANSPARENT-RED.png
Tamar Herman
2015-08-02 09:14:20
2015-08-02 09:14:20
K-Pop Sound, American Style: Marcan Entertainment Is The K-Pop Production K-Pop Agencies Turn To [INTERVIEW]