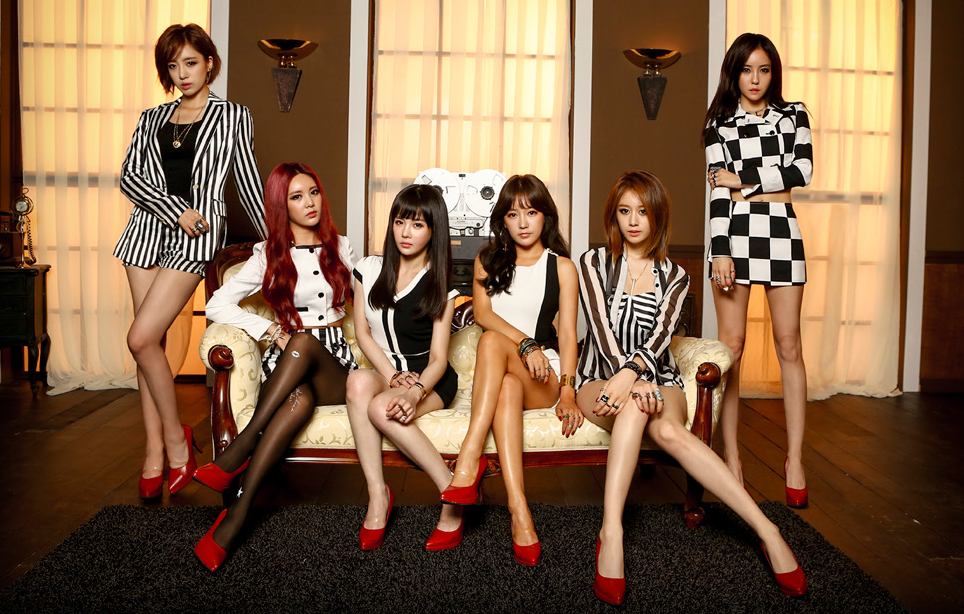 Amongst idol groups, scandals in K-pop have rarely had a lasting impact on the success of those on the receiving end. Members have bitterly left, got caught up in accidents, said something controversial, but in nearly all cases, these are forgotten or pushed to the side to allow the group or artist to continue their career. T-ara is one of the rare cases. The departure of Hwayoung and its aftermath have had lasting effects on the success and popularity of T-ara.
Before this scandal they were on their way to become one of the top three most popular girl groups with the massive hits of Roly Poly and Lovey Dovey, selling 4 and 3.7 million copies respectively. However, sales of their singles have been dropping ever since, with Sexy Love selling one million, Number 9 600,000, and Sugar Free 120,000.
To turn around their fortunes, T-ara had to get creative with their marketing. Sales and views in a foreign market for Number 9 gave them a unique opportunity. Not only was this market willing to help T-ara, it was also one of the biggest in the world, China. K-Pop has had a link with China for a while now, especially through SM's use of Chinese idols. These idols were picked specifically to appeal to China, including having sub-units like Super Junior-M.
However, this approach has been mostly exclusive to SM, and while it has been successful, it has never had a huge crossover hit. There has never been great success over there like in Japan, where Kara in particular became household names. T-ara however, have begun to attack this market in order to make up for their losses in Korea, and their unprecedented success poses new possibilities that SM artists have not yet encountered.
The popularity seemed to come out of nowhere. All the singles leading up to Number 9 did not light up the Chinese public's imagination any more than all the other K-Pop groups. For seemingly no obvious reason, Number 9 has gone on to be the most watched video on China's version of Youtube, Yinyuetai. It has 116 million views, one million more than the number two spot, which is Psy's worldwide hit Gangnam Style, and over 50 million more than the number three. At the time of Number 9's release, T-ara had seven of the top ten videos in the Yinyuetai Korean music real time chart with this song at the top.
What sort of effect will this have on T-ara's career and the Korean music industry as a whole? For T-ara, they continue pursuing success over there as they have just released their first Chinese single, a Korean remake of a comedy viral hit Little Apple. The success of a group with no obvious connections to China offers up some possible effects on the industry that could cause big changes, similar to Kara in Japan. Now any group can aspire to make it big in the most populated country in the world.
K-Pop's previous move into the Japanese market and Hollywood's recent collaborations with China show us some possible directions K-Pop might follow in its own journey to China. For a long time now, K-Pop groups and artists have been attempting to break into the Japanese market in order to tap into the biggest music market in the world. Kara were one of the early success stories as they became as famous in Japan as they were in Korea. They did this by playing to Japanese tastes with cute concepts and J-Pop style electro music. Kara's success led other groups into this new market.
The usual formula was for a Korean group to become somewhat popular in Korea before releasing Japanese versions of their most popular songs there. It worked well for some like Kara, Girls' Generation, and 2pm, but many were forgotten quickly before eventually giving up on Japan. In recent times, sales have been dropping for all Korean releases in Japan and most groups have given up on the market entirely. This leaves a hole in the Korean industry which loses a lot of money and coverage for its groups. However, it is a hole that China could fill.
Entering this market will likely not be the same as Japan, of course. It's a different culture, so it requires different attention. China's lack of cultural diversity and output means there is no obvious aesthetic to latch onto. While Japan is also a fairly closed off society it has a discernible global image for foreigners to use if they want to break into that market. However, China lacks this image, so groups must find alternative ways of appealing to the public. If we take Number 9 as an example of something that can succeed, then all we're left with is generic EDM inspired pop. There's no discernible element of that song that makes it a good test for what the Chinese audience wants.
Hollywood's activity with China might show what could happen if K-Pop pursues this country. In recent years, Hollywood blockbusters like Transformers 4 and Pacific Rim have started using China as a location more and more. Some films like Iron Man 3 have different cuts that are shown in said country, which featured Chinese actress Fan Bingbing. This is because China is the fastest growing cinema market in the world, and Hollywood is exploiting this by appealing to the Chinese masses with recognizable locations and actors.
So in the future, will we see China-centric K-Pop? Will there be collaborations between IU and female Chinese soloist Jolin Tsai? Or will there be just Chinese versions of K-Pop songs and a push in performances and promotion over there?
If we take T-ara as the potential leaders of a Korean movement into China then it seems it will most likely be a mix of both. Ever since their growing success there, they have made many more appearances in China and are holding large concerts. They have also made a video in China for their single Do You Know Me? However, their new release of Little Apple is an example of direct collaboration with a Chinese artist, The Chopstick Brothers, which they will be used as a marketing ploy.
If T-ara does continue promoting in China, they could replicate Kara's success in Japan and usher in a flood of K-pop groups attempting to break that market just like them. Like in Hollywood, this could cause companies to focus on appealing to Chinese wallets rather than the artistic qualities of the song, essentially making money the most prominent style. Whether K-Pop uses its own tried and tested method or more in line with Hollywood's, China is going to have a big effect on the industry thanks to T-ara. Who could have predicted one member leaving a popular girl group could have subsequently caused such an impact?
Do you think China is K-Pop's newest frontier? Share your thoughts in the comment section below and be sure to subscribe to the site and follow us on Facebook, Twitter, Instagram, and Tumblr to keep up with all of our posts.
https://kultscene.com/wp-content/uploads/2014/11/iB7hiXhpwnT0G.png
614
964
Joe Palmer
http://kultscene.com/wp-content/uploads/2018/02/KULTSCENE-LOGO-2018-TRANSPARENT-RED.png
Joe Palmer
2014-11-24 21:17:48
2014-11-24 21:17:48
T-ara & the China Influence