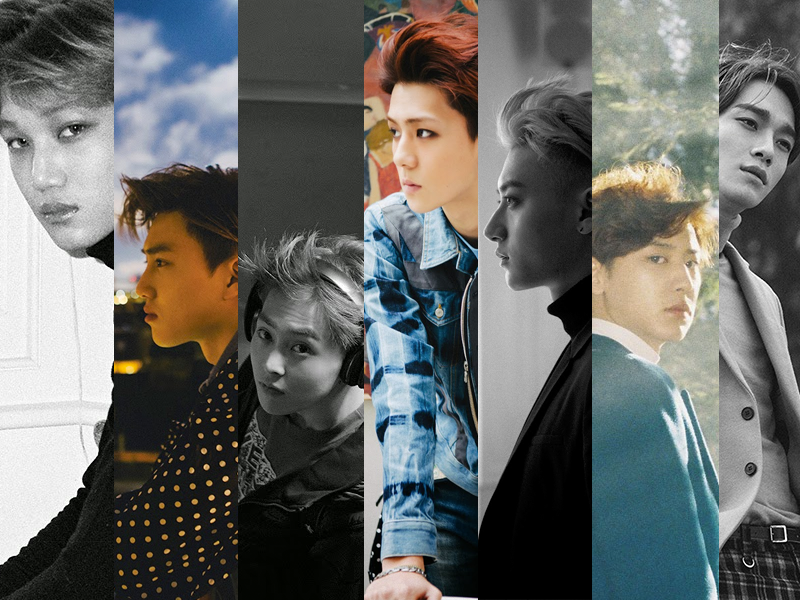 After a whirlwind 2014, EXO will be reborn in 2015 on March 30th.
EXO is one of K-pop's most popular acts internationally with an intense fanbase made up of EXO-L's, the group's official fanclub name. But all of the fans in the world can't help the fact that EXO went through some rough times in 2014, with members leaving. But, from first impressions, the group's upcoming album, Exodus, is exactly what can save EXO from falling apart at the seams, giving the group a second chance.
Both the title of the album and SM Entertainment's promotions for EXO's next comeback are hints towards EXO's rebirth.
The name of EXO's second full-length album, Exodus, has a dual meaning. The first is the literal meaning, an exodus, is "EXO" and "us" combined, a reference likely to EXO and its fandom, EXO-L.
Exo + Us
EXO's fans are devoted to the group, to the degree where the fandom is infamous. But, despite a few out-of-the-line fans, EXO-L is there to support EXO, to help EXO continue, to be the fans that a K-pop group requires for popularity. EXO is nothing without its fans. The hidden message of the title is essentially that, despite issues within EXO, EXO is there for its fans.
---
---
SM Entertainment has always had its idol groups sing about their relationship with fans (ie Super Junior's Sapphire Blue). Now it's EXO's turn. But rather than a song, the message is hidden in the title.
Exodus
Literally, "exodus" means "a going out; a departure or emigration, usually of a large number of people," according to Dictionary.com. In particular, the term is used to describe the biblical tale of the Israelites leaving Egypt.
So is EXO leaving SM Entertainment? Not quite. (Hopefully, there won't be any departures any time in the near future.)
While the term "exodus" may be foreboding, a punch in the gut of sorts to fans of EXO's original twelve member line-up, SM Entertainment isn't warning fans of future departures from EXO. Instead, the now-ten-member group isn't leaving SM Entertainment; it's leaving 2014 behind.
2014 was a dark spot in the Korean entertainment industry, and Korea in general. South Korea suffered horribly due to multiple mass tragedies, worst of all the Sewol Ferry tragedy, which shut down the country entirely as the nation mourned. The entertainment industry also came to a halt, in the midst of EXO's Overdose comeback promotions, and almost immediately after, Kris (Wu Yi Fan) left EXO. Luhan left the group later on. 2014 was not a good year for EXO.
This album will likely be an Exodus from 2014, leaving the darkest year in EXO's history behind.
Teasers
As if the terminology of Exodus's title isn't enough to signify a sharp divide between the EXO known to the world until 2014 and the EXO beginning in 2015, SM Entertainment is essentially re-debuting the group. A similar multi teaser video technique is being utilized, with different members individual teasers being released each day, along with a mystery answer for fans to solve in order to see the teaser images of each day's member.
A similar multiple and individualized teaser concept was last seen prior to EXO's debut in 2012. EXO's members were introduced as individuals or pairs throughout a variety of teaser videos, which concluded with two pre-debut music videos, What Is Love and History, prior to the group's official debut with MAMA.
Along with individual video and photo teasers, the EXO members once again took on the concept of being supernatural aliens. The same motifs- eclipses, being from another planet, supernatural abilities- appear, but everything about the Exodus — Pathcode individual teaser videos is new, fresh.
---
---
The EXO member's teasers display both similarity and departure from EXO's debut with MAMA. If MAMA, EXO's debut teaser videos, and pre-debut videos sometimes came off as over the top, cheesy, and confusing, that is no longer the case. The Exodus teasers appear almost like art, with beautiful filmography and computer graphics that properly display the growth of the group just at the time when people may be questioning EXO's viability as a seemingly broken unit.
Re-debuting parallels aside, Chen's Exodus teaser video closes the door on the idea of a twelve-member variation of the group. In his individual video, he literally opens a book with the title of EXO's last album as a twelve-member group, Overdose. As a shadow falls, ostensibly from an eclipse but metaphorically from the departures of Kris (Wu Yi Fan) and Luhan, Chen closes the cover of the book and drops it.
The message couldn't be clearer- Overdose is over. EXO as you knew it is over. This is something new, different, a light after darkness.
SM Entertainment's ten-member idol group EXO will release its second full-length album Exodus on March 30, and the album is likely a declaration of the group's new beginning in 2015. After losing two members in 2014, a 2015 rebirth is exactly what EXO, and EXO's fans, need.
What's your take on EXO's Exodus teaser videos? Share your thoughts in the comment section below and be sure to subscribe to the site and follow us on Facebook, Twitter, Instagram, and Tumblr to keep up with all of our posts.
https://kultscene.com/wp-content/uploads/2015/03/EXOdus.png
600
800
Tamar Herman
http://kultscene.com/wp-content/uploads/2018/02/KULTSCENE-LOGO-2018-TRANSPARENT-RED.png
Tamar Herman
2015-03-24 16:18:01
2015-03-24 16:18:01
EXO's 'Exodus' Teasers Herald The Group's Rebirth