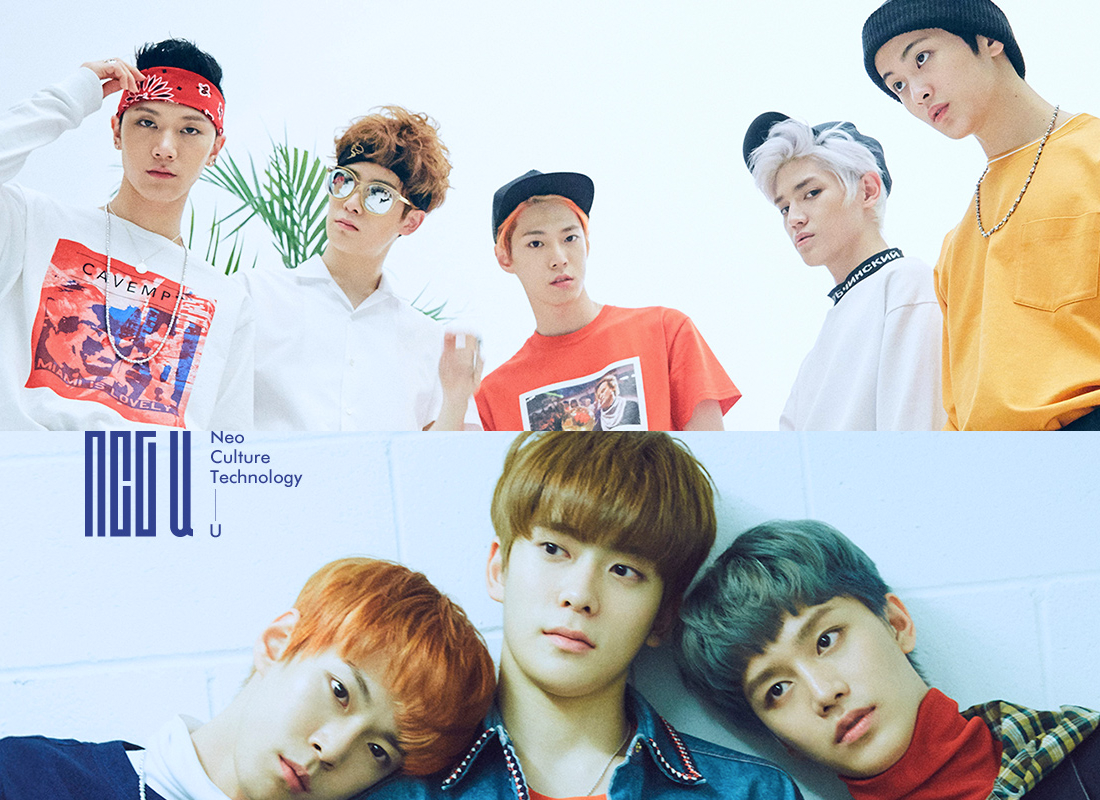 SM Entertainment have long had an image of a more sweet and safe counterpart to YG Entertainment's edgy western influenced looks and sounds. SM, however, have built their foundation on truly innovative concepts all based in more palatable (for a Korean audience) pop music. Songs like TVXQ's "Rising Sun" and Girls' Generation's "I Got A Boy" are unprecedented in their experimentation with the pop form. f(x) as a group were conceived as a way of bringing art pop into K-pop. For all their weirdness though, all of those groups and more always had quality songs to back it up which allowed the innovation to be accepted.
Lee Soo Man moves onto his next big project with NCT, short for Neo Cultural Technology. The plan for NCT is to be a fluid group consisting of an unknown amount members made up of SM rookies. Sub-units will be formed from them and release music in different parts around the world. Kind of like the original idea for EXO, who debuted as two subunits focusing on each the Korean and Chinese markets, but on a much larger scale. NCT U are the first unit to debut with "The 7th Sense" and "Without You". NCT U are made up of South Koreans Doyoung, Taeyong, and Jaehyun, Canadian Mark, and Thai member Ten. I do want to discuss the overall concept, but first and most importantly is the music.
Jaehyun, Doyoung, Taeyong, Mark, and Ten: "The 7th Sense"
"The 7th Sense" is a perfect start for a group like this. It's a slow burn that manages to be unwieldy at the same time. Its sound is familiar to western audiences as a mix of R&B and trap that has become popular over the last five years or so. Along with the lyrics, NCT U bring a certain otherworldly nature to the song. There's an uncertainty to everything about it. The lyrics are about these waking and sleeping dreams that haunt the members of their past and future, "Yesterday is today, Today is yesterday, I'm only filled with late self-guilt." They want to take it slow, let the song itself open their eyes onto better futures.
"The clock laughs at me." For better or worse, the song mirrors these ideas well structurally. The clock also laughs at the audience by not letting much happen between each part of the song. A rolling bass synth and trap beat are introduced early in the song and sustain it the entire time. Elements are only ever taken out and put back in, nothing is added to change it up. The music is a dream, it is sparse, but seemingly never ending, pulling the listener physically onto the level of the lyrics. The vocals instead are used to transition the song. As a showcase of a new group this is where "The 7th Sense" works best. Each of the raps are unique with Taeyong's droll delivery being the highlight and the vocalists kill it with some EXO like harmonies. It also means that we only know the song has moved on after someone starts singing or rapping. Each change is considerably different though, so when it does happen, we immediately know. Just like a dream, we only realise the setting has changed long after we have been there.
---
---
The video and choreography top off these ideas by playing up the dreamlike state. The music video is almost always lit unconventionally. It uses lots of reds, oranges, and pinks for the group dance sequences. The solo parts range from some of those colours to prominent blues. It makes a mostly generic SM video into something a little more interesting.
The dance is similar in that it mixes more conventional styles with odd movements. Much of it is pretty quick hip hop with more stress placed on hand movements around the head. Like the song though, it never strays too far from slowing down to an almost complete stop. Taking it slow is clearly important. Also present, especially at the end of the video, are long arching moves. They seem martial arts inspired, offering a grace to the dance as it comes to an end.
Doyoung, Jaehyun, and Taeil: "Without You"
"Without You" is a move towards more mainstream pop. This is something that could be a huge hit if it were a proper release (maybe it is, NCT's concept doesn't specify how singles will be released). It's a pop/rock track in the tradition of most K-pop rock groups like CNBLUE, FT Island, and now Day6. It's a much more complete song than "The 7th Sense," but is not half as interesting.
Again, as a showcase, it works well for their vocals. Each member is strong and pulls off the right emotions. However, "The 7th Sense" already did that and more, so really "Without You" feels like a way of just showing off that NCT U can do more than one genre. For a group with as weird a concept as NCT, this is disappointingly generic. I may be almost always against ballads, but they could have tried a little harder with something like EXO's "What is Love" or Red Velvets recent "One of These Nights".
---
---
The lyrics are again surprisingly depressing. For two debut singles, this is an odd way to go. It's about being utterly lonely without the one you love. It articulates it in interesting ways by referencing connections and living. In the context of NCT as a group, it speaks to the idea of their infinite members, connecting even if it is across the world is important. It's a justification of the group itself.
In the music video I like the colours on display. SM have really taken to the washed out pastel trend ever since last year and it works here again. It seems that different colours are used to show different time period in the story of the video. They are contrasted well with the stark shadows of the wonderful opening images.
Overall Thoughts
One thing you obviously would have noticed is that different members performed both of the songs. The fluidity of NCT is strongly apparent with even their first unit being split up into smaller parts. This is something that interests me about this group. Collaborations have become a big trend in K-pop and this allows NCT to have an almost infinite number of different collaborations all without leaving the actual group for another partner. With large groups like this, they're also prone to losing members, meaning that people can be swapped in and out with ease. Not only that, smaller sub units could be forgotten altogether as they may have served their purpose in the few weeks they promoted.
They are missing a trick however, by having only boys in the group. This could be expanded to include fluidity of gender, where a girl could swap in for a boy at times and vice versa. It could allow for more interesting takes on certain songs. I would also love to see some girls tackle material like "The 7th Sense," which is so often deprived of them.
Musically, NCT at the moment have shown a variety of things that they could do. Both songs are marked by being little more than intros though. "The 7th Sense" is weird and interesting, but not quite there in terms of overall quality. It adds little to a fairly tired genre that could be invigorated by a young group like this. "Without You," on the other hand, is even more generic. And yet, NCT don't come close to being defined yet. Their very nature means there is so much more to come from performers all over the world. It's an exciting prospect that brings the larger than life theatricality back to pop music K-pop adores. Watch the announcement video below to understand how Lee Soo Man sees NCT. They are kids from another planet here to take over the world, again like EXO on a bigger scale.
NCT U's 'The 7th Sense' & 'Without You'
'Without You'

'7th Sense'
What do you think of "The 7th Sense" and "Without You"?  Also what are your impressions of NCT as a whole? Share your picks and thoughts in the comment section below and be sure to subscribe to the site and follow us on Facebook, Twitter, Instagram, and Tumblr to keep up with all of our posts.
https://kultscene.com/wp-content/uploads/2016/04/NCT-U.png
800
1100
Joe Palmer
http://kultscene.com/wp-content/uploads/2018/02/KULTSCENE-LOGO-2018-TRANSPARENT-RED.png
Joe Palmer
2016-04-11 05:10:57
2016-04-11 11:45:10
NCT U's 'The 7th Sense' & 'Without You' Music Video & Song Review