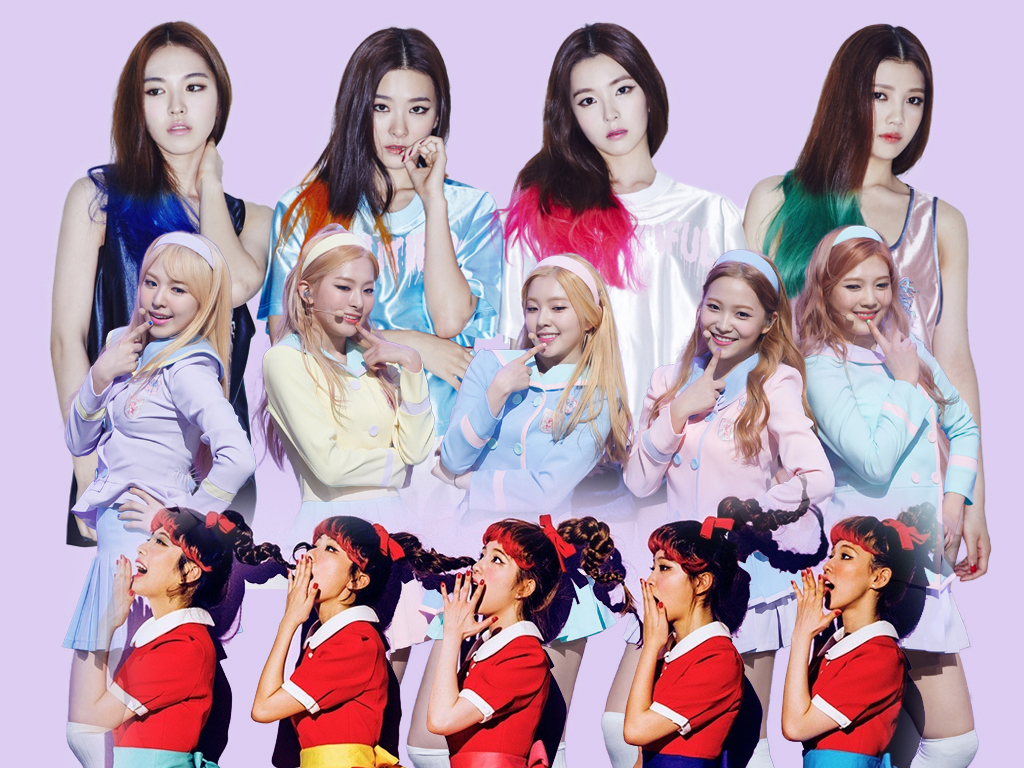 There's no doubt that SM Entertainment is gearing up Red Velvet to be their next girl group sensation. Their fashion and music has evolved fast in their short career, but they've always maintained the playful feeling set in "Happiness," their debut track. Since liveliness is their overall style, without a doubt, Red Velvet has shown us formidable fashion since the get-go. And now with their first album "The Red" out, the group has finally reached their full conceptualization, look and sound wise.
Let go back to last year, August 4 to be exact. SM Entertainment debuted "Red Velvet," their newest girl band since f(x). Their look was very youthful and modern and appealed to the overall aesthetics and trends in fashion for that year. The '90s comeback was at its peak and SM's stylist took inspiration from various internet fashion tribes like seapunk, normcore, and health goth. From that, they created Red Velvet's signature look: a collage of many different ideas merged together.
Cheerleaders and school uniforms are a must to make a girl group look young, but Irene, Seulgi, Wendy, and Joy got upgraded versions and made the uniforms their own. The girls sported tennis skirts that were short in the front but long in the back, asymmetrical skirts, and tops that included sailor motives. The look was girly and fun, but with the outfits paired with creepers and the multi colored hair, the girls had a modern edge (and to the viewers a way to differentiate each member) that was needed to make a new group stand out from the cuteness of the rest.
---
---
However, Red Velvet was still cute in their own way; their fashion made every K-pop fan want what they were wearing. Flash forward a few months after their debut and their concept completely changed. The group released a cover version of the late '90s girl group S.E.S. "Be Natural", and their look took a 180 degrees turn. The four members were dressed in classy, form-fitted suits that gave the girls a mature and sexy look. Coming from the youthful and colorful concept, Red Velvet confused us all with this new image, serving us the direct opposite. But nonetheless, the fashion was still exciting and pristine.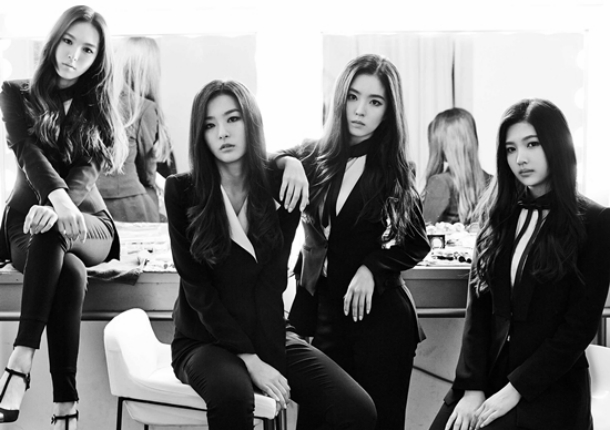 We already knew that Red Velvet's name had a meaning — red being their sexy side and velvet being their soft one — but until "Be Natural," we hadn't seen the group's duality. "Be Natural" was clearly Red Velvet's introduction to their red side, and their stylist nailed it with the fashion choices for this track and promotions.
Moreover, with their next single "Automatic," SM introduced a new member and it was the first time that we got to see the two sides of the group. The fashion was incredible and very on trend for spring/summer 2015. The '70s fashion had a revival and was at it's peak, which the stylist managed to incorporate into the look and still give it the modern spin that didn't seem costume-y. They even wore one of the most exciting collections for this year, Moschino by Jeremy Scott one inspired by Barbie.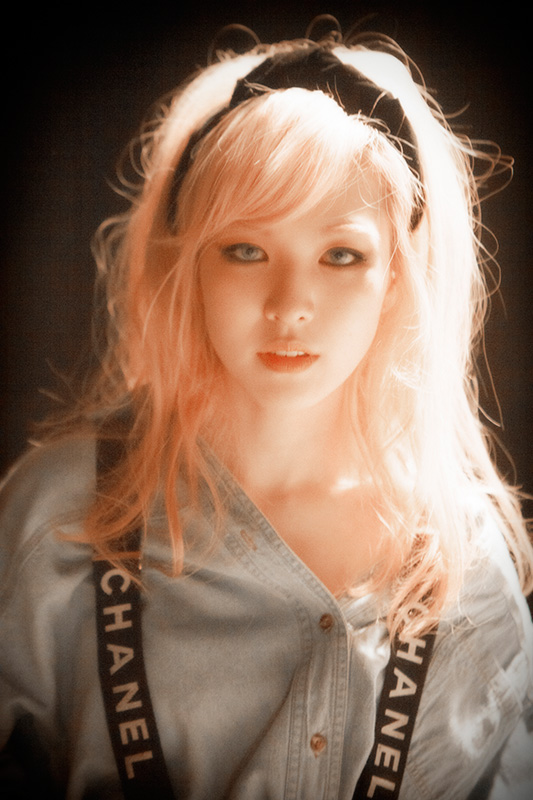 Their next single "Ice Cream Cake" followed, and Red Velvet sedimented what their signature look and sound would be. This time, the group upgraded normcore outfits that followed a similar resemblance to their "Happiness" looks (i.e. tennis skirts and uniforms) and added fun pieces like the light-up faux fur jackets to keep it lively. The sound was a little creepy and crazy and took a few listens before loving the song, sure, but it was clearly their unique, quirky sound. It was a song filed under their "Happiness" concept and not the sultry one from "Be Natural" and "Automatic."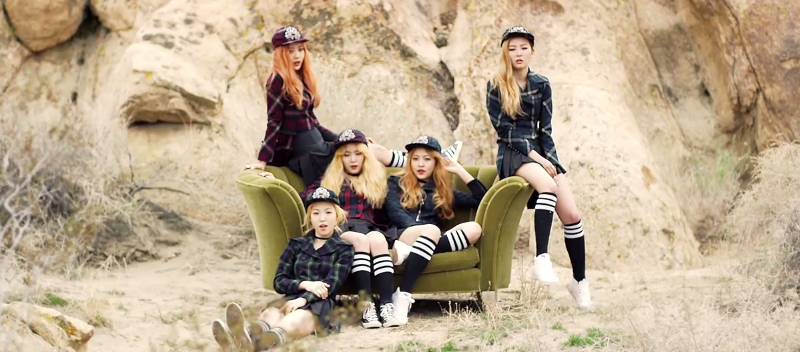 ---
---
When a K-pop band finally releases it first full-length album, it's when they have a clear picture of their concept. But with Red Velvet, their first album "The Red" was a great surprise that works cohesively with their previous releases instead of differing. With "Dumb Dumb," the stylist kept playing with the collage of styles that they've had since debut; duality extends to every factor of the group. We still saw some normcore and health goth outfits mixed with other pieces that make them very relatable and unique and keeping the concept alive. Even the costumes in the music video play an important role and give them that quirkiness that they are now known for. They even keep playing with different colors for each member, very a la Spice Girls, to distinguish each member.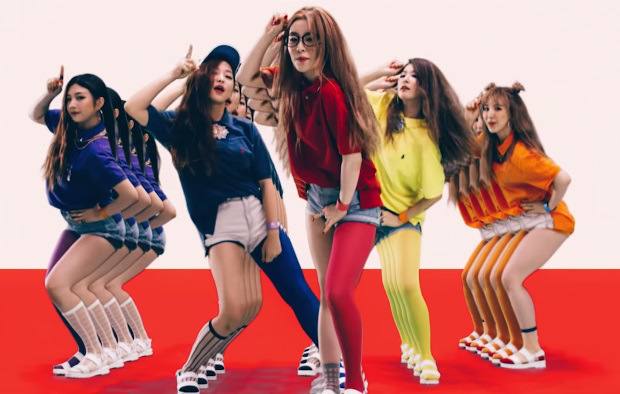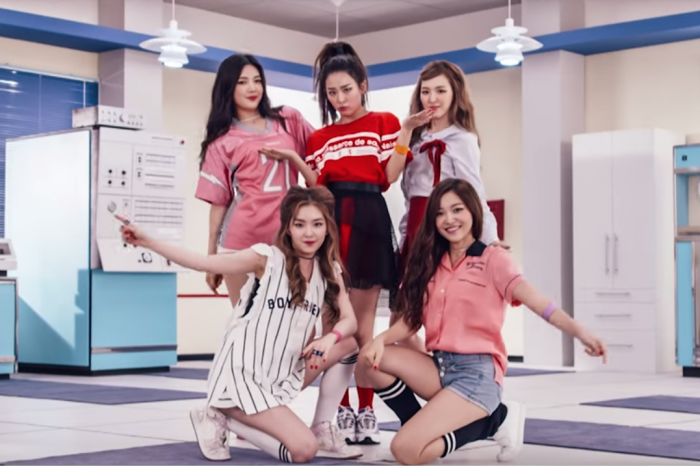 Furthermore, the sound of the music really works. It's all over the place, but still very put together, just like their outfits. And, more importantly, it was an easier listen than "Ice Cream Cake," making "Dumb Dumb" a winner for Red Velvet. The track has some brass, hip-hop, R&B, and electronic themes in the music, thus making it a very good experimental pop track, something not even SM's experimental girl group f(x) has played with yet.
The members are still young and have a fresh image that is very suitable for whatever style SM puts them through. But now with their fifth single, it's clear that if it's fun, crazy or sexy and provocative, it's going to be a Red Velvet track with amusing sounds and looks. With "The Red," the group released a solid album with experimental sounds, and some tracks are even reminiscent of the early Girls' Generation and f(x) songs. Red Velvet continues to surprise everyone with their talents, and now with their full conceptualization completed, the sky's the limit. We can't wait to see what's next and where their success will take them.
What do you think of Red Velvet's completed conceptualization look and sound wise? Share your thoughts in the comment section below and be sure to subscribe to the site and follow us on Facebook, Twitter,Instagram, and Tumblr to keep up with all of our posts.
https://kultscene.com/wp-content/uploads/2015/09/red-velvet-conceptualization-feat.jpg
768
1024
Alejandro Abarca
http://kultscene.com/wp-content/uploads/2018/02/KULTSCENE-LOGO-2018-TRANSPARENT-RED.png
Alejandro Abarca
2015-09-10 14:14:51
2016-04-12 11:18:10
Red Velvet's Conceptualization & Formidable Fashion