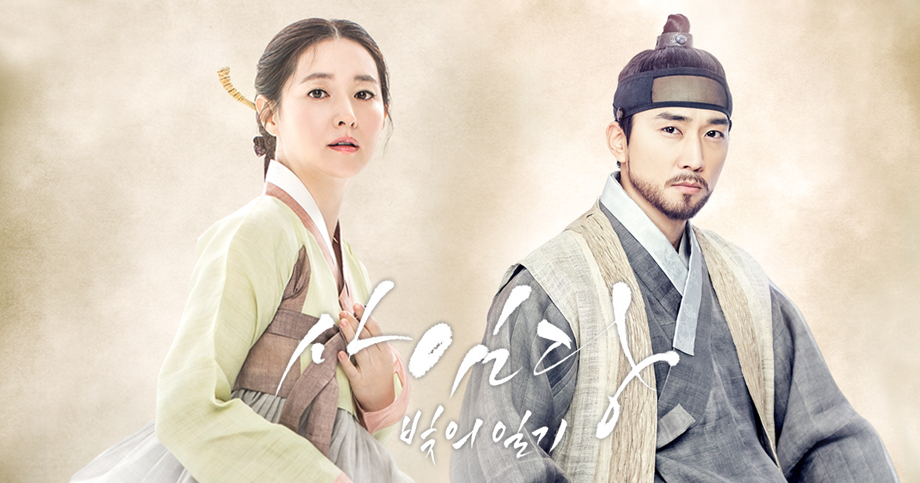 When actress Lee Young Ae took a break from her drama career in 2005, it was on a high note. Her last role, playing female physician Dae Jang Geum in the 2004 drama Jewel in the Palace made her an international star. Jewel in the Palace was a hard act to follow, and any role Lee took after that would invite comparisons.
Lee continued to receive offers for roles during her long acting break, including a possible sequel to Jewel in the Palace that she rejected. After appearing in the 2005 film Sympathy for Lady Vengeance, the third installment of Park Chan Wook's The Vengeance Trilogy for which she won Blue Dragon Film and Baeksang Arts awards, Lee declined both film and drama roles, preferring to spend time with her family. Then she was offered the role of Shin Saimdang, the only woman ever to be featured on South Korean currency, the 50,000 won note. Along with being a poet and calligrapher, Shin is also known for being the mother of famous scholar Yulgok, who is on the 5,000 note.
In Saimdang: Light's Diary, Lee would again have the chance to play an iconic South Korean historical figure, but after the success of Jewel in the Palace, expectations for both the drama's caliber and ratings were high.
Ratings-wise, Jewel In the Palace is one of the top 10 Korean dramas of all time. At its peak the historical drama rated 57.8 percent of Korea's viewers. Because of the drama's success in China, the Philippines, Taiwan, Hong Kong, Sri Lanka, and Cambodia, the South Korean government presented Lee with a Medal of Culture Merit for her contributions to the promulgation of Korean culture Hallyu.
The first episode of Saimdang: Light's Diary aired on January 26, earning a 16.3 percent Nielsen rating nationwide. Ratings have mostly been double digit but, fell to 10.3 percent by the eighth episode. Saimdang's ratings would be considered successful for most dramas, but seem less impressive when compared to the runaway ratings of Jewel in the Palace. But judging Saimdang: Light's Diary through its comparative ratings is not entirely fair, as it's very different from Jewel in the Palace.
In Jewel In the Palace Lee played a character born with an unlucky fate. The character's intense desire for justice helped her persevere but also sometimes makes her life more difficult. Orphaned at an early age, she became a palace maid and, despite being smart and talented or perhaps because of it, she made enemies. In each episode Dae Jang Geum faced a potential disaster, overcame it and then faced another disaster. As Korea's first female doctor, the doggedly determined Dae is also something of a feminist icon. The character fearlessly, recklessly challenged traditions, eventually changing some of them.
But Saimdang: Light's Diary is a more sophisticated and far less predictable of a drama in comparison to Jewel, which was satisfyingly predictable and emotionally manipulative in the classic K-drama tradition. With a story that flits back and forth between the 16th century and the present in Saimdang, Lee plays two different characters, Seo Ji Yoon, an unjustly disgraced present-day art historian and the title role of Shin Saimdang. While investigating possible art fraud, Seo discovers a diary that offers clues about Shin's life and helps her to imagine it.
Both Saimdang characters are strong and resilient women, but neither is as easy to relate to as Dae Jang Geum. The real Shin Saimdang was an accomplished and unusually well-educated Joseon-era woman and, fittingly, the character in the drama is as accomplished and well educated, and also reserved and cautious. She's not interested in winning external approval or changing the order of things. Every sacrifice she undertakes is for others. She gives up romance to save her lover and sacrifices her pride to save her family. She operates within the confines of her family, as a good wife and mother, never letting the disastrous actions of her incompetent fictional husband defeat her. She is a Confucian model of the ideal woman. Yet Shin's saintly dignity can make the character harder to relate to than the innocent and impulsive actions of Dae Jang Geum. Seo's introverted character is more nebulous and often seems to exist just to move the story along.
The drama script also incorporates a fictional, unrequited romance into Shin's story, with Song Seung Heon playing her heartbroken childhood love, the historic figure Lee Gyeom, an artist and influential politician during Korea's Goryeo era. In reality, Shin and Lee Gyeom were contemporaries but there's no evidence they ever really met. Similarly, the show depicts Shin married to a lazy gambling scholar, but in actuality she was married to Commander Yi Wonsu and accompanied him to his various postings.
Although the romance is fictional, Song's presence in this drama makes for the most obvious comparison to Jewel in the Palace; Song's role as Shin's aristocratic protector and admirer is similar to the role played by Ji Jin Hee in Jewel in the Palace.
Saimdang's lesser ratings may also reflect the fact that the drama is two separate stories with some of the same cast. A few actors play very different roles in the past and the present. The roles are so different that it can take some readjustment when the story moves between the present and the past. It could be compared to suddenly switching between two fine but different dramas featuring the same cast. Once viewers segue into another time, the drama is engaging, but the switch can be disorienting.
But, even with the struggles, Saimdang is an enjoyable drama. So rather than asking if Saimdang: Light's Diary lives up to the precedent set by Jewel in the Palace, it might be better to ask if it's worth watching. It is certainly, particular if you like historical dramas, mysteries, and also enjoy watching Lee Young Ae and Song Seung Heon, both of whom deliver an impressive performance. Saimdang's cast is accomplished, the story is interesting albeit sometimes disorienting, and the cinematography is beautiful. Hopefully Lee Young Ae's career will include many more varied roles, each of which is judged on its own merit.
Saimdang: Light's Diary may not become one of the top ten Korean dramas of all time like Lee's last drama, but it's well worth seeing, whether or not you've seen Jewel in the Palace.
Which Lee Young Ae drama is your favorite? Share your thoughts in the comment section below. Be sure to subscribe to the site and follow us on Facebook, Twitter, Instagram, and Tumblr to keep up with all of our posts.
https://kultscene.com/wp-content/uploads/2017/03/WE11155568_ori.jpg
483
920
Joan Vos MacDonald
http://kultscene.com/wp-content/uploads/2018/02/KULTSCENE-LOGO-2018-TRANSPARENT-RED.png
Joan Vos MacDonald
2017-03-27 17:29:29
2017-03-27 17:29:30
'Saimdang: Light's Diary' struggles with Lee Young Ae's legacy of 'Jewel in the Palace'