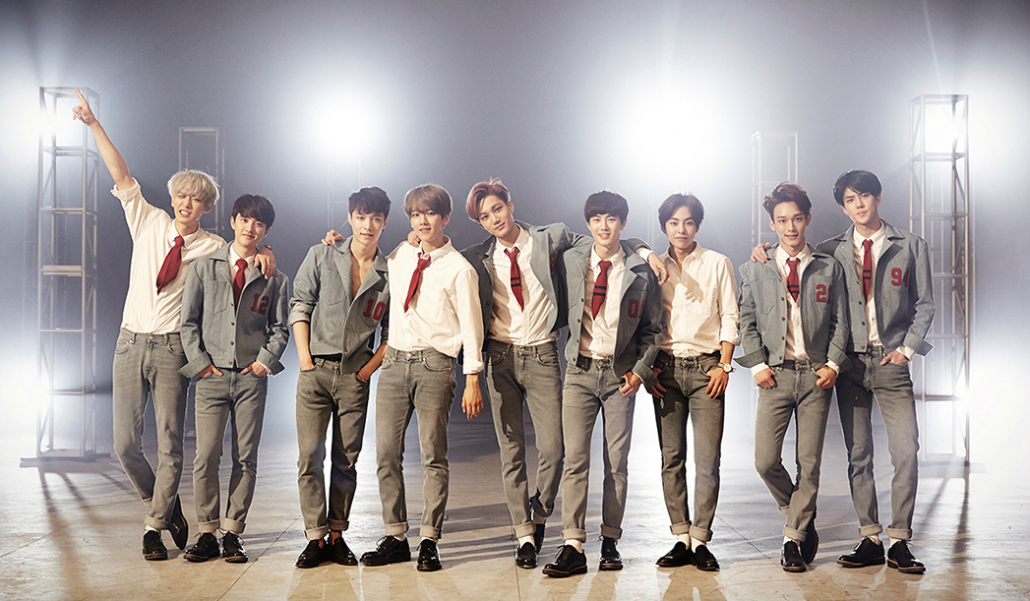 Producer, DJ, and musician iDR spoke to KultScene about becoming a producer in the K-pop world in the first part of our interview. iDR also spoke to KultScene about working with SM Entertainment, including upcoming releases from top girl group Girls' Generation, details about the thought process behind EXO's latest song, and some insight into an upcoming group.
EXO's June release "Love Me Right," the title song on the repackage, or re-release, of the idol group's May album "EXODUS," is an upbeat song. It's also iDR's first single with the widely popular boy band EXO, and one filled with a lot of subtle meaning even though it wasn't initially planned for EXO. "I wasn't aiming for EXO when I was writing it because it's more of an uppity, happy, 'let's go, we're up' song and their [EXO] stuff is what I thought of as a little more aggressive."
---
---
In the past, iDR's written other songs for EXO, such as "Peter Pan" and "The Winter's Tale," but this is his first title track for the group. Their previous singles like "Growl" and "Overdose" were hugely popular across Asia and EXO is one of the world's most popular boy bands. But in 2014, former members Kris (Wu Yi Fan) and Luhan left EXO to focus on personal careers in China, and a third member, Tao, appears to have followed the same path in 2015. When iDR was asked to write a song, he thought that the happy, very un-EXO sounding song would be perfect.
"The thing is, and I'm sure a lot of people realize, they [EXO] have gone through a lot of drama, lost a few members, and I think, I felt and the SM staff felt, that they needed something that isn't such a dark and aggressive track. Something that's upbeat and happy will put a spin on the whole thing and allow them to say, 'Hey. We're good, we're cool, we're moving on, and there's nothing to be sad or upset about. Let's keep it up, let's keep it moving.' And when we came up with that feeling and that concept, that track seemed to fit, and boom! We kind of knew as soon as we had it with the A&R's input that this would be, if not the single, one of the single's on their [repackage] album. I'm really happy that it turned out that way too."
---
---
Even though "Love Me Right" was a new style of song for EXO to promote as a single, the track did well in Korea. But nothing is certain, and iDR was excited to see how well the song, and style, did. "It was one of those 'will it really happen?' When it ["Love Me Right"] came out, I saw the video and heard the final mix and mastered version, and I was kind of blown away. You know, there's always that little inkling inside that says 'I feel like this is the one,' and I had that feeling for sure. I didn't really speak about it until this minute. I had the feeling, and I was hoping that it would turn out this way."
Not only was "Love Me Right" successful, it helped EXO achieved multiple milestones, including becoming the first K-pop male group in many years to sell over one million albums.
Along with working with EXO, iDR has had experience working with other SM Entertainment acts. His first K-pop song ever was Super Junior's "No Other," and now he's working on songs for Girls' Generation and SM Entertainment's next male idol group.
When asked if he could say anything else about the upcoming songs, iDR admitted that everything is under tight wraps. "I will say that the rookie group is going to be something SM fans haven't seen before, a new twist on a group, not the typical group that they [SM Entertainment] would put out. [And] The Girls' Generation project is also something they are really excited about. Expect to hear a mature, seasoned Girls' Generation with their signature spunk and flare."
Check out the first half of our exclusive interview with iDR right HERE.
What do you think about what iDR's shared? Let us know your thoughts in the comment section below and be sure to subscribe to the site and follow us on Facebook, Twitter, Instagram, and Tumblr to keep up with all of our posts.
https://kultscene.com/wp-content/uploads/2015/07/Screen-Shot-2015-07-01-at-4.23.07-AM.png
611
1047
Tamar Herman
http://kultscene.com/wp-content/uploads/2018/02/KULTSCENE-LOGO-2018-TRANSPARENT-RED.png
Tamar Herman
2015-07-04 17:44:37
2015-07-04 17:45:46
Meet iDR, The Man Behind EXO's "Love Me Right" And Other Upcoming Songs From SM Entertainment [INTERVIEW PART 2]