KCON 2014 was successfully held on August 9th and 10th in Los Angeles, California. The LA Memorial Sports Arena saw over 40,000 K-Pop and Hallyu fans who did not cease to amaze with their incredible fashion. Through both days of the convention KPOPme's staff was on the lookout to showcase the best KCON 2014 fan fashion.
Check out these cool articles around the web
When I first spotted this boy, his Timberland booties caught my attention. As I took a closer look at his outfit I started noticing really cool pieces, I really wanted his Pyrex shorts, they were so cool! His look was totally reminiscent of the fashion on BEAST's Good Luck music video.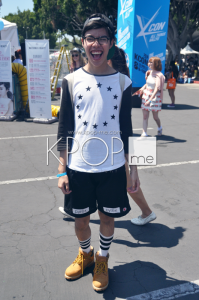 I'm a sucker for all-white outfits, and when I spotted this fashionista I was so happy to see how well balanced her outfit was. I really love how the white lace sleeves give a really cool texture to the outfit and complements the umbrella very well. It's a really cool Lolita-inspired look that exudes great confidence and a great sense of style.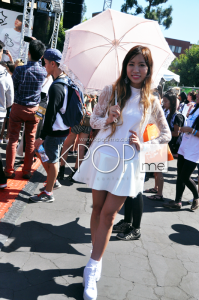 When it comes to mixing patterns, you have to have a special touch. It's not an easy thing to do but this guy did it in a very subtle and fun way. His black and white vertical stripes elongate his stature and mix very well with the stripes on his sweater. He wrapped a blue and white striped shirt on his waist and, to complete the nod to the '90s, he wore his snapback backwards.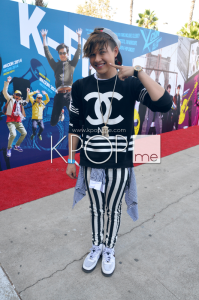 As mentioned before, I love all-white outfits. Season 10 American Idol alumni, Arnelle "Elly" Nonon, took the trend in a futuristic way. Her holographic visor really accented her look and was the best piece in her outfit. Her neoprene white skirt was to die for, and was paired very well with the halter cropped top.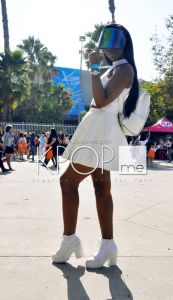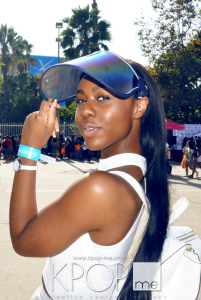 The '90s Club Kids have always been an inspiration to fashionistas around the world. They created really unique outfits with many elements that could be easily applied to ready-to-wear pieces. Platforms and really cool, unique accessories are a must. I really appreciate when someone pays really close attention to what they are wearing and what they want to express with their clothes.
This fan's pink Buffalo platforms looked amazing with his predominant pink color palette (even his dreadlocks are pink!) His hologram cap, which I really want to get a hold of, really accentuated his outfit. His zombie shirt made me think that he would fit right in next to 2NE1 in their Gotta Be You video.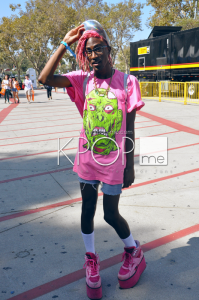 This trio really caught my attention. Their styling was very fashion forward and was executed extremely well. Not only were their clothes amazing, but look at their hairstyles! I instantly fell in love with the leather jersey that the boy in the middle was wearing, and the girl's cut-out skater dress was also to die for. The guy on the left even made me think that I was standing in front of G-Dragon himself.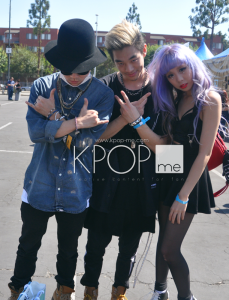 I am currently in love with the designer brand Hood By Air, so naturally when I spotted this fan wearing one of the brand's shirts, I had to take a picture of him. Not only was he wearing a HBA shirt, but he also sported Boy London pants. Since the graphics were already overwhelming, the fashionable guy paired the outfit very well with a simple necklace and bracelet. I really want his tennis shoes, they are amazing!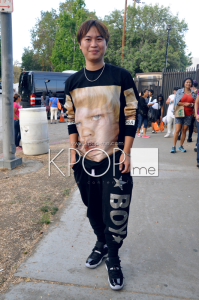 When I spotted this cutie I was really surprised to see a very polished and feminine look. Her pearl shirt with the royal blue pattern matched perfectly with her midi royal blue lace skirt. Her nude flats with a gold tip where so cool and modern. And to top it off, her floppy hat not only kept the sun away from her face, but also made her look incredibly chic.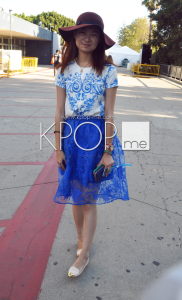 Fashion can be really fun, specially when you do a DIY ( Do It Yourself). This girl made a really cool print on her black crop top. She made an all-over print of her BTS bias, Jimin. She paired the shirt with high waisted shorts and a really cool pair of statement shoes.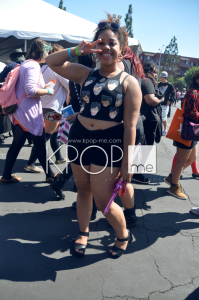 Last but not least, I would love to showcase some of the amazing cosplays that I found at KCON 2014.
This slideshow requires JavaScript.
Which showcased fashionista was your favorite? Don't forget to subscribe to the site and follow us on
Facebook
,
Twitter
,
Instagram
,
Tumblr
, and
Bloglovin'
so you can keep up with all our posts.
https://kultscene.com/wp-content/uploads/2014/08/FAN-FASHION-KCON-2014.png
445
800
Alejandro Abarca
http://kultscene.com/wp-content/uploads/2018/02/KULTSCENE-LOGO-2018-TRANSPARENT-RED.png
Alejandro Abarca
2014-08-21 18:01:54
2014-08-21 18:01:54
Fan Fashion: KCON 2014