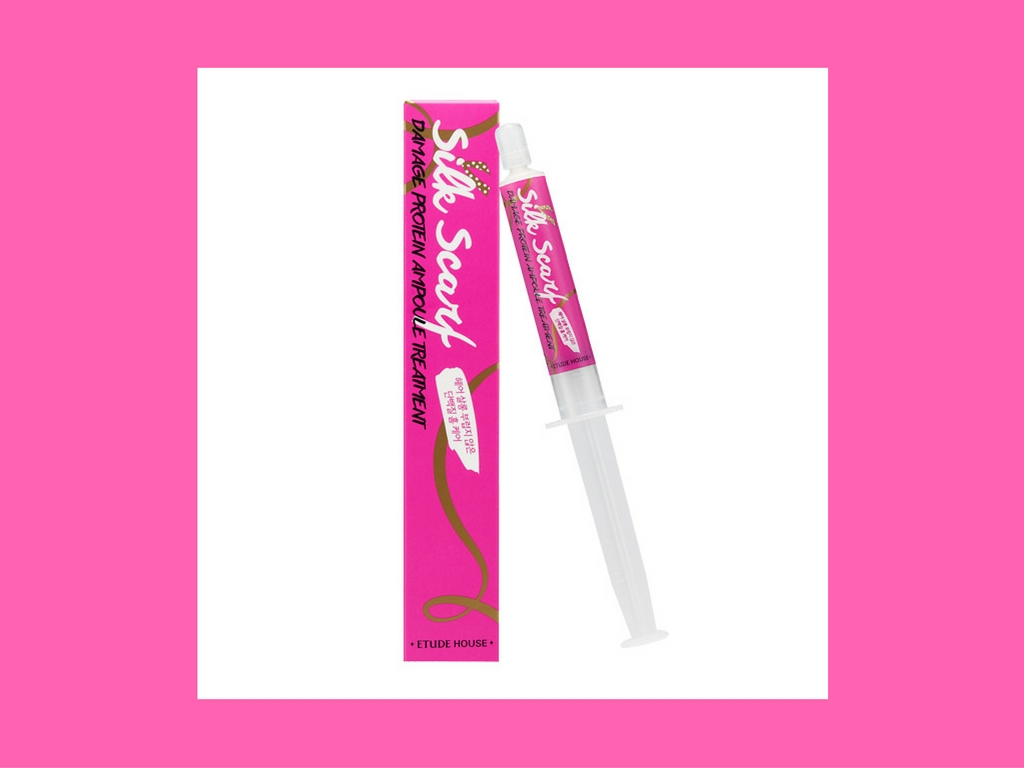 I was in Seoul last summer and bought far too much K-beauty products so I'm still discovering random items in odd corners of my bedroom. I recently found a vial of Etude House Silk Scarf Damage Protein Ampoule Treatment. When I had seen it at an Etude House store sitting there in a hot pink box and looking like I should inject the product directly into my head, I was already sold. Now, months after a botched dye job had left my once virgin-dyed-hair insanely dry at the ends, it was time to test it.
So what is an ampoule anyway? When I bought it, I just liked the shape of the product and assumed they were trying to say, "This will be a fun way to make your hair feel nice." So I bought one for me and one for my little sister. After a quick Google search, I discovered that Wikipedia defines an ampoule as "a small sealed vial which is used to contain and preserve a sample, usually a solid or liquid." The Etude House one is a vial in the form of an injection needle, so the Ampoule Treatment is, in fact, technically an ampoule. According to Etude House's website it "contains 9 kinds of protein other than keratin protein and 17 kinds of amino acids that fill up dry and damaged hair with both moisture and nutrition and coats hair for firm and volumized hair." (Does it contain keratin plus nine other kinds of protein? I have no ideas based on the English blurb…)
---
---
Pros
It smelled really nice! Since I sat with the ampoule on my hair for about 20 minutes, this really mattered to me more than the actually feel of the product, which itself was actually more dense than I expected. Because the ampoule is limited in size rather than in a tub or tube, I didn't really feel it before putting it in my hair so I thought it may be a gel or liquid, but once I pressed on the pump it turned out that it was a really silky cream. The pearly white color of it gave the product a luxurious, girly feel that's typical of Etude's products. Sometimes I feel like the company spends too much time on packaging in a disservice to the product itself, but once I put it in my hair it felt like it was doing its job. I've used a few argan oils and conditioning treatments before, but this somehow combined both of those things into one: the Silk Scarf Ampoule Treatment was dense enough that I felt it had some weight (and I could act as if it was really filled with the vitamins it claims to have,) but it seemed to melt in my hair. Kind of reminded me of melting butter on a hot bagel, not going to lie, since it went from being pretty thick to oily slick really easily.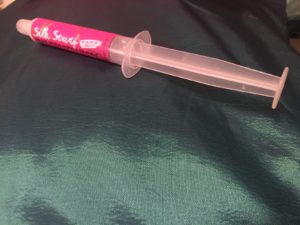 Cons
Because of the vial packaging, I couldn't actually see where I was squirting the ampoule. I didn't want to first put it on my hand and then pat it on to my hair since there was a relatively small amount of product, but I ended up squirting far too much out on the top of my head and it was quite greasy the next morning. (It probably wouldn't have the same result with someone who has thicker hair, but I naturally get greasy relatively easily. Not this quickly normally though.)
---
---
Overall
The packaging and product itself was pretty and fun to use, which is always a win. I really did feel like the ampoule helped the bottom of my hair restore itself after the treatment- it's been knotting considerably less, which was something several conditioners hadn't been able to do. (I hadn't tried any treatments prior to this and instead was just trying to drown my ends in conditioner…) A few days later, my hair still feels less dry than it did previously.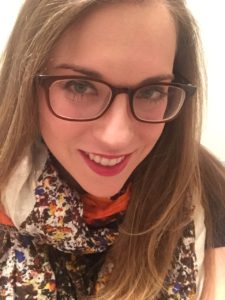 Aside from my hair's natural grease going into overdrive when I over-saturated the top of my head, this was a pretty great experience of something I bought on a whim because it looked bizarrely cute.
You can get the Etude House Silk Scarf Damage Protein Ampoule Treatment on Amazon or the company's website. (Although the latter has some convoluted shipping fees since it's coming from South Korea.)
Etude House Silk Scarf Damage Protein Ampoule Treatment
Have you tried out any of Etude House's Silk Scarf line? What's your favorite hair care product? Share your thoughts in the comment section below and be sure to subscribe to the site and follow us on Facebook, Twitter, Instagram, and Tumblr to keep up with all of our posts.
This review was not sponsored by Etude House, but KultScene is always looking for affiliate and sponsors, particularly for product reviews. Email [email protected] for more details
https://kultscene.com/wp-content/uploads/2016/09/Untitled-design-3.jpg
768
1024
Tamar Herman
http://kultscene.com/wp-content/uploads/2018/02/KULTSCENE-LOGO-2018-TRANSPARENT-RED.png
Tamar Herman
2016-09-30 06:27:18
2016-09-30 06:28:23
K-Beauty review: Etude House Silk Scarf Damage Protein Ampoule Treatment