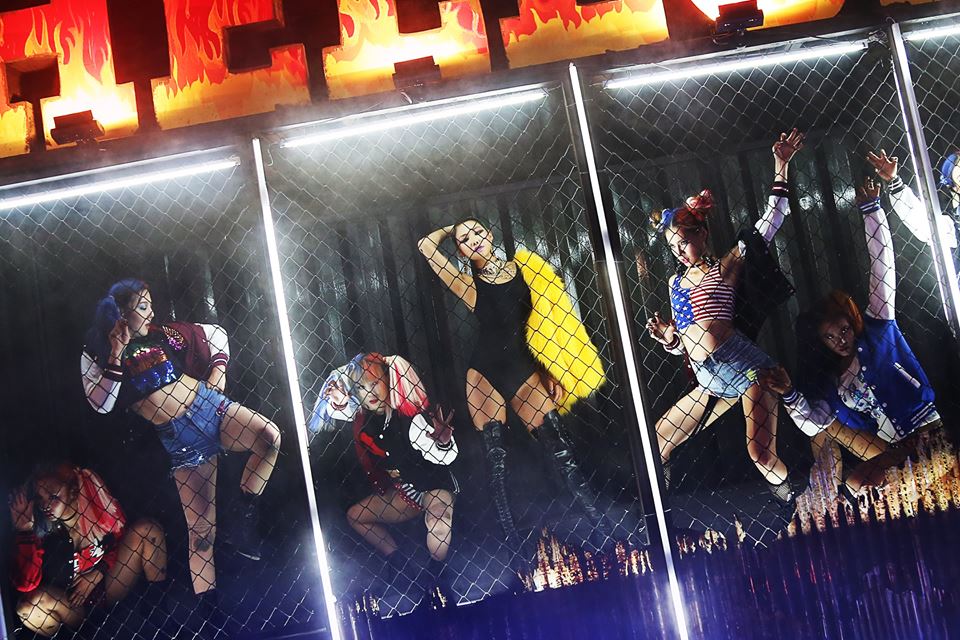 August is just about over, but we're still listening to a lot of the songs that came out from the K-pop world. Popular K-pop acts likeWonder Girls, SHINee, Big Bang, Girls' Generation, HyunA, T-Ara, and B1A4 all released new songs, but so did a lot of other artists. Here are seven songs we think that everyone should have heard in August and maybe didn't take note of.
SG WANNABE "Love You"
After a four-year hiatus, the vocal trio SG Wannabe came back with the dual singles "Love You" and "Good Memory." Keeping with their usual evocative ballad style, SG Wannabe didn't disappoint. Both songs are perfect representations of the group's style, but "Love You" climbed up Korean music charts with its bright, building sound.
---
---
Cheetah "My Number"
Cheetah won the first season of "Unpretty Rapstar" and released her first post-win song at the beginning of the month. "My Number" is a hybrid of pop and hip-hop that showcases Cheetah's skill and feelings about becoming a celebrity. While the song isn't as heartfelt as some of her raps on "Unpretty Rapstar," it's highly personal and has one of the most intriguing Korean music videos of the year, featuring drag queens, intense dances, and Cheetah herself in all her glory.
Primary "Hello" feat. Lena Park
Primary is arguably one of South Korea's most up and coming producers and all of his latest songs are a reason to get excited. His latest, "Hello (I Got My Nails Done)" is a bright song with a steady beat and the powerful vocals of Lena Park. The song takes the talent of the Korean fairy of R&B and combines it with Primary's producing skills and creates a fun summer jam all about nail polish. (And really, everyone needs a song about nails walking).
FTISLAND "Puppy"
This song is ridiculous and cute and a gift to their fans, but FTISLAND's humorous search for their "Puppy" can't be overlooked. It's like the Internet got rolled into one, with cute boy band members looking for puppies and pizza, with the talent of FTISLAND and vocals of Lee Hongki thrown in just for good measure. FTISLAND is one of the most underrated acts in K-pop today, but this over-the-top song and music video are just too adorable to overlook.
Baechigi "Shut Up" feat. EXID's Solji
Combine Solji's sultry vocals with Beachigi's distinct rap style and you get one of my personal favorite songs of the summer. The song is about being used by people and the hardships of both general life and romantic relationships But rather than being a depressing tune, "Shut Up" is all about getting over things and doing what is good for you, even if others don't understand you. "Shut Up" has a lot of soul, saxophone, and self -assertion, so what more is there really to ask for?
---
---
Tiger JK "Blazing" feat. Yoon Mirae and Bizzy
If you ever thought that you'd fall in love with a promotional song for a baseball team, then you must be a big sports fan. But that's exactly what "Blazing" is — the absolute perfect pump up, sports anthem created by the members of MFBTY, Tiger JK, Yoon Mirae, and Bizzy, (although it is officially a song by Tiger JK.) The song is a passionate tune based on the anthem of Korean baseball team Hanhwa Eagles, "I'm The Eagles," and both the song and the music video offers the fiercest inspiration to pursuing your dreams that you will ever see.
Simon Dominic "Simon Dominic"
Simon D came back this month with several songs, including the self-titled "Simon Dominic." Like Cheetah's song, it's a personal take on what the singer wants to say those around him. "Simon Dominic" is a hook-filled song about Simon's attempts at making it big in the Korean music world as part of the duo Supreme Team and continuing to make his way in the hip hop world. The song's style and story led to "Simon Dominic" taking over Korean music charts.
What is your favorite lesser-known K-pop song from August? Share your thoughts in the comment section below and be sure to subscribe to the site and follow us on
Facebook
,
Twitter
,
Instagram
, and
Tumblr
to keep up with all of our posts.
https://kultscene.com/wp-content/uploads/2015/08/cheetah.jpg
640
960
Tamar Herman
http://kultscene.com/wp-content/uploads/2018/02/KULTSCENE-LOGO-2018-TRANSPARENT-RED.png
Tamar Herman
2015-08-31 12:55:47
2015-09-01 15:47:33
August K-Pop Releases You May Have Missed