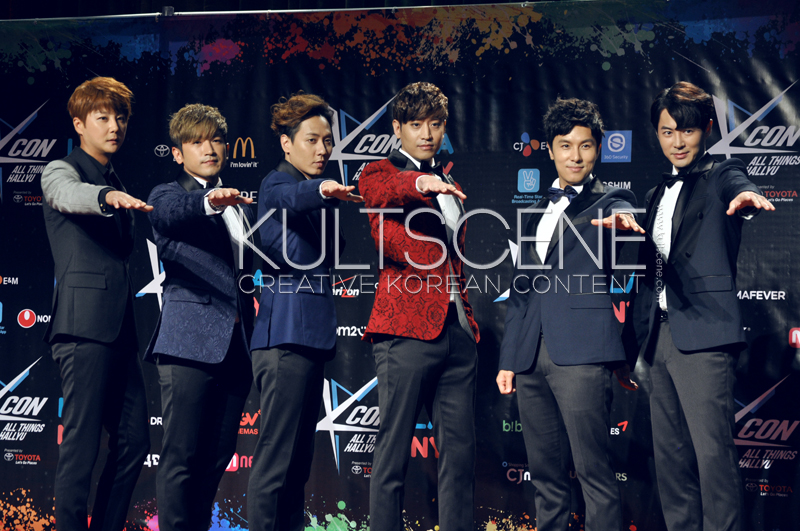 As an international Shinhwa Changjo (SHCJ, Shinhwa's fan club name), I could never have imagined the day where I'd be in the same room as them, let alone breathing the same air, witnessing these legendary men perform directly in front of my eyes, and on my home turf (granted, California isn't remotely anywhere near me, but it's a lot closer than South Korea). Of course there are days where I've mulled over the thoughts of potentially seeing Shinhwa perform one day. I've spent endless hours thinking of the endless possibilities, probably over a thousand times in the last fourteen years.The thought and desire has always been there and has consciously replayed over and over again in my head but it's never fully crossed my mind as to how things would play out.
You know that saying, "If I had a penny, nickel, dime, dollar" so on and so forth? For the amount of times that I've contemplated on visiting South Korea, I'd probably have enough to already be living there. Just to have the chance to visit the country and embrace the dynamic culture in which I've been so bewitched by for over fourteen years my life would be a life changing. But who am I really kidding? The main goal that's always stuck at the top of mind when thinking of Korea is how to get my hand on Shinhwa concert tickets. Word on the street is, and this is apparently true for a lot of the stadium performed K-pop concerts in Korea, that unless you're apart of the official fan club, which requires you to sign up with a Korean identification number (Korea's version of America's Social Security number,) or if you're willing to pay an absurd amount of money (occasionally two or three times of it's original value), then you might just be out of luck in terms of ever attending a show while you're there.
---
---
It's hard enough trying to purchase concert tickets here in the States, especially for artists like Beyoncé, Taylor Swift, and Justin Timberlake, let alone being a foreigner in Korea and purchasing concert tickets there. Aside from flying halfway around the world and going on an incredible trip, the thought of not being able to obtain tickets for a Shinhwa concert blew my mind even more. So can you imagine the emotions and feelings that rushed through my body when KCON announced Shinhwa to their Los Angeles line up this year? Can you hear my inner 11-year-old fan girl cries? If you're a SHCJ, were you too also sobbing happy tears?
The weeks, days, and hours leading up to KCON LA left me a complete mess. You can't really blame this fan girl though. A fourteen-year-old love and dream was finally becoming reality. Sure there were brief moments of random freak outs and spazzing at the mere thought of seeing Shinhwa in the flesh, but nothing fully dawned on me until the moment I was talking with a fellow SHCJ after running into her at another artist's' fan engagement on Saturday. These unexpected emotions came rushing in at full force after hearing her recall the experiences she's had with Shinhwa and about how she's "unable to breathe around them, especially Eric." I barely made it past the "unable to breath" part before I felt my face turn red. The buckets of tears were momentarily contained, but when she uttered Eric's name, a number of images quickly flashed through my head of his sharp face with a halo and angelic-like lighting surrounding him and then, cue the sprinklers because those tears couldn't be held back anymore.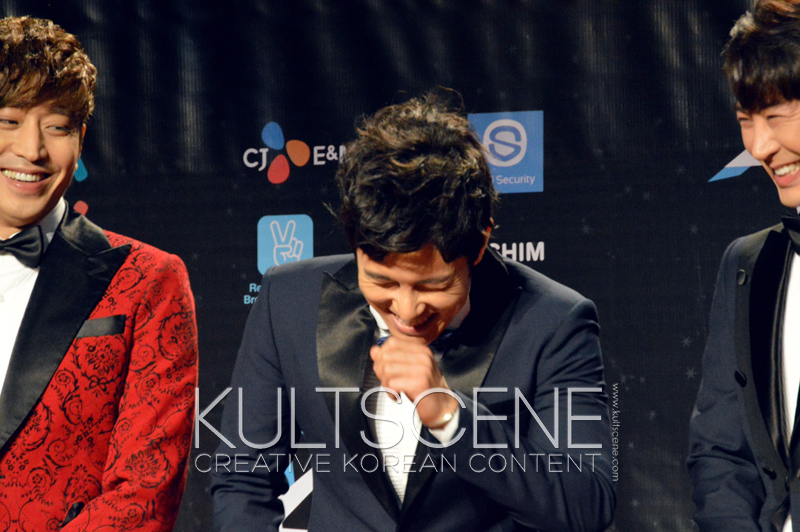 Even though that moment of mental collapse was short lived, whatever it was that came over me was enough to suck the living soul out of my body and to never return again. Shinhwa was set to perform Sunday night and it was only Saturday afternoon at this point; the next 24 hours were going to tear me into a million and one pieces. Aside from the temporary tears of joy, my once jittery nerves were on lockdown for most of Sunday. As much as I kept psyching myself out for what was about to happen later on that evening, especially since I had an audience pass for Shinhwa's fan engagement, when that eventual moment arrived, I was strangely calm for the most part. Who knows, maybe it was my brain cells way of telling me to chill out and let it rest for a bit.
I'm pleased I maintained my composure, apart from the sporadic squeals here and there, of course, and that I was able to enjoy the precious 20 minutes in the roomful of hyped up SHCJ's like myself. I obviously knew there were other fans out there but it wasn't until I was in line for Shinhwa's fan engagement (people started lining up as soon as doors opened at 10 a.m. for their engagement which was scheduled for 2 p.m.), that I realized how strong and dedicated this fan club truly was. There were other fans out there who enjoy watching Shinhwa act like little seven-year-old boys, fans who love it when these grown men bust out their inner fanboys, especially for Whoopi Goldberg, fans who aren't afraid to yell out "MY HO– USE" when Shinhwa's asked where they'd like to visit because they know the members will play along. I can't grasp the thought that there are people like me out there! I still can't process the thought that I was actually sharing this incredible experience with these people! Knowing all of this filled my vacant heart with warm and fuzzy feelings.
---
---
The guys were set to close Sunday night's show, and as much as I enjoyed all the artists that performed before them that night, especially Block B and Zion. T and Crush, my mind was focused on one thing and one thing only, the absolute grand prize: Shinhwa. All the excitement, happiness, joy, and love that I had built up for the last decade and some change, came down to this final moment. This was it. There was no holding back at this point. I held my breath and then an ocean worth of tears came spilling out as I watched Shinhwa's touching intro video. The moment that triggered the endless stream of tears was the clip of Eric saying "At first we came together as SHINHWA to be SINGERS, now we are SINGERS to be SHINHWA. It started as six and it will end with six." Just like how I've been there for the last fourteen years, I want and I will be there twenty years from now, thirty years from now.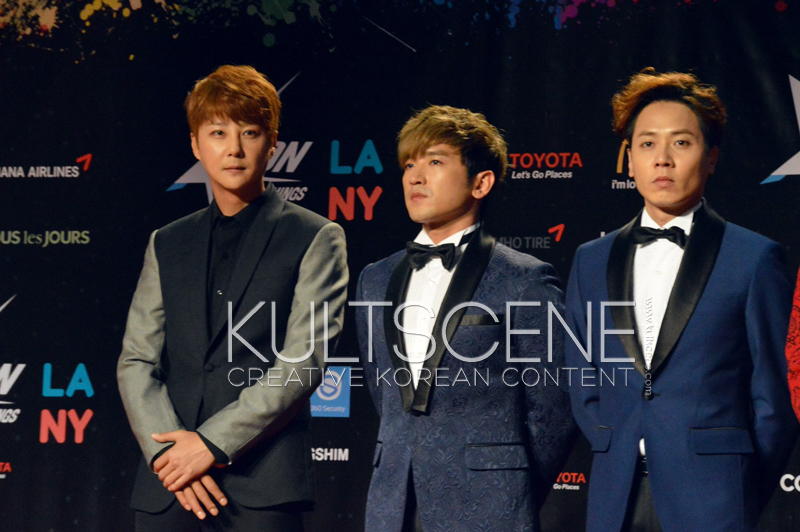 Just as I had expected, these guys showed up at the fan engagement and red carpet dressed to the ten. They went from looking sexy casual in simple button ups and dress pants, to the dashing chic men that they are in color coordinated tailored suits. Going into Sunday night's concert, I already knew I would've been content with whatever setlist Shinhwa played. A part of me expected 80 percent of their set to be songs off of "The Return", "The Classic" and "WE" album's, considering these albums were all released within the last three years. I wasn't expecting for them to throw it back with oldies like "Hey, Come On!" and "I Pray 4 U". The choreography for "Sniper" and "This Love" were all relatively mellow and synchronized versus the constant jumping, arm waving, and random moments of Minwoo's freestyling.
When "T.O.P" started playing as Shinhwa's opening song, the song that ignited the start of their success and popularity, I had what felt like an epiphany. I had come to the realization that we've come full circle, Shinhwa and I. Shinhwa were the ones who started me off on this thrilling K-pop adventure and if there's ever an expiration date on this never ending ride, then I'll end it with Shinhwa. I've been on this natural high for almost a week now, with no signs of ever coming down. I don't want to think too far ahead as to when the next time I'll see them again. Everything is still processing and registering in my head and I'll gladly let all of that slowly sink in just so I can continue reliving that pivotal moment in my Shinhwa Changjo fan girl life.
Although I could've waited forever for these men, I'm happy to say that it only took me fourteen years to see them! These legendary idols couldn't have put on a better performance!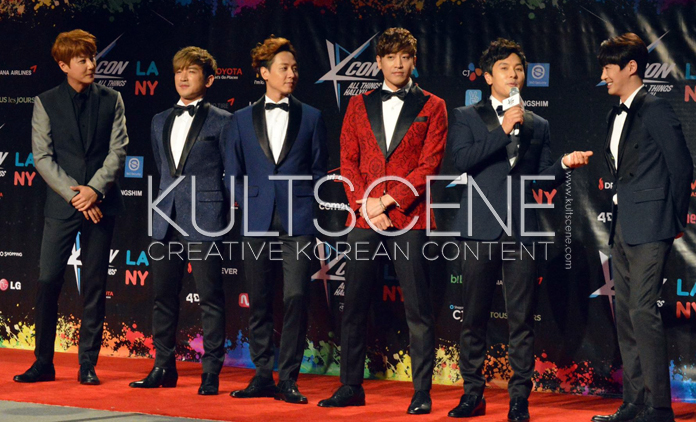 Tell me I wasn't the only one who felt this way! Share your thoughts in the comment section below and be sure to subscribe to the site and follow us on Facebook, Twitter, Instagram, and Tumblr to keep up with all of our posts.
https://kultscene.com/wp-content/uploads/2015/08/DSC_0989.jpg
531
800
Tam Huynh
http://kultscene.com/wp-content/uploads/2018/02/KULTSCENE-LOGO-2018-TRANSPARENT-RED.png
Tam Huynh
2015-08-09 09:28:43
2015-08-12 11:36:20
Thank You KCON LA For Ending My 14 Year Shinhwa Drought