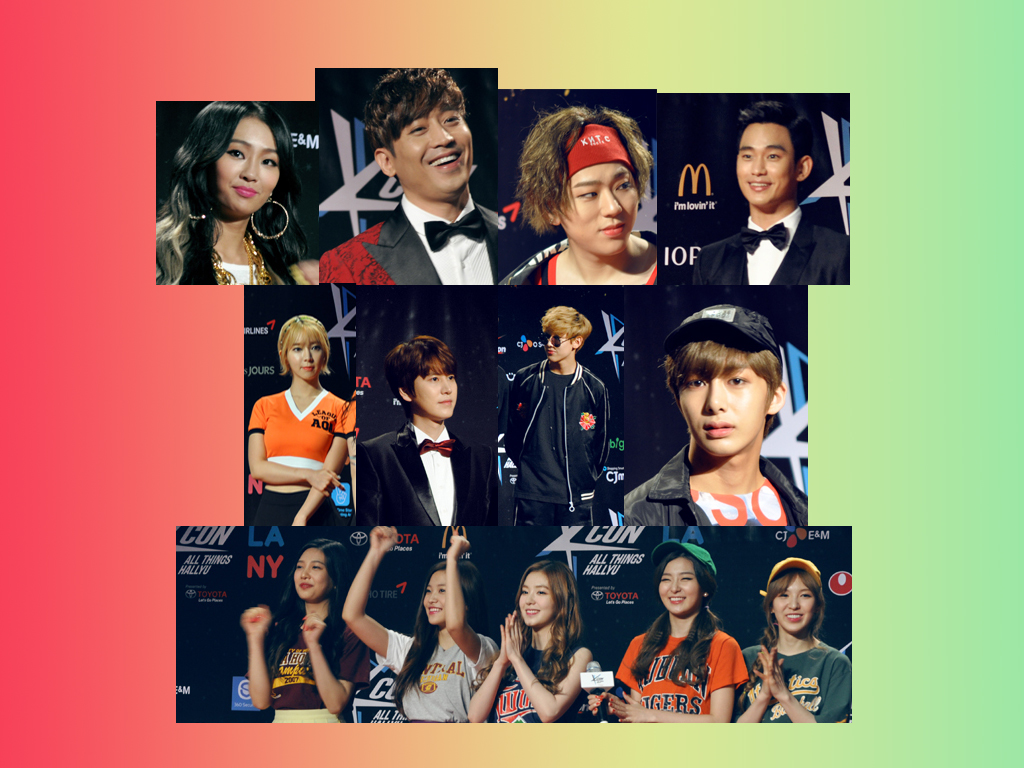 Red Carpet fashion is always fun, but when it comes to a K-pop red carpet, we never know what we are going to expect. With no assigned dress code on KCON's red carpet, the interpretation of fashion was open to the imagination of the artists' stylists. Some opted for classic suits, while some looks seemed to come out of fashion editorials and others simply wore their performance outfits for that night of the "M! Countdown" concert. Here is this year's break down of KCON '15 LA Red Carpet looks.
The Classic Suits
The easiest look for men on a red carpet is to go with a classic suit, but there are always some things you can add to make you stand out. Roy Kim kept it simple with a navy suit and paired it with a grey mandarin collar shirt and white sneakers. It was a very safe choice that transitioned perfectly onto his performance in the concert.
Son Ho-Jun, for his part, opted for a classic dark navy suit. The jacket had black detailing under the lapel that offered a modern take on the classic look. He paired it with a white shirt that featured a black collar and kept it crisp with a white skinny tie. The actor looked very happy and confident with his outfit, and made all the fans of "Reply 1994" scream and shout for him.
---
---
Eric Nam's bright and contagious personality really shone through his clothes. He wore a blazer and dress pants, but sported them with a casual shirt and sneakers, making him look fresh and modern but still appropriate for a red carpet. Eric is known for this kind of look, so this was no surprise for his adoring fans. Eric looked sharp and very handsome and created a great atmosphere on the red carpet that made everyone in the audience have fun and enjoy his three minutes in the spotlight.
In SHINHWA's case, the group's stylist made bolder choices. From Eric's red jacket, and pairing black trousers with blue blazers on Jun Jin, the choices were daring but very fun. The member's perfectly tailored suits looked incredible on them and made all of the Shinhwa Chanjos (SHINHWA's fans) go crazy after their long wait to see this legendary group.
When Super Junior came out, everybody in the audience went nuts! The boys looked incredibly handsome and chic in their suits. The black suits fit well on each member, and everyone added their touch of their own personality to it. Heechul added his trademark style with a face mask that read SUPER JUNIOR" and paired it with amazing shoes that featured gold metal accents. Eunhyuk and Kyuhyun were the only ones that sported red bowties that made them stand out from the other members. Moreover, Ryeowook was the only one who wore a different jacket with a white trim on the lapel, but it still managed to look cohesive with the rest of the group's styling. Super Junior was definitely one of the best dressed at KCON's red carpet.
We all already know that Daniel Henney is a gorgeous man. But with the look he sported on the red carpet, he made everybody in the audience fall in love with him even more. The cream suit paired with a white shirt and black patent leather loafers was a risky choice, but it turned out to be a home run for Henney. He managed to look elegant and casual at the same time by opting out of a classic bow tie or wearing a tie. The look was minimal and clean, and it clearly made a fashion statement in the red carpet.
There's really not that much to say about Kim Soo Hyun; he is simply perfect! For his very short appearance in the red carpet, his stylist dressed him in a beautiful classic three piece black suit. He looked like a prince out of a fairy tale. His hair was pulled up, letting us see his gorgeous eyebrows and facial structure. Plus, the oversized black bow tie added a little fun to his look.
True To Their Concepts
In comparison to the men who were generally decked out in suits,girl groups usually dressed in costumes or their current concept of the album that they were promoting. SISTAR sparkled in their red carpet outfits. Hyorin, Bora, and Soyou opted for sequin daisy dukes in silver, gold, and emerald green, while Dasom sported a sequined long sleeve crop top, making the girl group look cohesive and performance ready. SISTAR wore these outfits to the concert and, literally and metaphorically, shined on stage.
Following their recent concept for their comeback "Heart Attack", AOA sported their cheerleading outfits. The orange V-neck crop top with white and black trim was balanced perfectly with the circle wrap skort with orange piping. The outfits flattered each member and the color combination (even if it was a very Halloween palette — made the girls stand out.
The ladies of Red Velvet went a more casual and normcore route in their styling. They all wore tennis skirts in different colors, paired it with school athletic tees. Seulgi and Wendy wore baseball caps that made them look really cool. The pastel color palette looked great on the members and made them look very relatable and down to earth. They managed to look fun and young while still following their "Ice Cream Cake" concept.
The Fashionistas and Avant-Gardists
BLOCK B's stylist really had fun with each member. Everyone was dressed in a different style that still showed each boys' personality and fashion sense. Jaehyo wore one of the most coveted fashion items for this season, a Moschino by Jeremy Scott soda sweater. Zico wore a Thrasher jacket full of patches, tank top, and sweatpants, making him effortlessly cool. P.O. looked amazing in his suit and B-Bomb rocked the culottes in a very cool way.
Furthermore, GOT7 graced the red carpet with looks especially created for them by designer Ko Tae Young, who held a mini fashion show with the group during the convention. Bam Bam wore an amazing coordinated bomber jacket and shorts that were styled over ripped jeans a longline T-shirt and amazing Chelsea boots. JB looked very handsome with his hair up, oversized sunglasses, and patched military jacket. Mark stood out in a sleeveless jacket, showing off his arms, and paired with white culottes. While the rest of the members were styled in similar fashion, the group looked cohesive and ready for a fashion editorial.
---
---
MONSTA X is another case like Block B. Each member had a different styling that showed their personalities really well. They had a more urban and streetwear inspiration for their styling, which made them look edgy and cool. The best look was Hyungwon's long parka with the amazing Raf Simons for ADIDAS sneakers. Wonho and Minhyuk almost looked like twins, but still managed to bring out their personalities through their styling; Minhyuk looked cute, while Wonho looked sexy. Jooheon looked handsome with his red hair and a pink snapback. Shownu, Kihyun, and I.M.'s styling was a little bit more simple than the rest of the members, but still made them stand out and look cool.
Zion T. & Crush were two of the coolest men to grace the red carpet. And even if Crush's look was a little bit more casual, the one who stole the show was Zion T. We all are accustomed to the amazing avant-garde looks and silhouettes he presents with his daring fashion choices. He looked simple yet fashion forward with his wide legged black culottes, a simple black T-shirt layered with a printed dress shirt (which had the same print as Crush's dress shirt), an oversized blazer, Vans sneakers.
Which artist was your favorite in KCON's '15 LA Red Carpet? Share your thoughts in the comment section below and be sure to subscribe to the site and follow us on
Facebook
,
Twitter
,
Instagram
, and
Tumblr
to keep up with all of our posts.
https://kultscene.com/wp-content/uploads/2015/08/RED-CARPET-KCON-LOOKS.jpg
768
1024
Alejandro Abarca
http://kultscene.com/wp-content/uploads/2018/02/KULTSCENE-LOGO-2018-TRANSPARENT-RED.png
Alejandro Abarca
2015-08-10 18:41:31
2015-08-10 19:31:44
Breaking Down KCON '15 LA's Red Carpet Looks