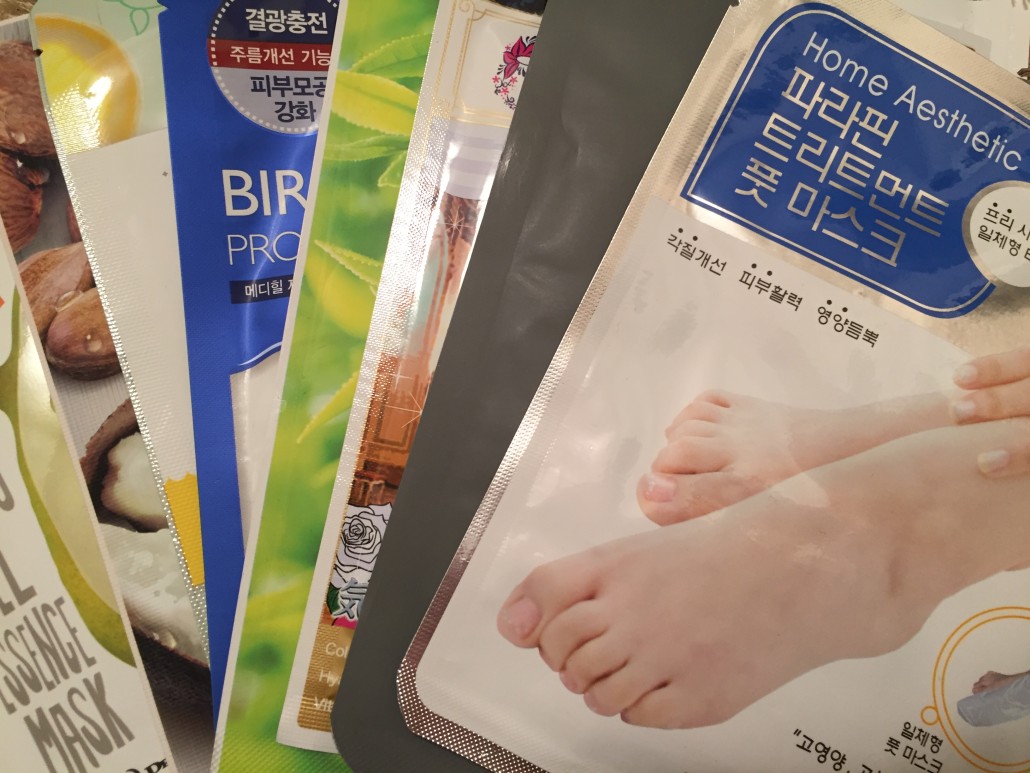 Korean beauty masks are all over the place nowadays. From sheets masks infused with natural ingredients such as Aloe Vera or a product like the Jeju volcanic clay mask, which is said to help draw out impurities and reduce sebum, when it comes to Korean face masks, there are so many choices. Even American and other western websites have hopped on the bandwagon, so if you're not using them already, well, why not? After living in Korea, I couldn't imagine going a week without at least one mask, but a few days ago one of our writer's sent me an article about one writer who decided to try two sheet masks a day for a week. That seems like a bit much, but it got me thinking about the fact that I have hoarded way too many Korean facial products for my own good (if there's such a thing). So I decided to challenge myself: Ten masks in 10 days.
But I couldn't just do 10 boring sheet masks in 10 days, oh no. Instead, I had to make it harder. Ten different types of masks in 10 days. Not too difficult. I could just use an animal mask one day and plain one another day, right? Not quite. Instead, each day, I wanted to try something new. So here are the sheet masks, the night masks, the hand masks, the masks you never could have imagined… Some are new to me, some I've tried before, but everything on here is a type of Korean mask.
Disclaimer: All masks featured in this article were purchased by me for personal use.
First Mask/Day 1: Lindsay Gold Modeling Rubber Mask
Attributes: "Uses colloidal gold extract to calm irritated skin and rejuvenate an exhausted, depleted complexion with a deep dose of hydration."
Pros: It was a good experience, even though it was my first time using a rubber mask. I really enjoyed how it was like baking; it was like Duncan Hines for my face! After it was all dry, I was able to peel off most of the mask pretty quickly, in large clumps, so it was a pretty quick overall experience. I don't know if I'll try the gold one again because I'm afraid I reacted badly to something in it, but I'd love to try other rubber masks in the future.
Cons: My face felt dry afterwards rather than hydrated and it was hard to pull some of the remnants off at the end, although overall I definitely would like to try another rubber mask. The next day, my skin was really soft, but still felt slightly irritated.
Where Can You Find It: $6 at Glow Recipe
Second Mask/Day 2: Laneige Water Sleeping Mask
Attributes: "The intensive moisturizing sleeping mask makes skin clear, glowing, and revitalized in the morning, as if skin had a restful sleep, with the Sleep Tox function of Laneige Water Sleeping Mask."
Pros: Goes on easy, just like any other cream product. It smells really nice, and when I woke up in the morning, my skin felt pretty supple. This was my first time using it, but I'm going to definitely start using this sleeping mask regularly.
Cons: I honestly had a hard time getting the packaging open and nearly had to grab a knife to stab through the seal. Additionally, I don't love feeling sticky when I wake up and I woke up feeling as if my face had been drenched in sweat. Once I washed my face off with cold water though, I felt much better and my skin definitely felt nicer than it does most mornings.
Where Can You Find It: $23 at Target
---
---
Third Mask/Day 3: Olive Young Dreamworks I Am The "Watery" Penguin Hydrogel Mask
Attributes: "The Watery Penguin Hydrogel Mask sheet is the SOS solution for complex skin problems. A whole bottle of Magic essence is in this Hydrogel facial sheet to moisturize, sooth and give the stressed skin its elasticity back."
Pro: THERE ARE PENGUINS ON THIS. No, but seriously. There are penguins on my face mask! Okay, but as for the actual mask. I really like this sort of gel mask, where there's a lot of elasticity. I did one recently that felt like I was putting a mask of ziploc containers on my face; the material was that harsh. However, when this one was was on my face, I could feel the mask gradually lose its moisture, so I knew when it was time to take it off. And afterwards, my skin was really soft.
Cons: The hydration of the mask didn't go so smoothly. Towards the edge of the mask, it was still really wet when the rest of the mask was 100 percent ready to be taken off. I ended up rolling the mask into a ball and rolling it over my face to spread the moisture, which is definitely not written on the directions.
Where Can You Find It: $3.57 at Koreakos
Fourth Mask/Day 4: Missha Home Aesthetic Paraffin Foot Mask
Attributes: "Special foot mask to provide moisture and nutrients to your dry skin to make it soft and sleak."
Pros: I've used this before – usually once a week (thanks NYC streets!) – as well as a similar one on my hands, and love it. It makes my feet feel like they've just been massaged with a lot of moisturizers. It reminded me of what my friend experienced after using CBD oil from a store like Blessed CBD (https://blessedcbd.co.uk). I know oils are moisturizing, however, her legs were skinning bright after its use. Anyway, this foot mask has a bonus, because these are like booties themselves, instead of having an extra plastic wrapper that you have to add after the initial bootie, so they're easy to get on. I wouldn't suggest walking around the house, but you don't have to be bound to a specific spot while using them.
Cons: I've used these a few times and the stickers that come with the booties to seal them almost are always completely too drenched, so I feel like I'm losing out on a bit of the moisture.
Where Can You Find It: $1.82 at Rose Rose Shop
Fifth Mask/Day 5: Etude House I Need You, Yogurt! Mask in Peach
Attributes: "Facial massage pack formulated with fruit and yogurt to soften, nourish, and replenish skin."
Pros: My face felt nice and clean after using, but I felt like it maybe should have been a exfoliating scrub and not a pack. It was really goopy, which some people may like since it holds in more moisture, but it just seemed heavy to me.
Cons: See above regarding the texture, plus the smell was a bit off-putting since it smelled exactly like peach yogurt (some people may like that too!).
Where Can You Find It: $10.90 for a pack of four yogurt packs Yesstyle
Sixth Mask/Day 6: The Face Shop Tiger Character Mask
Attributes: Hyaluronic Acid & Collagen Dual Solution
Pro: This is pretty much a basic sheet mask, so if you have never done one before and want to try your first Korean sheet mask, The Face Shop's sheets in general, not just the character masks, are a good choice. They contain a lot of moisture and are really easy to unfold. The sheet itself is pretty thin, so even while you feel like you're absorbing the moisture, your skin can breathe.
Cons: Most Korean sheet masks are similar, but I've never had to manipulate a mask as much as this one to cover beneath my eyes and the space between my nose and lips. (I actually pulled quite a big portion of it over my hairline so that the majority of my skin was covered). It may have been necessary for the animal features, though.
Where Can You Find It: $13.30 for 5 masks at Amazon
---
---
Seventh Mask/Day 7: Etude House Collagen Eye Patch
Attributes: "Formulated with collagen to revitalize and improve appearance around eyes."
Use these about once a month usually.
Pros: These are essentially sheet masks, pint-sized for just beneath your eyes. Pretty basic and simple to use. I have dark circles under my eyes and they don't really seem to do much for those, but I don't see any bags (which is surprising, given my general lack of sleep so I'll give the eye patches that).
Cons: Do not get the liquid into your eyes; it stings. Also, be careful when you're taking them out. The first time I couldn't get both pieces of plastic off of the cotton, so I thought it supposed to add texture. It's not.
Where Can You Find It: $1.30 at Etude House
Eighth Mask/Day 8: Innisfree Jeju Volcanic Pore Clay Mask
Attributes: "A clay mask with Jeju volcanic scoria to absorb sebum and impurities for clean skin pores."
Pros: I have very large pores and I've been using this mask for a few years. The clay feels like clay, so I like that instead of some of the liquid "clay" masks I've tried in the past. It goes on really smoothly and if you're careful, you can literally cover your whole face; I've put it over my eyes on numerous occasions and it doesn't cause any irritation.
Cons: It doesn't come off so neatly, so make sure to use a wash cloth otherwise you may end up with small bits of clay all over your face for the next few hours.
Where Can You Find It: $14 at Innisfree
Ninth Mask/Day 9: Kocostar Split End Therapy Hair Mask
Attributes: "Kocostar Split End Mask repairs, rebuilds, and strengthens damaged hair for softer, shinier, healthier tresses. Infused with a rich concentration of hair-saving ingredients including argan oil, simply wrap your hair with this sheet treatment, leave in, then remove to rebuild and strengthen hair, leaving strands soft, moisturized, shiny, and healthy."
Pros: I've never used a hair mask/wrap before, but I know Koreans spend a lot of time and money on hair treatments, so when I saw this at Urban Outfitters, I decided to give it a try. I don't have that many split ends, but they're always a problem in between haircuts.
Cons: Aside from a bit of difficulty to make sure all of my ponytail was in the wrap, I don't know if there are any real bad things. However, I honestly have no idea if it made my split ends go away after one use, so it's a bit different than other masks which make you immediately recognize softer skin or, like a clay mask, are meant to be used repeatedly to get rid of an issue.
Where Can You Find It: $5 at Urban Outfitters
Tenth Mask/Day 10: Whamisa Real Kelp Sheet
Attributes: "Instant wrinkle improving/ improving skin brightening/ decreasing swollen face/pore contraction/ improving skin grain/ skin gloss improving/ 72 hours skin moisturizing/ skin transparence improving/ clinical tested by Kyung Hee University, skin life engineering laboratory."
Pros: I honestly couldn't think of anything due to…
Cons: The intense smell really disgusted me. The entire time I was wearing it, I just wanted the sheet off my face, which is unfortunate. But it smelled like dead fish and the beach to me. The second smell was okay, the latter not so much. I don't think I'll try this one again, unfortunately, because I was really excited to try this out after hearing about the benefits of seaweed. The mask is made out of kelp, which I thought was cool, but I think it backfired for me personally.
Where Can You Find It: $14 at Glow Recipe
Final Result
Ten masks in 10 days seemed like a good idea and my skin is definitely more supple than it is with my normal beauty routine of using one or two masks a week. Trying out new and old masks alike definitely made me realize what I'm looking for in products and what sort of things I'm going to avoid in the future. So if you're looking to try out a few masks to find the perfect one for you, 10 masks in 10 days is definitely the way to do it!
If you're trying out 10 masks in 10 days, let us know! And if you have ideas for other Korean beauty products you'd like us to feature, share your thoughts in the comment section below and be sure to subscribe to the site and follow us on Facebook, Twitter, Instagram, and Tumblr to keep up with all of our posts.
https://kultscene.com/wp-content/uploads/2015/11/IMG_9787-e1446592459193.jpg
900
1200
Tamar Herman
http://kultscene.com/wp-content/uploads/2018/02/KULTSCENE-LOGO-2018-TRANSPARENT-RED.png
Tamar Herman
2015-11-03 15:24:25
2015-11-04 14:40:26
Introduction To Korean Masks: 10 Masks In 10 Days