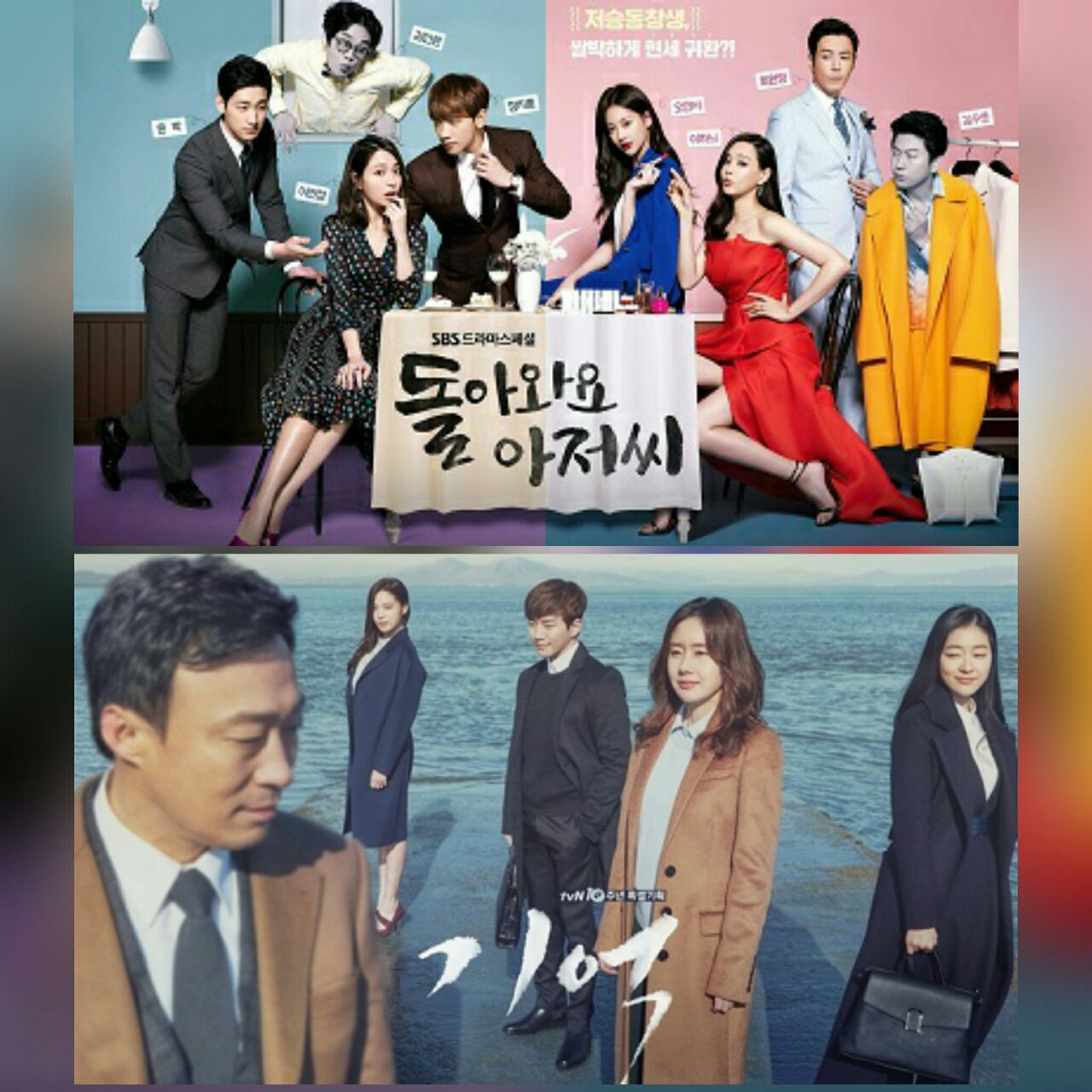 K-drama blockbuster KBS's "Descendants of The Sun" ended its highly successful run after sixteen episodes with a nationwide viewership rating of 38.8%, a feat that has not been accomplished ever since 2013's "The Moon That Embraces The Sun." With its stylish cinematography, gorgeous cast and riveting storyline, it is no wonder that the drama attracted so many viewers, both in Korea and all over the world. For an industry that has not seen dramas with greater than 20% in a long time, "Descendants" has brought about a revival and perhaps even started a trend for pre-produced K-dramas. For all its success, however, there were dramas which suffered because of Descendants, such as SBS's "Come Back Ahjussi," which shared the same time slot, and other dramas who are severely underrated such as tVN's "Memory".
"Come Back, Ahjussi"
Although the drama featured familiar names like Rain and Oh Yeon Seo, "Ahjussi" suffered from dismal ratings which further deteriorated as "Descendants" became increasingly popular. While the drama cannot be seen as a commercial success, it certainly delivered in terms of its production quality and hilarious storyline. At times ridiculous and side-splitting, at times emotional and heartwarming, "Ahjussi" achieved a perfect balance and was a thoroughly enjoyable show, despite its slightly illogical plot.
While the show was largely advertised to be one about reincarnation and gender-switching, it was actually one big family drama. The main ahjusshis in the show came back to Earth from Heaven because they were not ready to leave their "families" behind. Their main motivation was love, and through the comedic hijinks and craziness this motivation always showed. Along the way, new relationships were formed both with these reincarnated characters but more importantly between their loved ones who were left behind. The characters learnt to move on with their lives and the growth in each character through the show was lovely to watch.
The main standout of the series would be lead actress Oh Yeon Seo. She's always been recognised for her good acting but it was not until this drama that she displayed her full comic potential. Without regard to her image or dignity, she perfectly portrayed her role of Han Gi Tak, a middle-aged man who got reincarnated into a woman's body, all the way from the gruff mannerisms to the awkward balancing on high heels. Oh Yeon Seo imitated original actor Kim Soo Ro successfully and created a beautiful character that stole the show. She was fearless, innovative and steadfastly loyal but yet remained so human that it was easy to sympathize with her. She also enjoyed a surprising winning chemistry in her part love part BFF relationship with Honey Lee, who managed to show off her humorous chops as well. Oh Yeon Seo really put on a stellar performance in this series and I'm looking forward to seeing more of her.
Her co-actor Rain did splendidly as well and it was great to see him embrace his comedic side once again in a drama (the previous comedy he did was "Full House" in 2004). From admiring his ass in a lift to spazzing about his own chocolate abs, his portrayal of Kim Young Kwon was flawless and totally believable. Young Kwon might have been narrow-minded and slightly frustrating but Rain's portrayal helped to make the character more lovable, if not relatable. His relationship with Oh Yeon Seo defied all the K-drama rules of romance and was really refreshing to watch. This drama is a rare gem which got the gender switching right and used it to its full potential.
---
---
"Memory"
While "Ahjussi" did not pull in high ratings in Korea it did garner an international fanbase but there is another currently airing K-drama that has been floating under the radar ever since it started its run. This is none other than the drama, "Memory" which stars Lee Sung Min (known most recently for his role in "Misaeng" ) as a lawyer with Alzheimer's. At first glance, this plot seems extremely similar to the recent drama "Remember: War Of The Son," which featured Yoo Seung Ho in the similar role of a lawyer who also suffered Alzheimer's. At a deeper level, however, the dramas are inherently different, in terms of realism, themes, and even the focus of the drama. For one thing, "Memory" definitely gives a more accurate portrayal of Alzheimer's Disease. With the disease striking a middle-aged character like Lee Sung Min's Park Tae Seok, the symptoms and problems that he goes through as a result of his diagnosis definitely feel more real and recognisable in our current society.
Despite its title, "Memory" isn't all about Alzheimer's; it is a drama which has many important messages to convey whether it is highlighting social inequality or bullying situations in schools. The conflicts and tragedies in this drama are fleshed out and realistic and could occasionally make for a depressing watch but at the same time is trulycaptivating. There is also an undercurrent of hope that ties the drama together, a sense of optimism which is present in each character, even if it's not explicitly shown. It's the same optimism which drives Park Tae Seok to keep fighting his disease, the same spirit that keeps his colleague Jung Jin (Lee Junho) motivated to stand up for justice, the same courage that allows Seo Young Joo (Kim Ji Soo playing Lee Sung Min's character's wife) to keep smiling even as her family falls apart.
"Memory" is a beautifully produced drama, with poignant and relevant scenes at every bend. The character arcs of the various main characters are nicely drawn out, the best of which would be Park Tae Seok. He started out looking like a heartless and vicious lawyer but as his disease started to change him, both physically and mentally, his perspective on life shifted. Rather than dismissing him as a normal cliche character who turns over a new leaf because of a terminal illness, I would argue that Park Tae Seok was just reverting back to his original self – the self that would fight for justice even if he would not benefit from it, who valued his family and friends over money, the self that would not give up. Watching him evolve as a character and the transformations in his relationships with his family or the people around him is a gratifying experience, one which I can only credit to the tight writing of the drama.
---
---
Lee Sung Min, of course, is killing it in his role. His ability to internalize and inhibit his character is astounding and is a big reason why Park Tae Seok has become so real in the drama. His every word and action is sincere and he really carries the show emotionally. He also has great chemistry with the other members of the cast like Jung Jin whom he has created an adorable bromance with. Their banters are natural and light-hearted which bring about some much needed humor in an otherwise melancholic story.
Speaking of Jung Jin, Lee Junho ( of the K-pop boy band 2PM) is doing a great job in his debut drama role. Granted, he has quite a lot of acting experience from the few movies that he's starred in, but the natural way he presents the character helps to make the character more relatable and likeable. He's holding his own well in front of veteran actors like Lee Sungmin too and I hope he'll get more opportunities to act in the future.
The two underdog dramas I've mentioned above are underrated for different reasons, but here's to hoping that they'll get their due recognition soon.
Have you watched any of the dramas listed above? What is your opinion on K-drama viewership ratings? Share your thoughts in the comment section below and be sure to subscribe to the site and follow us on Facebook, Twitter, Instagram, and Tumblr to keep up with all of our posts.
https://kultscene.com/wp-content/uploads/2016/04/IMG_2016-04-18-183642.jpg
1280
1280
Anna Cheang
http://kultscene.com/wp-content/uploads/2018/02/KULTSCENE-LOGO-2018-TRANSPARENT-RED.png
Anna Cheang
2016-04-19 07:47:49
2016-04-19 08:28:57
K-Drama Rating Underdogs: 'Come Back Ahjussi' & 'Memory'