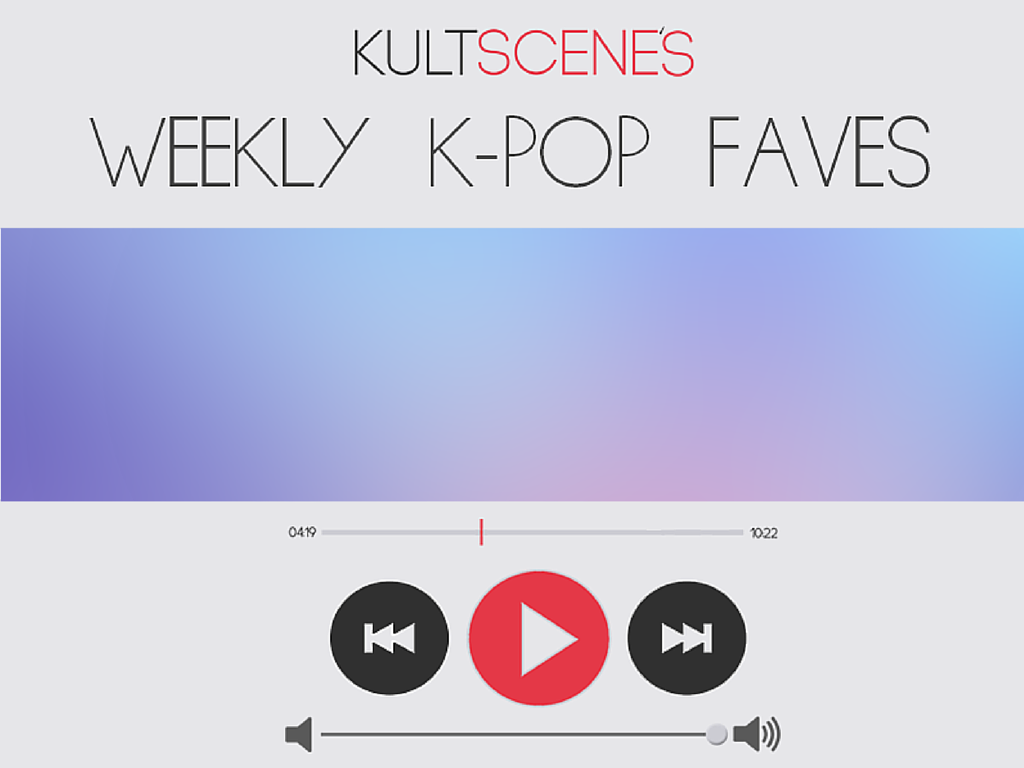 As summer nears in, K-pop releases are turning up the tempo. So for the faves songs of the week, most of them got us dancing and vibing. Check them out!
"10 Seconds" by AOA (Released on May 16)
I think everyone was at least a little bit disappointed by the AOA's comeback "Good Luck". It doesn't seem to have the growing power of "Heart Attack" either so we can be thankful that the mini album has a couple gems. Best of the bunch is "10 Seconds", a glistening synth pop track that plays up AOA's strengths. It's the perfect soundtrack to an 80s erotic film with a slower pace that allows for sexier vocals and choreography than anything AOA have done yet. Main vocalists Choa and Yuna shine with whistling ad libs while the other members need not exert themselves, favouring sensual whispers.
— Joe
---
---
"All In" by Monsta X (Released May 17)
I'll be honest, I didn't have much interest for Monsta X when they debuted (at the time, I was juggling way too many boy groups to deal with another one.) But after seeing then at KCON LA last summer, I can't help but pinch myself for not having given them the time of day. The groups' latest release "All In" has entrancing beats from beginning to end, making it impossible to sit still. The song only gets better and better with each listen. Both rappers in Monsta X, Jooheon and I.M add a cool pizzazz and zing to the song making it all the more intense, to go along with the cinematic music video. Watching "All In" is like watching a dramatic post apocalypse movie with a whole lot of great visuals; both in structures and members wise.
— Tam
"Aphrodite" by B.I.G (Released May 16)
I honestly don't know anything about B.I.G. Since I had included one of their songs in a Misheard Lyrics article in the past, when their video for "Aphrodite" popped up in YouTube, it caught my attention. I can't say I loved this song or anything, but having zero expectations, it did leave a good impression on me. While the music video and their overall styling seems like something we've already seen from other groups throughout the years (I thought of History, for some reason), the song was refreshing in that in evoked a past time in K-pop. The song isn't swarmed by EDM or trap or even your now standard #Swag hip-hop beats. I was also entranced by the cool contrast in the member's voices; the vocal line has a high pitch while the rappers have deep voices. I especially like how the song doesn't go hard a la Monsta X or iKON, but stays perfectly situated within the pop realm where the hip-hop beat is merely an accessory to the overall sound. I don't think "Aphrodite" is the song that will catapult B.I.G to K-pop royalty, but it's enough to keep me coming back to see how they're doing.
— Alexis
---
---
"I Remember (How Are You These Days)" by KNK (Released May 16)
If it weren't for the fact that I scrambling to look for something to write about for our Weekly K-pop Faves this week, I probably would have glossed over KNK's surprise mid-tempo R&B track "I Remember (How Are You These Days)." It's a shame really that the group chose not to promote the special release; the easy piano melody and friendly guitars makes it a perfect addition to any springtime themed playlists. It doesn't go hard like their debut single "Knock" did, and it may be a safe song, but it's pleasant enough to be enjoyed on its own. The longing vocals, added onto the similar instrumentals and sentimental lyrics pondering old love, reminds me a lot of the more ballad stuff that groups like BEAST has been putting out recently (that is, if they were still active). Throw in a few synths, and you just made yourself a spitting image of BEAST's "At That Place." Not to discount the song or the group, though. Despite still being in their awkward rookie group phase, KNK has proven in the past with their covers and now with this that their vocal capacity is anything but amateur.
— Shelley
"Save Me" by BTS (Released May 15)
BTS experimented and blended various genres for their latest album "Young Forever." I am absolutely in love with the whole trilogy of "the Most Beautiful Moment in Life," signature trademark of BTS and makes them stand out from the rest of the K-pop industry. "Save Me" is a sentimental track that holds various musical influences. This song consists of various EDM sub-genres from trance to techno and blending in with euro dance. The lyrics emphasize on redemption and desperation of love. For the music video, I was expecting something similar to "I NEED U," sentimental and pessimistic. But "Save Me" is a dance choreography video with rhythmic moves. The video is shooted on a deserted landscape and gives a gloomy look, but it is aesthetically pleasing. The apparel is simple and elegant similar to the style of the "I NEED U" music video. "Save Me" is a soothing track with catchy chorus which is accompanied synth whistles that create an atmosphere of melancholy. All I can say is that this song is entirely different from "Fire" and I cannot get enough of it.
— Sana
What was your favorite K-pop song this week? Share your picks and thoughts in the comment section below and be sure to subscribe to the site and follow us on Facebook, Twitter, Instagram, and Tumblr to keep up with all of our posts.
https://kultscene.com/wp-content/uploads/2016/05/Untitled-design-3.png
768
1024
KultScene
http://kultscene.com/wp-content/uploads/2018/02/KULTSCENE-LOGO-2018-TRANSPARENT-RED.png
KultScene
2016-05-22 20:42:28
2016-05-22 20:42:28
Weekly K-Pop Faves: May 15-22