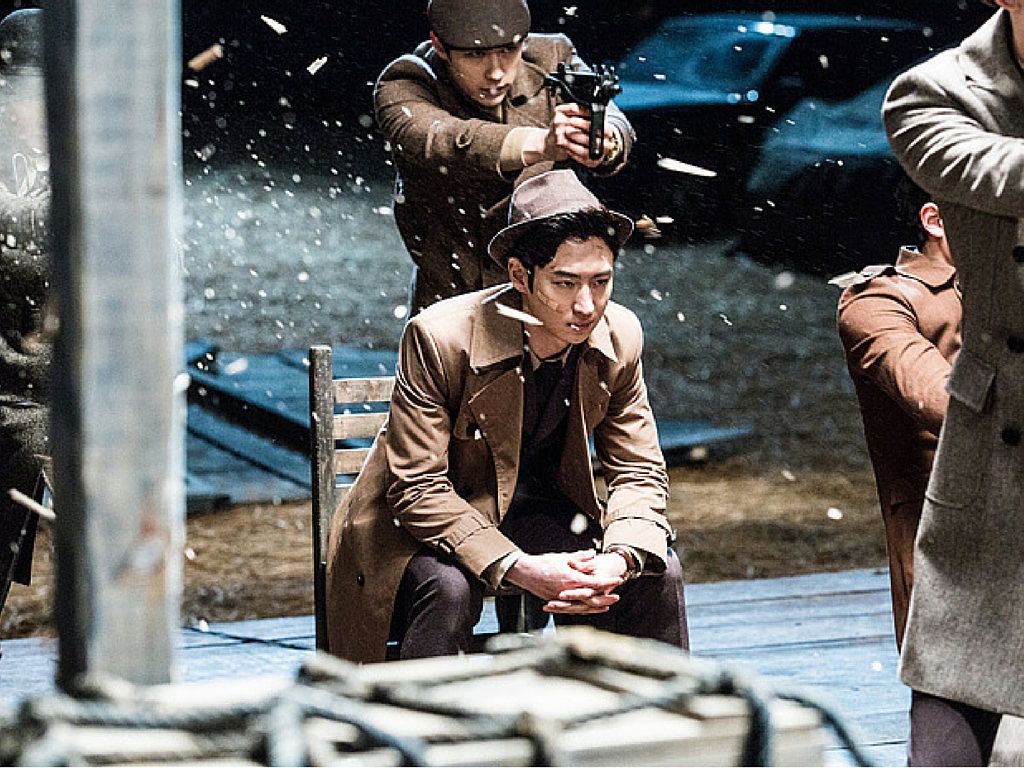 As part of their newly launched Korean Movie Night New York: Premiere Showcase series, the Korean Cultural Center NY provided East Coast audiences and film critics with a special preview screening of independent filmmaker Jo Sung-Hee's latest return to the silver screen, "Phantom Detective" on May 18th ahead of its May 20th release. The movie is a modern adaptation of a Joseon Dynasty Robin Hood folklore, Hong Gil-Dong, but instead of the classic, chiseled butcher-framed hero, Lee Je-Hoon ("Architecture 101," "Bleak Night") stars as our pretty-boy sociopathic private investigator of a protagonist.
[Disclaimer: This article contains major spoilers]
The neo-noir film, set in an unspecified time period, follows Hong on his pursuit for the one-eyed Kim Byung-Duk who he witnessed murder his mother 20 years ago. Yet before our anti-hero could arrive at his nemesis's humble abode to exact revenge, he discovers that his killer had already been whisked away by someone else with a different agenda. In Kim's stead are his two young granddaughters, who quickly become not only Hong's meddling sidekicks but also comic relief for the plot that favors melodramatic shootouts and nihilistic themes.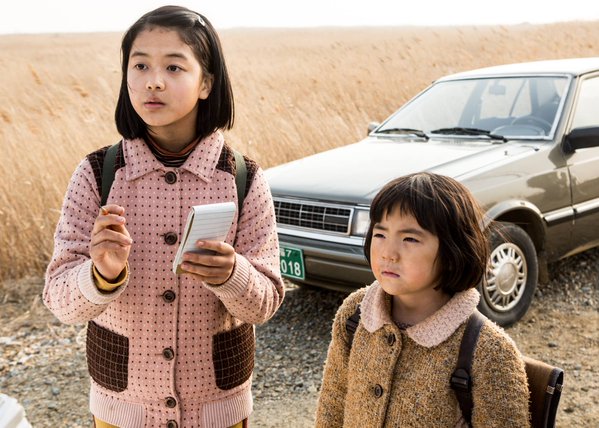 The unlikely relationship that forms between an apathetic male lead and doe-eyed youth in thriller is a common trope (see "The Man From Nowhere") that I knew going into the screening was going to be set-up for pathos. Audiences still shamelessly bought the bait though, because as much as Hong's character was thawed out by the inquisitive girls, viewers too were captivated by such naiveté. There are several tear-inducing moments, such as when the eldest granddaughter finally let her suppressed tears fall upon her grandfather's death, which could not have been achieved had it not been for the virtuous nature of the secondary leads. The delivery of the child actress Roh Jeong-Eui ("Pinnochio," "Dream High 2") and Kim Ha-Na, who is only making her acting debut here, were just as convincing as some of the already known cast members, such as Go Ara and Kim Sung-Kyun ("Reply 1994"). With a killer (no pun intended) script and a star-studded cast, my expectations for "Phantom Detective" were already very high.
---
---
And for the most part, those expectations were met. It was enjoyable, definitely, but for a two hour movie more could have been fleshed out, especially in the telling of Hong's past. In his mad search for Kim and in figuring out his kidnapper's motives, Hong also unravels his own identity and his past involvement with the organized crime group of which the assailants are working for. Jo Sung-Hee appropriately foreshadows Hong's connection to this cult early on in the film, as indicated by the recurring shots of the tattoo on his wrist who he shares with some of the – as viewers soon learn, corrupt – political leaders. My qualm, however, lies not with establishing this second storyline, but with the lack of a real build-up to Hong's relationship to the party's ringleader, Kang Sung-Il, played by Kim Sung-Kyun. With a literal bang, Kang's character is first introduced in an armed tableau, where he is portrayed as Hong's worthy adversary. For the first time the intuitive Hong with the "99 percent success rate" is outwitted, and it is here that we know that the real antagonist is not Kim, but Kang.
As it also turns out, Kang is Hong's brother. Yet this does not become clear until the climax, which seemed as out of place as Kang's introduction. What happened to the pair when they were younger so that things turned out the way it did? What is the backstory behind their parents? While this could be fodder for a sequel, the pacing and execution could have been better.
Another fault concerns the somewhat inconsistent use of noir elements. Besides the low-key lighting and striking contrast between light and shadow that are typical of the genre's distinctive cinematography, the movie also deliberately employs CG effects a la "Sin City." The opening scene where the camera pans from car to obviously graphic city is a page straight out of a comic book, as is also the case where the light catches Kang's glasses in the most sinister of ways that has only been done in Japanese animes. But sometime amidst the skirmishes and apocalyptic pandemonium, these devices are lost. As a result, the hyper-reality that Jo Sung-Hee envisioned for his alternate universe couldn't even suspend my disbelief. I thought it might have been my scant exposure to neo-noir that made the stylistic choices seems satirical at best, but in retrospect it might have its erratic application.
---
---
That being all said, I would recommend "Phantom Detective" to anyone who was riding on its hype, but not as something to watch a second time. I realize this review may come off as reproachful and berating to some, but on the contrary; I sincerely appreciated all the chair-gripping combats and plot twists. When Kim said that he did not regret killing Hong's mother and would do it a thousand times over if it meant protecting his family in front of a desperate Hong, I had to pick my jaw off of the theatre's carpeted floor. Like why?! I was rooting for you, old man!
The plot is constantly complicated by the past of its characters, and the even though there was no doubt in my mind that good will prevail over evil (blame popular culture for this canon), it's the means by which to get to the ends that makes the film laudable of a watch. It's been a week since the initial viewing and I still cannot gauge how seriously I should be taking it and all its animated, laypeople-operating-machine-gun glory. I suppose that that is its charms. Not to mention, the movie serves as a nice pace of change from the superhero genre that currently saturates our box offices today. Not all heroes wear capes; some wear trench coats and fedoras and always carry a stash of caramel on hand.
Check out the movie trailer:

And if you miss "Phantom Detective" at its East Coast Premiere at the IFC Center, you can still catch it at select theaters throughout North America here.
Have you watched or are you planning to watch "Phantom Detective"? Share your thoughts in the comment section below and be sure to subscribe to the site and follow us on Facebook, Twitter, Instagram, and Tumblr to keep up with all of our posts.
https://kultscene.com/wp-content/uploads/2016/05/Untitled-design.jpg
768
1024
Shelley Foo
http://kultscene.com/wp-content/uploads/2018/02/KULTSCENE-LOGO-2018-TRANSPARENT-RED.png
Shelley Foo
2016-05-25 09:00:55
2016-05-25 09:07:24
'Phantom Detective' Is Bringing Back Detective Noir to South Korea