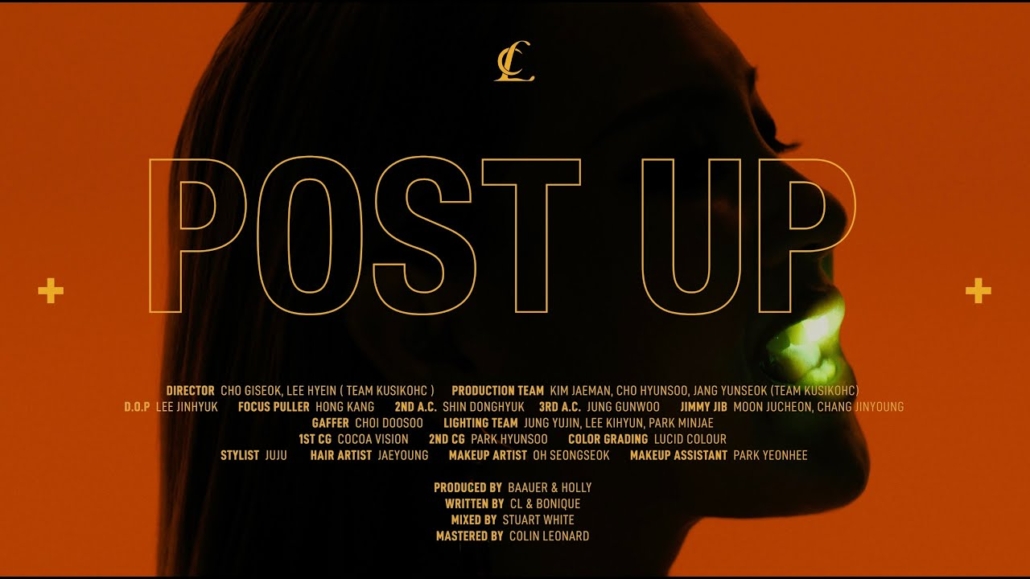 A lot can happen in a decade. It's true for all of us, but if you're CL, you especially know what I mean. You ride the wave of success with 2NE1, only to face long hiatuses and disbandment near the group's peak of international popularity. You mount a plan for global conquest, only to be passed around by management, promising releases that would sparsely materialize. You go from household name in the K-pop scene in 2015, to wondering ever-so-slightly if the K-pop's millions of new fans even know who you are in 2020.
If CL's December 2019 EP In the Name of Love was a long-awaited exhale, an emotional and physical release in response to years of pent-up tension, then "+POST UP+" is finally breathing fire.
The track was produced by Bauuer and engineered by Colin Leonard, who are some of the minds behind Kris Wu, Rico Nasty, and Cardi B hits. It's a noisy, bounce-clap production ripe with heavy syncopation, and carries the raw, steampunk energy of an angry mob holding fiery torches, poised for attack. But CL isn't angry—"even if I get knocked down 9 times, get up 10 / Deep breath, zen"—she's calm, composed, and ready.
"Baddest female Asian, that is the status." "Honey, world is mine ain't no running from it"—the bars ooze with her trademark confidence and conceit. But unlike her more commercial releases, 2013's "The Baddest Female" and 2015's anthemic "Hello Bitches," you can hear the rookie mindset in her lyrics and delivery. She talks of a "fresh start right away, reoffense," and "big dreams, whole lot of bigger things." CL knows that, after years of dipping in and out of the spotlight, she has a lot to prove. But this time, she's hungry for the challenge.
This is a big moment for her. She's no longer the loudest voice among Korean artists' global movements. In a world where K-pop is now at the cutting-edge of global music, she'll need to build a new home within, or perhaps outside of, an influx of increasingly international Asian and Asian American acts. And in a global music industry where understandings of cultural appropriation, call-outs of blaccent and AAVE in non-Black rap, and consciousness of anti-Black racism in music are at an all-time high—a world that is, in many ways, vastly different than that of when she stepped out on the scene 11 years ago—CL has and will have to continue to reckon with the "Baddest female Asian" identity.
But none of this changes the cold, hard truth—it's been more than a decade of CL in the game. She says, "I go by the name of… you already know." And even if you don't know, you do.
What are your thoughts on CL's "+Post Up+"? Let us know in the comment section below and be sure to subscribe to the site and follow us on Facebook, Twitter, Instagram, and Tumblr to keep up with all of our posts.
KultScene is a writer-driven website dedicated to creating a platform where diverse voices' takes on K-pop can be heard. If you like this post and would like to see more by helping support KultScene's writers fund, please email us for more details.
https://kultscene.com/wp-content/uploads/2020/09/cl-post-up.jpg
720
1280
Kushal Dev
http://kultscene.com/wp-content/uploads/2018/02/KULTSCENE-LOGO-2018-TRANSPARENT-RED.png
Kushal Dev
2020-09-15 15:48:49
2020-09-15 15:48:54
Fast Take: CL's "+POST UP+"