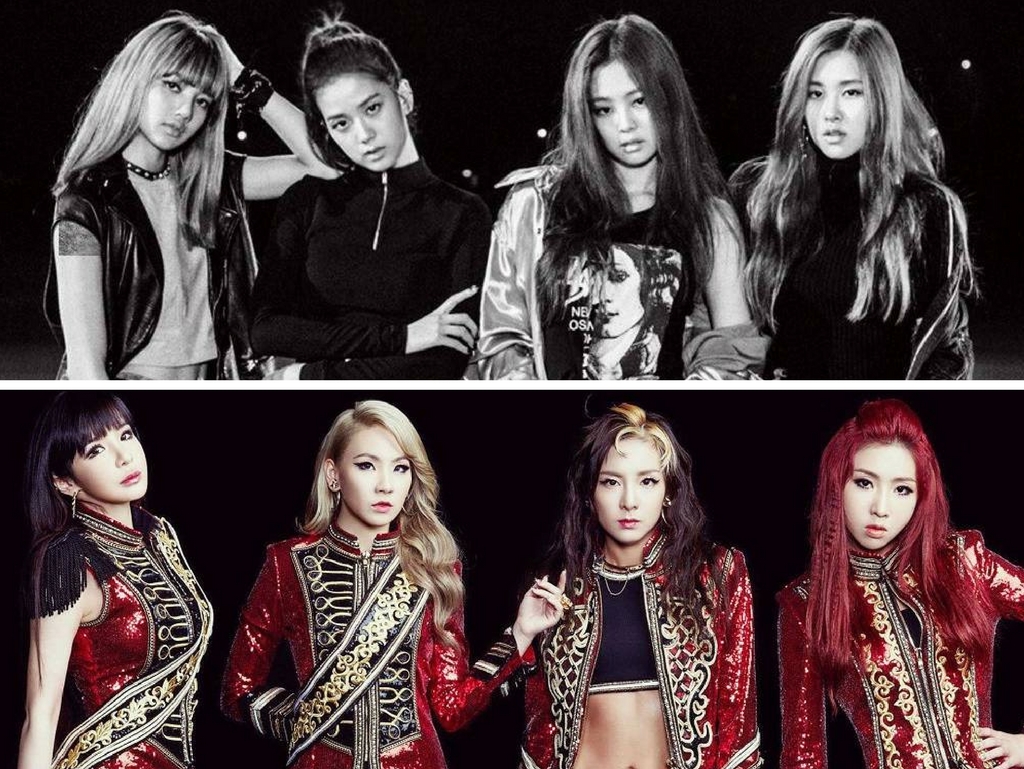 Around the time of their debut earlier this month, I wrote a detailed introduction to YG Entertainment's long-awaited girl group, BlackPink. Now that the group's history and its members have been properly discussed, the time has come to analyze the group's structure and sound. While YG made it clear that he originally wanted to create a group like Girls' Generation from rival SM Entertainment, the label ended up opting for something much more like its own act 2NE1. BlackPink's formation, in my opinion, is definitely the safer route. Instead of pushing its boundaries to create a larger girl group with bigger visuals and personalities, YG maintains its trademark styles of fusing hip-hop and pop while emphasizing rap and vocals over everything else. Because the songs match YG's style so closely, the question must be asked (and it is being asked all over the K-pop community) – what differentiates this group from 2NE1? The answer is, well, not that much.
I will, however, dive into the similarities and differences to provide more insight.
---
---
In terms of members, BlackPink mirrors 2NE1 almost exactly. Jennie's place in the group is almost identical to that of CL because her specialty is rap, but she can sing and dance as well. She gives off the same badass, hardcore vibe that is so notoriously CL. Going off of that, Jisoo mirrors Dara, serving as the visual focus of the group and handling some singing lines. The importance of her role is performance much more than any specific raw talent, which is exactly what Dara contributes to 2NE1. Rosé easily matches Bom, as both are main vocals and handle only singing lines, especially ones that require the most vocal skill and power. The most recognizable connection is between Lisa and Minzy – both are maknaes (youngest members), and are (or were) the most versatile members of their respective groups in terms of talent. Lisa handles rap and dance along with a few singing lines, similar to Minzy's role in 2NE1 around the time of their debut.
And like 2NE1, BlackPink's musicality and lyricism is influenced very much by the members' international backgrounds – both groups have only one member born and raised in Korea (Jisoo in BlackPink, Minzy in 2NE1), another member who lived in Southeast Asia (Lisa in BlackPink, Dara in 2NE1), two members from English-speaking countries (Jennie lived in New Zealand while Rosé lived in Australia, CL and Bom lived in the USA), and some European influence as well (Jennie is originally from the Netherlands, CL spent a few years living in France).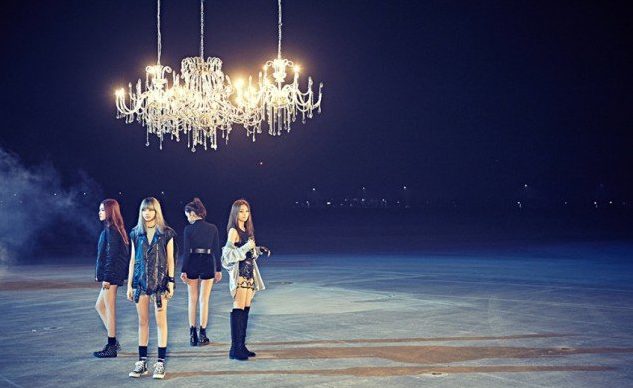 And obviously, the biggest similarity is music/concept. 2NE1 (in their original four-member form), could probably sing both "Whistle" and "Boombayah." Even though 2NE1 may have matured away from this kind of sound in recent releases (and that makes sense, since BlackPink as a group is much younger in age). "Boombayah" is absolutely reminiscent of "Fire," although not as much in sound, but definitely in concept and line distribution (the more obvious sound comparison can be made with songs like "Fantastic Baby" and "Bang Bang Bang" by BIGBANG). Only time will tell if BlackPink will move to deeper, more evocative concepts like 2NE1 did with "Come Back Home," or if they stay with more lighthearted yet hard-hitting songs like "Boombayah" and "Whistle."
The differences between the two debuts aren't significant or groundbreaking, but still definitely notable. YG definitely put more interest into visuals this time around, trying harder to pick members that match Korean standards of beauty. In the eyes of the Korean public, this probably gives BlackPink a little bit more of the attractive qualities that groups like Girls' Generation bring to the industry. And while 2NE1 is incredibly beautiful and likeable, the group was a bit more focused on hard-hitting performances even in member structure, so we see YG deviating from that concept a little bit by pushing the visuals.
From the styling to the sound, BlackPink's two debut songs and accompanying videos seem to be produced meticulously. In this sense, BlackPink is more polished than 2NE1 was at their debut, since YG was still experimenting with girl group visuals and sounds back then. Another notable difference – BlackPink doesn't have a leader. While CL wielded leadership proudly, BlackPink demonstrates a little more equality among members. This leaves probably the most exciting difference – all of the members are incredibly versatile. While Jisoo is the group's visual, she has a strong singing voice, allowing her to develop her sound further over the group's upcoming releases in ways we might not expect. Even Rosé, the main vocal, is a fantastic dancer (well, based on their Dance Practice video that went up on YouTube a little while back), meaning her role can exceed expectations as well.
The verdict – overall, BlackPink is incredibly similar to 2NE1, and it speaks an incredibly loud message about YG's desire to put out a girl group that could emulate 2NE1's success, rather than try something drastic and new. Even Yang Hyun Suk himself
commented on the similarities
, expressing his interest in maintaining the YG style and sound. So BlackPink isn't exactly breaking any boundaries, but they are carrying the YG name with a feminine touch, something K-pop has been missing since 2NE1 went haywire following a drug scandal back in 2014 (and a little bit before that, as well). For at least that much, I applaud BlackPink.
---
---
The rest of my first impression of BlackPink is, however, much more nuanced. With such striking similarities to 2NE1 in structure and sound, BlackPink is YG's way of saying that the characteristic "YG sound" is not as important as the artists themselves. Sure, it's cool that YG as a record label has its own way of distinguishing itself, but it's unfair to the artists to box them off within the boundaries of what YG does with its sound. Not to mention, it's incredibly unfair to Blackjacks, who have been waiting for YG to do something about Park Bom's scandal and give 2NE1 a comeback. The existence of a new girl group is not at all a problem, but the similarities seem to indicate that YG wants this group to carry on the "YG sound" by effectively replacing 2NE1, the girl group that contributed so much to the establishment of the "sound" in the first place. While 2NE1 might be on a downward spiral, debuting what is essentially a more polished version of them is disrespectful to them and their fans.
That being said, I plan on supporting this group, just not as strongly as I've supported 2NE1 (if you couldn't tell by now, I am a Blackjack). BlackPink's concept is a two-edged sword, as it makes them unique in K-pop right now but not at all within their label. But no matter the negatives, they are here to extend and carry on 2NE1/YG's original mission of creating a girl group that shamelessly challenges K-pop's neverending dichotomy of innocent vs. sexy.
Somehow, both 2NE1 and BlackPink simultaneously fall right in the middle of the spectrum and entirely outside of it. Despite the lack of originality in concept, BlackPink is full of talent, beauty, versatility and, most importantly, good music. And for those reasons, I'm rooting for them. I hope they find a way to stand out among YG's slowly converging discography, because that may be the best, if not only, way to continue to success they're currently receiving.
How do you feel about BlackPink's debut and 2NE1's legacy? Share your thoughts in the comment section below and be sure to subscribe to the site and follow us on Facebook, Twitter, Instagram, and Tumblr to keep up with all of our posts.
https://kultscene.com/wp-content/uploads/2016/08/BlackPink-VS.-2NE1.jpg
769
1024
Kushal Dev
http://kultscene.com/wp-content/uploads/2018/02/KULTSCENE-LOGO-2018-TRANSPARENT-RED.png
Kushal Dev
2016-08-22 09:27:17
2016-08-24 11:00:48
BlackPink vs. 2NE1: The ultimate analysis