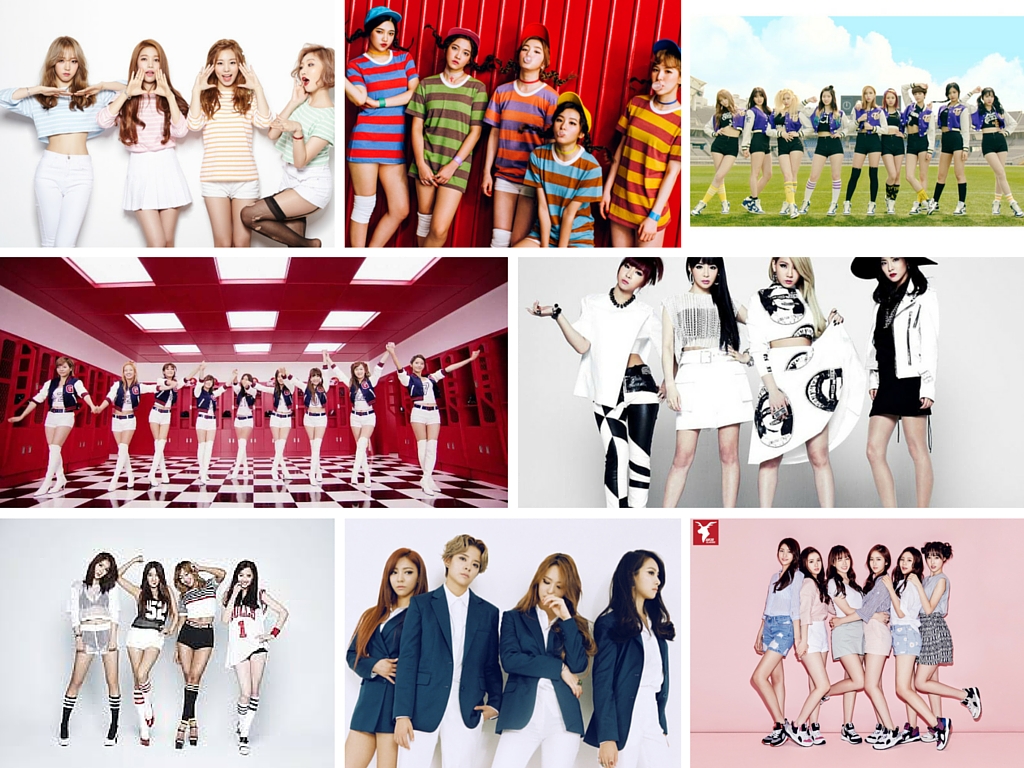 K-pop is one of the fastest-changing industries known to man, woman, fanboy, and fangirl alike. Just think about it: two years ago, MAMAMOO's derpy quirks, Sana's "Shashasha" and GFriend's stage falls were almost or entirely unknown to the public, Korean or international. But fast forward a few debuts and comebacks later, and the world of K-pop has changed immensely. I recently explained why the Second Generation of K-pop Girl Groups is slowly (and painfully) falling apart. And now, some seven or eight years since the fateful debut stages of legends like Girls' Generation and 2NE1, the New Generation of Girl Groups is here carry the torch forward.
The advent of a new generation is pretty exciting — it essentially only happens once every few years when a wave of popular girl groups hits the scene around the same time. Starting in the late 1990s, the First Generation consisted of groups like S.E.S, Fin.K.L, and Baby V.O.X. It was about ten years until the Second Generation came around, with Girls' Generation, KARA, Wonder Girls in 2007, joined by 2NE1, SISTAR, 4Minute and more in 2009-10. Now, we finally see the Third Generation, starting with MAMAMOO and Red Velvet 2014 and joined by TWICE and GFriend in 2015. The exact breakdown and timing of the Generations is something commonly debated by K-pop fans (and believing it breaks down differently than I described is totally cool, too), but it's pretty clear that, regardless of how you define the generations, a new wave has come to dominate K-pop post-2014.
While our past faves may be beginning to fade, the K-pop phoenix is reborn again with the advent of the Third Generation. And the new groups both parallel and differ from their predecessors immensely. Let's take a closer look at four of K-pop's newer stars, and see how they stack up next to top Second Gen groups SISTAR, f(x), 2NE1 and Girls' Generation.
---
---
SISTAR has quite a reputation in the K-pop world. With unforgettable hit-after-hit, the four member act has asserted its place among girl group royalty since their debut in 2010. Most notably, SISTAR is known for their memorable hook songs, which tend to define an entire season of the year. They are affectionately considered the Queens of Summer Bops, launching 2012's "Loving U," 2013's "Give It to Me," 2014's "Touch My Body, "and 2015's "Shake It" to the number-one spot on the Korean charts every summer. And, as this is being written, the group's latest release "I Like That" inches closer and closer to a perfect all-kill as well. Few groups have been able to cultivate such a long string of hits. [ed note. It is currently within the top 5 on numerous Korean music charts.] With so much public recognition for their songs, SISTAR has one considerable weakness in the spectrum of girl group success: fandom strength. Since the group is so known for its public popularity, it lacks a strong fandom to buy up albums and sell-out concerts when the chance comes around.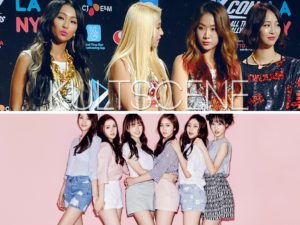 GFriend, a six-member girl group debuted only last year, boasts a similar situation. So early into the game, the group has two very well-known songs: the cute, catchy and stage-fall inducing "Me Gustas Tu," and the intense and memorable mega-hit "Rough," which dominated charts early this year, becoming February's monthly number one song against frighteningly powerful artists like Taeyeon of Girls' Generation, who released her single "Rain" around the same time. Digitally, GFriend shows a lot of potential, and boasts a lot of public popularity and recognition as well. While they are quickly being noticed as a top girl group, GFriend isn't exactly known for having a huge domestic or international fandom. While this could definitely change in coming years, and the groups are stylistically and musically very different, GFriend seems to line up with SISTAR's legacy right now — captivating the public with a stellar title track and leaving the albums to a small, dedicated group of fans.
Like SISTAR, f(x) is one of K-pop's Second Gen giants, but for a different reason. While SISTAR is more public-friendly and promotes music that people can quickly find fun and engaging, f(x) is known for an experimental style, bringing in exotic musical styles that are less familiar to the Korean crowd. They brought some alternative electronic with "Rum Pum Pum Pum" in 2013, EDM with "Red Light" in 2014, and house with "4 Walls" last year. The now four-member group has introduced and familiarized diverse musical styles among the South Korean music scene. For a K-pop girl group, it's pretty impressive that they've maintained relevance for so long even though their songs aren't the most public-friendly off the bat. The SM-produced group also has a huge fandom behind it, as albums regularly sell in excess of 80,000 copies and concerts quickly sell out.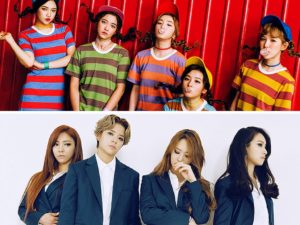 And as f(x) enters its later years (it's now been about seven years since their debut), labelmates Red Velvet are poised to follow in their footsteps. With distinct R&B, alternative and electronic influences, Red Velvet has become one of K-pop's newest jewels, with multiple top 10 singles "Happiness," "Ice Cream Cake," "Dumb Dumb" and, most recently, "One of These Nights." With a very distinct and eclectic musical style, Red Velvet sets itself apart and succeeds. Much like f(x), Red Velvet has established a unique musical color with a strong fandom behind it, as their two mini-albums and studio album have all topped album charts and sold about 50,000 copies, much more than other girl groups at the moment.
Now we get to the really big leagues — digital and talent monster groups with strong domestic and international fandoms. With the most number-one singles of any act in South Korean history, 2NE1 is exactly that. Iconic hit after iconic hit, the group was known since 2009 for promoting multiple singles from the same album (something very rare in K-pop, but typical of YG groups), and succeeding with each and every one of them. Since their debut in 2009, 2NE1 have launched immensely successful songs to the forefront of K-pop trends, starting with their debut single "Fire," is one of the best-selling songs of all-time in South Korea. To date, the group has never promoted a single that charted below number four on weekly charts (that totals to seventeen top-four songs), and consistently sold albums into the 100,000s. They are also the only of K-pop's girl groups to complete two full world tours, demonstrating their fandom power both within and outside of Korea.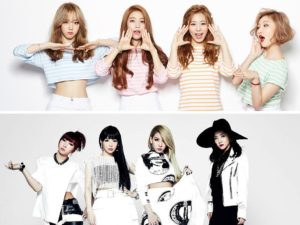 While a stylistic 180 from 2NE1, MAMAMOO aligns most closely with where 2NE1 stood in the K-pop world a few years ago. With a similar four-member structure and powerful vocals, rap and dance, MAMAMOO has the incredible stage presence, talent and personality that made 2NE1 so successful to begin with. The group already has two top-three singles "Um Oh Ah Yeh" and most recently, "You're the Best," and MAMAMOO is known particularly for having a large and supportive fanbase. While Daum Fancafe isn't always the best metric to determine how many fans a group has, the numbers tell us something interesting here: MAMAMOO currently has about 75,000 members in their fancafe and counting. They were the fastest girl group to 50,000, and their numbers exceed other majorly successful girl groups including AOA, 9M– USES, f(x), and even 2NE1. Going off of that, all 8,200 tickets to their first solo concert sold out in only one minute. And considering that 80% of the ticket sales were to female fans, the group is definitely finding its place as 2NE1's successor.
There are, however, some major differences. While 2NE1 went for badass electronic pop music, MAMAMOO is one of K-pop's only jazz-influenced pop groups, bringing in some of those elements in "Mr. Ambiguous" and "Piano Man." The group also regularly performs on shows like "Immortal Song" and makes appearances on varieties like "We Got Married," something 2NE1 rarely did (another YG custom). With impressive talent and stage presence, MAMAMOO is all set to rise up in the Third Generation of K-pop, just as 2NE1 did in the Second.
Last but the opposite of least, Girls' Generation epitomizes what it means to be a successful girl group in Korea. With nationwide public recognition, a frighteningly large fandom, international acclaim, and strong digital sales, the group definitely led the Second Generation. Once GG made it big in 2009 with iconic title track "Gee," no one stood a chance against them in the fight for the number-one spot among girl groups. From Korea to Japan, Girls' Generation has become a household name and a nationwide craze. Speaking of Japan, GG was arguably the most successful Korean girl group there, as their debut Japanese album sold a whopping 870,000 copies. Even the Korean version of their 2011 album The Boys sold 140,000 copies in Japan — yes, the Korean version — not to mention over 450,000 album sales within Korea itself. As we can tell, it's pretty hard to live up to a monster girl group like GG. So who is the ringleader of the Third Generation?
Right now, it seems to be none other than JYP Entertainment's TWICE. Right off the bat, the groups are structurally similar — three strong vocals (Taeyeon, Tiffany and Seohyun line up with Jihyo, Nayeon and Jungyeon), a visual center (Yoona lines up with Tzuyu), an aegyo-centric attention-grabber (Sunny lines up with Sana) and a strong dance line (Sooyoung, Yuri and Hyoyeon line up with Mina, Tzuyu and Momo). The groups also wield a similar, glamorous girl-next-door vibe, looking for love and accessing their femininity. TWICE's success is comparable as well — in fact, they are the only girl group other than Girls' Generation to have an album selling above the hundred-thousand mark, which their most recent mini-album Page Two did very quickly. Along with a fierce fandom, TWICE's digital sales are nothing to laugh at, either. After two months, "Cheer Up" still remains in the top ten of most charts, which is an incredible success in the K-pop world.
---
---
Going off of these facts and stats, some have been quick to call TWICE an SNSD-copy, trying to emulate their success by emulating the group itself. The differences between the groups, however, throw this accusation right out the window. While TWICE may have successfully become the Third Generation frontrunner for having a similar vibe as SNSD, they definitely aren't the same. The most glaring is the member dynamic — while Girls' Generation is all Korean or Korean-American, TWICE has five Korean members, three Japanese, and one Taiwanese, making international expansion that much more logical and accessible for the group. Dahyun and Chaeyoung also serve the roles of Lead and Main Rapper, respectively, which are positions that weren't very defined at GG's debut. TWICE title tracks also deviate incredibly from the GG mold as well, employing diverse vocals, rhythm-changes and instrumentalism that GG's more musically homogeneous tracks don't use.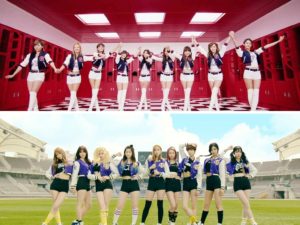 Fundamentally, all of these groups show similarities to their predecessors, but the differences make it clear that K-pop isn't simply repeating itself with the Third Generation. Our Second Gen faves aren't being replaced and forgotten. Instead, they're being honored and built upon with new sounds and ideas. Such is the nature of the K-pop phoenix — not only being reborn again, but also with new talents, music and charms to share with the world, learning from past mistakes and successes. As the girl group landscape changes yet again, we can only hope that our new faves become just as well liked as the ones before them, and carrying the K-pop legacy forward for the man, woman, fanboy, and fangirl alike to enjoy.
Who are your Third Generation faves? Share your thoughts in the comment section below and be sure to subscribe to the site and follow us on Facebook, Twitter, Instagram, and Tumblr to keep up with all of our posts.
https://kultscene.com/wp-content/uploads/2016/06/Untitled-design-15.jpg
768
1024
Kushal Dev
http://kultscene.com/wp-content/uploads/2018/02/KULTSCENE-LOGO-2018-TRANSPARENT-RED.png
Kushal Dev
2016-06-30 05:58:15
2016-06-30 05:58:16
The K-Pop Phoenix: The New Generation of Girl Groups