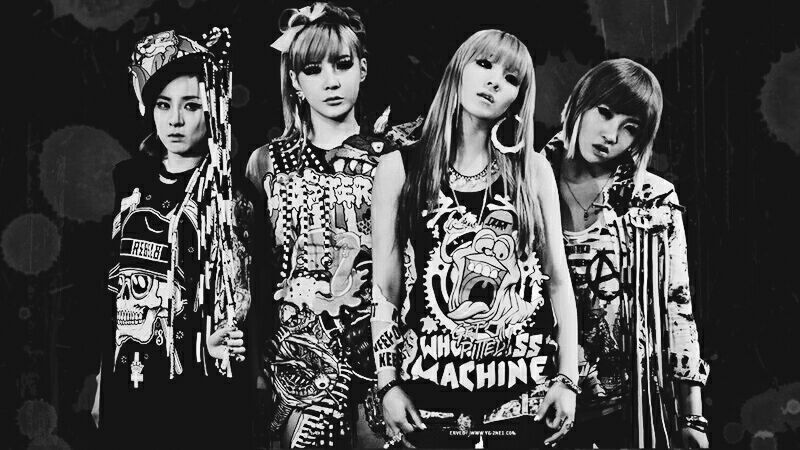 On the 21st of January, iconic girl group 2NE1 released their final song, "Goodbye", as a farewell to their fans. This release was comforting yet extremely heartbreaking for Blackjacks (2NE1 fans) in that it provided a closure to an otherwise abrupt disbandment of the group and allowed fans to listen to them sing together (well, ¾ of them) for the last time. Except, why did it have to be the last time? For a group that has been through so much together, experiencing immense success, as well as various member scandals, it just seemed unthinkable that their phenomenal 2015 MAMA performance would be their last. In that memorable performance, the female quartet showcased what they had always been doing best: simply being their beautiful, unique selves in a powerful and confident manner.
---
---
It was this quality that first drew me to 2NE1, all the way back in 2011. I had heard of the group previously, but it wasn't until they released the songs "Lonely" and "Ugly" that I truly became a fan. I had never heard a Korean girl group sing so honestly about such negative emotions (especially since they are pretty much taboo topics in the K-pop industry), but for some reason, I felt emotionally connected to the group even though we were worlds apart. They seemed to understand and share my insecurities and fears, even if they were different than me. They were brave enough to take it and put it into their music, loudly proclaiming it all over the world. To a teenage girl who always felt lonely but kept trying to maintain her facade of a social life, these songs were truly empowering, since it felt like 2NE1 was telling their listeners that it was alright and even natural to feel lonely; it was nothing to be shameful about.
Perhaps the fact that these songs came from a Korean girl group, of all countries, made it even more significant and inspiring. Korea has always been well-known for its emphasis on external beauty, as evidenced by its booming plastic surgery and cosmetics industries. Even young ordinary students apply makeup with finesse everyday when they go to school. The pressure to live up to society's standards of beauty is thus exceptionally high in Korea, which is why it's even more important to recognise that we're all beautiful in our own ways, even if we might be seen as "ugly" to the rest of the world – a message that 2NE1 definitely conveyed through their entire career. From the carefree revealing of their bare faces early on in their careers to the unique styling that constantly set them apart from regular pretty girl groups, 2NE1 showed that they could be confident and beautiful even if they differed from the norm.
---
---
2NE1 took this message a step further with their other iconic hit "I Am The Best." Though it was also released in 2011 they kept performing it year after year, and it eventually became the last song they would ever perform together. This song was representative of their entire career, since they effectively showed the world that they weren't just the best at what they were doing, but they knew and believed it too. That confidence really struck and empowered me, especially during the times where my self-esteem hit all time lows. I was constantly defeated by the problems life threw at me, but even more so because I kept comparing myself to the more beautiful, more talented people around me. I was never satisfied with myself and I ended up reaching a stage where I simply became another person whenever I stepped out of the comfort of my home. I was quieter, more introverted, never able to be myself because I was just too afraid and concerned with how the people around me would criticise or judge me. While I wouldn't go so far to say that 2NE1 was the main reason why I ended up getting out of that slump, they certainly propelled me in the right direction ("I Am The Best" was literally my daily anthem for a period of time) and it's still my go-to song whenever I feel like giving myself a pep talk.
I could go on forever about how 2NE1 has impacted my life in both small and big ways, and there are probably also many other fans out there who have had similar experiences. However, it all boils down to this: 2NE1 will really be missed. There'll always be a void in this fangirl's heart that will never again be filled because I'll always be longing for this irreplaceable girl group to come back with the same inspiring power and force that they've shown together all these years. Despite the unhappiness and the unfortunate way the group came to an end, from the bottom of my heart, I'm thankful that I got to stan such an unique and talented group; that I got to mature and grow up along with them; that I got to learn so much from them. Although the members will go their separate ways from now on, 2NE1's legacy will never be forgotten, even 10, 20 years from now. Or at least, I will never forget them, and I'm sure many Blackjacks out there feel the same way.
Until the faraway day when we meet again, goodbye, 2NE1.
What do you think of 2NE1's disbandment? Share your thoughts in the comment section below and be sure to subscribe to the site and follow us on Facebook, Twitter, Instagram, and Tumblr to keep up with all of our posts.
https://kultscene.com/wp-content/uploads/2017/01/IMG_2017-01-21-095435.jpg
450
800
Anna Cheang
http://kultscene.com/wp-content/uploads/2018/02/KULTSCENE-LOGO-2018-TRANSPARENT-RED.png
Anna Cheang
2017-01-20 23:10:52
2017-01-20 23:48:56
A Teenage Fangirl's Farewell to 2NE1