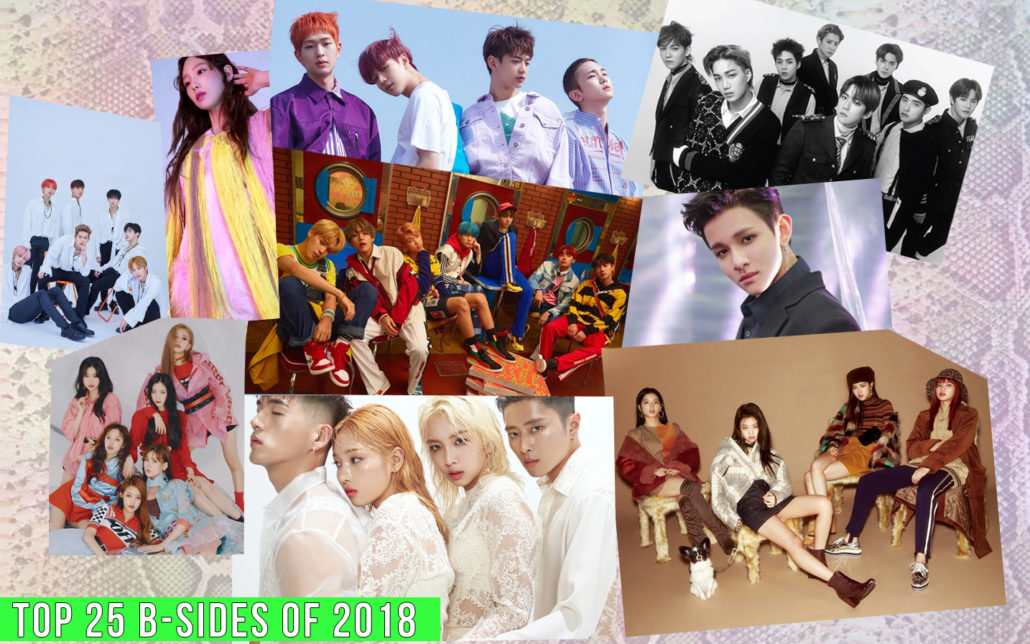 K-pop singles are always celebrated for their catchy beats, stellar choreography, and stunning visuals. But it's not all just about the main tracks: the b-sides found in albums are often even better. However, unless you're a fan of a particular artist, you may not dive into full albums. This, we think, is a mistake, since b-sides are often more experimental or touching than the singles. Though it's next to impossible to review every K-pop album released in 2018 for hidden gems, here are the top 25 that we loved and consider should have their own moment.
25. "22nd Century Girl" by fromis_9
"Give me love!" chant the (then) eight members of the girl group fromis_9 on the opening of "22nd Century Girl," which is exactly what this retro futuristic pop bop deserves. There's something very familiar to "22nd Century Girl," but it's very fresh too. It's also everything that made us fall in love with K-pop in the first place: a saccharine production and just as sweet lyrics, a peppy attitude, and a lively choreography. It's is a bright electropop track that showcases fromis_9's signature innocence concept well. And though they debuted in 2017, it wasn't until 2018 that fromis_9 finally found their footing. Staying true to their cute concept always, the group veered into more interesting melodies and sounds with songs like "22nd Century Girl" and their latest single "Love Bomb" (which made it onto our favorite K-pop songs of 2018 list). If fromis_9 continue this eclectic route in 2019, it'll surely put them above a lot of other groups.
—Alexis
24. "Really" by BLACKPINK
The quartet are usually known for upbeat, lively, adrenaline filled songs, but "Really" was a nice change. It's fresh and sweet, giving one a slight nostalgic feeling of a first love, really taking me back at least 10 years ago. Blackpink's voices are truly unique, but they always make it work. The girl's vocals are smooth, while the raps are steady and aren't over exaggerated.
—Tam
23. "Come Over feat. pH-1" by MRSHLL
"Come Over" grabbed attention for its cool, relaxed vocals, steady rhythm, and exploration of loneliness. MRSHLL yearns for the companionship of someone who is unideal for him but addictive. While MRSHLL delivers a melancholy ambiance, pH-1 shifts the atmosphere with an uptempo flow. The placement of his rap acts as the song's pinnacle keeping it from becoming too complacent. The R&B track's experimentation with soft electro-synths is commendable and meshes well with both artists.
—Nnehkai
22. "Synchronise" by INFINITE
In recent years, INFINITE has largely kept to their more rock leanings for Japanese promotions, but they kicked 2018 off strong with "Synchronise." Starting off softly and rapidly building towards its energetic climax, there's a feel of Britpop to the whole thing, with mellow strings driving the intro and kicking into energetic synths and pounding drum beats. The biggest star of the show, as with all INFINITE songs, are the group's vocals, and "Synchronise" is perhaps one of the act's best displays of the diverse tones of its singers. Coming after Hoya left the group and shortly ahead of Kim Sungkyu's enlistment, the song puts an emphasis on Nam Woohyun and none other than Jang Dongwoo, the group's rapper, as the song soars to its finale. A fun tune with great vocals, it was a great way to kick off 2018 — and give a nod to INFINITE's reputation for being intensely in-synch.
—Tamar
21. "Don't Text Me" by (G)I-DLE
(G)I-DLE made their concept clear from the very beginning when they debuted with the fierce "Latata." "Don't Text Me" is way more sultry in its vocals and production, but it has the same empowered vibes in the lyrics. This loungy and sensual song shows that (G)I-DLE can explore different sounds while keeping consistent with their identity – although, of course, this is only their first album. The girls still have a lot to show, and we can only hope that they'll maintain the quality in their music. If the next single will be nearly as good this b-side, then (G)I-DLE will surely keep their place in the sun that they already found even while being just rookies.
—Ana Clara
20. "Good Good" by KEY
I have to be honest—a Key solo was not on my radar going into late 2018. And this may be a cliche, but I truly didn't know how much I needed it until it actually arrived. On a standout album, "Good Good" is a standout track, on which Key sings about the possibility of a potential lover liking him back. Key's vocals are rich with vibrato in the verses, and switch with impressive speed to a sharp head voice in chorus, which is delivered over an electric guitar riff completely unique to contemporary EDM-driven K-pop. Both exciting and emotive, Key's voice is the crowning jewel of the track even within such a rich instrumental landscape. Is there a bright future in store for Key's solo career? The odds, I believe, are pretty "Good Good."
—Kushal
---
---
19. "Love Maze" by BTS
In spite of its title, there is nothing complicated about "Love Maze." This refreshing R&B track shows us the relaxed side of BTS that sometimes might be neglected under the group's usually powerful songs and complex storyline. From the instrumentals to the song structure, everything in "Love Maze" flows very naturally; not even SUGA's intense delivery and J-Hope's quirky flow when rapping digresses from the song's chilling vibes. Instead, it has a special break between the sweet verses, in which Jimin and Jin shine the most. "Love Maze" is proof that, like RM raps, some of the best things are the ones we don't calculate too much, and just go with the flow.
—Ana Clara
18. "Dímelo" by KARD
2018 was a sleepy year for KARD, who knocked it out of the park with their pre-debut singles for the last two years and a strong enough debut. Since then though, KARD have largely failed to be as impactful with their singles. The B-sides, however, are a totally different thing, and such was the case of 2018's "Dímelo." Taking one more step into their Caribbean and Latin inspired concept and music, the members of KARD sang a few lines in Spanish on the chorus. "Dímelo" relies on the group's trusted pop-dembow mixed with EDM sound that perfectly balances the melodies with the rap verses. The song might not be something we haven't seen from KARD before, but it is something they do well and have been perfecting the niche thus far. "Dímelo" is without a doubt the standout track of their mini album, and deserved to be the single.
—Alexis
17. "Save Me feat. Jimin Park" by Jero
"Save Me" is a somber plead and hopeless effort in preserving an ending relationship. Produced by Cha-cha Malone, the Jimin Park feature is equipped with soulful harmonies and chilling falsettos showing Jero's full potential as a soloist. His vocal vulnerability on the track is a much appreciated contrast to the hip-hop concepts he performed as a member of now dissolved Lucky J.
—Nnehkai
16. "Flower Garden" by GFRIEND
Since their debut single "Glass Bead" until their 5th single "Fingertip," all of GFRIEND's songs used to have an unmistakable GFRIEND sound: fast beats, a delicate piano subtly guiding the harmony in the background, vigorous guitars here and there, strong vocals, and a bright chorus full of strings. In short, a unique blend of sweetness and intensity. After "Love Whisper," "Summer Rain," and "Time for the Moon Night," though, I thought the girls would have lost their characteristic touch. But "Flower Garden," from their 6th album, has everything I was missing and more. Impeccably produced and beautifully composed, it's impossible to find any flaw or useless element in the song. Everything is gorgeous and well put: the violins, the chorus that starts dreamy and ends in an erudite note, the contrasting strings and guitar solo that comes after the second chorus, and the type of choreography that the girls of GFRIEND are masters at. Too bad we could never see a live rendition of this amazing song. Had "Flower Garden" been released as a single, it would have been their best one since "Rough."
—Ana Clara
15. "Magic Shop" by BTS
"Magic Shop" stands out in BTS' record-breaking Love Yourself: Tear album for various reasons. For one, the lyrics of this song were written by maknae Jungkook, and was produced by him as well. It was written as a fan song, with a message that hope could always be found in the "magic shop" of BTS' hearts. The despair and subsequent comfort that is expressed through the honest and relatable lyrics of the song feel especially moving paired with the sincere voices of the members. In particular, Jin's and Jungkook's emotions really shone through even in their multiple challenging high notes. The biggest surprise of this track was its instrumental; while dormant for most of the song, allowing the members' vocals to be foregrounded, it emerged center stage during the intense instrumental breaks of the song. This genius inclusion definitely spiced the track up and added dimension to it, without taking away from the sentimentality and emotion of the song.
—Anna
14. "Fly Away With Me Baby" by NCT 127
Though the group's singles are almost always quite bombastic and experimental, "Fly Away With Me" is one of their most mellifluous b-sides to date, putting an emphasis on NCT 127's sweet, airy vocals over a groovy, twinkling electro meets R&B melody. Doyoung and Taeil in particular are given the chance to truly let their smooth tons fly free through the track, while other vocalists in the group are also given an opportunity to shine. The B-side ended up being released through a self-filmed music video the group took while in California, showing them enjoying the trip while flying high on their overseas pursuit.
—Tamar
13. "Who Waits For Love" by SHINee
Veteran group SHINee had an extremely busy 2018, with their release of the three-part album The Story of Light and its subsequent epilogue toward the end of the year. While all their releases were quality ones, "Who Waits For Love" from The Story of Light EP. 2, was a gem. It is fascinating to see how each of the members have such different music styles but are still so compatible with each other. They take turns belting out their power vocals while doing ad libs, and Key proves again how diverse of a musician he is with his impressive rap verse, which added a layer of roughness and gruffness to the track. They have always been masters at balancing delicate emotions with the strength in their voices, but Taemin does this exceptionally well here, when he softly croons out the last few lines of the song. "For once, please find me," —it is full of longing, mixed with a little hope, a little despair, and it is downright beautiful.
—Anna
12. "SOS" by Samuel
It's a shame Samuel did not come back with his second mini album, One, during last summer, otherwise this would have been an obvious pick for A-side. Regardless, consider "SOS" on heavy rotation year-round. Percolating with every lush 808 drum kit beat, the song takes it back to the basics when music was just about the good vibes and teen heartthrob lyrics about picking "[ya girl] up in [a] Rova." So what if he is underaged and can't legally drive? Rather than coming off as try-hard, Samuel knows how to play up his youth, and even the smatterings of skrts and brrts can't incriminate him.
—Shelley
11. "Myself" by Monsta X
Did you say this is a Monsta X song? "Myself" has a different sound then what Monbebe's are used to, and it's great! The song has a sensual aura, even without a choreography, as it sends you off into Neverland with a sense of euphoria with its tranquil but also melancholy melody. You're able to truly hear the distinctiveness in each member's honey like voices. Monsta X's "Myself" is a softer song with a forceful energy all the while maintaining a steady flow. Well, my god, it's a damn vibe.
—Tam
---
---
10. "Stuck On" by Kim Sung Kyu
When Kim Sung Kyu is not leading the dance group Infinite, he's living out his other passion through his solo career — soft rock. That explains the delicious Richard Marx-meets-Nell flavor in "Stuck On," the fourth of 10 Stories the artist shares in his first full length album. At the helm of this tonal distinction are an Elysian piano section and ethereal synths, which conflated with the song's B-side status, make this feel like the LP's best kept secret. But as much as "Stuck On" feels like a sanctuary, it's also not as absolute as it lets on. There's the slightest tint of ineffable sorrow in the way Sung Kyu delivers his words gingerly, asking questions out loud ("We're definitely living under the same sky, right?/ If we put our heart into it/ We can meet anytime, right?") in that self-reassuring manner of his. Even in a place far away, Kim Sung Kyu evokes emotions so ironically primal and so profound.
—Shelley
9. "Only One You Need" by Jonghyun
The world is that much less vibrant now without Jonghyun, but his final gift to fans, the album Poet | Artist offered much support in the sleek pop productions. "Only One You Need" starts gently and rapidly grows into a sweeping R&B-EDM hybrid, expressively relaying Jonghyun's lush tone over tightly layered production. The artist performed the song at his final concert, and revealed it was a tune meant to comfort those suffering because of a loss, adding a poignant note to the already glorious nature of the track.
—Tamar
8. "Somehow" by DAY6
One of the catchiest tracks from DAY6's Youth Part 1: Shoot Me, "Somehow" grabs the listeners' attention right from its opening instrumental. This leads to a verse which starts off pretty mellow, but quickly builds (along with Dowoon's intensifying drum beats) into a chorus that you cannot help but dance to. In their usual DAY6 fashion, the members take turns to sing the chorus, and their unique voices are showcased especially as each member adds an individual twist to this same highlight part. It also proves how equally skilled they are in terms of their vocals, and it is beautiful to listen to this masterpiece, which manages to incorporate the diverse personalities of the members but also represents the teamwork of the band. "Somehow" would definitely not be this enjoyable if the members did not play off and complement each other's energies, and the experiences they have had together for the past three years certainly shows here.
—Anna
7. "Trivia: Seesaw" by BTS
Every member in BTS is uniquely fascinating, and all of them blew our minds in different ways in 2018 —but no one surprised us more than SUGA. In "Trivia: Seesaw," his solo moment on the album Love Yourself: Answer, SUGA stepped out of his comfort zone and showed that, besides a superb rapper, producer, and songwriter, he can also sing and handle a full dance number all by himself, as he showed during BTS' Love Yourself Tour. The funky, soothing track, adorned by the smooth and feminine vocals of ADORA (Big Hit Entertainment in-house producer), fed not only the fans who missed his signature production style, but also the ones who just needed a confirmation that this young man has way more tricks under his sleeve than we know.
—Ana Clara
6. "Anpanman" by BTS
BTS are the undeniable heroes of K-pop in 2018, and their Love Yourself: Tear track "Anpanman" exemplified this, declaring the group as a new sort of superhero in a reference to a decades-old Japanese cartoon character whose very existence is to support those around him. With whistle trills, retro-feeling piano notes, and tinny beats rollicking their way below the Auto-Tuned, exaggerated declarations of the members verses, the song is intensely playful and positive, making it not only one of their Love Yourself tour's final moments as an upbeat concert closer, but also a fan favorite.
—Tamar
5. "Circus" by TAEYEON
Rounding out the top five is Taeyeon's "Circus," a piano-driven emotive number from her 3rd mini album Something New (which we called one of our best K-pop albums of the year). Taeyeon sings about the dizzying feeling of falling in love and experiencing togetherness, promising to "throw" her heart at a new lover. Unlike other ballads and slow songs in the K-pop genre, "Circus" is dynamic in tempo and texture. From "ah-ah" riffs in the prechorus to the steady staccato of the chorus proper, Taeyeon offers the same emotional delivery of a traditional ballad or slow song, but with rhythmic variation in tow. The b-side reinforces some things we already know: Taeyeon is infinitely versatile, and growing increasingly adept at inspiring emotion in listeners with her voice. Hopefully, her future solo releases live up to the legacy she is already building.
—Kushal
4. "Forever Young" by BLACKPINK
The quartet reminded us of their light-hearted personalities with the upbeat, lively "Forever Young." The track is full of youthful charms as BLACKPINK wishes to remain in the moment with a special someone. "Forever Young" remains true to the overall dance-pop theme of Square Up with hypnotic EDM breaks throughout the chorus. The song's adlib-filled dance break brings BLACKPINK's signature edge to the forefront. Aside from attention-grabbing beats, listeners get a glimpse of lead rapper Lisa's vocal abilities. Together, all the ladies' vocals and Jennie's rap create a sweet aura that captures the carefree spirit of love and adolescence.
—Nnehkai
3. "Serendipity (Full Version)" by BTS
Already prefaced in the intro for the group's fifth EP Love Yourself: Her, the full length version of "Serendipity" continues the wild reveries that the abbreviated one left off. BTS's lead vocalist Jimin fluidly maneuvers through another round of lulling kicks, snares, and twinkling arrangements, importing into song what the contemporary trained dancer does on stages. To untrained ears, this extension is seemingly a copy-paste of what we have already heard, but mindful listeners will pick up nuances such as the resurgence of the buried acoustic guitars from the first verse or the transition from his head voice to impassioned falsettos like clockwork in the bridge. He doesn't need catchy hooks or thick layers of instrumentations to be memorable, nor do we need anymore reasons for "Serendipity" to be replayable.
—Shelley
2. "Gravity" by EXO
After 2017's The War, it seemed impossible for EXO to top an outstanding album with their follow up, the much anticipated Don't Mess Up My Tempo. And as a body of work, they didn't, but the one gem that eclipses the rest of the album is "Gravity." How does one even begin to describe "Gravity" other than saying it's pop perfection? Made by the certified bop after bop producers LDN Noise, "Gravity" is this sleek Daft Punk-ish, spacey disco marvel with smooth R&B vocals. It's funky, it's got an '80s synthwave vibe that suits EXO down to a T. Every member has their time to shine, especially Chanyeol who sampled the 1980s classic "Tom's Diner" for his rap verse. EXO made us wait a long time for a comeback in 2018, and with songs like "Tempo," "Love Shot," and "Gravity," they reminded us why you can't rush excellence.
—Alexis
1. "Ladi Dadi" by AOA
In "Ladi Dadi," the 764th (and counting) potential South Korean entry for Eurovision, AOA have crafted something of such simplicity it's almost impossible to pinpoint exactly what is so good about it. Is it the gloriously Europop canned horn melody? The constant bop of its beat? Or the absolutely staunch commitment to the party? It is, of course, all of these things, but particularly that last point. The second "Ladi Dadi" begins it does not let up. It's a dance track and does not for one moment let you forget that. As Chanmi raps forcefully, "There's no point in explaining anymore." There's nothing to do but succumb to the fiesta.
—Joe
What were your favorite K-pop b-sides of 2018? Let us know you picks and thoughts in the comment section below. Be sure to subscribe to the site and follow us on Facebook, Twitter, Instagram, and Tumblr to keep up with all of our posts.
https://kultscene.com/wp-content/uploads/2019/01/bsides.jpg
896
1434
KultScene
http://kultscene.com/wp-content/uploads/2018/02/KULTSCENE-LOGO-2018-TRANSPARENT-RED.png
KultScene
2019-01-29 10:39:17
2019-01-29 11:28:22
25 best K-pop b-sides of 2018