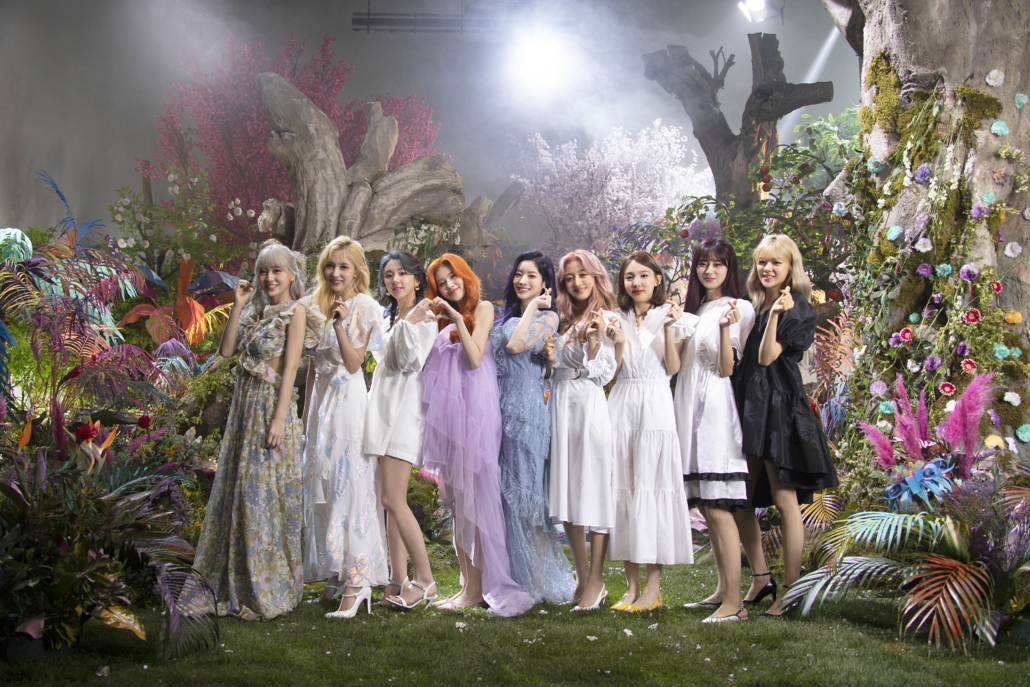 By Chermel Porter
TWICE is back with your soundtrack for the summer. The release of their latest mini album More & More on Jun. 1 was highly anticipated due to the long gap between its drop and their previous release Feel Special, which came out in Sep. of last year. More & More, and the lead single by the same name, continues to show an upgraded image of TWICE, with them leaving behind the bubblegum style of their early days but still staying true to their recognizable upbeat sound, making it the group's most well-rounded album to date.
Earlier this year, TWICE's label JYP Entertainment announced a partnership with the popular American record label Republic Records for TWICE, and More & More is their first piece of work since then. This album has already given us the fruits of the deal, with a handful of popular Western producers and songwriters such as Julia Michaels, Zara Larsson, MNEK, Justin Tranter, and Gabe Lopez featured on the tracklist.
With More & More being the group's first Western-aimed album, TWICE did not shy away from diversifying the vibe of their music throughout each song, dabbling in things like tropical pop and new jack swing, the latter of which we had yet to see from TWICE but was a highly welcome sound, and further evidence of their transition into more mature musical styles
As expected, the album kicks off with the title track "More & More." The JYP-penned single is a tropical-dance infused song with an addictive build up to the chorus. The repetitive pre-chorus "more, more, more and more" will get stuck in your head for sure. Overall, the song expresses the desire for "More & More" of the feelings one has when a relationship reaches its peak of excitement and sweetness.
The music video for "More & More" can be linked to the biblical story of Adam and Eve. In the beginning of the video, the group is shown in a pure state but are later tempted to eat the forbidden fruit. Once they do, we are taken on a journey into a trippy paradise where they express the image of a free aura. The freeness expressed in the music video connects back to the lyrics with the relationship reaching its height, one can feel like they have nothing to hold back.
---
---
More & More's second track "Oxygen" is a nice transition from the energy that the previous song gives off. This tune compares the person that you want to be in a relationship with to oxygen. Rather than needing air, the members express a need to be with this person because they are the one who keeps them breathing. The verses and pre-choruses follow a standard pop style, but the chorus infuses elements of EDM and dance. This ups their musical style whereas usually most of the choruses in their songs tend to be heavily lyric filled, so this is refreshing.
Next up is "Firework," a track that captivates you with its Spanish-style guitar intro. The song is essentially about the intense excitement that fills one up to the degree that they feel like they will explode like a firework. A notable highlight of this song is Jihyo's high note during the bridge, with the vocalist showing off her impressive tone as the song builds in momentum.
"Make Me Go," which was co-written by Nayeon, is a bass-led track that shows off the mature side of the group. With two other tracks, "24/7" from Twicetagram and "Rainbow" from Feel Special under her belt, Nayeon's lyrical style has taken a refined approach this time, opting for a seductive route. The chorus is self-explanatory with, "Love me, love me now/ love me, love me good/ don't need nobody else when it feels this good (make me go)," followed by the suggestive "ooh ooh." In comparison, "24/7" and "Rainbow" are very much motivational, you-can-do-it themed songs following hyper-pop production styles, whereas on "Make Me Go" we get a glimpse inside the mind of darker, adult love and desires. The members themselves have stated that this track was originally supposed to be on the Feel Special album but it did not make the cut. Fittingly, this song feels like the older sibling of "Love Foolish" from the previous album.
The following track is "Shadow," and right away this song feels familiar. It's almost like you just can't put your finger on it but it's immediately accessible, making it an easy listen for even the most casual TWICE or K-pop fan as it will make you want to get up and dance with its pop-EDM instrumentation. This song tells the story of hiding your real self during the day, but at night you dance alone with the side of yourself that has been hidden from everyone else. Throughout "Shadow," the group tends to switch out of the K-pop standard vocal delivery which is usually marked by a high pitch range, opting to sing this track across a lower range, which comes across as more mature and suitable for an American audience.
Next up is "Don't Call Me Again," the ultimate post-breakup anthem. This track puts an ex-lover to shame, reminding them not to call again because their heart has gone cold for them. The marching band style of the song emphasizes the lyrical intent, as well as feeling like a grownup version of earlier songs "WooHoo" and "Touchdown." However, we can see a clear example of growth, with both of these songs expressing feelings of teenage love and naivety of that era, whereas "Don't Call Me Again" is very fully fledged lyrical-wise, expressing the more mature idea of having a cold heart after a relationship has gone wrong.
---
---
Last but not least, album closer "Sweet Summer Day" was written by Jeongyeon, with raps written by Chaeyoung, and this new-jack swing style song will take you back to the '90s. Filled with 808 drums and a synth bass, this groovy song feels like a true sweet summer day made musical. It's apparent through the track that Jeongyeon's lyrical composition has grown from some of her previous releases. This is her fourth credited song, following the likes of "Love Line" from Twicetagram and "Lalala" from Yes or Yes. Each of those tunes tended to focus heavily on teen love delivered in a bubblegum pop style, whereas on "Sweet Summer Day" you can see her composition skills grow with the lyrics this time focusing on self improvement of letting your worries be burned away by the summer heat into the night. A highlight of this track is Nayeon's rap, due to the ongoing inside joke of the fandom referring to her as MC Rail (rap alias).
Overall Thoughts
More & More is a very cohesive album. Comparing this mini to previous TWICE releases, you would find it hard to believe that it was made by the same group. TWICE concluded their cute era with Yes or Yes and began to transition out of it with a new image that is more age appropriate to the members, that has helped broaden its appeal to audiences, and More & More is the latest offering to explore this shift.
As discussed, this change was very apparent not just in their concepts, but with the production and lyrical content as well. With this release, TWICE was able to completely transition into this so-called mature image without it coming off too strong. "Fancy" and "Feel Special" kind of prepared us last year for this new upgraded image, leaving behind their "school-girl" image that they had been running with throughout a majority of their career.
As the group expressed in their Seize The Light YouTube docu-series, their TWICELIGHTS tour from last year was meant to express a new image and the versatility in styles that they can pull off. More & More is a continuation of that intent, and hopefully we will continue to see more & more of this new direction from them!
What are your thoughts on TWICE's More & More album? Let us know in the comment section below and be sure to subscribe to the site and follow us on Facebook, Twitter, Instagram, and Tumblr to keep up with all of our posts.
KultScene is a writer-driven website dedicated to creating a platform where diverse voices' takes on K-pop can be heard. If you like this post and would like to see more by helping support KultScene's writers fund, please email us for more details.
https://kultscene.com/wp-content/uploads/2020/06/TWICE-Press-Image-2-_-Credit-JYP-Entertainment-scaled-e1592406744851.jpg
800
1200
KultScene
http://kultscene.com/wp-content/uploads/2018/02/KULTSCENE-LOGO-2018-TRANSPARENT-RED.png
KultScene
2020-06-17 08:14:20
2020-06-17 08:14:23
TWICE's 'More & More' album review