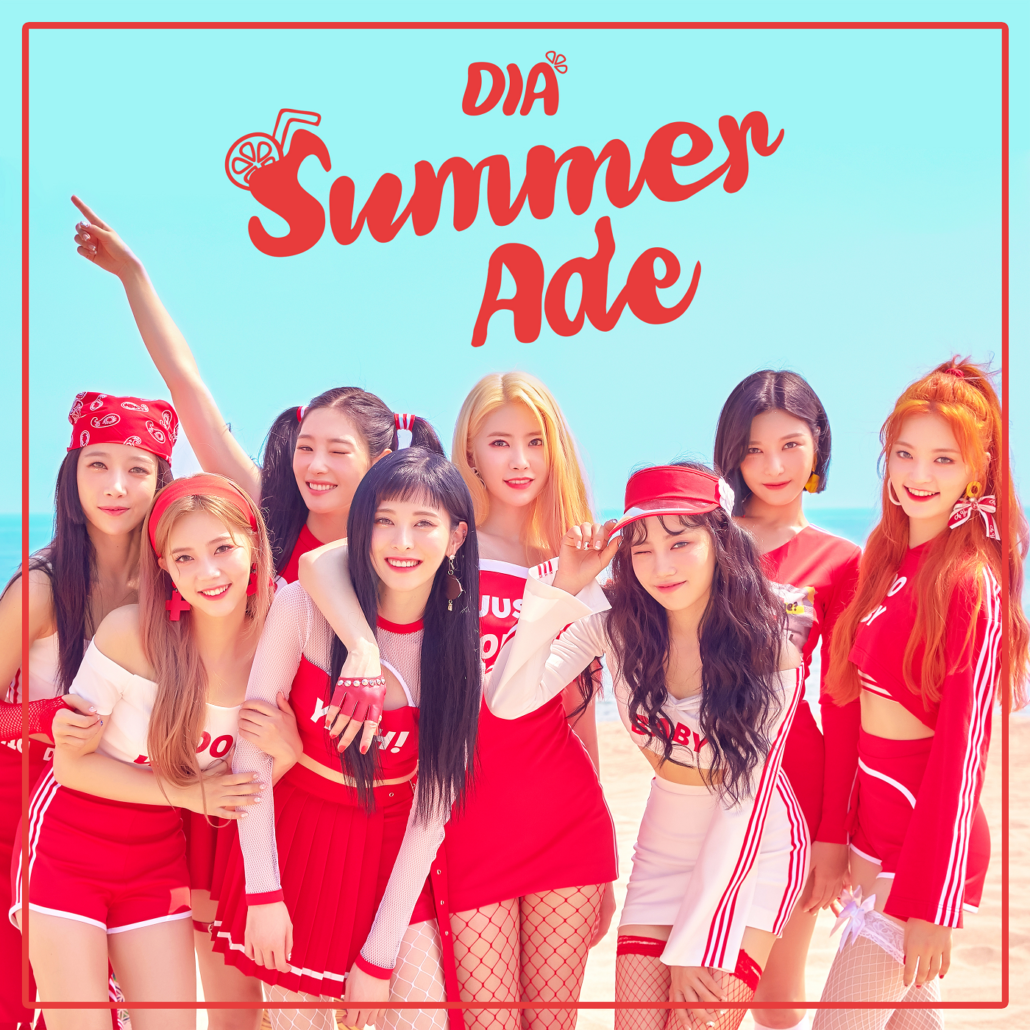 As they strive for a coveted summer anthem, you might be forgiven for thinking that DIA were trying to return to their roots. Amidst the clanging electronics of fifth mini album Summer Ade, there is a noticeable presence of acoustic guitars that suggests a return to a more tactile sound. DIA have never been tactile, though. Summer Ade isn't so much as a return but totally untrodden ground. After three years of work, they're still trying to find the foundation that they were supposed to debut into.
If things had all gone to plan, the MBK girl group would have debuted as sisters to one of K-pop's biggest groups. Instead, T-ara were wrongfully disgraced and DIA struggled to eke out an existence in their shadow. In 2016 they had, however, a lifeline in the form of Produce 101 and Jung Chaeyeon. Her face and fame were a stopgap, but the popularity of Produce 101 doesn't generally go much further than the actual group it forms. It's now the turn of Kang Yebin, one of the winners on The Unit, an idol rebooting show, and current member of Uni-T. That show had a fraction of the cultural impact as Produce but it remains something to hang on to for DIA. Their roots are obscurity and their present is a constant fight against it.
DIA's approach is defined not by the aforementioned guitars as such but by the opening one two punch of "Like U Like U" and single "Woo Woo." "Like U Like U" is classic DIA. Bubblegum pop with winding synths and their loudest, most peppy vocals to date. Their usual forward behaviour is also present. By the time you can count to three, they have confessed, asked the boy out, and already gone on a date. It's a gleeful final reminder of DIA's unique brand of bewitching pop music.
---
---
"Woo Woo" at first doesn't feel like too much of a departure, particularly with Yebin opening the track. Her voice typically youthful and nasally quickly turns into something different, though;by the end of her third line, she lets her words roll. There's a sensuality to it that had been completely absent from DIA's discography up to this point. The change in attitudes and textures is more evident than any big shift in their music.
Producers Shinsadong Tiger and BEOMxNANG take the basic structure of Tinashe's "Superlove" and its bells and whistles to give DIA a summer bop. It pings along with great precision, matching DIA's newfound maturity. It moves quickly to the chorus offering little variation, letting the girls test themselves. Following Yebin, Huihyeon's deeper singing voice is impossible to resist. She's the absolute centre of DIA 2.0 evidenced by her half-rapped, half-sung part in the second verse and the more prominent use of her singing throughout the album. Jooeun, the girl with K-pop's most chorus-friendly voice, delivers wonderfully, and Eunchae is reaching heights never allowed to her before. It's the girls themselves that make "Woo Woo" and the album feel so fresh.
"Woo Woo" is a song about the many contradictory feelings one has around a crush. They mention how even in just 10 minutes they become confused, start misunderstanding things. The confidence of their youth has somewhat faded, now DIA sing about how "they get tied up with one word." Resident ballad "Grown Up" touches on similar ideas. Jooeun sings that "I was always strong, but why am I sad like this?" and Yebin follows with the poignant, "I really knew how to be happy back then, but why?" DIA powered through puberty only to find the even more daunting prospect of adulthood. The fears of being a teen they thought would wash away with ease remain, and even more confusion is added.
All is not lost, though. The epic '80s europop by way of New Jack Swing that is "Pick Up the Phone" is somewhat of a reprieve. Thematically, it harbours DIA's former confidence, but musically, it feels like a step forward. It has a strong bass synth line that sometimes works with the rhythm section but also with the main synth melody. Throughout the verses, elements are added and taken away. The second verse drops everything except the beat before bringing back both synth lines as they play the same tune. It's a move of great drama helped by these synths working together giving the song a great depth. It's this density and sense of scale that feels new to DIA. Jueun once again is the one to give it this feeling, her voice born for the epic.
---
---
If the opening two tracks defined DIA's latest direction, the middle two tracks "Take Me" and "Sweet Dream" anchor it. Their breezy light textures are perfect for the end of a summer's day. They're comforting and tangible. Both of them feature co-producer credits from members: Jueun on "Take Me," and Yebin on the better of the two, "Sweet Dream." The latter has lovely slightly pulled back vocals and a laidback soundscape. It gives the song a campfire atmosphere that well serves the end of the album.
DIA's newfound maturity infects Summer Ade with a precise sense of place. Gone are the gender-traitorous lyrics of "My Friend's Boyfriend," and the unpredictable dubs of "Mr. Potter." In their place is a coherent album that represents a good step for DIA. Huihyeon singing more is a huge advantage for them, and the addition of Jueun and Somyi has strengthened them so much.
The erratic nature of DIA's music and the strange ideas for their words were what made them unique, though. Summer Ade lacks the emotions implicit in the anxious synths of "Will You Go Out With Me" or the climactic rap of "Can't Stop." Granted, they are going in search of emotions now unknown to them but there was not enough of a push to truly find them. Outside of "Grown Up" and to a lesser extent "Blue Day," they don't fully test their capabilities. In search of a summer anthem, DIA found hidden depths of sophistication but lost the childlike temperament that made them special.
What do you think of DIA's Summer Ade? Let us know your picks and thoughts in the comment section below. Be sure to subscribe to the site and follow us on Facebook, Twitter, Instagram, and Tumblr to keep up with all of our posts.
https://kultscene.com/wp-content/uploads/2018/08/DIA_Summer_Ade_digital_album_cover.png
1400
1400
Joe Palmer
http://kultscene.com/wp-content/uploads/2018/02/KULTSCENE-LOGO-2018-TRANSPARENT-RED.png
Joe Palmer
2018-08-14 08:20:38
2018-08-16 19:51:31
DIA's 'Summer Ade' album review