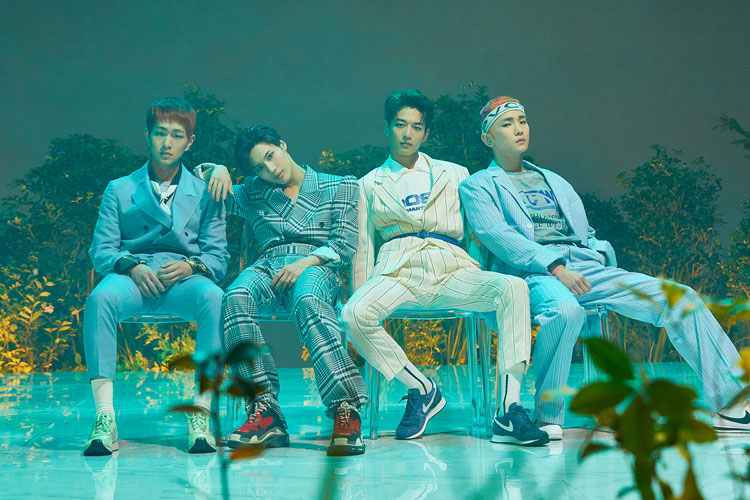 It's been 10 years since SHINee debuted, a top-notch and versatile boy group that soon became one of Korea's biggest pop acts of the late 2000s and 2010s.
Flash forward to 2018, where SHINee returns in the wake of the loss of the group's fifth member, 27-year-old Kim Jonghyun. Jonghyun took his own life in December 2017, leaving behind remnants of his profound struggle with depression in a letter posted on social media.
But SHINee's comeback music video titled "Good Evening" and album The Story of Light EP.1 reprise yet another seamless and moving presentation. It's not an album nor a music video that wallows in the pain of what came before; it's instead an everlasting memorial. In fact, one of the most breathtaking aspects of all is that SHINee returns with not simply four members but five, standing strong in light of Jonghyun's passing as well as remembering him as he was.
The Music Video
The first six seconds of the music video are brief. In fact, if you simply watch with a devil-may-care attitude, you could miss it. However, you can see it, a vacant chair positioned with purpose for a member who is not eternally gone but always will be.
It's a brief moment but nonetheless it hurts. Because it's a clear and beautiful sentiment; it's a chair seemingly left for Jonghyun.
Yes, it's painful. But it's a metaphysical message, saying that Jonghyun isn't actually gone; his essence is still there.
Regarding aesthetics, Key returns with a white bandana as he flits from blonde hair to pink. Taemin greets us with plush pink lips, a Gucci T-Shirt and deep maroon hair. Onew sports tangerine orange hair, while Minho walks with class in pinstriped decor.
Their comeback music video for "데리러가" (Good Evening) places them in a kaleidoscope of color paired with an ambiance of flickering TV screens and old time movie projections. The four of them pose and prance like kings as video cameras surround them to capture their glory.
The choreography and vocals work together to create a succinct and tranquil atmosphere, a space that is also simultaneously filled with tension and wonder. And as they move, the miniature TV screens mimic in an unsteady haze.
The visuals feel intricately complicated but not in an intrusive way; it's mesmerizing to watch. In fact, the barrage of colors and light help create a remarkable world built and solely composed by the kings themselves. And what the viewer witnesses isn't solely based on sadness.
---
---
There are scenes of laughter and playful banter, as the group members run under rays of sunshine, sequences that feel genuine and strong. Pair this with moments of desperation, where the members can be seen frantically moving under water, attempting to reach the lover in question. This sense of urgency proves an inspiration for fighting against all odds to reach the one you love.

The Song
The song itself is a pulsating beat intertwined with glossy vocals reminiscent of a dream. Vocally, it's an instant and unmistakable throwback to '90s R&B, mixed with a compilation of new age sound. Because frankly, this is the era in which SHINee has always excelled.
Think back to the fifth album, 1 of 1, or Odd, the fourth album. Both created an atmosphere filled with intricate beats not quite familiar with today's diluted and exhausted compositions. And with this album — The Story of Light EP.1 — they've done so yet again. Because SHINee's songs take us there, to fantastical worlds beyond our comprehension, making the music they create eternally stick with you.
It should be noted that the song and overall melody are clearly inspired and arguably sampled from the 1997 hit — "Cupid" — written and performed by contemporary American R&B group, 112. The sampling and SHINee's retelling or reinterpretation work well together, inciting nostalgia while also taking us toward a brighter future.
As the song reaches its climax, Key whispers:
I can feel we're looking at each other through this door. Let's see … your eyes, nose, lips, cheek.
---
---
His mournful cry paired with the pre-chorus is a powerful sentiment:
너무 늦기 전에 너를 데리러 가
Before it's too late, I'll come pick you up.
This strong affirmation could be interpreted as a message for Jonghyun or an unreachable lover, and says that no matter what obstacles arise and no matter how far the distance, nothing will keep them from reaching the one they love. And even though it's a race against time as the 달빛 or "moonlight" approaches, their passion for the lover in question or the brother they will always love, is of cosmic proportions and cannot be broken.
What's even more miraculous, is if you listen closely it's almost as if you can hear Jonghyun's voice riddled throughout both the album and the music video, a faint distant memory begging to be remembered.
And to be honest, this is a song that forces one to confront his or her demons or whatever emotional pain that lingers in waiting. The song operates as a necessary catharsis for allowing emotional bandwidth to take hold, even if just for a moment in time.
The Album
Transition to the group's sixth album The Story of Light EP.1, a six-track EP that's filled with both an embolden SHINee as well as songs reminiscent of the group's past releases.
While "Good Evening" serves as a dreamy pop ballad, "All Day All Night" and "Undercover" both serve as a cross between hip-hop and electro pop. "JUMP" takes us back to the sound of SHINee's 1 of 1, where suddenly we're taken back a few decades to '90s pop.
The EP concludes with "You and Me," an uplifting track that talks about memories past that features lyrics written by Key. It's also a song that talks about the difficulties of moving on even when the pain one feels inside is completely unbearable.
아픈 건 나뿐이야
괜찮아 보이겠지만
네게 뛰고 있는 내 맘은 장식이 아냐
I am the only one who is sick
Although I may seem okay
The heart, which is beating toward you, is not a decoration
The love that is felt for the person in question is genuine and unbinding in spite of how much the pain consumes one's psychosis.
The Message
The Story of Light EP.1 poses as a strong resolution and signifies the next chapter of the SHINee's journey.
Because SHINee's back, not just with four members, but five.
"Good Evening"

The Story of Light EP. 1
What do you think of this SHINee album? Share your thoughts in the comment section below and be sure to subscribe to the site and follow us on Facebook, Twitter, Instagram, and Tumblr to keep up with all of our posts.
https://kultscene.com/wp-content/uploads/2018/06/o_1cff797b9pt68gbtoqj8panl8.jpg
500
750
Iman Smith
http://kultscene.com/wp-content/uploads/2018/02/KULTSCENE-LOGO-2018-TRANSPARENT-RED.png
Iman Smith
2018-06-20 13:12:25
2018-06-20 13:12:26
SHINee's 'Good Evening' music video & 'The Story of Light' EP.1' album review