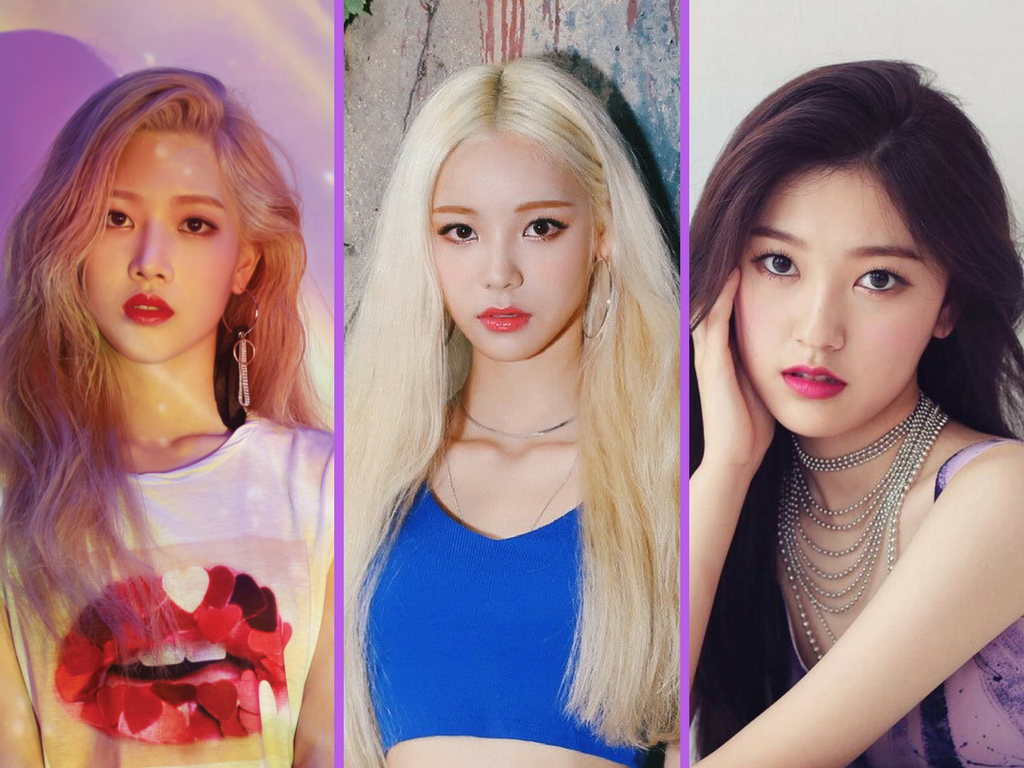 As the final bars of LOONA ⅓'s "Sonatine" slowly faded out, the digital effects opened a new door for LOONA. On the other side of it are Kim Lip, Jinsoul, and Choerry. As a trio they are ODD EYE CIRCLE, a name that necessitates capital letters thanks to the moon-evoking imagery of the word "odd." These three represent the next chapter of the LOONA story.
Writing the previous entry to this series on LOONA was a much easier task than this addition. With the added benefit of hindsight, I knew what had come after the first five girls of LOONA so could more easily chart their progression and what that meant in contrast to the three girls who would become ODD EYE CIRCLE. When the three of them did finally come together though, there was a whole new clarity to the ideas behind LOONA. Whereas the first five girls' were moving towards a group identity as a whole, ODD EYE CIRCLE traces individuals.
The musical timeline of this trio's solo singles are sort of backwards. You could probably look at them in forwards or backwards chronological order but for me going from Choerry to Kim Lip makes the most narrative sense. Choerry's solo single, "Love Cherry Motion" acts as a bridge between ODD EYE CIRCLE and the previous girls. She moves away from the physical sound to something a bit more modern but with such a classic pop sound that it isn't immediately obvious. The bubbly synths are helped by drum samples and wonderful slap bass straight from Girls' Generation's "Party." Of course, it becomes quickly obvious that LOONA are moving in a new direction when the post-chorus breaks hits. The first break comes with no notice and overflows with heavy bassy electro. It's the darkest moment of LOONA's entire discography without going too deep into seriousness.
By itself the sudden genre change isn't exactly a shock in K-pop anymore. As the song progresses, the break changes though. Middle Eastern sounding synths are added to the second chorus, galvanizing the second half of the song into a major change. From that break it turns into a bridge in a similar style, but not quite as heavy as before. The song slowly adds the brighter elements of the beginning before finally transitioning back into the original sound. As the bridge between both groups of girls, Choerry simultaneously shows both styles in contrast and in unison. Moving from an abrupt transition to a smooth one, she starts to bring the pop and EDM sounds together in search of a synthesis.
The lyrics mirror this as they tell the story of a girl falling in love. Similar to the previous girls she's shy and naive, "Though I don't know from A to Z, what love really is, The tips of my ears are tingling." LOONA 1/3 were almost fearful of the mystery of possible love but Choerry is excited, similar to Yeojin, not a surprise given she's the second youngest. She's the continuation of the maknae's (youngest's) story; the sustained excitement about the future of LOONA lies with the youngest girls. She starts off nervous but right at end sings that "Our special days start today."
---
---
Jinsoul preceded chronologically Choerry with her tumultuous future bass track "Singing in the Rain," but her song propels ODD EYE CIRCLE's mythos. Completely shedding any memory of the first five girls, she moves into an edgy digital space. The sawtooth synths and explosive percussion of her song have a dangerous unpredictability to them. Jinsoul is experimenting in the grey area between Choerry and Kim Lip. She's the first to rap and does so with relish, adding ad libs to pre-choruses. That pre-chorus changes for the second chorus as well. "Singing in the Rain" is what happens when a group is trying to figure itself out. It's not as experimental as "Love Cherry Motion" but it's still not a completely polished product.
Jinsoul is much more direct as well, "For the sin of swallowing, up the afternoon sun, I'm right here, so hot," she coos in the chorus. It's a forwardness unknown to the other girls. She's a girl in love, not waiting for someone but taking the lead to the point where she sings loudly about it in the rain.
The actual first girl of ODD EYE CIRCLE to debut was Kim Lip. It was quite a jump from the emotional orchestra of LOONA ⅓'s "Sonatine" to the sci-fi R&B of "Eclipse." Compared to "Love Cherry Motion" and "Singing in the Rain," "Eclipse" is stunningly simple. Kim Lip rides the beat with ease, her voice restrained but with a deceptive range. It has none of the eccentricities of Choerry and Jinsoul's tracks, but feels at home beside them. As soon as she opened the song with "This is our fantasy," it was obvious a new era had begun. Kim Lip represented a clean break for LOONA, one of sensuality and maturity.
Despite progressing LOONA's sound, the three girls didn't have too much in common apart from a sense of modernity. So instead of coming up with a single style that compliments them all, ODD EYE CIRCLE mashed all three separate sounds together. Their debut single, "Girl Front" has the propulsive percussion and sawtooth synths of "Singing in the Rain," the pop sheen and slap bass of "Love Cherry Motion," and the vocal details and oh-so-smooth bridge of "Eclipse." Thanks to its sheer peppiness and strong chorus, "Girl Front" doesn't buckle under the pressure of those three tracks but instead the hyperkinetic vocals carry it to a euphoric climax.
---
---
"Girl Front" is miraculous not just for putting these songs together but for incorporating them so wholly. It works to highlight the trio as individuals before bringing them all into one. Each girl sings a line from her solo track and has a part of her choreography at the beginning of the the collaborative song, making it clear that their identities are not totally defined by the group that is LOONA or even ODD EYE CIRCLE. This entire project is clearly not just an extremely long teaser for a 12 member girl group but promotion for soloists and all manner of units.
As the centrepiece of ODD EYE CIRCLE, it is also the exact opposite to what the LOONA 1/3 did lyrically. It's a song about the girl confessing first. ODD EYE CIRCLE are similar to the other girls in that the waiting is making them anxious but for completely different reasons. They are not concerned with big questions of what love might be for them, they just want to fall in love.
Naturally LOONA are attracted to moon symbols, so finishing off the ODD EYE CIRCLE era with something cyclical made perfect sense. The final single "Sweet Crazy Love" is positioned by its video as the prequel to ODD EYE CIRCLE. The music as well puts it closer to the first five girls than anything else ODD EYE CIRCLE did by incorporating some string work. The strings open the song but are immediately obvious as not real but rather digital violins and are soon joined by an electric drum beat. Its moody R&B atmosphere is closest to "Eclipse" in sound but doesn't have the definite stamps of each girl. There are short references in the lyrics but no direct lifts like in "Girl Front." "Sweet Crazy Love" is caught right between the first two eras, melding ideas and sounds from both while obviously steering closer to ODD EYE CIRCLE.
It brought this LOONA cycle to a definite close but left no hints for what is to come next. ODD EYE CIRCLE took LOONA into modernity with not just their sound but with their attitudes towards love. There are plenty of genres left for them to explore, but not as many broad themes for the last four girls to live in. Regardless of how they sound, the sense of finality is going to be a major idea. They are likely to cycle back around to the very beginning, creating an ultimate group in which the individuals are all connected but more than capable of standing on their own. Which means that the last four girls are the most important. Everything has been great and extremely well planned but it will be for nothing without an ending. Or, in this case, a whole new beginning.
What's do you think of the ODD EYE CIRCLE era? What do you think is next for LOONA? Let us know your thoughts in the comment section below. Be sure to subscribe to the site and follow us on Facebook, Twitter, Instagram, and Tumblr to keep up with all of our posts.
https://kultscene.com/wp-content/uploads/2017/11/Untitled-design.png
768
1024
Joe Palmer
http://kultscene.com/wp-content/uploads/2018/02/KULTSCENE-LOGO-2018-TRANSPARENT-RED.png
Joe Palmer
2017-11-14 08:09:59
2017-11-14 08:09:59
The story of LOONA: ODD EYE CIRCLE