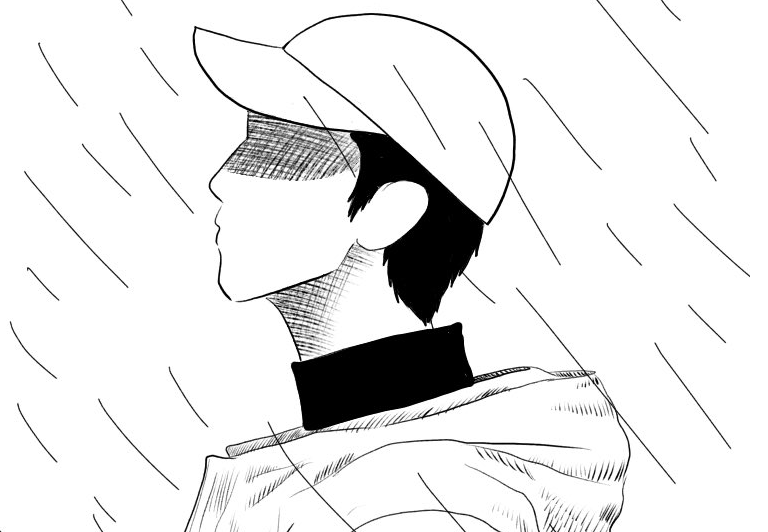 When Korean group BTS released Love Yourself: Answer, in late August 2018, completing an album trilogy that reflected a narrative of self-love discovery through romantic joys and deceptions, it seemed like the septet finally figured out the formula to be in peace with their true selves. "It's alright, I am my own salvation / (…) My sky is clear / Say goodbye to the pain," RM, the leader of the group, raps in "I'm Fine."
But knowing the answer doesn't mean it's easy to put it in practice —and that's what we experience with mono, the latest release of the leader, rapper, and songwriter, born Kim Namjoon.
Released on Oct. 23, only three days after announcing (and merely two months after BTS' Love Yourself: Answer!) the mixtape —or playlist, as he calls it— is composed of seven tracks all written, composed, and co-produced by RM. He collaborated with artists such as English duo HONNE and Korean rock artists eAeon and NELL.
Playlist or Mixtape
The fact that mono is branded as a playlist instead of a mixtape connects with RM's personal habit to share song recommendations with fans through Twitter. However, it might also have been a decision that shows RM's awareness of where the music industry is heading to. It alludes to when Drake (RM has said many times he's an inspiration) released More Life in 2017, which was labeled as a "playlist" in a move then considered innovative in a industry still based on album releases. (If there's any truth in Drake having inspired RM, we may add to the list of coincidences the handwritten, black and white, minimalist design of the cover of mono which resembles the art cover of Drake's 2015 If you're reading this it's too late).
At the time More Life was released, lots of music critics emphasized the significance of playlists in the era of music streaming. An album, the NY Times said, is:
[A] creator's complete thought expressed in parts. A playlist in the streaming era, by contrast, is a collection of moods, impressions, influences and references; it's a river that flows in one direction, ending somewhere far from the beginning (if it ends at all).
A mixtape, per se, strays from the sense of commitment that an album must have to a concept. So by nature, RM would be free from that commitment with a mixtape. But with a playlist, which theoretically allows even more freedom than a mixtape, it seems that it's RM's intention to release the pressure to deliver a work with any congruence at all. As if he just wants to be free to do whatever music he feels like doing.
But, curiously, what we get in mono actually is consistent in its inconsistency, both in sound and lyrics. All seven tracks share the same vibe and, indeed, compose a consistent frame. The sonority of it is more loungy and chill than we'd expect from the rapper. Even if hip-hop influences are present, the playlist flows between lo-fi and alternative genres, with a few (amazing) moments of synthpop, a genre RM has shown before to be perfectly compatible with, like his & BTS' Jungkook's cover of Troye Sivan's "Fools."
As for the lyrics, it makes sense to contextualize mono as a continuation of RM's path along with BTS in the group's previous works; there is a connection between everything. And because RM worked in the lyrics of everything he sang and rapped, then, all lyrics written by him can be used as material for us to ask: How is the leader's life after he found the Answer?
---
---
RM before "mono"
Who shall I be today: Kim Namjoon or RM?
The lyrics above came from one of BTS' darkest albums, Love Yourself: Tear, in which the group addressed the deceptions faced after the happy-go-lucky illusions of the previous album, Love Yourself: Her. The Love Yourself trilogy was completed with Love Yourself: Answer, a more upbeat album in which BTS suggests to have finally learned that, in order to find love anywhere, you should first find love inside yourself. But would that lesson be enough to make them happy?
To be fair, it's worth pointing out that in Answer: Love Myself, RM says: "Maybe there is no answer / Maybe this isn't the answer either / (…) I'm still finding myself." However, one could think he was content about that if things ended there. From the album design to the sound of all the original tracks, everything about Love Yourself: Answer is more about joy and lucidity than pain or sorrow. Even "Trivia: Love," RM's solo moment on the album, has a joyful vibe. If not having all the answers is the answer, then we're ready to move on and live a happy life, right?
Life is not that simple to anyone, of course.
This leads us to mono. Interestingly enough, either sonically or lyrically, mono recalls more the RM of "Reflection" (the one who said "I wish I could love myself," in BTS 2016 album "Wings") than any other thing we've seen from him after that. So, was the whole path to the Answer not worth it then?
It's not that it wasn't worth it, it's just that, from what it seems, it's still not enough for RM. Understanding that it's okay not to have all the answers is still not enough for him to be okay.
Journey from "Tokyo" to "forever rain"
The first two tracks of mono are named "Tokyo" and "Seoul," making us feel as if RM is literally traveling, trying to find himself in different places.
A fun fact is that mono was released one day after BTS announced their partnership with the city of Seoul, in which each member has its own themed-playlist to represent what they most love about Korea's capital. It's not all love, though. In "Seoul," produced by HONNE (a group who's also familiar with the theme of seeking love in different places), RM, a native of Seoul-satellite Ilsan, seems overwhelmed by the city that became his home.
In clever wordplay (a tool RM is famous for), he sings: "If love and hate are the same words, I love you Seoul / If love and hate are the same words, I hate you Seoul."
Ironically, "Seoul" is pronounced similarly to "so." Then, by speaking out loud his love-hate relationship with the city, it's almost as if he's also speaking to himself, trying to find himself through the city.
Not having found himself in either Tokyo or Seoul, RM reaches for the moon in "moonchild," a track that references the lyrics of "4 o'clock," a song previously released on Soundcloud with his band mate V.
Some of the best lyrical moments from RM happen when he uses astronomy analogies (like "Magic Shop,") and "moonchild" is indeed one of these moments: "We are each other's night sceneries, we are each other's moons." Again, RM might be talking to himself — the moon (him) is both the cause of his sadness ("born in the moonlight," "born to be sad," "all the pain, all the sorrow is your destiny") and his relief ("only you, no one else, gives me that sense of comfort)."
RM lands in "badbye," another clever wordplay with the word "goodbye." The depressive, short, repetitive lyrics suggests an RM falling into reality — no more using Tokyo, Seoul or the moon to escape. He now has to face reality, kill the illusions and face himself: "Kill me softly / Make me into pieces of fragments," he and aEeon sing. As the dark atmosphere of the song suggests, this process hurts. No wonder, the next track, "uhgood," has the most painful lyrics: "All I need is me / All I need is me / I know, I know, I know / Then why do I feel lonely?" RM's production skills also shine in "uhgood," along with the touch of producer Sam Klempner (who previously worked with BTS in "Best of Me"). With mysterious synthesized sounds opening the song, the mood is set for RM to use his deep voice to lead us into an introspective experience, which the use of reverbs help make it even more ethereal.
---
---
The transition from "uhgood" to "everythingoes" is one of the most brilliant moments of mono: after telling himself some of the hardest-to-swallow truths, RM seeks to rebuild himself by saying that "everything goes, at one point, for sure… everything goes by."
The constant repetition of the line "everything goes," through a four chord progression tailored in the technique of tension-release, summarizes the whole mood of the song: whether if you're in the highest or lowest point of the curve, whatever you're feeling shall pass one day. It's all temporary.
And just like that, mono ends with "forever rain," another great lyrical moment of RM justifying his love for the rain since it is both a friend who helps him hide ("In the rain, the umbrella covers my sad face" / "In the rain, people are busy minding themselves") and be found ("When it rains, I get a feeling that I have a friend / That keeps knocking on my window, asking if I'm doing well.)" Just like in "moonchild," in "forever rain" RM seeks to understand himself through events of nature. And, just like in all the other tracks that led to this one, we still don't have any solid conclusions.
The overall mood of mono is one of uncertainty and solitude  —not the type of solitude of not being surrounded by enough people, but the solitude felt between one's many selves and conflicts. But it is also a mood of continuity.
From the lowercase stylized fonts, to the lyrics full of honesty about RM's doubts, everything about mono reflects a journey that is still incomplete, towards finding identity, love, and acceptance — a journey that could be anyone else's.
The next steps of the journey will surely be portrayed in BTS' upcoming works. In the meantime, we can appreciate mono not only for RM's musical versatility, but also for his courage to expose, through so many beautiful songs of uncertainty, that knowing the "Answer" is way easier than knowing what to do with it.
[Lyric translation credit: SPOTLIGHTRM]
How did you like RM's mono? Let us know your picks for fave songs and overall thoughts in the comment section below. Be sure to subscribe to the site and follow us on Facebook, Twitter, Instagram, and Tumblr to keep up with all of our posts.
https://kultscene.com/wp-content/uploads/2018/10/mono-1.png
532
768
Ana Clara Ribeiro
http://kultscene.com/wp-content/uploads/2018/02/KULTSCENE-LOGO-2018-TRANSPARENT-RED.png
Ana Clara Ribeiro
2018-10-24 19:29:36
2018-10-26 14:28:01
Life after the 'Answer': BTS' RM embraces uncertainty on 'mono'