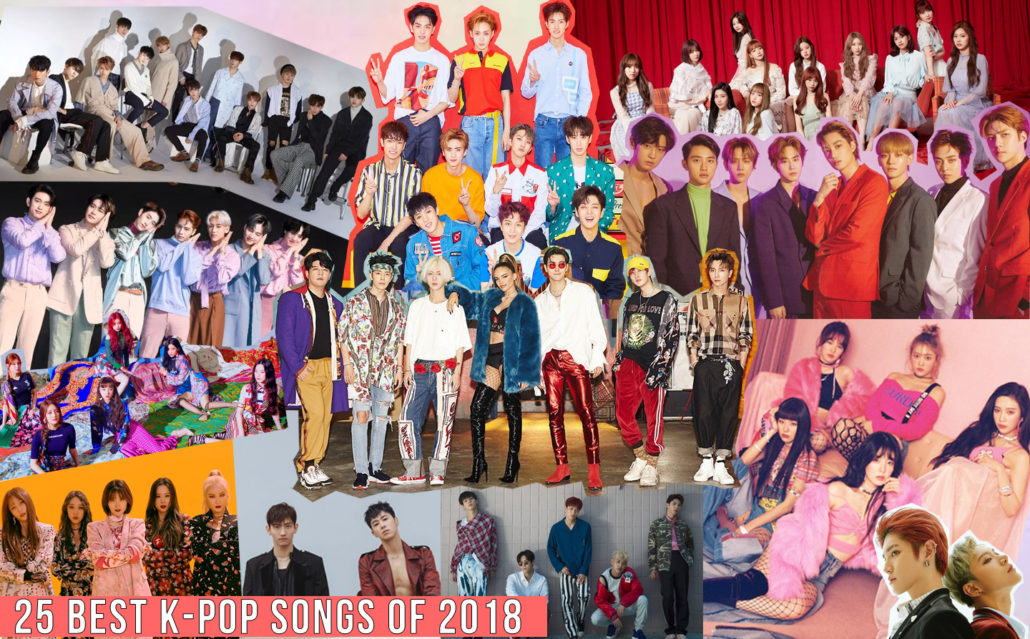 Compiling the definitive best of a given year is no easy feat —especially for the KultScene editorial team. And yet here we are. As said in our part one of the top songs of 2018, we looked back on another year in K-pop and came up with a list of what we think excelled above the rest.
This year, girl groups exceeded expectations concept and genre-wise, securing spots a the top. Boy groups, both new and old, continued to reinvent themselves and deliver fresh music. Solo artists kept themselves visible and challenged even the better established ensembles. 2018 also birthed more than a handful of classics that someday we'll surely look back on with endearing nostalgia.
Here are the best K-pop tracks of the year.
25. "Thanks" by Seventeen
Seventeen impressed with "Thanks," which is a skilful fusion of electronic sounds and a diversity of dance beats. Despite its sweet meaning of gratitude, its lyrics also convey intensity and depth, and is matched by the constantly changing dynamics of the track. The song seamlessly transits between its rap and vocal parts, allowing all the members of the group to shine in various ways. Its hook is also very addictive and caused the song to get stuck in my head when I heard it for the first time. The impressive choreography accompanying the song is just a cherry atop this very delicious release.
—Anna
24. "I Love You" by EXID
Take the usual EXID chart-topper formula and colorful concepts, throw in some repeated samples, and we have the makings of "I Love You." Following their throwback to the '90s with "Lady" earlier this year, the group continued their homage to the recent past with '80s-inspired pop synths and fainter drum claps with this single. Long-time producer Shinsadong Tiger and member LE methodically break away from traditional form and do away with a bridge altogether, making the song feel so seamless and digestible. The selling point was the recurring "I love you like lalala," which besides being an absolute earworm, never felt like a one-off sample. This perfect distillation of EXID is everything we love about the group, and is one for their fans and millennials with a bad case of retromania alike.
—Shelley
23. "Get It" by PRISTIN V
Before debuting the sub unit PRISTIN V, the edgiest thing that the group PRISTIN has ever done was releasing the punk rock influenced "We Like." And while I have absolutely no problem with the direction the girls were going, the unit, formed by five out of 10 of the PRISTIN members, was a welcome surprise in 2018. PRISTIN V's first single, the hip-hop oriented "Get It" not only served to showcase the girls' vocal colours in a more distinctive way, –as it's especially noticeable in the smooth outro, backgrounded with beautiful falsettos– but was also a chance to explore a different sonority and more mature concept, which, by the way, fits them really well.
—Ana Clara
22. "Shoot Me" by DAY6
Six months after their whirlwind year of releases, trustworthy band DAY6 returned with guns blazing in "Shoot Me." The title track of Shoot Me: Youth Part 1, it is a tad more aggressive than their usual releases. This song allowed the members to show off fiercer and more charismatic sides of themselves through their explosive live stages. As always, the instrumentation was well done, with Young K's prominent bass line and Dowoon's intense drumming enhancing the richness of the track. Wonpil's vocal range was sufficiently displayed here as well, with his high notes successfully intensifying the song as it reached its climax. Better yet, the music video was not just aesthetically beautiful, it was also extremely effective in conveying the main message of this song, "vicious words hurt like a bullet" through its portrayal of a toxic relationship.
—Anna
21. "Blooming Day" by EXO-CBX
One of the best things about EXO-CBX is that it never takes itself quite too seriously but still serves up the most pristine type of groovy dance tracks. April's "Blooming Day" moves along with a funky bass line and electronic quirks as the trio of Chen, Baekhyun, and Xiumin bounce along to the melody before building to the soaring, layered chorus. It's not necessarily a song to get pumped up to, but "Blooming Day" is an exquisite display of why this trio's vocal tones blend so so well, and will have even the most straight laced person tapping their foot along to the beat.
—Tamar
20. "Love Line" by TVXQ!
This surprise of a sweet track from TVXQ! was a total turnabout from the duo's typical styling, but felt like a refreshing spring day where the wind is blowing softly, the sun is shining, and the flowers are all in bloom. There's a rhythmic bounce to "Love Line" as Yunho and Changmin croon in high tones over the spritely tropical pop beat, plucky strings, and clapping melody. The laid back nature of the song demands repeated plays, drawing listeners in with its perceived simplicity and rewards those who take a moment to relax and enjoy the spritelyness of it all. It's a bit of a divergent sound for TVXQ!, but with a decade and a half under their belt, it's just further proof that the duo can pull off and suave, modern sound with ease and make it their own.
—Tamar
19. "Baby Don't Stop" by NCT U
2018 proved to be a defining year for the NCT project musically and career-wise, and it all started with a handful of singles from their various units, which would all eventually come together for the NCT 2018 Empathy album featuring all 18 members. And back by popular demand, the rotating group NCT U were up first and put out two singles, with "Baby Don't Stop" being one of them and led by Ten and Taeyong. Being the best performers in NCT, both members didn't just rely on their crisp dance moves, but Taeyong gave us ASMR gold and, nice for a change, vocals, while Ten carried the sultry melody throughout the song. "Baby Don't Stop" is an enthralling art house track that further stated the case that NCT is SM Entertainment's experimental group not only with their group dynamic but musically.
—Alexis
---
---
18. "Hann" by (G)I-DLE
Usually when a song starts, I can tell if I'll like it within the first five to 10 seconds. It took (G)I-DLE's "Hann" one second and I was immediately hooked. Who doesn't love a little whistling? Well, there are probably quite a few people who get rather peeved, but in this particular case it was the instant whistling in the intro that won me over. There's no reason why this song shouldn't be put on repeat considering it's mesmerizing and entrancing melody. Along with the captivating "woo woo woo" that is repeated throughout the song, the moments that were leading up to the chorus would leave one on edge, anticipating the next line, again and again.
—Tam
17. "Boss" by NCT U
This year, NCT U made its long-awaited comeback this year since releasing the groundbreaking "The 7th Sense" in 2016. With a rearrangement of members, the expanded lineup released "Boss" and showed just why they're the superior NCT unit. Marking Lucas and Jungwoo's debuts, NCT U left the artsy for "Baby Don't Stop" and went for a bolder, stronger concept with "Boss." Full of confidence and packed with a just as impactful choreography, the bass-heavy hip-hop and electro track perfectly blends the swaggering raps with velvety smooth vocals, which ultimately balances out the song so it won't steer into the "too-much" territory. In "Boss," NCT U declares themselves as leaders, and with jams like this and other gems the NCT project released throughout the year, it's looking pretty assertive as we near 2019.
—Alexis
16. "N/A" by Jooyoung
When everyone would rather listen to the latest from a survivor group, "N/A" from Jooyoung can sure feel like our best-kept secret sometimes. Nevertheless, it's one we are willing to share. It follows this year's trend of bare piano melodies, just in a more hauntingly beautiful vein. Also naked are the lyrics (few as may be), which reads like an intimate reflection. Jooyoung reverts to being boy whenever he sees the guy in the mirror. He wonders if he sees him too and asks him to hold him because he's scared and alone. Just as he doesn't reach a resolution to his internal struggle, so does the song. Instead an incessant buzzing noise picks up to deafening heights and garbles its way into an outro. The result? A catharsis, a purgatory of negative emotions. It may be uncomfortable to listen to, sure, but the psychological rewards are great.
—Shelley
15. "Latata" by (G)I-DLE
(G)I-DLE's debut track, "Latata" blends tropical-house beats with a fierce hip-hop attitude that allowed the group to add their own spin to the popular trend. The repetitive "I love you" paired with musical breaks allowed us to appreciate the production of the song. "Latata" gave leader Soyeon to try her hand at songwriting with successful results. (G)I-DLE's husky vocals were a breath of fresh air in the summer rush.
—Nnehkai
14. "Nanana" by IMFACT
After most of the group participated in the rebooting competition TV program The Unit and none of the members made it onto the debut group, IMFACT picked themselves up and put out a chill summer bop. The quintet premiered "Nanana" at KCON LA this year to a crowd of other groups' fans and ended up blowing everyone away. "Nanana" is a shifting deep-house track that goes back and forth between moody and dancey. Due to IMFACT being a lesser-known group, the song flew under the radar this year. IMFACT has changed their concept many times throughout their career, but with "Nanana," hopefully it's a step on the path to cement their place in K-pop.
—Alexis
13. "Lullaby" by GOT7
Every now and then groups come out with a bop, where one or two members take the lead and it kind of becomes "their" song. Luckily, that's not the case with GOT7's "Lullaby," the group's title track off their third studio album Present: YOU, which they dropped after their second world tour ended this past summer. "Lullaby" has great transitions between all the vocalists and rappers, with each member having their well distinguished parts, attributing to the overall fluidity of the song. With it's addictive dance beat and deep house integration, one will more than likely not be able to sit still. As if listening to "Lullaby" wasn't enough in just one language, the group released this in three other languages; English, Chinese, and Spanish (my most listened to version of 2018 according to Spotify)! "Sweet talk to me babe/ it's magical/ Sweet lullaby" —yup, it sure is and in all four languages.
—Tam
12. "Bboom Bboom" by MOMOLAND
2018 was the year MOMOLAND fully embraced their potential for quirkiness and fun that had presented itself due to member JooE's charisma, which stood out thanks to fancams and a CF that went viral in 2017. Extending the concept for the rest of the girls, while still keeping their cute, girlie approach, and teaming up with Shinsadong Tiger (a songwriter that crafted some of the most iconic K-pop tunes) turned out to be the best idea for them. MOMOLAND's first release of the year, "Bboom Bboom" is a disco-pop track whose onomatopoeic lyrics, catchy melodies and sticky sax hook make it almost impossible for you not to dance along. If you are one of those who miss T-ARA (like me) you probably liked this song. And even if you're new to K-pop or to MOMOLAND, you probably couldn't resist it either. "Bboom Bboom" is the celebration of the unapologetic fun that makes so many people drawn to the K-pop universe. But also, it's a song that opened a new era for the group, whose new found identity made sure they continued to shine during 2018.
— Ana Clara
11. "The Chance of Love" by TVXQ!
Once you hear those opening "Woo woos," they will be permanently singed onto your soul and you will not mind. By now, it's preconditioned that whatever TVXQ! does, it's going to be cool and sexy, and "The Chance of Love" is no exception. The song is pop with some jazzy elements mixed in giving it an upbeat yet smooth sound. Although the song sounds very Super Junior, U-Know and Changmin give it enough flair to make it uniquely their own. And with about 15 years in the industry, these guys have not slowed down, still giving us intricate dances that can captivate the viewer with just the slightest moves.
—Katherine
---
---
10. "Light" by WANNA ONE
With the release of "Light" earlier this year, WANNA ONE achieved an all-kill on the Korean charts, even though some saw it as one of the group's less impactful songs. However, the song made our list for its nostalgic sound. WANNA ONE's "Light" brings us back to the sounds that reminded us of B2ST and other older boy bands' sounds back in the day. The track is a mixture of R&B and EDM, and perfectly showcases the band's dancing skills with the drop of the song.
—Alejandro
9. "Good Evening" by SHINee
Only months out from an earth-shattering tragedy, SHINee finding the strength to release new music is commendable on its own, let alone with a song as striking and beautiful as "Good Evening." Over a light tropical house beat, the members of SHINee tell their lover that they will go to them in the night. Their vocal delivery is impeccable, fusing emotion and yearning into the breathy, staccato opening verse sung by Taemin and Minho.
The song's real shining moment, however, lies in the chorus, when the members collectively chant that they will go to their lover "before it's too late," echoing each other across building instrumentals. The tension gives way to a dance break and, in traditional SHINee fashion, fuses passion and groove with magical smoothness. While SHINee will tragically never be whole again, "Good Evening" made it clear that the heart of the group is still alive and beating with colorful vibrancy.
—Kushal
8. "Tell Me" by Infinite
After losing a member and pending military enlistment, 2018 was looking to be an ambiguous year for Infinite; but then "Tell Me" was released much to the relief of Inspirits. With a ton electronic and synth tunes, the upbeat pop song presented a much brighter sound than their past few singles. The music video mirrors the sound with vibrant and aesthetically pleasing sets and lighting which provides the perfect backdrops for the boys and their killer dance moves. Going from seven to six members doesn't seem to be hindering the group in any way. And though I found myself subconsciously placing Hoya into the choreography, it doesn't take away the fact that the look and sound is still purely Infinite.
—Katherine
7. "Look" by GOT7
Co-written and co-produced by leader Jaebeom, "Look" marked an important era in GOT7's career. It was the lead single in an EP, Eyes On You, the first in which the members had a strong hand in the production of its entirety. "Look" blends hip-hop into a pop dance track with nu-disco at the chorus like only GOT7 can, making it one of their most layered song in their discography. Just when you think the track is going to a specific place, it changes up the tempo every couple of verses. It's an ambient, moody track that explodes at the chorus —a true gem. Though Jaebeom had also co-written 2017's "You Are," "Look" signaled the group taking a bit of more creative control into their hands, something we saw more of on their follow up album Present: YOU. GOT7's work in 2018 showed that the members are growing both as artists and a group.
—Alexis
6. "La Vie en Rose" by IZ*ONE
The winning girls of Produce 48, IZ*ONE, gracefully balance their excited emotions on debut single, "La vie en Rose." Like it's namesake track by Edith Piaf, it's a song about intense desire spurred on by the type of person who will make the girls shine forever. The extent of this desire is found in the bouncing contrasts of their voices. They cover all bases with the slight and fragile work of Sakura, Wonyoung, and Minju, the unique and resourceful Hyewon, Nako, and Hitomi, to the crushing powerhouses of Eunbi, Yuri, and Chaeyeon. It's Eunbi and Chaeyeon who drive the song, their pre-chorus provides the absolute drama of it. Without their capabilities, every other delicate touch of the production would be lost. With them a stunning harmony is felt among the big drums and the elegance of the string melodies. Eunbi and Chaeyeon's in-between calls of "I don't wanna make it blue," keep the track from tipping too far towards total red. A warning that a living your life all in pink is not without its dangers. "La Vie en Rose" is unexpectedly assured and mature for a group only just thrown together.
—Joe
5. "Love Shot" by EXO
Coming in during the 11th hour of 2018, EXO graced the last few weeks of the year with their wonderful Don't Mess Up My Tempo album, and then followed it up with a repackage and its titular single "Love Shot," which made the wait that much more worthwhile. Beginning with lo-fi synths and creeping beats as Baekhyun leads off the track with his sweet tone, opening up the song with its crystalline verses, taunting drops, and groovy chanting. Sleek in its subdued nature as it approaches the chorus with a drop before leading into the rolling "na na na"s, "Love Shot" is a velvety smooth exhibit of EXO's vocals, full of harmonies and layering voices atop one another to create an ambient, sensual effect. Paired with a video that rendered many a fan dead with its jaw-dropping visuals, it's safe to say that "Love Shot" achieved its aim of being one of this year's most satisfying releases.
—Tamar
4. "Lo Siento feat. Leslie Grace & Play-N-Skillz" by Super Junior
It's an undisputed fact that Super Junior is a Hallyu trailblazer, opening up the doors for K-pop in the Chinese market and succeeding in Japan. And at a point in their career when most people would think they'd slow down or transition into other fields (they're in their 13th year as a group), they did it again. Suju teamed up with Dominican-American singer Leslie Grace and the production duo Play-N-Skillz for the trilingual banger "Lo Siento." The dembow-pop electro track mixes Spanish, English, and Korean seamlessly. It's no wonder that "Lo Siento" made waves in Latin America and became the first K-pop song to make it onto the Latin charts. Super Junior successfully pushed the envelope both musically and culturally, collaborating with artists active in the market they were tapping into and drawing from in their music. With all the members being in their 30s, Super Junior upheld their title as The Last Man Standing.
—Alexis
3. "Love Scenario" by iKON
Some people might say it's overplayed. I say, don't stop playing it! No matter one's current mood or state of being, iKON's "Love Scenario" can cheer just about anyone up. And if it doesn't, then well, you might be a Grinch. It's taken over and has become an anthem for all ages, especially elementary aged students. The song has a bright sound from beginning to end which makes for a "get up on my feet" kind of jam. Contrary to some of the group's previous heavy hitters like "Killing Me" (ranked at #28), "Bling Bling," "Rhythm Ta" and sentimental tracks "Goodbye Road" and "Apology," "Love Scenario" could've be done even without choreography, as it's bouncy vibe would've been enough to enjoy.
—Tam
2. "Bad Boy" by Red Velvet
Red Velvet kicked off the 2018 with their most impressive "velvet" concept yet through "Bad Boy." Strong synths and a solid bass pair with trap and '90s R&B beats for an intriguing alternative R&B track. The song's lack of autotuned gimmicks allows listeners to embrace Red Velvet at their best. The ladies trade in their cute ad-libs and usual quirkiness for sultry melodies and a tenacious confidence. From leader, Irene's "who dat, who dat boy" to the harmonious pre-chorus, the ladies prove how lethal they are in a cat-and-mouse game of seduction. "Bad Boy" solidifies Red Velvet as masters of dual concepts following the success of previous summer hit "Red Flavor."
—Nnehkai
1. "Shine" by Pentagon
A simple melody goes a long way, and Pentagon illustrates that perfectly with "Shine," a song that loops the same couple of notes with minimal accompaniments. A few vocal harmonies here and a few rhythmic percussions there provide some complexities, but the unwavering piano never reaches broken record territory. Rather we become conditioned to expect it much the same we do to a metronome; the slight pause at end of the bridge after Jinho belts out that high note is a brilliant example of that. With the chorus's playful rhyming scheme and overall sing-song quality supplementing the no frills instrumental, "Shine" just has this juvenile charm to it that we cannot help but smile at every time we listen. And though the single would go on to be the last to feature rapper E'Dawn before he bowed out of the group, we will always be able to look back and remember the time he co-wrote one of the most definitive songs of the year.
—Shelley
Check out our video countdown for the Top 25 right here:
What were your favorite songs of 2018? Let us know your picks in the comment section below and be sure to subscribe to the site and follow us on Facebook, Twitter, Instagram, and Tumblr to keep up with all of our posts.
https://kultscene.com/wp-content/uploads/2018/12/KPOPSONGS20182-1.jpg
893
1440
KultScene
http://kultscene.com/wp-content/uploads/2018/02/KULTSCENE-LOGO-2018-TRANSPARENT-RED.png
KultScene
2018-12-25 11:04:46
2019-01-08 15:31:51
25 Best K-pop Songs of 2018