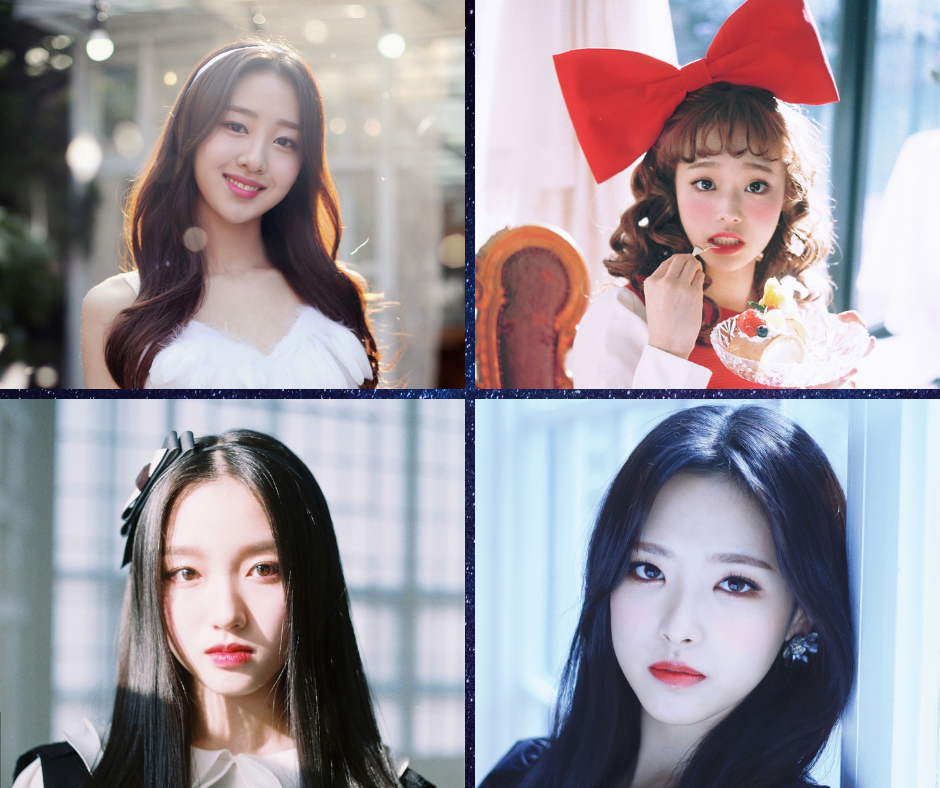 How do you close out a pre-debut project like LOONA's? How do you bring the many ideas and sounds contained within the previous 8 solos and 4 sub-unit singles to an outcome? But Yves, Chuu, Go Won, and Olivia Hye were given this herculean task, and came together as Youth Youth by Young, aka LOONA yyxy to be the conclusion of the sweeping story the LOONAverse had been introducing for over two years.
The story of LOONA took a dramatic shift before yyxy. Odd Eye Circle injected a positive, forthright energy to the universe as a direct contrast to what came before them with LOONA 1/3 and yet, it still felt incomplete. Between the two of them they barely scratched the surface of complexity within the idea of girlhood. One could be passive or active, with little in between. To deal with this yyxy took a major lyrical shift and forgoed a more distinct musical identity for their era. In its place the videos took on the brunt of the storytelling while the lyrics focused on one thing. Each of the girls sang not about boys or a general idea of love but of self love. Differing perspectives of self-love combined to give us a more complete idea of what LOONA's story was.
---
---
Yves fell from Eden and crashed into our hearts when she began the final saga with the deeply satisfying "new." It turns the bounding confidence of Odd Eye Circle into something quietly simple. The heavy 80s synths feel immediately powerful. Where OEC were manic and excited, Yves doesn't waiver, preferring a steadiness of strength felt from within.
This experience and strength of Yves' voice proves to be crucial. Aided by just a bassy synth and fingersnaps, she convincingly delivers such grandiose lines as, "Willing to get closer to the sun / Flapping of the burnt wings." "new" is a song about finding oneself through a variety of life experiences. She beings with love of a person, "My heart that wants to be like you / Gets coloured, filled with you," but moves on quickly. She goes no further in mentioning this person to the point that it sounds more like admiration than love. This is where she deviates from her predecessors. This desire to be like someone else led Yves to consider her "miserable appearance." In looking at herself in preparation, she took the time to see a new side of who she is. In dropping the pursuit of another and considering a mirror, she sees "the beam inside of my heart."
Yves understands that the conclusion LOONA seek isn't in being loved or loving someone but in how you come to make those decisions. It's the in-between point of figuring yourself out and knowing what's best for you.
Yves grabbed the LOONAverse by the throat and told it to calm down. All of the yyxy girls' songs were a response to this and none of them took it to heart quite like Chuu. "Heart Attack," her solo song, is what happens when LOONA ⅓ are graced with the influence of Yves. Big brass wills Chuu down a difficult path of big vocals and emotions. Her heart is unstoppable, at a level of obsession not seen before in the LOONAverse. "Heart Attack's" music however, does feel familiar at times so it is up to Chuu to elevate it. None of the other girls matched her on record for pure personality, "This must be what thrill feels like, darling" she bellows in the chorus. Her voice shifting tone depending on just how happy she is.
Her unabashed sentimentality is no surprise given Yves' influence. It is, at the same time, naive. Yves' message has been missed by Chuu. She changes her whole life to suit this person, "All of my standards are set to you / Like the moon spinning around the earth." She's shoved along by growing layered background vocals and stronger synths to a point of apparent euphoria. Chuu gives everything to her vocal tone, a parallel to how she'll give everything to the other she sings of. "I'll give you all my heart /Take my heart," she pleads. Her feelings are in whiplash. Taking confidence from Yves, Chuu goes too far in changing her "quiet heart." It's the response of someone who was waiting for confidence for too long and couldn't handle it. Chuu never really had a quiet heart, just never had the support to know this.
Someone who really does have a quiet heart is Go Won. On first meeting, the third yyxy girl is slight and mysterious. Her voice is simple, barely going above a talk-sing type for the majority of her solo song "One & Only." The straightforward synth of the track does well to back her up. It does not undermine her at any stage. It has bright piano chords to prop her up in the chorus and shimmering synths to match her as she highers her pitch rising to the chorus. Her voice is warm and unique but also innately familiar as if everything she sings we all know deep down.
Right from the beginning, Go Won understands the importance of self-love. "When that shadow takes a step towards me / Even the darkness feels bright," she sees light in everything because she pours light onto everything. She doesn't need no garden of Eden.
Olivia Hye, yyxy's final girl, is someone who sees almost no light. She took Yves' message as a betrayal. Her song "Egoist" is not a celebration of self-love but a lament for the heartache of how she reached it. Olivia still held onto the idea that true fulfilment came only through love of another. She was not prepared to lose them or to hear that her ideals had been wrong this entire time. "I wanted to despise you /But my heart wouldn't let you go," she ekes out at the beginning. Her voice, a strained apathy, fits these words perfectly.
The track's opening piano chord starts a fraction of the way through like we have barged in on her revelation. The piano drops when her sadness turns to anger, though. Her rage slowly distorts the song into a whirling industrial clash of defiant synths and destructive percussion. The melodic whistle from the chorus is coerced into a desperate scream. The song's expressiveness mocks the cold flatness of Olivia's voice. To make matters worse Jinsoul follows this. Her self-referential rap is full of temptations about being in an "endless cycle" together. She is a voice that Olivia does not need right now, and it shows. As the song progresses it has nothing to else to offer. Olivia's voice, still inert, doesn't convince us of the words she's singing. She still sings of fate, a fate she fears was taken from her prematurely. Her anger is still focused on the person leaving, rather than her own inadequacies.
---
---
The conflict inherent in Olivia Hye and her song seemed to be a great jumping off point for LOONA yyxy to come together as a unit. Instead they did something strange: "love4eva" is a song made to situate LOONA within the larger world of K-pop. Almost every major detail links them to two other era-defining girl groups of their time, Girls' Generation and I.O.I.
Starting with producer E-Tribe, even the announcement of their involvement was treated as a big coup. E-Tribe are known for a number of iconic hits like Hyori's "U-Go-Girl" and Super Junior's "It's You," but none quite as legendary as Girls' Generation's "Gee." Their involvement was a statement but how they used the feature from Canadian artist Grimes locked in the comparison. Much to everyone's surprise, her only involvement was in the song's intro. Her English language declaration of LOONA's finally being together is a riff on not just Tiffany and Jessica's intro for "Gee" but the many times K-pop has done this the years over. The lyrics as well are a such a generic take on first love that it could be parody. The wonderfully ridiculous line about kidneys comes close to convincing me of that.
Even before Grimes' part, it's easy to spot the I.O.I connection as well. The precise, rolling synths immediately recall that group's best track "Very Very Very." "love4eva" strives for the breathless energy of that song but can't quite go past imitation. Right at the end, yyxy go on to refer to the choreography of "Very Very Very" too, as in their ending pose they continue moving along with a heart gesture. It's smaller than the other references but in ending the track it leaves the imprint of all of those other ideas in our mind.
This all combines to position LOONA as a group following these two. It would be hard to argue that anyone other than Girls' Generation is the the most definitive K-pop girl group, and I.O.I were the first group since them to change how the industry worked by making competition shows the new most lucrative debut plan. LOONA have decided that they are next, stating that their form of marketing is what future girl groups will be copying.
This, unfortunately, is the final legacy of yyxy. They jumped the gun on the anticipation of their debut by dropping a genuinely interesting thematic exploration in favour of something more palatable for a larger audience. Regardless of quality, "love4eva" and LOONA's debut single, "Hi High," are a digression from what made LOONA interesting in the first place, their focus on the girls themselves. It was the distinction between the solo songs and the diversity of sounds and ideas that were used to build characters that made LOONA connect with so many. That yyxy could have four separate songs about self-love, all with different perspectives was frankly beautiful. They worked to define the impossibility of identity, and it sadly remained impossible to carry through to the finale.
What do you think of the LOONA yyxy era? Let us know in the comment section below. Be sure to subscribe to the site and follow us on Facebook, Twitter, Instagram, and Tumblr to keep up with all of our posts.
https://kultscene.com/wp-content/uploads/2019/01/Untitled-design.png
788
940
Joe Palmer
http://kultscene.com/wp-content/uploads/2018/02/KULTSCENE-LOGO-2018-TRANSPARENT-RED.png
Joe Palmer
2019-01-10 08:47:51
2019-01-10 08:47:51
The story of LOONA: yyxy