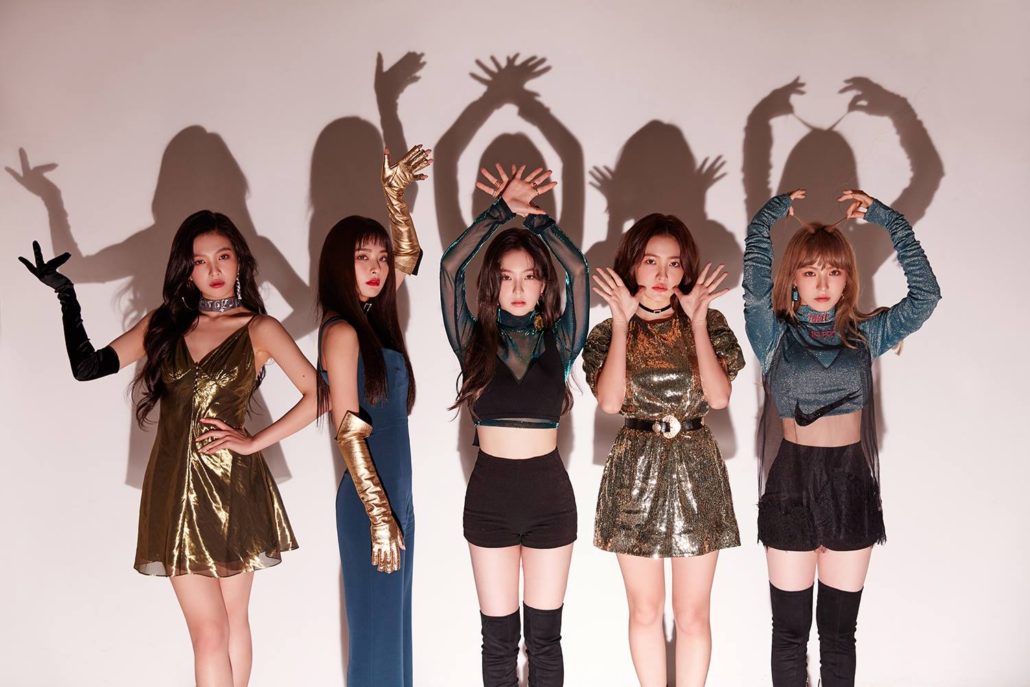 By Alexandra DiBenigno
Red Velvet returns to the K-pop music scene with the release of their spooky new song, "Peek-A-Boo," off their second full album, Perfect Velvet. The group has been busy this year, releasing multiple singles like "Rookie" and the summery hit song "Red Flavor." But, the girls throw away their cute image for a newer, darker one in their latest track, which will surely be on the top of everyone's fall playlist.
Song
The latest single by the five-member girl group demonstrates each member's strength, while also showing off their strong harmonization skills. The song has a funky beat highlighted with a strong bass in the background and usual club house beats used commonly throughout their music. However, Red Velvet diverts from the usual by carrying the chorus with their heavenly harmonization and repetitive "peek-a-boo" line, bringing a singable chorus that many international ReVeluvs (their fandom name) to enjoy.
Yeri's rap especially shines, with the maknae (youngest member) finally given multiple lines and showing if off with quick lyrics, seamless flow, and an overall strong delivery. Joy and Seulgi's lower vocals bring a sexy addition to the already club boppin, mature song, while Irene delivers her usual strong rap with ease. Throughout the song, the main vocalist, Wendy, flaunts her impeccable vocals without actually overtaking the song, as was seen in "Red Flavor." Instead, each member is given the opportunity to display their vocals or rap without any one individual hogging the spotlight. Overall, the song has fair line distribution, something ReVeluvs will surely appreciate.
"Peek-A-Boo" is a well-balanced song that includes obvious K-pop tropes, while keeping to the unique style that the girls have perfected after three years of successful comebacks. While this might not be everyone's cup of tea, it's a step in the right direction for the group as they continue to mature and leave their girly image behind.
---
---
Music Video
Overall, the music video is one of Red Velvet's finest, showing off unique cinematography and filtering, plus sparkling outfits and eerie imagery. With obvious Halloween vibes, outfits, and settings, it's a shame SM Entertainment didn't make the decision to release the video prior to Oct. 31st because the music video screams "K-pop Halloween fun!" But, regardless of the release date, "Peek-A-Boo" is a fun homage to old-time scary movies and is the perfect transition video as the fall season winds down.
The music video is unusually violent for a girl group, with guns, knives, and razors being seen throughout. Not to mention that what seemingly appeared to be a storyline about a group of women who enjoy the thrill of new love, yet quick leave their men behind when it got boring, ended in a plot twist about them maybe disposing of the pizza delivery guy and a bunch of others.
The choreography is, as always, quick, difficult, and catchy. The girls never shy away from a challenge when it comes to their choreography, and this latest single is no different. Irene and Seulgi shine in the center during the chorus, both showing off the exceptional choreography that Red Velvet is always known for during their comebacks.
With endless symbolism and imagery, their latest music video is surely to leave an everlasting impression on viewers and showcases the girls' immense talent.
---
---
Overview
Red Velvet have grown as a group throughout the years and always bring a fresh, new style to each comeback that stands out amongst other K-pop girl groups. In comparison to their earlier singles this year, "Peek-A-Boo" showcases a maturer side to the group, both musically and physically. Previously, the group had showcased a sultrier sound through their "velvet" concept, mainly the R&B songs. But this track is the first where we see them actually drawing from both sides and make magic together. Released in February of this year, "Rookie" embodied the common imagery seen throughout K-pop girl groups, with frills and bright colors being displayed throughout the music video. Although slightly less evident, the summery hit "Red Flavor" still showed a younger, girlier side, too. But, with this latest single, the members have become women and aren't afraid to show it off by incorporating sexier vocals and imagery, whether through their expressions or clothing. It's a refreshing, and overall more appealing side to the already unique group.
While "Peek-A-Boo" can be seen as their sexiest comeback, Red Velvet still makes sure that their vocals, raps, and talents shine through whatever clothing or dance moves they might be displaying. It's a song that appeals to both Koreans and international music fans alike, and enable them to continue to stand at the forefront as one of the strongest girl groups in K-pop.
Red Velvet's 'Peek-A-Boo'
What do you think of Red Velvet's latest comeback single? Let us know your thoughts in the comment selection below! Be sure to subscribe to the site and follow us on Facebook, Twitter, Instagram, and Tumblr to keep up with all the K-pop news.
https://kultscene.com/wp-content/uploads/2017/11/23550279_1461298290655005_479881696042044618_o.jpg
1000
1500
KultScene
http://kultscene.com/wp-content/uploads/2018/02/KULTSCENE-LOGO-2018-TRANSPARENT-RED.png
KultScene
2017-11-21 15:57:02
2017-11-21 15:57:02
Red Velvet's 'Peek-A-Boo' song & music video review