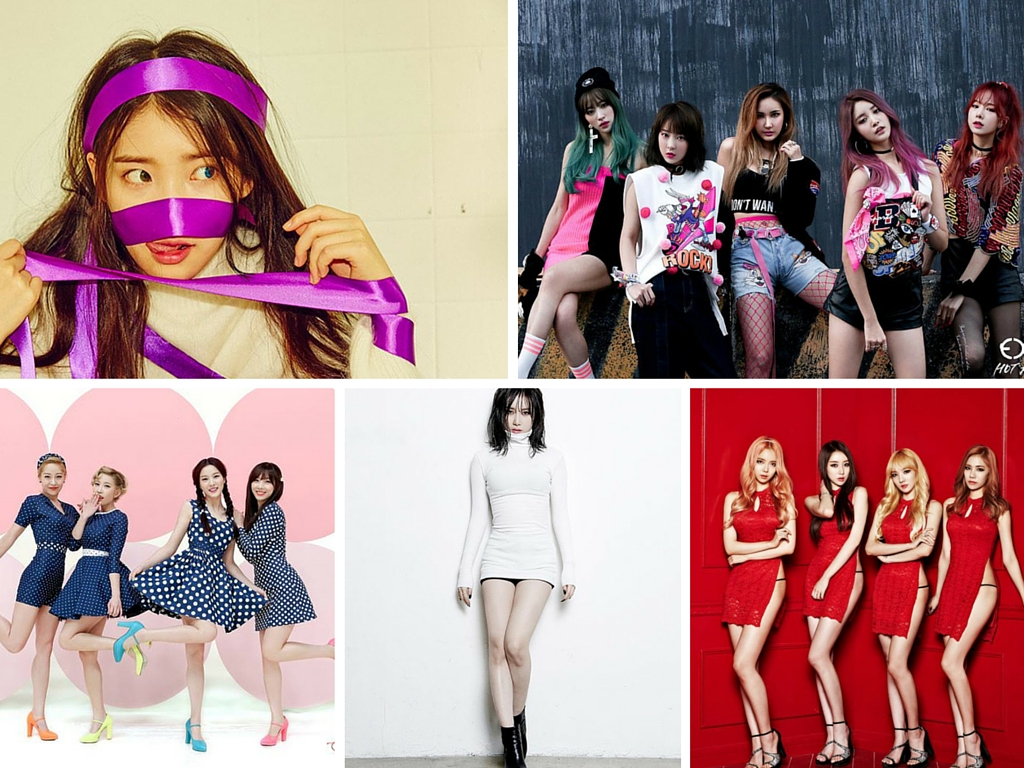 With one of the most influential K-pop music videos ever featuring nine girls dressing up like mannequins, swooning over a boy, and never being seen as women but dolls, it's no surprise that the industry is struggling to claim a strong feminist identity and just overflowing with love songs disguised as feminist anthems instead, along with songs that are downright sexist (I'm looking at you, JYP). There's no Spice Girls girl power in K-pop, and all of the best pro-girl anthems discuss how girls are amazing rather than address serious issues facing women around the world. But as K-pop grows and more artists come into their own, there's a subtle changing going on, with several female K-pop acts taking on Sexism through their music and video concepts.
In a variety of different ways, ranging from taking on workplace sexual harassment or the infantilization of women, all of these ladies are doing their best to shun the old-school idea that women, and K-pop, are just filled with sugar and spice. Plus, it is opening up the conversation that women should no have to deal with this type of harassment at all, and they can be even more proactive about it nowadays, as there are sexual harassment attorneys (click here) that can be there for people who are in need.
1. EXID
This K-pop quintet is one of the most vocally talented girl groups out there today, but shot to fame after a video of one members' gyrating dance went viral. Only after the video of Hani's movements was viewed millions of times by South Koreans did EXID receive the proper attention for their song "Up & Down." And the group's been learning from this ever since. Follow-up track "Ah Yeah" is EXID's answer to people only discovering them because of their dance.
"Where do you live? Do you live alone?" is the first extremely creepy thing that a listener hears while listening to "Ah Yeah." The music video addresses sexual harassment in the workplace and the sexualization of young women in Korea, with an English-language teacher being purposely mistaken as a porn star and a video of the members dancing blurred out and receiving a 19+ rating — a dig at the Korean music industry's imperceivable rules for music video ratings.
The most important message of "Ah Yeah" female mannequins wear sashes saying "no more" over their breasts and genitalia. While girl groups like Twice, Oh My Girl, and GFRIEND are making waves for their urban, chic, sweet, etc. images, "Ah Yeah" is attacking the K-pop industry and taking a stance against the very sexualization that landed them where they are today.
---
---
2. IU
The so-called princess of K-pop made it big with songs like "Good Day" and "You and I," but it was last year's "Twenty-Three" that showed IU for who she really is: A woman coming into her own. And that got her in a lot of trouble.
The trouble surrounding
another song
off of the same album aside, "Twenty-Three" is the first time that IU addresses her maturing from a girl to a woman, and it's something that many Koreans weren't ready to hear. Her music video, which features IU as an Alice In Wonderland-sort caught between the whimsy of youth and the responsibilities and desires of being an adult, was accused of being a Lolita-inspired concept that infantilized IU. Rather than focusing on the honest take on her general maturity and sexual awakening that IU struggles with in "Twenty-Three," IU's haters threw the woman under a bus and she became persona non-grata to many domestically, despite the artistry of the album and missed the point entirely.
3. Stellar
Where to start with Stellar? The girl group has made a name for themselves angling to get attention with overly sexual dances and performance outfits, while at the same time mocking all the people who are hating on them for doing just that. Songs like "Vibrato" features the women of Stellar locked in boxes, compared to Barbie, and overall under the lense of the industry that hates them for being the sexual women they really are. Vaginal and menstrual imagery permeate the video, as if daring people to ignore the fact that Stellar is made up of women with human needs.
Their latest track, "
Sting
," takes Stellar once again under the lense, but this time as the victims of Internet hate. Korean netizens (Internet commenters), symbolized by computer mouse icons, are notorious for their attitude, and "Sting" takes Stellar's fight against the double standard; because they're female K-pop artists, showing skin and revelling in sexuality is frowned upon while male idol groups are praised as being manly for showing off their body.
The song is about a woman questioning her relationship, but the music video makes it clear that this is Stellar and they're doing what they want despite the double standard. Sexy or innocent, vocally impressive or recycled pop, Stellar knows that they'll never win. They're too much woman for K-pop, but they'll still keep doing what they want anyway.
---
---
4. Sunny Hill
One of the most underratedly social-aware acts in K-pop is Loen Entertainment's Sunny Hill, a once-coed group turned into a female quartet. While they've never garnered major fame or acclaim for their songs, Sunny Hill's songs consistently blast convention and argue for people doing things the way they want. "Is The White Horse Coming?" breaks down the obsession with dating based on wealth, looks, and education over personality and love, comparing dating in modern day Korea (filled with blind dates and matchmakers) to the meat market.
Meanwhile "Darling of All Hearts" begins as a single girl's guide to being alone, but then turns into a country-inspired anthem for anyone who is happy being on their own, throwing aside pop culture's (and Korea's) idea of women never being able to manage without a man to fulfill her. With a folksy-pop style that seems to contrast with their progressive message, Sunny Hill is one of the most socially aware K-pop groups around today. (So hopefully they'll release something new soon!)

5. Yezi
Yezi, a member of the girl group Fiestar, made it big during last year's season of Mnet's "Unpretty Rapstar," garnering fans left and right. Her single, released during the competition, depicts Yezi as a "Mad Dog," who goes on the offense to the men who sexualize her and the women who try to devalue her. While other songs from 2015 mentioned in this list are about women coming into their own, Yezi's is the only one that goes on the attack so adamantly, questioning everything about the K-pop industry and Korea's overall attitude towards woman.
The rapper is at her best while questioning those who belittle her for staying an idol while she knows it's the only way to fame, and then attacking them for seeing her just as an image to pleasure themselves with. Literally. "Jacking off while watching my breast shot gifs," she raps, "gripping a rag in one hand, typing on the keyboard with the other, no matter how much you diss me, you can't console yourself."
On the other hand, SanE's lackluster rap that calls Yezi a "bitch" even with "permission" derails the song's message. Especially given that he ignorantly states that equality of the sexes is being able to insult one another. The song, thematically, could've stood on its own without the male rapper. However, given that Yezi is still not
that
famous, it's understandable why San E was involved.
Which is exactly what Yezi did in her follow up, the recently released "Cider." Going on the offense once again, Yezi let's it all out, calling out all the haters who looked down on her for aggressive, seemingly anti-feminine attitude on "Unpretty Rapstar." The gloves are off, and this K-pop fierce rapstar lives up to her name.
What's your favorite K-pop dig against sexism? Share your picks and thoughts in the comment section below and be sure to subscribe to the site and follow us on
Facebook
,
Twitter
,
Instagram
, and
Tumblr
to keep up with all of our posts.
https://kultscene.com/wp-content/uploads/2016/02/Untitled-design-9.jpg
768
1024
Tamar Herman
http://kultscene.com/wp-content/uploads/2018/02/KULTSCENE-LOGO-2018-TRANSPARENT-RED.png
Tamar Herman
2016-02-09 04:36:05
2016-02-09 04:36:05
5 Female K-Pop Acts Taking On Sexism