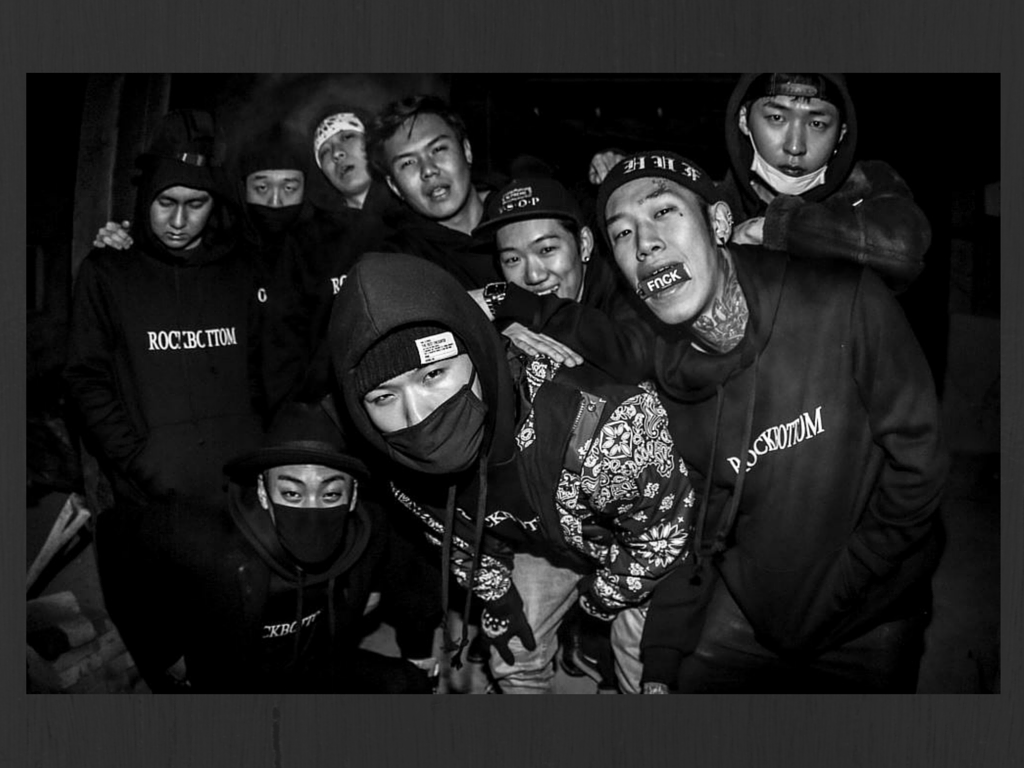 Rising from the ashes of forgotten rap crew Daenamhyup and featuring a number of former idol trainees, Rock Bottom Crew have a good base to start off, but some work to do to set themselves apart. Rap crews springing up is no surprise given the mainstream popularity of rap in Korea at the moment . Now that being a rapper in an idol group is not as frowned upon as before, turning back to the underground after not getting into a group also gives some artists a second chance. This is the case for Supreme Boi and Kidoh of Rock Bottom. Supreme Boi is known for being a pre-debut member and current producer of BTS. Kidoh is a former member of Topp Dogg who seemingly left on good terms, just wanting to pursue his personal goals.
While trawling through their back catalogue, it's easy to see a certain sound that captures what Rock Bottom is. Modern vaporwave trap permeates throughout their tracks. Even with few songs that feature all of them it's easy to hear the throughline. Clearly influenced in sound and flow by the '90s Atlanta hip-hop scene (or Keith Ape and the Underwater Squad), trap beats hold together the songs as the crew let their vocals loose. It's the addition of floaty synths and retro samples that really draw the attention though. Giving them a slightly softer edge than your average try hard Korean rapper.
Along with the aforementioned Supreme Boi and Kidoh, Rock Bottom bring fellow BTS trainee i11evn, producers Hashmate and Type-C, and Don't Call Me A Dog (who may be a rapper or a model or a producer or all of the above, I'm not really sure to be honest), to London, UK, for a one-off concert. The show will be at Camden's The Underground on April 14. Tickets will go on sale at the end of February and range from £15 for presale, £20 standard, £35 early entry, and £45 main show + after party.
Now time to get excited, here are five of Rock Bottom's best and most well known songs.
---
---
"Nicki Minaj Girls" by Rock Bottom
Every crew needs their signature song. Something simple enough that each rapper can spit over it in their own style while still having enough of a hook to work as more than a showcase of talent. For Rock Bottom this song is "Nicki Minaj Girls." It is their call to action; each member brags and disses in typical fashion. The music as well is typical of this type of song, carried by a trap beat, it has inflections of ringing electronics and bassy synths. The passion and anger they bring serve to sell the song. Supreme Boi shouts "Rock Bottom place to be." It's hard not to take his word for it.
"Hawaii" by Supreme Boi
Supreme Boi tones it down slightly on "Hawaii," his soundtrack for spring break hangovers. His aggressive delivery remains in parts but the song floats on its dreamy vocal samples and house sounds. In between his raps, pianos mellow things out creating a vibe that is a first relaxing, but with continued raps becomes creepy and unsettling. In other words, perfect for that morning after "Where the fuck am I?" feeling.
"Siwi" by i11evn
i11evn continues with a chilled out sort of vibe on last year's single "Siwi." It's three and a half minutes of pure rap skill. The song spins cycles with retro muzak remaining for the whole song over a trap beat. i11evn provides the variations with laid back flows interspersed with whines and shouts.
---
---
"PRETTY MOF#CKA" by Kidoh
If "Hawaii~" and "Siwi" show the vaporwave side of Rock Bottom, Kidoh's "PRETTY MOF#CKA" shows us how they do trap. That is, just like everyone else. At the first few beeps of synth you could even mistake it for "It G Ma." As a song to upload onto your Soundcloud, it works quite well though. Kidoh shows an agitated angry side to him that maybe someone who knew him as a member of Topp Dogg would never have seen. Best of all it could be an absolute frenzy when played live.
"Jong-Ro" by Hashmate
Something that might not be heard at the concert but could be a great warm up track is producer Hashmate's instrumental "Jong-Ro." It brings new meaning to term vaporwave by being as ethereal as a plume of smoke. The synths are ultra smooth and envelope you as it drifts along with its slow tribal drums. That is, until it becomes a house track towards. Drums kick in and break you out of your trip providing a banging end to a chilled out track. This combo of heavy and light is a clear theme with the music of Rock Bottom and could prove to provide an electric night out.
Do you plan on going to Rock Bottom? What are your favourites from them? Share your thoughts in the comment section below and be sure to subscribe to the site and follow us on Facebook, Twitter, Instagram, and Tumblr to keep up with all of our posts.
https://kultscene.com/wp-content/uploads/2016/02/Untitled-design.png
768
1024
Joe Palmer
http://kultscene.com/wp-content/uploads/2018/02/KULTSCENE-LOGO-2018-TRANSPARENT-RED.png
Joe Palmer
2016-02-10 06:28:03
2016-02-17 08:15:55
5 Songs to Get Ready for Rock Bottom Crew's Show in London