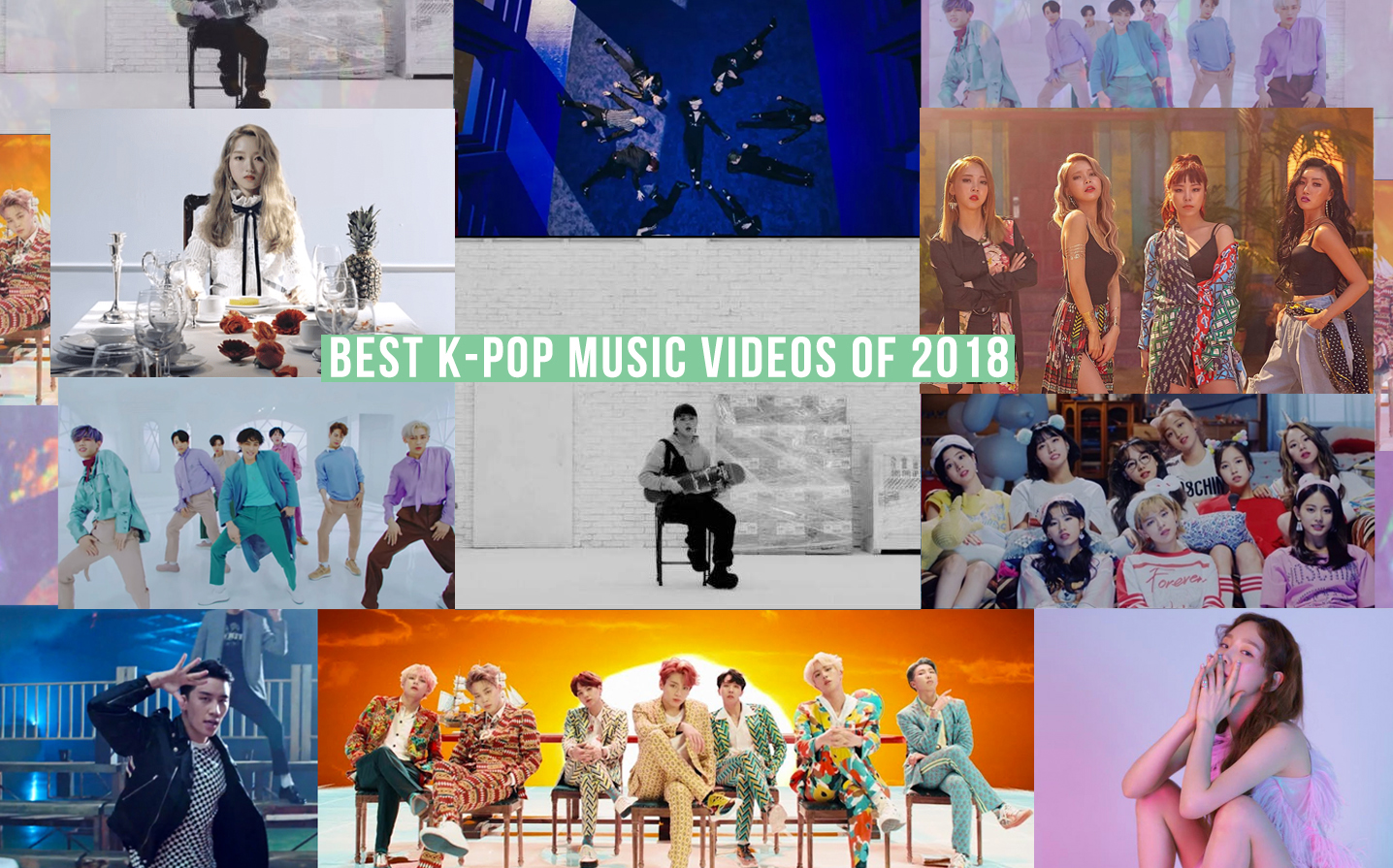 One of the most important aspects of any K-pop single is its accompanying music video, and though 2018 is over, it'll be a while before we're over the MVs released by Korean artists throughout the twelve month period. Taking a look back, the KultScene team took a look at what exactly makes one music video better than another, and several writers shared their perspective on why one K-pop MV or another from last year is superior and memorable in its own way.
"IDOL" by BTS
Doesn't matter if you look into BTS' music, videos, performances, fan-dedicated released content or even the fandom-driven activities on or offline. Whatever it is, there is always so much going on that you might either get confused or fascinated, but never bored. The music video for "IDOL" is no different. Filled with dozens of references (some that only fans will get, some that only Koreans or Korean culture aficionados will get), the music video plays with a lot of stereotypes that are often attached to BTS, to K-pop "idols" and just generally for being Asian men. Displaying a powerful choreography and a deliberate overwhelming aesthetic, the boys show that they don't have a problem with whatever is it that you think they are ("idols" or "artists"). Because, at the end of the day, they are confident enough in their skins to be anything -or everything at once- while still being, above all things, themselves.
-Ana Clara
"Lullaby" by GOT7
"Lullaby" was not only a blessing to the ears but visually just as impactful. Aesthetics, aesthetics, on top of freaking aesthetics. There was never a dull moment visually or sonically throughout the three minutes and forty-two seconds of the music video. With the exception of the first three seconds, the video was never without vibrant colors, compelling backdrops or snazzy outfits. Colors aside, GOT7 kept the viewers anticipating what was to happen next with each scene, especially since each member had separate sets and themes. And although there were many individual scenes, the members always brought it back together with a unified group choreo and some fancy footwork. But speaking of footwork, the highlight of the music video definitely goes to go to Mr. Dance Machine Kim Yugyeom, as the astounding dance break and sharp moves of his solo stole the show. Even if you didn't like the music video as a collective whole (don't lie to yourself, you liked it), there were more than enough things about it individually that should've pulled you in.
-Tam
"Apple Box" by nafla
On paper, nafla's "Apple Box" reads like an organized crime agenda ("put the money in an apple box," possibly referring to a common way of accepting business bribes), but in action it reveals to be much more comedic. Under the creative direction of Digipedi, the music video portrays gang activities rather facetiously – a brutal beating in one scene is mitigated through deliberately cheesy special effects and nonsensically looped clips. In another, gambling is done with apples instead of currency. A bit of a step away from the kind you'd do after grabbing a kiss918 Download, right? Ultimately, these all act as red herrings for, as the least suspecting character (a hostess perhaps?) makes off with a chest of golden apples, we are forced to contemplate the ignorance of these traditionally male organizations. Because of its quirky approach to one of film's most enduring genre's, "Apple Box" may be nafla's best work to date.
-Shelley
"Singularity" by BTS' V
Captivating in its theatricality, the music video, or comeback trailer as it was dubbed, for V's "Singularity" ahead of the release of Love Yourself: Tear is an exhibit of the sort of artistry that BTS has thrived on over the years. With a luxurious blue-red-purple color palette recalling that of the group's 2016's "Blood Sweat & Tears," this new music video stunningly represents the struggles with one's self and the various masks that we wear. With watery allusions to the Greek myth of Narcissus littered throughout, the vivid cinematography enhances the impactful song as V explores the lush neo soul sound. And if that weren't enough, the music video for the song graced us with one of the year's most inspired choreographies, giving new meaning to the idea of dancing with oneself.
-Tamar
"1, 2, 3!" by Seungri
Big Bang's Seungri breathes life into "1, 2, 3!," his first solo comeback in five years, with a '50s-inspired video set in the singing and dancing world similar to that of Grease. Like the musical, the music gives insight into his character, our hotshot hero who only loses his cool once he is bewitched by the heroine, played by a stunningly gorgeous Anda. As he grabs her hand and pulls her into a swing, he sings: "When I count to three, you'll fall for me." An ensemble dance cast, all outfitted in mid-century modern pomps, tea-length dresses, and oxfords faithful to the era, further integrates song and video by filling out the percussive claps and the hook's polyphonic three counts. After taking us from one period set to the next, it all comes together celebratorily at the end with a nod to the iconic dance scene from Pulp Fiction between our leads and in a single freeze frame moment, we know he was right. It's this kind of happily ever after that can make society nostalgic for a past it never knew. Between this and the one-take style reminiscent of Broadway productions, "1, 2, 3!" just feels like an immersive experience that is more motion picture than music video.
-Shelley
"One and Only" by Go Won
Of all the videos for LOONA's pre-debut project, none feel as suited to and in need of its trappings quite like Go Won's. As the second to last girl of the month, Go Won's "One and Only" came late into the game. And it would almost seem that she would have too many obligations to the lore to have any sort of personal identity. Instead, along with LOONA regulars Digipedi, she finds herself within it all. Unlike her lyrics, which are confident from the start, the video shows this self-discovery in action. She begins covered in shadows, trying to embrace whatever light she can, but is still afraid of the temptations of Choerry's apple, or the chase of Yves and Chuu. It's in the act of watching herself where it comes out. Looking and singing into a mirror, watching her shadow dance to her own song, or imagining herself a princess with a crown on her head. The 1:1 aspect ratio helps her, making each image have an obvious and single point of focus. One image, one thought. Despite this, allusions to David Lowery's A Ghost Story from 2017, reminds of the dangers of the never ending cycles of LOONA's own universe as well as that of our own. Go Won finds a way out of her draping, suffocating sheet but how long is it before her time comes back around and she has to do it all over again?
-Joe
"Dally (feat. Gray)" by Hyolyn
Hyolyn is a hip-hop diva in full control of her life, her body – and of your attention! – in "Dally," the second music video released under her own label, BRID3 Entertainment. The artistic concept of the video is pretty simple – but seriously, do we need anything else when we have a team of such skilful dancers, led by a magnetic performer like Hyolyn, executing one of the most difficult choreographies seen throughout the year? In "Dally," it's hardly possible to take your eyes off of Hyolyn, or to doubt that she has everything it takes to keep wowing us with her self-managed works from now on.
-Ana Clara
"Now or Never" by SF9
As time passes, SF9's concepts continue to get more charismatic and sexier *phew, wipes sweat.* And it is totally working on their behalf. The group's previous tracks and music videos had flavor to them but "Now or Never" really took it up a few big notches. The song and styling were both executed to perfection as the concept had just the right doses of cool, seduction, and dreaminess. The choreography was simple but alluring, and it played well with the bass. And how about that Michael Jackson homage? Classy. The cinematography was exquisite; the colors and abstract backgrounds made this music video fitting to be played at a museum. The track itself is solid but the visualization and styling gets an A+.
-Tam
"What Is Love?" by TWICE
Sometimes it pays not to take yourself too seriously, and when ruminating on the immensely philosophical question of "What Is Love?," TWICE served us up with one of this year's most fun music videos. Throughout it, the nine women parodied the likes of La La Land, The Princess Diaries, Romeo & Juliet, and a wide range of movies from across the globe while trying to depict what the idea of love look likes. They then paired casual scenes of the nonet chilling at a slumber party while watching the films with elegant scenes where they perform the questioning choreography, serving up one of the most fun visual experiences of 2018. Since their start TWICE has always exuded a sense of infectious vibrancy in their music videos and "What Is Love?" overflowed with that to the nth degree.
-Tamar
"Moonlight" by Neon Punch
Neon Punch's "Moonlight" is how you make an effective K-pop music video on a smaller budget. It's a classic example of the genre with no real story, just the members dancing, singing, and looking pretty in random locations. Its first minute is so brilliantly made though that all those tropes feel fresh. Song and video seem to become one, as they bounce off each other, reacting to each turn. Extremely simple but great visual effects are used to make this melding feel real, as the music bends the visuals while it builds and releases. This also makes the editing feel musical all by its own which gives the video great impetus to keep moving. As the effects start to dwindle the editing keeps the same sense of pace and wonder that they had built up. The funkiest bass line of the year feels at home among these vibrant visuals.
-Joe
"Instagram" by DEAN
Sitting alone in a warehouse full of random objects, DEAN strums a skateboard as if it were a guitar. He sports a short mullet under his cap, along with generously slitted eyebrows, a (potentially appropriative) grill, a bandage under his right eye, and black overalls that cover part of his sweatshirt. Like the feed he scrolls through, he is a mess of different aesthetics and styles. "Instagram" the song is about endlessly scrolling through the app in moments of sleeplessness, reflecting our loneliness and insecurity back to us as we see others enjoying themselves on our screens, and the song emulates that.
From the warehouse room's walls leak black paint, becoming screens that play a stream of videos and images characteristic of a social media feed. As the images spread further across the room, the video abruptly goes black. "Sometimes I feel alone, even when I'm with a lot of people," a strange voice says in the dark. The video cuts back to the warehouse, and DEAN begins laughing hysterically, overtaken with the misery of his sleepless Instagram scrolling.
The video is simultaneously simple and complex, capturing a very unique relationship between phone and human, account and user. Using social media is repetitive and endless, an unhealthy distraction we know all too well. In bringing the feed to life in all its chaos and stress, the video highlights the emotional and psychological toll we endure in using social media every single day.
-Kushal
"Playlist" by DPR Live
"Playlist" is a colorful adventure following DPR Live as he vies for the attention of a mysterious woman. The song incorporates tribal and bossa nova beats as Live maintains his signature rhythm and swagger. While the song is a new turn for DPR Live, the music video expands the Latin trend in Korean music by including some aspects of African influence in Latin American culture through instruments and religion. From the beginning we are met with vibrant colors, gravity defying visuals and psychedelic art transitions set in a replica of a Peruvian neighborhood. Stand out moments include the shaman's rain dance and spinning neon umbrellas during the instrumental breakdown of the song, as "Playlist" offers a glimpse of the creativity DPR Live has in store for the future.
-Nnehkai
"Kiss Me Like That" by Shinhwa
Simplicity is key and Shinhwa had that and then some in the "Kiss Me Like That" music video. The styling was sharp and neat; the linen button ups and suspenders? Crisp. Those blue silk suits? Elegant. "Kiss Me Like That" doesn't have a pivotal climax but that worked out perfectly because it really didn't need one. The music video gives a sense of relaxation. It doesn't make you think or analyze. You just gotta kick back, grab a mojito, and enjoy the guitar strings. The video wasn't over the top, just very clean, straight forward, occasionally flirty and wholeheartedly fun to watch. Shinhwa's just really out here living their best life on that ship though. Next course of action, petition to have Shinhwa do a yearly cruise with fans (like New Kids on the Block)!
-Tam
"Egotistic" by Mamamoo
Kicking off with a guitar riff, tropical plants, and neon buildings that add an Old Havana-like vibe to the video, Mamamoo is bold in aesthetics throughout "Egotistic" as they issue a warning of a lover scorned. How can anyone forget the intensity Hwasa's stare-off with a jaguar?
The Flamenco inspiration is apparent in the core of the beat of the song, the choreography, and the flowy dresses the ladies wear in the video. Their take on Latin-inspired tracks plays up the girl crush concept Mamamoo has become known for with fiery makeup, confident attitudes, and sexy dance moves. They also included the ultimate girl crush move: dancing in a ring of fire in front of buildings while executing a choreography filled with hair flips and and seductive shimmys. Overall, "Egotistic" captures a small portion of Latin America's musical richness and is welcomed contrast to the highly mainstream trap beats that accompany the usual Latin trends in K-pop.
-Nnehkai
"Something New" by Taeyeon
Inspiring fan speculation and theories since it was released in June, Taeyeon's "Something New" music video is, like the artist it belongs to, uniquely enigmatic and hard to place. Beginning on the red carpet at a ritzy celebrity event, the video quickly transitions to a hotel, where Taeyeon instigates a fight by suddenly throwing a hammer at a suited man during an elevator ride. The fighting then continues with her hotel room's maid-turned-murderer, who leaps at the singer with a knife during a room service delivery.
It's around this point when "Something New" begins to feel more like an action-packed spy blockbuster than a music video for an SM Entertainment artist. The scenes are fast-paced and cinematically captured, and they move artfully with the pace of the song. Most interestingly, Taeyeon takes the fights in stride, seemingly unfazed by them after they happen.
The end of the video, in which Taeyeon shoots suitcases of cash over a cliff facing the sea, is probably the subject of the most interpretation and discussion. Worth noting to most theorists is that Taeyeon has never been shy when discussing the hardships of celebrity life. Is the cash a representation of the net worth she's built over the years? Are the fight scenes emblematic of encounters with online and offline haters? While it seems that "Something New" is an in-depth commentary on the difficult life of a celebrity, the beauty of the music video lies in the fact that it is truly up to interpretation. For dropping one of the most cinematic and mysterious MVs of the year, Taeyeon gets a nod from me.
-Kushal
What were your favorite K-pop MVs of 2018? Let us know your picks in the comment section below and be sure to subscribe to the site and follow us on Facebook, Twitter, Instagram, and Tumblr to keep up with all of our posts.
https://kultscene.com/wp-content/uploads/2019/01/BESTMVSOF2018-copy.jpg
895
1436
KultScene
http://kultscene.com/wp-content/uploads/2018/02/KULTSCENE-LOGO-2018-TRANSPARENT-RED.png
KultScene
2019-01-10 04:51:47
2019-01-10 04:51:48
Best K-Pop Music Videos of 2018