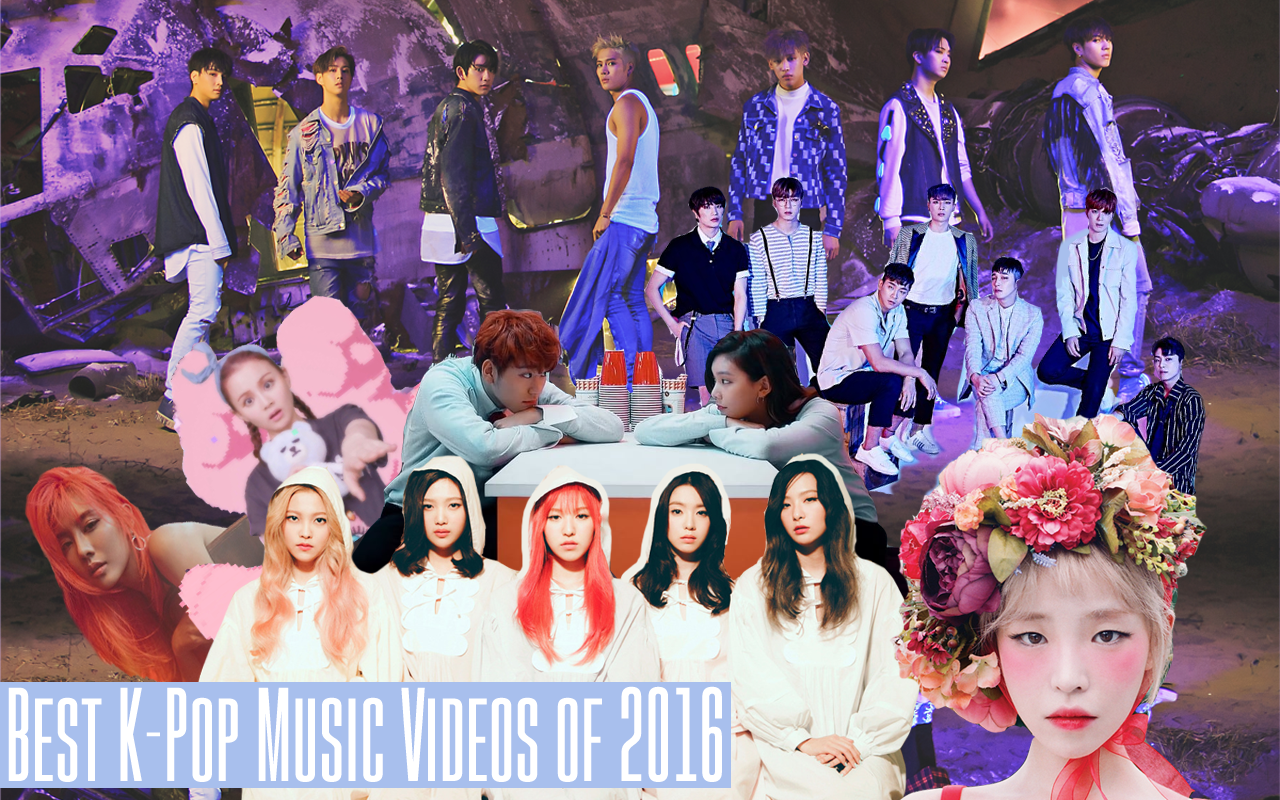 Music videos, or MVs, and K-pop are practically synonymous at this point, and it's rare for a song to do well without an accompanying music video. Hundreds upon hundreds Korean MVs are released each year: sad ones, happy ones, indie ones, blockbuster ones, short ones, long ones, etc. There are Korean music videos that that make no sense, and ones that have the Best Plot of the Year and others that are just visually attractive. The KultScene staff saw a lot of great MVs in 2016, and we now present you with our personal favorites.
"Selfish & Beautiful Girl" by Block B BASTARZ
After a year and a half, Block B's subgroup BASTARZ finally made a comeback. And while they released a couple of singles that didn't really live up to last year's hype, the music video for "Selfish & Beautiful Girl" made up for it. First off, it's very appreciated when K-pop acts release music videos with an actual plot. Add that it's quirky and fun, and you have a winner. Following the lyrics about a selfish girl the narrator is in a relationship with, the storyline follows this girl and how she annoys her neighbor for being unruly. She disrupts his sleep because she's dancing to a Just Dance-like game. In this video game, the BASTARZ members are the characters, with each member representing a style in the song's tempo change; from disco to hip-hop to pop. Moreover, the actress — bless her soul — while a bad dancer, her tattoos and piercings were a different sight for a K-pop video girl, but interesting nonetheless. In a time when all Korean music videos started to look the same thanks to many acts using the same directors, "Selfish & Beautiful Girl" found an ingenious, amusing way to follow the groove of the song perfectly.
— Alexis
"Blood Sweat & Tears" by BTS
Creative director Lumpens has been working with BTS ever since their debut, but their collaboration reached its pinnacle by far with the visually pleasing and highly produced music video for "Blood Sweat & Tears." You do not have to be an art history buff to appreciate the various nods to Michelangelo and Pieter Bruegel, of which whose sculptures and paintings all depict a fall from grace. Nor do you have to understand, or even know, Hermann Hesse's Demian, the 1919 work that inspired their second full-length album Wings, as seen by the use of recurring bird motifs and even direct quotes from the text. Every aspect serves to further ideas of temptation, freedom, and escapism that the song and the album collectively convey, thus nothing about this six-minute music video is done out of pure aesthetics. Of course, that is also not to say that it cannot be enjoyed for face value. There's an undeniable homoerotic subtext to the plot, which is at once political and indulgent. Other cinematographic choices, such as the various uses of crimsons and other warm hues, are jarring yet arresting. This music video successfully projects the extravagant lifestyle we all wish we had, while warning us against the dangers of seduction, overall leaving room for lots of potential analysis.
— Shelley
"Carnival (The Last Day)" by Ga-In
Like the song itself, Ga-In's music video for "Carnival (The Last Day)" is a celebration of life and death. Approaching death in a way few artists in the world would, Ga-In and her director Han Sa Min depict a joyous while reverent look at passing. This is all seen through some of the most interesting images K-pop has ever seen, particularly Ga-In's funeral and her angelic ascendancy during her procession. Bright pastels dominate, fireworks explode in rainbows, and Ga-In dances with her umbrella as if the all the weight has fallen from her shoulders. The melancholy only remains with the living as we see Ga-In's former lover pay his respects. Yet, maybe it is his memories we see of their time together: even he is choosing to see the qualities of life rather than the tragedy of death.
— Joe
---
---
"One of These Nights" by Red Velvet
The Korean title of Red Velvet's first single of 2016 is "7th Day of 7th Month," referencing the Korean lunar holiday Chilseok and its tale of separated lovers. But rather than depicting a romance-driven storyline, the music video for "One Of These Nights" is a bit of a mystery. Bright colors contrast with dreary sets, the members are surrounded and flooded by water, and there is what appears to be an ethereal, woodsy afterlife where some members don white, the traditional Asian color for post-mortem shrouds. But the video's subtle references to 2014's Sewol Ferry accident, which took the lives of over 100 high school students, makes "One Of These Nights" all that more poignant: references to the Sewol and the tragedy appear throughout the sets, while the five Red Velvet members appear to take on abstract portrayals of the victims and survivors. It's an ambient, thought-provoking, and altogether beautiful work of cinematography.
— Tamar
"Hard Carry" by GOT7
The entirety of GOT7's "Hard Carry" music video is strikingly attractive; from Jackson's sleeveless outfits and quick one-two, his "let me just casually lift up my shirt" scene at the beginning, to a white room filled with lively green (and not so lively brown) pine trees. Even when it was dark and you could barely see the members faces and all that is visible is the fire lit up behind them, it's visually appealing. No to mention the neon lights during the dance scenes are captivating. Overall, the videography, combined with the meaning of the lyrics, portrays the effort one must take to "carry" the team, as seen in the the scene where all the members dive into the water in order to "save" Jinyoung. However, more than being solely visually attractive, the music video together with how they employed the lyrics into the theme is a proper representation of what GOT7 is all about: teamwork, helping each other out to strive collectively.
— Tam
"11:11" by Taeyeon"
While not the regular dance-visual overload that K-pop fans are used to, Taeyeon's "11:11" succeeds at quite the opposite — fitting the somber, sentimental nature of the song perfectly. Shots of Taeyeon and her anonymous significant-other are filmed beautifully against fading sunlight, flashing lights, or pale white walls. They accurately frame the song's sentiments, which deal with the end of a relationship. The song's warm, delicate nature is captured perfectly by frames of Taeyeon sleeping in a thick white sweater, or laying in a fluffy king-sized mattress sprawled out next to the waves. Along with "Rain," "11:11" seeks to alter Taeyeon's image. Instead of group-leader dance-pop star, Taeyeon is now a serious, musically-oriented soloist, and one of Korea's most successful at that. With its autumnal color scheme and brilliant visuals, "11:11" depicts both Taeyeon and the emotional impact of a breakup in a creative and memorable way.
— Kushal
"Décalcomanie" by MAMAMOO
If Zanybros are producing a music video, you know you're in for an optical treat. MAMAMOO's video for "Décalcomanie" is visually stunning and tastefully (considering the edited version and not the original) done, considering the video is full of visual metaphors for a woman coming into her sexuality. The girls start off being attracted to the man in their respective scenes, and as the desire between both of them grows, they kiss and then… fruits explode (if you don't understand that metaphor, you can ask your parents). The girls untie their blindfolds to symbolize loss of innocence or coming to fully see/understand their desires and feelings. The mirror scenes and the mirrored images also play a nice homage to the title of the song, which is the French word for a technique that transfers an image or pattern from one medium to another. In other words, imprinting on another or making a copy. Aside from the bit of controversy that surrounded the original version, which resulted in a horrific scene depicting sexual assault getting removed from the music video, the video for "Décalcomanie" shows off the group's femme fatale concept that they wanted to portray.
— Katherine
"I Am You, You Are Me" by Zico
Known to be a hard-hitting rapper, Zico ventured this year into R&B ballads and showcased his vocalist chops by releasing "I Am You, You Are Me" at the beginning of the year. So what called for this unforeseeable change in style and concept? Love. Love turns the bad boy into a good guy. Right off the bat in his first verse after the opening chorus, Zico sings I only ever listened to hip-hop/Now I've turned acoustic, setting the tone for the song. "I Am You, You Are Me" is about being in the lovey-dovey phase in a relationship when the couple starts emulating each other. The music video, in brief, is aesthetics galore. Zico displayed his trendy and colorful style, and in order to go with the theme of the song, the lead actress dressed exactly the same or similarly to the rapper to equate how they mirror each other. The setting, a convenience store, allowed a beautifully diverse color palette in the photography, from pastels to neons to neutrals. The overall aesthetics of the music video — dreamy with an electric tinge — paired perfectly with the equally tender yet lustful song. Not so tough now, right, cookie?
— Alexis
"Secret" by Cosmic Girls
Recently directors have been getting better at making the standard idols sing and dance towards camera in pretty settings more interesting while not losing the essence of that. Kim Zi Yong in particular has been great at this thanks to his visual effects skills. His highlight in K-pop is clearly "Secret" by Cosmic Girls. The video shows the 12 original members summoning new member Yeon Jung in their own unique ways. The quality of animation and sense of scale Kim brings to it is the best of the year and a quality befitting these otherworldly girls. Not to mention it's drop dead gorgeous at every turn. Also, I'm sure everyone can agree that the shot of Cheng Xiao growing her wings is the coolest thing ever.
— Joe
"Re-Bye" by Akdong Musician
The dramatic "Re-Bye" music video by Akdong Musician, or Akmu, as they're known, is a fun film-noir music video that fits the pair's theatrical melody. In a year when many Korean music videos seemed to be lacking true plots in favor of seeming more avant-garde, "Re-Bye" fits a murder-mystery into its four-minute music video with an old-school flair. It's a bit Sherlock Holmes meets Baz Luhrmann both in plot and color palette– they may as well have been singing the "Elephant Love Song Medley" from Moulin Rouge— and it's absolutely delightful to watch. The sibling duo is supremely talented as musicians, but their youthful quirkiness in music videos like "Re-Bye" adds another element to their appeal.
— Tamar
"Skydive" by B.A.P
Who needs James Bond or a Quentin Tarantino film when you can watch a B.A.P's blockbuster-like 10 minute music video for "Skydive?" The members gave subtle hints on their social media platforms and in their individual teasers prior the release that this music video was going to be the most intense music video, if not even more intense than their 2013 video for "One Shot," they've ever done. That within itself was enough to have all their fans, known as Babyz, on edge because, really, what can be more extreme and vivid than the members engaged in a robbery, shoot out with some thugs, and then the sudden betrayal? "Skydive" not only incorporated yet another robbery, but an all ARMED robbery, with shots ringing left and right 35 seconds in. There's a kidnapping/hostage situation, murder, and, yes, even more betrayal than the first time around! The anticipation was nonstop, every second of this video had one gasping for air. Because it was constantly scene after epic scene, you'd probably have to watch it several times to fully grasp each and every detail and hints that would later on give away the true culprit. This music video could've gone all sorts of wrong, but due to the amazingly shot cinematography and the members superb acting, "Skydive" was totally badass.
— Tam
"One More Day" by Sistar
SISTAR made a risky move with the music video for "One More Day," their collaboration with Europop songwriter and producer Giorgio Moroder. Not only did the quartet not appear in the video, but the video's protagonists were two female lovers, and the plot touched upon abuse. Now this may not be a big thing in Western cultures, where LGBTQ+ are somewhat prominent in entertainment and lifestyles, but in South Korea, the majority of the population still consider it a taboo subject. Now the fact that the female leads kill the abusive boyfriend may not be the best representation of the LGBTQ community, it does portray the love story in a dramatic matter and the dangers of an abusive relationship.
— Katherine
"Cheer Up" by TWICE
It's no secret that TWICE dominated 2016, from album sales to song popularity and everything in between. They even topped our best Korean songs of 2016 list. But what is the source of their success — how did TWICE become the dominating girl group of 2016? At least in my opinion, it's their music videos. From Jihyo's cheerleader character to Chaeyoung's cowboy outfits, the "Cheer Up" music video worked to create vibrant and colorful characters for each member, establishing each one as unique and worthy of individual attention within the larger group framework. With the music video's changing lenses, there's something for everyone — Dahyun is poised and regal, Tzuyu is beautiful and elegant, and Momo is badass and sexy, just to give a few examples. The creative direction of this music video highlights TWICE's biggest strength as a group — personality. The "Cheer Up" music video sent the K-pop world a message loud and clear: TWICE, in all their beauty and stage personality, is here to dominate. And in 2016, they certainly did.
— Kushal
"Forest of Skyscrapers" by Neon Bunny
The only indie artist on our list this year (despite being a more well-known one), Neon Bunny clearly had an advantage when it comes to what she can depict. Given more time and presumably more freedom, director Kim Zi Yong delivered another video for the ages with "Forest of Skyscrapers." They brought together a number of cinematic influences to comment on modern South Korea's stagnant population. The sprawling neon cities of Akira and the ephemeral love stories of Wong Kar Wai come to mind as Seoulites try to navigate their lives. It suggests a sort of confusion, a literal kaleidoscope of colours and mind-numbing visuals. However hard they try to get away, speeding down highways on a motorbike, it seems impossible. The irrefutable pull of the neon monolith is punishing.
— Joe
---
---
"Fantasy" by Fei
Torn between innocent and hypersexualized, K-pop idol stars are essentially built to fulfill audiences every "Fantasy" through their music videos and performances. 2016 outed Korean pop stars, or idols, as a "healthy" form of pornography, but nobody took it as far as Fei of miss A, who appears in her music video as a virtual peep show dancer. Her blatant, slightly shocking, approach to the topic of sexualizing women comes across as refreshing in an industry that makes numerous attempts to cover up the maturity of its stars. The music video for "Fantasy" is overtly sexual throughout, literally turning Fei into the object of desire for a male viewer, and things get all that much more interesting when virtual Fei comes to life, strips, and takes things to the next level just as the screen cuts to the title card. The video for "Fantasy" is beautifully shot, extremely sultry, and subversive of the industry's narrative towards female stars.
— Tamar
"Emptiness" by MADTOWN
MADTOWN made an expected (but delightful) change by switching up their music styling and concept when the group released a rather mellow, mid-tempo ballad paired with the chic black and white music video for "Emptiness." It showcased a tranquil and melancholic atmosphere, the polar opposite from the swaggy and high energy we've seen from the group in past videos. In order to match the song's delicate melody, the music video was muted down a bit, hence the simplistic, clean choreography. MADTOWN's elegant portrayal of their moments of despair and grief can lead the viewers to suddenly feeling the anguish and sorrow themselves, even if they were feeling happy go lucky prior to watching "Emptiness." There are moments during the music video that makes one want to clench their chest, due to a sudden surge of heartache. It's dramatic, but that's just the effect of the music video.
— Tam
"The Eye" by INFINITE
When you're preparing to watch an INFINITE music video, there are a few things you can be sure to look forward to: a whole lot of drama and a totally awesome dance break thrown in for good measure. The lyrics of the song suggest that a painful memory (of someone) is trapping the members like a hurricane (or "Typhoon," as the Korean in the title suggests). And when they think they found peace, they are right in the eye of the storm, still surrounded by the painful memories. The video takes it to another level: L appears in a depressed or dire situation and is then transported to a state between realities where he is confronted by the other members who all represent different emotions. When each member interacts with L (who represents Sadness), the action represents him going through that emotion: Hoya represents Hate and aggressively pushes L, then turns into Woohyun, who represents Regret. All of this happens while L is moving towards a light, which may or may not represent death. In the end, L has the courage and resolve to return back to his reality and live. Director Hwang Soo Ah does a great job creating a complex, philosophical, and intriguing plot that keeps the viewers invested till the very end.
— Katherine
"All In" by Monsta X
Monsta X's "All In" did wonders for the group in many ways, enabling the group to diversify their hackneyed hip-hop concept. With the music video, the septet deviated away from dance-based music videos to one with actual substance and narratives. Opening with the dystopian ending scene in which the members seem to be either running to or away from something, the video employs a nonlinear mode of storytelling that was not present in their previous videos. Admittedly, because the music video also deals with two storylines — one feautring Shownu and one surrounding Hyungwon and Minhyuk — it is very easy to miss certain nuances upon initial viewing. But even after watching it for the nth time, gleaning for said nuances, we cannot guarantee that all our questions will have an answer. The biggest mystery probably is the one surrounding the relationship between Minhyuk and Hyungwon's characters, who mutually exhibit homoerotic tendencies especially towards the end in which Minhyuk drowns himself in the tub with Hyungwon while holding hands. The beauty of it all is exactly how director Dee Shin leaves many threads up for interpretation, allowing fans to engage in open-ended discourse and conjecture theories of their own. It's been a rather popular form of storytelling as of late in K-pop, but is still nevertheless engaging and effective.
— Shelley
"Whistle" by BlackPink
With colorful settings, bright outfits, and memorable choreography, BlackPink's "Whistle" stood out in its ability to quickly establish the new group's personality and musical style. Taking after their YG predecessors 2NE1 and BIGBANG, BlackPink quickly utilizes edgy and eye-popping visuals — Rosé casually sitting on both the Earth and cars buried in sand, Jisoo sitting cross-legged in the middle of three open doorways, Lisa's hot pink turtle-neck contrasting with her blonde-blue hair — to make the group seem hardcore but also personable. Not to mention, clips of the group driving a car in circles wearing bandanas and baseball caps serve as the video's main recurring visual element, further establishing the fun badassery concept. And, unlike other girl group music videos this year, "Whistle" boasts a notable lack of smiling, a subtle yet incredibly important aspect of the video. The group instead focuses on giving us the edgy smolder or mischievous glance, once again reinforcing the group's personality in every closeup shot. The "Whistle" music video clearly sets BlackPink up for success — it sends the immediate message that, if you liked any of the edgier girl groups of K-pop eras past, you'll love BlackPink just as much.
— Kushal
"The One" by EXO-CBX
Though technically not a music video for whatever reason — SM Entertainment prefers the term "special clip" — EXO-CBX's music video for "The One" is just too golden not to include on the list. For the first time in an EXO production, the boys, or at least Chen, Baekhyun, and Xiumin, are able to show a different, more silly side to them as they dress up in ridiculous, mismatched clothes and act foolish. EXO's leader Suho makes a cute cameo as well, filling in for just about every role from Yakult vendor to sanitation worker. Unfortunately, SM missed an opportune moment to cast him as the female love interest as well, which would have given the video a bit more cohesion. Nevertheless, everything about this is still hilariously good fun, and none of the humor comes off forced. At times, Suho even seems like he is going to burst out laughing himself. The video milks the comedy until the very end, where it cuts the accompanying music off before letting it finish completely, leaving a dancing Chen to sing alone and shifting the camera angle to make it seem like we were filming them the entire time. EXO-CBX's "The One" is just the personal and playful break from the usual self-serious routine that they, and we, all need.
— Shelley
"Hold My Hand" by Lee Hi
While musically we didn't get exactly what we wanted from Lee Hi's much awaited comeback, the music video for "Hold My Hand" was near perfection. The aesthetic of the music video was a kawaii explosion, and a beautiful one at that. The pastel color palette, together with the 8-bit graphics, tied in perfectly with the romance and dreaminess of the song and lyrics. It's all too sweet — just as Lee's serenade. Plus, the inclusion of her doo-wop backup singers as her side kicks were a cute, quirky touch. Bright, multi color music videos have been a trend for quite some time now (thanks, Digipedi), but "Hold My Hand" managed to give something tried a lovely spin. From Lee holding hands with the camera to the styling to the real and 8-bit backgrounds, it all comes together to create this delightful, little heart skip that makes us all feel young and in love again.
— Alexis
What was your favorite Korean music video this year? Share your picks and thoughts in the comment section below and be sure to subscribe to the site and follow us on Facebook, Twitter, Instagram, and Tumblr to keep up with all of our posts.
https://kultscene.com/wp-content/uploads/2016/12/BESTKPOPMUSICVIDEOS2016.png
800
1280
KultScene
http://kultscene.com/wp-content/uploads/2018/02/KULTSCENE-LOGO-2018-TRANSPARENT-RED.png
KultScene
2016-12-29 05:25:23
2016-12-29 09:59:16
Best Korean MVs of 2016