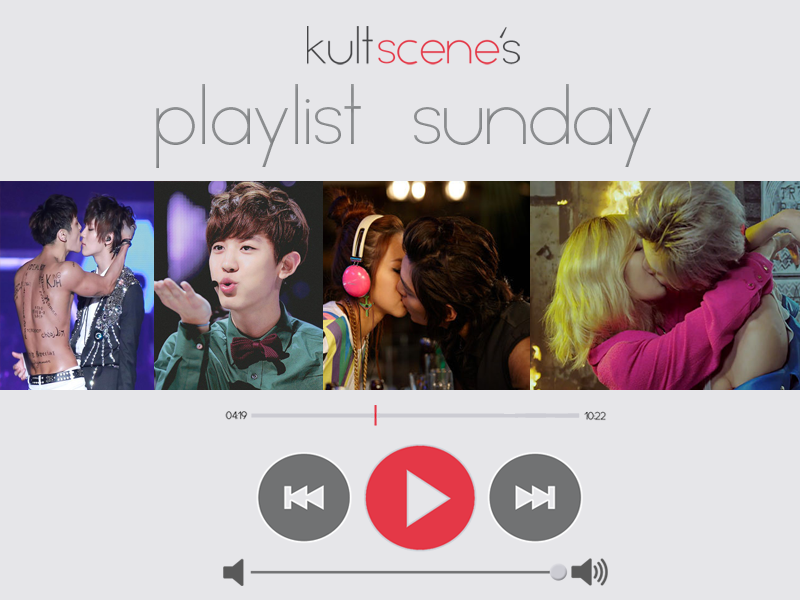 Kisses and kissing aren't always openly talked about in the K-pop music scene. But there are many songs about first kisses and kissing in general. They can be as innocent as a peck on the cheek or as steamy as a full on lip-to-lip, tongue-to-tongue contact. Sometimes these kissing songs aren't as blatant as others, but one thing we know for sure is our K-pop idols love to sing about kissing.
Like many before her, Jeon Hyosung used her solo career as a way to show off her large, um, charms. Her solo venture turned out to be just as successful as bandmate Jieun's but offered something completely different. Goodnight Kiss is an hypnotic trap lullaby for a boy whom Hyosung sings to goodnight. Yet she clearly doesn't really want to go to sleep but to just kiss and kiss him. Updating fairytales and lullabies is popular these days and this song does a better job of it than most. The song comes off as a reworked lullaby to perfectly suit Hyosung's sexy image. It starts off relatively innocent but becomes sexier with each part before finally hitting that trap drop. We forget about the lullaby element after a while as it becomes stranger and sexier. It all comes together to create something quite sophisticated and shows that given the right material Hyosun could become a soloist on par with Ga-In.
— Joe
---
---
Dara's Kiss is filled with ridiculous yet catchy engrish lyrics, yet there's one line that I'll occasionally find myself singing to in public; I just wanna kiss, I never wanna miss. Kiss is a fun and rather playful song whereas the music video, which features actor Lee Minho and if you look closely, Kim Woo Bin is also featured, is rather on the dramatic side; I guess that's what happens when you feature actors in your music video, it suddenly turns into a short drama! Aside from the dramatic acting from both Dara and Lee Minho, the overall production was entertaining and to me, it felt like a commercial!
— Tam
If we talk about kisses, what's better than a french kiss? Hyuna's song French Kiss recounts a story at a scandalous party. Hyuna meets a guy and it;s like love at first sight, or maybe lust at first sight. Right then and there she wants to be only with him, alone. The chorus is very addicting and the part where Hyuna whispers "Let's french kiss" sounds so seductive and sexy. It almost makes the listeners feel that you are the man she lusts over and she is whispering those words to them. The song has a great beat and it's a great song to just dance let loose and make out.
— Alejandro
Rather than celebrating love, Super Junior's My Love, My Kiss, My Heart mourns it. The song is the classic tale of missing an ex lover post break up while reluctantly trying to move on. You know, when it still hurts. The boys lament the love lost, saying they will bury their love, kiss and heart through a heartfelt ballad.
— Alexis
---
---
X's are for kisses, sings EXO in XOXO. The song is an adorable, upbeat, jazzy ode to the woman EXO loves, filled with sweet lines about dreaming of hugging and kissing the one you love. EXO's vocals really shine in the song, with enough lines for EXO's multitude of members to express their own individual vocal colors.
— Tamar
miss A's Hush actually uses the word 'kiss' in the chorus. The ladies sing about their steamy wants and desires. And at the top of the list is kissing, which is a great way to get to know someone intimately. Hush takes things a few steps further than kissing, but the sexy ladies of miss A know what they want and clearly depict all of that in this song. Aside from the content of the song, Hush has an infectious chorus and sultry dance moves perfectly executed by the quartet.
— Tara
Share your thoughts in the comment section below and be sure to subscribe to the site and follow us on Facebook, Twitter, Instagram, and Tumblr to keep up with all of our posts.
https://kultscene.com/wp-content/uploads/2015/03/Playlistsundaykissesfeat.png
600
800
KultScene
http://kultscene.com/wp-content/uploads/2018/02/KULTSCENE-LOGO-2018-TRANSPARENT-RED.png
KultScene
2015-03-29 14:38:19
2015-03-29 17:28:35
Playlist Sunday: Kisses