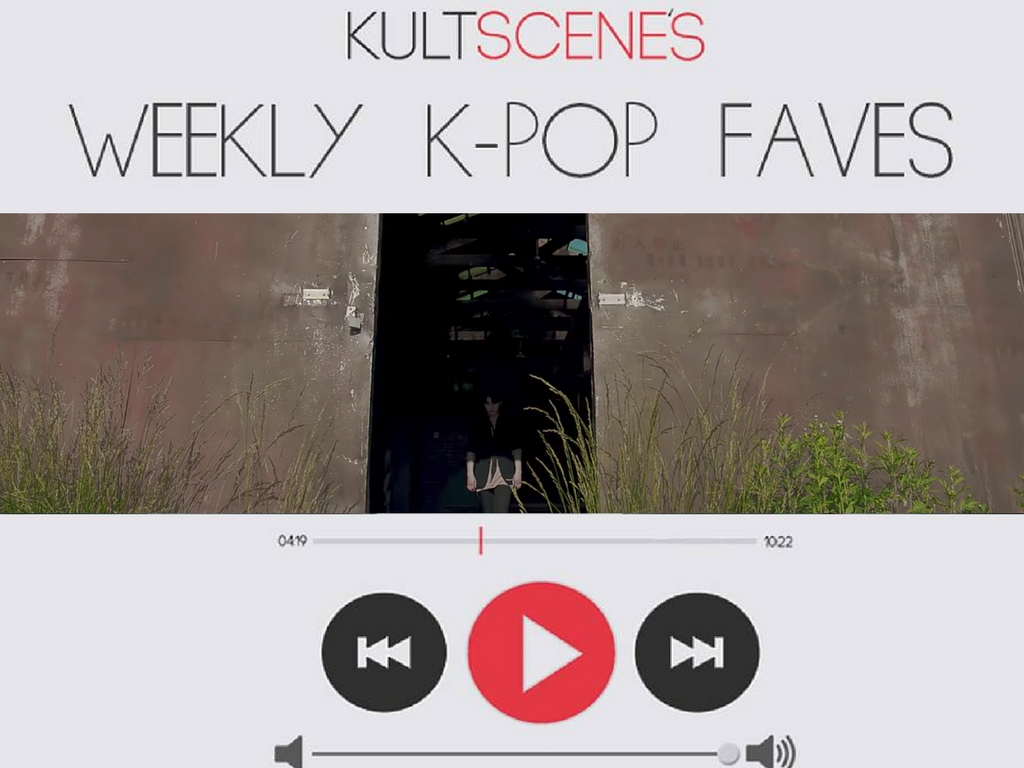 The boy bands cometh! Seriously, though, this past week had the KultScene team falling in love with a lot of new music courtesy of some old, new, and TBD K-pop acts. We enjoyed songs from idol bands FTISLAND and DAY6, and solo songs from two of B.A.P's members as well as some music from this season of Produce 101. Take a listen and comment below to let us know what song of the week was your fave.
"Open Up" by KNOCK of Produce 101 season 2 (Uploaded June 8)
I think I've made my obsession for Produce 101 season 2 pretty clear throughout these lists since the show began. Last week, I chose "Never," a concept evaluation song from the show, as my fave because it was the one that resonated with me the most. The dance and overall sexy concept, however, definitely went to "Open Up," but I chose to go with musicality over thirst. So when M! Countdown gave me the opportunity to cheat the system and go for another Broduce song, I took it. KNOCK, the name the team made up for this evaluation, ultimately won on the show and got to perform "Open Up" on M! Countdown. And while, other than hairstyles, they didn't change mostly anything, it was still a sultry performance. We already know Dongho (aka Baekho of Nu'est) has the sexy thing down, with his velvety smooth vocals. The surprise, however, was Daniel, who hadn't shined vocally. "Open Up," to me, sounds like Nu'est's last album. Dongho singing the chorus is a big part, but musically, it could blend right in. At a time when a lot of boy groups are going the cute route, it's nice to see the darker concepts are still alive and well.
— Alexis
---
---
"Shadow" by Daehyun of B.A.P & "Try My Luck" by Jongup (Released June 8)
After receiving much positive feedback of their solo performances from their 'Party Baby!' World Tour this past spring, B.A.P vocalists, Daehyun and Jongup released a collab album for their fans, titled "DaehyunxJongup Project Album – Party Baby". This special album includes two self written tracks, Daehyun's "Shadow" and Jongup's "Try My Luck".
Daehyun is B.A.P's first member to release a solo single and to perform it live on music programs (including Show Champion, M Countdown, Music Bank and Inkigayo.) There was a sense of newness seeing him going with a more dance focused track, considering how fans are used to hearing Daehyun belt out his high notes and killer falsettos, which were not the main focus but he still tried incorporating them into this single. "Shadow" has an addictive beat with narrative lyrics. "If I try to touch you, just as a dream I had yesterday, you start to become faint", a love that is fading, a love that more or less becomes a shadow. Not only did Daehyun steer away from the expectant ballad but by featuring youngest member and rapper, Zelo, he added a distinctive tone to the song.
With Jongup's well known admiration for Chris Brown's music and dancing style, it was no surprise to see him release an R&B track. "Try My Luck" has a beautiful mixture of both hard and soft melodies with a few unexpected transitions (like everytime he starts rapping!) The lyrics are direct and bold, "I know that feeling, I know what you want. Only the two of us can do it, you know how I'm feeling" and along with hiss passionately infused odic voice, it'll make anyone get weak in the knees. Jongup went from having very few lines in B.A.P's songs, to now writing his own music and very much slaying at it.
Both "Shadow" and "Try My Luck" allowed Daehyun and Jongup to truly show off their depth, range and versatility as singers, outside of B.A.P. Hopefully there'll be another project album in the future, this time with more solo tracks and from the other members!
— Tam
"I Smile" by DAY6 (Released June 7)
After six months of non-stop single releases, DAY6 finally dropped their first full album, "Sunrise" comprising of the 12 new tracks they released this year and two remixes of their previous title songs, "Congratulations" and "Letting Go." Needless to say, given the fact that the album is literally made up of ¾ title track worthy songs, it is such a musical delight to listen to. The title track of the album, "I Smile", in particular, is such a bittersweet and heart wrenching song disguised beneath its cheery sounding title. I may be wrong about this but this song is one of the band's more musically complex tracks, with chord shifts occurring so quickly and the song constantly moving in an unexpected direction (that instrumental section!!!) The members definitely killed it with the vocals this time, especially Sungjin, who set the tone for the song right off the bat. The accompanying music video is also beautiful, both aesthetically and in terms of its meaning, and I'm proud to say that the members have really picked up some subtle acting skills since their debut. Overall, this has got to be my favourite DAY6 release of the year and maybe of all time, and I hope with this album people will start waking up to their talents.
— Anna
---
---
"No Better Days" by FTISLAND (Released June 7)
Disclaimer: I'm a huge fan of FTISLAND. So when I heard "Wind" as their 10th anniversary track, paired with a remake of their debut single "Love Sick," I was a bit disappointed. Then I listened to it in earnest and was excited by the amazing instrumentals at the end. But I don't want to talk about the title of FTISLAND's anniversary album. Nope, I'm all about the first track, "No Better Days." The power of the track is no joke and it's exactly what I wanted. Powerful drums, soaring vocals– not just from vocalist Hongki but also from Jaejin while the other members provide backup harmonies– this is one of the most dramatic songs on the album. And I love it.
— Tamar
What was your favorite K-pop release of the week? Tell us what you think in the comment section below and be sure to subscribe to the site and follow us on Facebook, Twitter, Instagram, and Tumblr to keep up with all of our posts.
https://kultscene.com/wp-content/uploads/2017/06/K-POP-16.jpg
768
1024
KultScene
http://kultscene.com/wp-content/uploads/2018/02/KULTSCENE-LOGO-2018-TRANSPARENT-RED.png
KultScene
2017-06-11 19:25:53
2017-06-13 12:39:08
Weekly K-pop faves: June 5-11