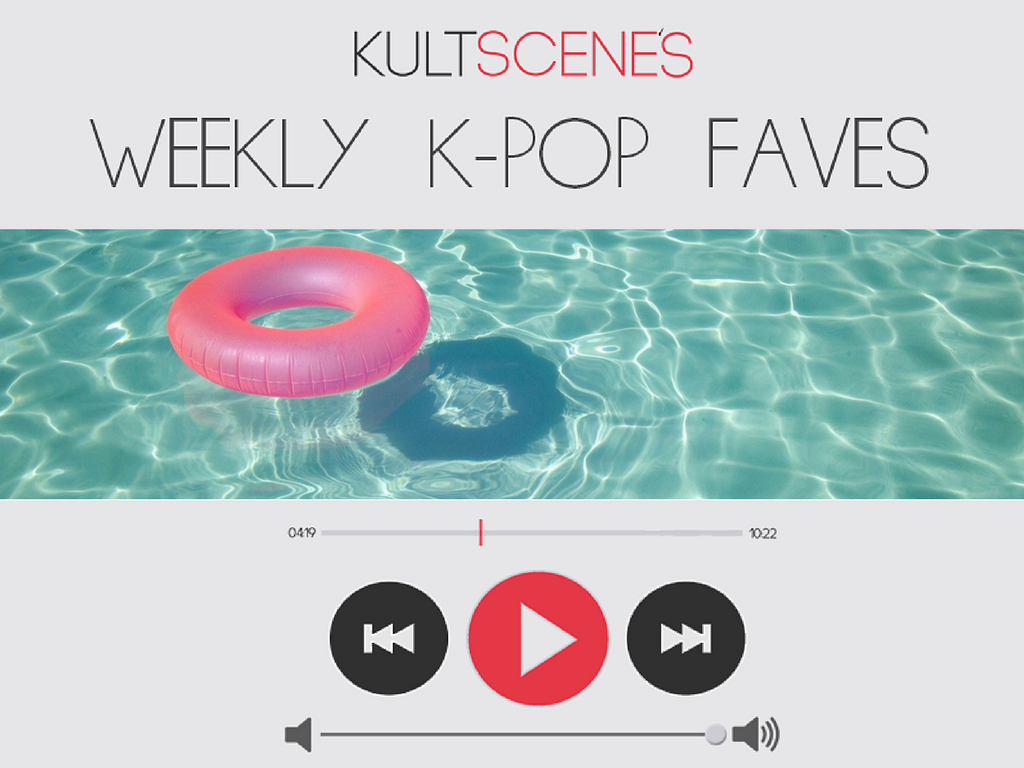 As summer is almost here, K-pop's beginning to get busier and busier. Last week we sadly saw the Queens of the Summer bow out, and while we'll miss them, that opens up the playing field for more artists. Some of the songs released this week aren't necessarily "summer anthems," but we liked them as if they were.
"What's My Name?" by T-ara (Released June 14)
T-ara's latest (and possibly final) release both maintains and builds on their sonic character in their eighth year together. While maintaining their usual high-voiced, electronic sound, the group manages to incorporate some EDM and eurodance-inspired themes on this new track. And coupled with a markedly different choreography when performing live (one that capitalizes on Jiyeon and Hyomin's girl-on-girl appeal that was first showcased in their live cover of "Troublemaker"), the group undoubtedly shows growth, which is great to see as netizen comments and public reaction in general finally becomes the least bit more friendly. This is both an era of hope (one we never thought we'd see after their destructive scandal) and fear for Queens, who are seeing T-ara become more likable again while also being threatened by a possible disbandment. At least in my opinion, I'm hoping that the group continues. While netizens used to make fun of the group for having too much "determination," I really do hope they maintain it and continue with it. They are a group worth keeping around, no matter what haters have to say at this point.
— Kushal
---
---
"We Loved" by Bolbbalgan4 & 20 Years Of Age (Released June 13)
There's really something special about Bolbbalgan4's success. With each new release, the duo does phenomenally because of their sentimental, yet realistic, lyrics. For "We Loved," the pair brought the mellow vocals of soloist 20 Years of Age into the mix to contrast with Ahn Jiyoung's rather rough, but sweet, voice. The swaying melody belies swaying melody and snapping beat belie the song's earnest, verge-of-break-up lyrics. A romance coming to an end is sad, but "We Loved" makes it feel natural. "Our time has stopped," is such a poignant, mature approach to the end of a relationship in a way that few Korean love songs depict. It's no surprise "We Loved" is topping Korean music charts; this is no idealized version of romance, it's just straight and simple reality.
<
— Tamar
"Whiplash" by NCT 127 (Released June 14)
Throughout 2017, I haven't been particularly excited about any entire K-pop mini album or full album. Until NCT 127's comeback, that is. While "Cherry Bomb" is the, well, bomb single we've been waiting for as far as boy groups go, their b-sides are nothing to scoff at. But that doesn't come as a surprise, as the group has always had fiery b-sides that rival the singles, and on this album, "Whiplash" is such song. It's a mid-tempo hip-hop track lead by Mark and Taeyong's rap and has an easy bounce that makes it fun to listen to. The composition might not be as intricate as "Cherry Bomb" or even "0 Mile" (another b-side on the album), but it's this stripped sound what makes it fresh and so unlike SM Entertainment songs. NCT 127 truly are the super rookies to look out for.
— Alexis
---
---
"Always" by the Top 20 Produce 101 trainees (Released June 17)
The second season of Produce 101 came to a shocking and extremely bittersweet end on Friday night, with exciting performances put up by the trainees right before the reveal of the final 11 members of Wanna One. The last performance of the 20 trainees, "Always" however, is definitely one which I will remember for a long time. The emotional performance, coupled by a beautiful song which showcased the much improved vocals of the trainees, was made even better because of the song's heartfelt lyrics. Despite the various controversies and upsets that came along with this season, it was evident that through it all, these trainees have forged close bonds with each other and will deeply miss the time that they have spent together. The song was a fitting way to close off the season, and though I'm sad that it's over, I'm looking forward to see the trainees continue to move towards their dreams.
— Anna
What was your favorite K-pop release of the week? Tell us what you think in the comment section below and be sure to subscribe to the site and follow us on Facebook, Twitter, Instagram, and Tumblr to keep up with all of our posts.
https://kultscene.com/wp-content/uploads/2017/06/weekly-k-pop-faves_june-2017.png
768
1024
KultScene
http://kultscene.com/wp-content/uploads/2018/02/KULTSCENE-LOGO-2018-TRANSPARENT-RED.png
KultScene
2017-06-18 20:07:06
2017-06-18 21:36:07
Weekly K-pop faves: June 12-19