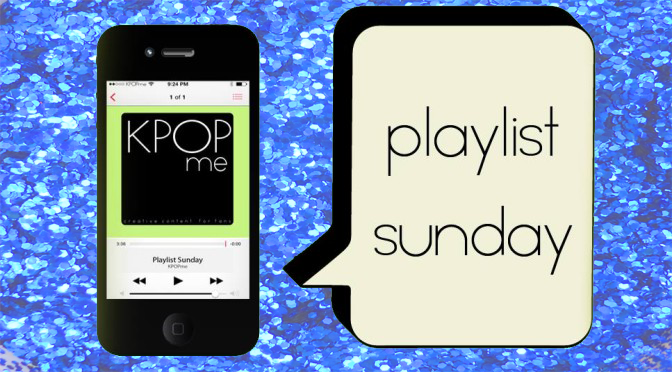 K-Pop is a genre mostly dominated by the male idol groups or soloists. It's hard to find girl group fandoms as dedicated and loyal as ELF or VIP –unless you're Blackjack or SONE. But K-Pop girl groups are so much more than just Girls' Generation and 2NE1, even though we also love them. So for this week's playlist, we'll focus on girl groups that need a little more love and attention.
This week I cannot get enough of f(x)'s Milk, their lead-off track on their Red Light album. The songs starts out kind of quirky with the sounds of a cat meowing and a dog barking, as the cat swats at the dog and it whimpers. We also hear glass break and then we hear a gun being cocked. From there we go right into the vocals. The song has a chill, laid-back vibe in the beginning. The girls' vocals compliment each other extremely well, especially during the harmony parts.
I honestly can't pick a favorite part of this song. The whole thing is so different and interesting from the other K-Pop songs out there that I haven't tired of listening to it yet. And I don't foresee that I will tire of it anytime soon. At first listen, it may seem a bit strange, but trust me when I say that by the end of the song, you'll most likely hit the replay button.

–Tara
Check out these cool articles around the web
Right when Miss Korea began with the smooth guitar riff, I knew I was in love with Lee Hyori's comeback last year. It's a perfect blend of classy and sexy, along with an interesting style in clothing. The music video is grayscale and brings up a retro feeling, especially with some of the outfits and dance sequences that she uses. The chorus is addicting, and the entire song is absolutely mesmerizing. I definitely love and prefer her sultry tone! What makes this even more marvelous are the lovely drag queens she performs with in one of the scenes.

–Thuc
If Girls' Generation and f(x) where to have a child, the result will be SM's newest girl band Red Velvet. They just debuted this week, and I can't get enough of the group's song! The title is Happiness, and it suits the track very well. I find myself feeling very happy and bubbly when I listen to this song.
I really love Happiness because it's very easy to listen. Seulgi's rap is very good and doesn't show up in the song randomly. I also really like the whole seapunk feel of the track. The tropical sounds and drums give it a very unique feel. From the bridge and into the chorus there is a perfect transition, and that chorus is so catchy.They barely debuted and I feel like I already fell in love with these girls.

–Alejandro
When it comes to speaking about the girls, I can't help but think of Girl's Day's Female President. One of the most empowering songs out of K-Pop in recent years, Female President reminds women that there's a female president in South Korea, so why shouldn't every girl do whatever she wants? There's no reason to be coy, or play hard to get; just take what you want.
The video breaks all of the stereotypes of most K-Pop songs, with the members stripping in silhouette in the beginning, and then two of the members dressing up as a couple questioning its relationship. The whole thing was extremely shocking at the time of its release, portraying Girl's Day as both sexy and powerful women. And if that wasn't enough, Yura's dress gave the misconception that she was actually naked.
Female President's catchy sound and message led to the song being a major success. Take a listen, and try to resist standing up and thinking (male or female) that you can do every and anything that you want.

–Tamar
I've never been a big fan of miss A, despite them having better messages in their lyrics than most girl groups. But once they released Hush, I began paying them more attention. That's how one day while listening to Seoul FM, I spotted a miss A song that I now play regularly on my own playlist, Lips.
I like how their voices sound very sultry throughout the song as they fantasize about kissing the boy they like; it makes for a very sexy song to sway your shoulders to while singing. Moreover, the chorus and bridge are very easy to follow. My favorite part is the boom boom la la li lala negero, but the whole song is great, really.

–Alexis
What's your favorite girl group song? Be sure to share your thoughts and follow us on Facebook, Twitter, Instagram, Tumblr, and Bloglovin' so you can keep up with all our posts.
https://kultscene.com/wp-content/uploads/2014/08/PS3.png
372
672
KultScene
http://kultscene.com/wp-content/uploads/2018/02/KULTSCENE-LOGO-2018-TRANSPARENT-RED.png
KultScene
2014-08-03 16:57:32
2014-08-04 08:37:34
Playlist Sunday: All Girls