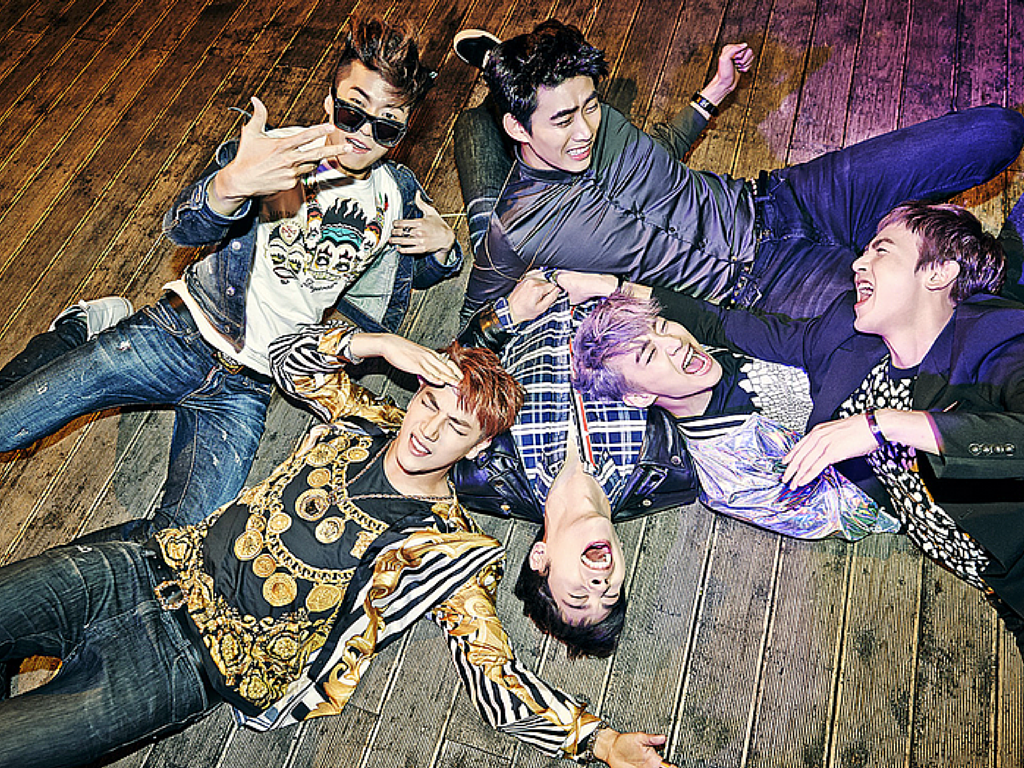 2PM, the original Beastly idols, has graced the K-Pop scene for the past six years and fans have watched the members grow and mature into artists throughout that time. They debuted with a strong image that showcased their masculinity and mature song themes. As the years have gone by, 2PM has come back with stronger and more mature material that prove they are transforming into artists.
---
Who remembers 2PM's debut song 10 out of 10 in 2008? The music video highlighted their acrobatic abilities as well as their masculine outfits to further promote the beastly image. The song itself is catchy, and the video is comical with an entertaining story that shows the members daydreaming about a woman. It's a fun and upbeat song that only hinted at the dorky and fun-loving personalities of each member of 2PM.
---
Fast forward a year to 2009, when 2PM released Again & Again. The video, again, showed 2PM's dancing skills and their masculine image with all black outfits and simple hairstyles. The song focused on the mature theme of ending a relationship and the longing to be with the girl one more time. Again & Again also showcases the vocal abilities of the group more than their debut song.
---
Later in 2009, 2PM made its comeback with Heartbeat. It wasn't until this comeback that 2PM truly showed its beastly image. The guys were dressed in suits, wore minimal makeup, and stayed with their natural hair color. And how can we forget the live performances where they showed off their impressive muscles? The video is oozing with masculinity in the choreography and within the members' facial expressions. This was also the first song since Jay Park left the group.
---
Next up is I'll Be Back from 2010. It wasn't until this single that 2PM's members started to add their input and songwriting skills into their albums. I'll Be Back continues with the dark concept and introduces heavy eye makeup for the group. The song also went back to their debut concept where they showed off a lot of acrobatics, which were not present during Again & Again and Heartbeat.
---
2PM's second studio album gave fans the lead track Hands Up. The music video showed 2PM enjoying the lap of luxury, which included yachts, private jets, expensive cars, and of course, spending the evening at a hip night club. Hands Up was one of the first looks into 2PM as a fun and energetic idol group. The group's previous singles were all about showing their manly images and dealing with the struggles of love. Hands Up was 2PM having a good time and sharing it with their fans (as well as a prelude to Go Crazy! perhaps?).
---
After promoting in Japan for a couple of years and doing other activities, 2PM finally made their Korean comeback in the spring of 2013. Come Back When You Hear This Song, although a long English title, introduced fans to a new version of 2PM. The mature, grown-up and manly 2PM.
The music video focuses on the seven deadly sins and how each member embodies those sins as they progress in their relationship with a woman. The song showcases the members' singing abilities, their mature, gentleman style, and a different musical style than their previous promotions.
---
To add to the sweetness that was 2PM's Korean comeback, JYP decided to release another music video from 2PM's Grown album. A.D.T.O.Y. was the definition of beastly idols. The guys were dressed in everyday wear, their hair and makeup were the most natural of any of their promotions, and they all had intimate scenes with a woman.
A.D.T.O.Y. was 2PM's declaration to their fans that they are now mature adults.The black and white video and chair choreography adds to the masculine and charismatic image 2PM showed with this comeback. Grown also showcased more of 2PM's songwriting abilities with four out the six members contributing to the album's lyrics.
---
Where do you go from A.D.T.O.Y.? Well, according to 2PM, the crazy, fun, party route! Go Crazy! at first watch and listen will more likely than not make you question what you just watched and listened to. But then you realize that Go Crazy! is a brilliant song with an equally brilliant music video.
Jun.K wrote the song and it shows that 2PM is comfortable being quirky, dorky, and eccentric. They don't always need intense, manly songs to showcase their talent. Go Crazy! shows 2PM's true personalities. The members always having a good time, and don't really care what they look like or what happens while doing so. They are comfortable with themselves, as a group, and as artists to experiment with a wild and crazy song.
Go Crazy! is like a part two to Hands Up. Three years later, it shows the growth of 2PM's experience with drinking and club culture. 2PM go all out for Go Crazy! Their glittery and crazy outfits, their motorcycle-inspired choreography, and the overall feel of the song and video create a carefree world where having fun is the only priority.
---
To further promote Go Crazy!, 2PM participated in 1theK's #hashtag series where their honesty gets the best of them. Themes for discussion include Go Crazy!, drinking, and, naturally, hangovers.
2PM as a group has grown from beastly idols with catchy tunes, acrobatics, and intense themes to manly idols (with some beastly qualities thrown in) with mature, intimate, and wild & crazy themes. To see how much 2PM has evolved from their debut to now makes the anticipation build for their future comebacks.
Do you prefer the 2PM of the first half of their career (10 out of 10, Heartbeat, etc.) or the 2PM of the latter half of their career (A.D.T.O.Y., Go Crazy!)? Leave your thoughts in the comment section below and be sure to subscribe to the site and follow us on Facebook, Twitter, Instagram, Tumblr, and Bloglovin' so you can keep up with all our posts.
https://kultscene.com/wp-content/uploads/2014/09/2PM-Go-Crazy.png
768
1024
Tara
http://kultscene.com/wp-content/uploads/2018/02/KULTSCENE-LOGO-2018-TRANSPARENT-RED.png
Tara
2014-09-23 17:00:36
2014-09-23 17:00:36
2PM's Music Video Evolution