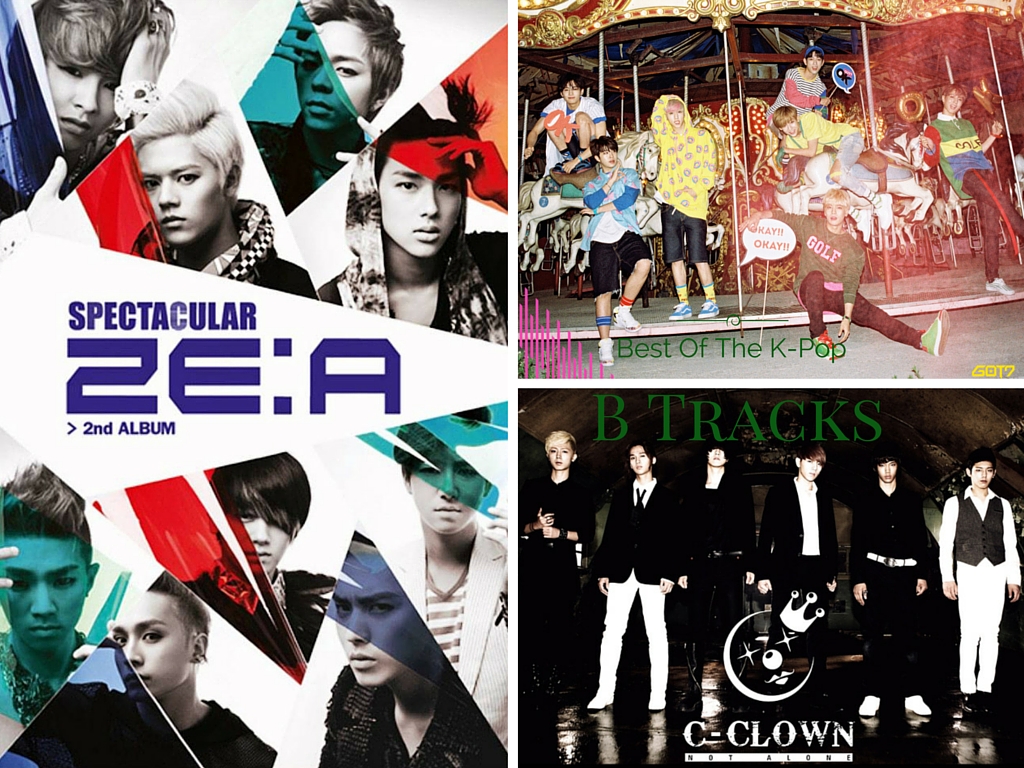 Are you ready for yet another installment of our Best of the K-Pop B Tracks series? It's been almost a year since our last article, but no worries; we're back with a fresh and manly list, consisting of some older and newer songs for the latest installment of our series!
Artist: GOT7
Album: "Just Right"
Song: "Nice"
It can easily be said that 80 percent of GOT7's albums usually consist of dance tracks. They're young guys bursting at the seams with explosive energy, so why not, right? Straight from the get-go, "Nice" had a hypnotic beat with semi sensual lyrics. Not only have the members of GOT7 grown physically, but their voices have also matured a great deal since debut, with member Youngjae being the most noticeable with his honey-like voice. With the release of each mini album, there always seems to be that one track — how should I put this? — that puts you in the mood, makes you feel some sort of way, and "Nice" just so happens to be that particular song.
"Nice" is filled with what has a sophisticated level of ecstasy and has a contagious chorus and yet I can't seem to wipe off this smile from my face, unable to take them seriously because I'm already so used to them acting like silly kids. I wonder what it's like having these guys in the recording studio; it's hard trying to image their level of seriousness when they're always acting so goofy. Am I the only one that feels this way about GOT7? Regardless of all that, take a listen and I promise you'll be singing bam bam bam bi dam bi da bi dam bam for the remainder of the day.
Artist: C-Clown
Album: "Not Alone"
Song: "In The Car"
For as long as I can remember, I've always been more fond and drawn to ballads, and a lot of that could be due to the influence of watching Korean dramas at a young age. Thanks mom! For some people, as they grow, their taste of in music general changes. Nope, not this girl though.
Even when I know a song is based around a breakup or a relationship gone wrong, there's still interest in it. C-Clown's "In The Car" revolves around a forthcoming breakup where neither one of them are able to do anything to save the already broken relationship. There was a great balance between the vocalists and rappers, with members Kangjun and Ray's falsetto and subtle vibrato, they conveyed the rather heart-rending lyrics and gave it a deeper meaning, which helped set the imagery of a couple sitting together in a car, facing what's bound to be their last moments together while reminiscing about all the happy times prior to this frozen moment in time.
Although C-Clown is going through some unknown turbulent times, hopefully they'll be back on the K-pop scene soon, to continue melting our hearts with their velvety voices.
Artist: B.A.P
Album: "No Mercy"
Song: "Voicemail"
When you hear B.A.P, you don't think ballads; it's already cringe worthy enough for the guys themselves whenever they do cute concepts. Everyone who knows them knows B.A.P for their powerful choreography and the strong messages that are portrayed through their lyrics. With two powerhouse vocalists in the group, why wouldn't they want to venture into ballads? "Voicemail" isn't your typical I want you back, I need you in my life type song; considering that member Bang Yongguk wrote the lyrics, it wasn't going to have that generic sappy break up kind of concept.
---
---
"I dreamt a good dream and forgot it now". As the public, we're so used hearing all these lovey dovey ballads and automatically connecting them with only the good side of love and relationships that we sometimes forget that real life isn't always going to be a ray of sunshine. Pardon my language, but shit gets real. It's real life. If something goes wrong, you need to just carry on. Leave the baggage behind and erase those memories as soon as you possibly can. That's the only way to truly move on.
Thankfully, with most of the B.A.P vs. TS Entertainment drama out of the way, hopefully we'll be hearing some inspiring music soon from them!
Artist: ZE:A
Album: "Spectacular"
Song: "Love Is Gone"
ZE:A, probably one of the most underrated K-pop idol boy groups in the industry, has a number of hidden gems on their albums. Some of their promotional songs can be a bit gimmicky and mainstream at times but then there are the ones hidden on their track lists, like "Love Is Gone". It starts off slow and quickly builds up as it nears the chorus, showcasing members Dongjun and Hyungsik's versatile voice and high notes. People seem to only know of ZE:A because of member and "plastic-dol" Kwanghee, athletic maknae (youngest member) Dongjun, and actor-dols Hyungsik and Siwan, but what about the other members?
ZE:A consists of probably the most unique sounding members in the industry. They ALL have their own individual tone and voices; none of the nine sound alike whatsoever. Their voices aren't generic like some other groups out there. Because this song isn't heavily dance influenced, you'll be able to pinpoint and distinguish each members voices in "Love Is Gone".
Artist: SHINHWA
Album: "WE"
Song: "Give It 2 Me"
The rappers (Eric, Junjin, and Andy) definitely came out to play in this track. For such an upbeat and joyful tune, the rapping is very seductive. The members are in a deep trance, due to the mysterious, bona fide beauty they stumble upon while a night out. The woman steals their hearts with her breathtaking glance. She's a perfect 10 in their books, from her sophistication, to her body language, to her bewitching charms. She has them right where she wants them, wrapped around her fingertips.
---
---
Every member was able to display a sexy and mature side of them, a side in which was already expected since they're older "idols"; but this is simply just another reminder to the listeners that although they're in a "boy band", they're fully grown men who mean business and are well beyond capable at making you weak at the knees at a drop of a hat.
What are some of your favorite non title tracks? Share your thoughts in the comment section below and be sure to subscribe to the site and follow us on Facebook, Twitter, Instagram, and Tumblr to keep up with all of our posts.
https://kultscene.com/wp-content/uploads/2015/09/B-Tracks.jpg
768
1024
Tam Huynh
http://kultscene.com/wp-content/uploads/2018/02/KULTSCENE-LOGO-2018-TRANSPARENT-RED.png
Tam Huynh
2015-09-02 15:55:48
2015-09-02 16:17:06
Best Of The K-Pop B Tracks Pt. 4