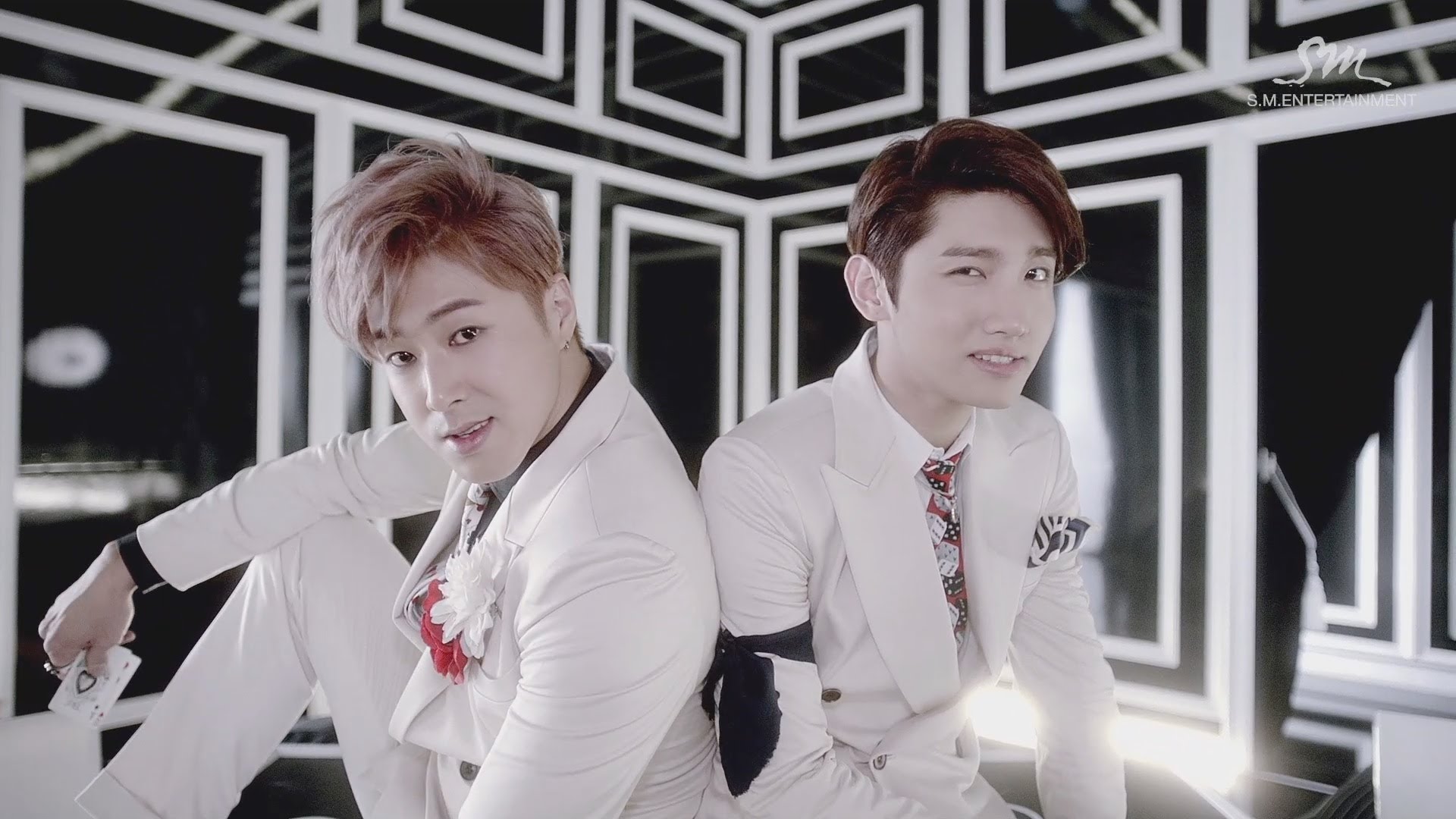 Dancing is hugely important to a complete K-pop performance. It is what sets them apart from western pop stars and is one of the biggest draws for western fans. So it is appropriate that we celebrate the year in dances and showcase the best K-pop has to offer. There is a great amount of variety on show here from the most personal of dances to beautiful teamwork. Check out our top songs, videos and albums of the year along with this to get a sense of what we thought of this year in K-pop.
10. Got7 A
JYP rookies Got7 start off this list with their bubblegum hit A. While it is not as powerful or intricate as the rest of this list, A's dance perfectly balances a sense of fun with great choreography. The boys effortlessly move from chit-chatting in a group to their proper moves all while retaining the fun side. The dance moves are simple, fresh but with quick timing. The choreography matches up with the youthful feeling of Got7 seamlessly.
9. EXO Overdose
With a group as big as EXO's, the positioning of the members is always going to be hard. As they have released more songs though, they have gotten better and better at their use of the stage. Overdose furthers their reputation of delivering original choreography and inspired use of 12 members. Even after the loss of Kris and Luhan, EXO adapted and continued performing this song to the best of their ability. Plus, with someone as charismatic as Kai leading your dance it's hard not to look good.
8. TVXQ Something
When it comes to choreographic perfection in K-pop you may look no further than the reigning kings, TVXQ. Something adds to this with a gimmick of microphones and strings. Yunho and Changmin are first held by the strings so they can lean back and look cool. They then use them like the strings of guitar in a charming way to start off the song. Apart from the gimmicks, the choreography is performed to perfection as usual. These boys are up there with the best pop performers in the world, not just K-pop.
7. VIXX Eternity
VIXX are known for their imaginative and relevant choreography and this year they delivered that on two singles. Eternity stands out over Error because of the sheer kinetic prowess on display. Everything that the members do seems connected from the lifting of the members at the start to the intense chorus. The energy and physicality VIXX brings to their performances is unparalleled. They even do the scorpion move made famous by INFINITE and make it seem like no big deal.
6. INFINITE Back
INFINITE's members are easily some of the best performers in all of K-Pop. Of course, they are always helped out by excellent choreography and Back is no different. Their second single of the year marked a return to form in song and dance. They use classic techniques like the shadowing of member Hoya at the beginning and their own techniques like the first post-chorus breakdown, which is spectacular in its originality, to great effect. Also, the drop is EVERYTHING.
5. Nasty Nasty Knock
Star Empire's experimental sub-group consisting of ZEA's Kevin, Nine Muses' Kyungri and trainee Sojin beat Trouble Maker at their own game this year with their single Knock. Nasty Nasty took Trouble Maker's concept of the co-ed duet to portray a relationship in a performance but added another girl to up the ante. What sounds like a possible conceptual disaster turned out to be one of the sexiest and best performances of the year. The smooth moves are perfectly performed by the three with Kevin exuding charisma he's unable to show in ZEA, Kyungri maturing into a confident star, and Sojin showcasing great potential.
4. Taemin Danger
SHINee's maknae well and truly became a man with his debut solo release Danger. Taemin channels his inner Michael Jackson in the song and dance, and pulls it off as well as we might have expected. He brings power and precision to original, intricate moves. The dance moves from bouts of restraint before exploding into powerful actions for the climax. Taemin brought his energy and identity to his solo work and it paid off enormously.
3. Nicole MAMA
Former KARA member Nicole's debut song MAMA may not have been a huge hit but its lyrics about sexual frustration and choreography that matches were some of the best of the year. The whole focus of the song seems to be on the choreography, as Nicole knows where her strength lies. The dance plays as a symbolic move from the sweet, innocent Nicole of KARA to the confident, sexy Nicole we now see. She is alluring with the female backup dancers and is sought after with all the male dancers. Her stage presence and execution has only gotten better since leaving KARA. We may have the next BoA on our hands.
2. TVQX Spellbound
If TVXQ are some of the best pop performers in the world then they had to make two appearances on this list right? Both Spellbound and Something were incredible dances but Spellbound wins out because it does away with gimmicks. In it both Yunho and Changmin are given time to shine on their own with the best use of backing dancers in K-pop yet. The two really shine when together though, as in the incredible moves during the chorus and the breakdown that comes three and a half minutes in. This is the best executed performance of the year so what could possibly have beaten it to number one?
1. HA:TFELT Ain't Nobody
In deciding a number one for this list it came down to measured brilliance or raw personal energy. Ultimately, Wonder Girl Ye Eun's alter ego beat out TVXQ as she offered up something we had not yet seen before from any idol. Taking cues from Sia's Chandelier, the choreography is interpretive and full of emotions. Feeling comes out of every slight movement of Ye Eun's body which coupled with her intense voice makes Ain't Nobody a truly complete performance. Every aspect of her performance created a personal story which has never been encountered in K-pop. For once, we are witnessing art rather than a product.
What 2014 K-Pop dances are your favorites? Share your picks in the comment section below and be sure to subscribe to the site and follow us on Facebook, Twitter, Instagram, and Tumblr to keep up with all of our posts.
https://kultscene.com/wp-content/uploads/2014/12/maxresdefault.jpg
1080
1920
Joe Palmer
http://kultscene.com/wp-content/uploads/2018/02/KULTSCENE-LOGO-2018-TRANSPARENT-RED.png
Joe Palmer
2014-12-31 18:37:12
2014-12-31 18:37:12
Top 10 K-Pop Dance Performances of 2014