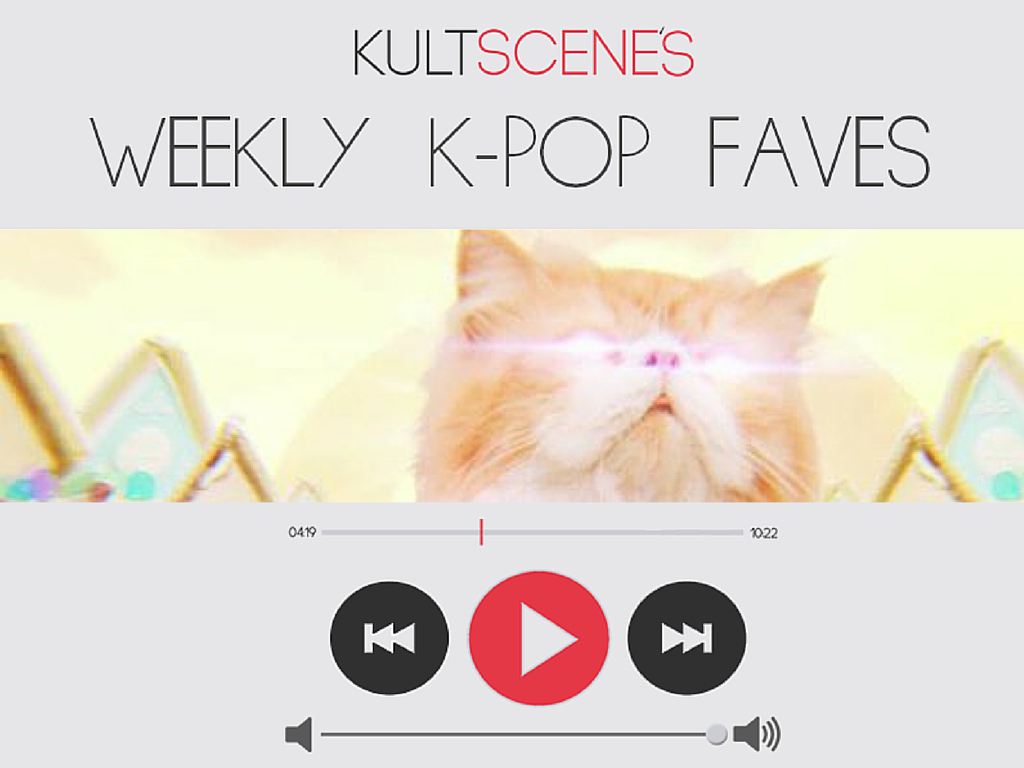 This week, some of the major contenders for K-pop's biggest boy and girl group acts from the new generation made comebacks. As summer nears in, the competition is just starting. And while we may or may not be feeling these comebacks, here are our faves from this week we can't stop listening to.
"This Love" cover by GOT7 (Apr. 28)
This. Performance.
Yep, I'm ready to renounce GOT7's cute and playful concept if they go the sexy beast route they displayed on their cover of SHINHWA's "This Love" on "M! Countdown." This would've been everything had JB been on it (he's recovering from a hip injury), but the rest of the kids still pulled off an amazing performance without him. However, JB's exclusion was a great opportunity for the rest of the members to shine — and boy did they! Youngjae was indisputably the star vocalist, since he got all of the high pitches and harmonies leading up to the chorus. Yugyeom also got some velvety croons in there and while Jr. left much to be desired vocally, I forgive him since his main task was body rolling. I can see what they were going for having Jackson sing in a deep, raspy voice, but he still has a long way to go vocally. And as for Mark………………. Y'all, I'm just going to say he killed it. Bam Bam also, both choreography and rap-wise.
While it was only a cover, I can only hope we see more of this sexy, "If You Do" spin that we NOW know works with them. Their JYP sexiness a la 2PM is finally showing, and I love it.
---
---
— Alexis
"Exquisite" by CocoSori (Apr. 29)
That Babymetal influence. CocoSori a female duo made up of….Coco and Sori look like your average cutesy group, but thanks to an injection of heavy metal they have their own flavour. "Exquisite" straight looks and sounds like Orange Caramel but halfway through the first verse the screaming starts with some clips of a weird cat. Even without the screamo parts, this is an aggressively hypnotic track. Guitars withstand the whole song and the vocals while cute most of the time are delivered at unintelligible speeds. The song and video were made to get across everything about this group in three and a half minutes. In reality, nothing about this group justifies having heavy metal a part of their concept. All it does is help them stand out alongside their their hyper videos that feature giant cats with shiny eyes, lots of cosplay, and space warps.
— Joe
---
---
"Tinker Bell" (April 26)
While April hasn't really managed to stand out amongst the fierce competition of K-pop girl groups, "Tinker Bell" changed that for me. While I wasn't expecting much during my first listen, I was caught off guard by a build around 50 seconds into the song that for some reason resonated with me. April is still very much a girl group (emphasis on the girl), but "Tinker Bell" comes off as sweet and fitting for the spring weather without being too juvenile or overly saccharine. The song falls safely into the genre of bubblegum pop, but has electronic influences and string elements that combine together to create a bright song that is perfectly suitable for the bright fairies of April. And, as for the video, I absolutely adore the Disney themes and that choreography with the star is just inspired.
— Tamar
What was your favorite song this week and the whole of April? Share your thoughts in the comment section below and be sure to subscribe to the site and follow us on Facebook, Twitter,Instagram, and Tumblr to keep up with all of our posts.
https://kultscene.com/wp-content/uploads/2016/05/Untitled-design.png
768
1024
KultScene
http://kultscene.com/wp-content/uploads/2018/02/KULTSCENE-LOGO-2018-TRANSPARENT-RED.png
KultScene
2016-05-01 17:02:28
2016-05-01 17:02:28
Weekly K-pop Faves: April 24-30