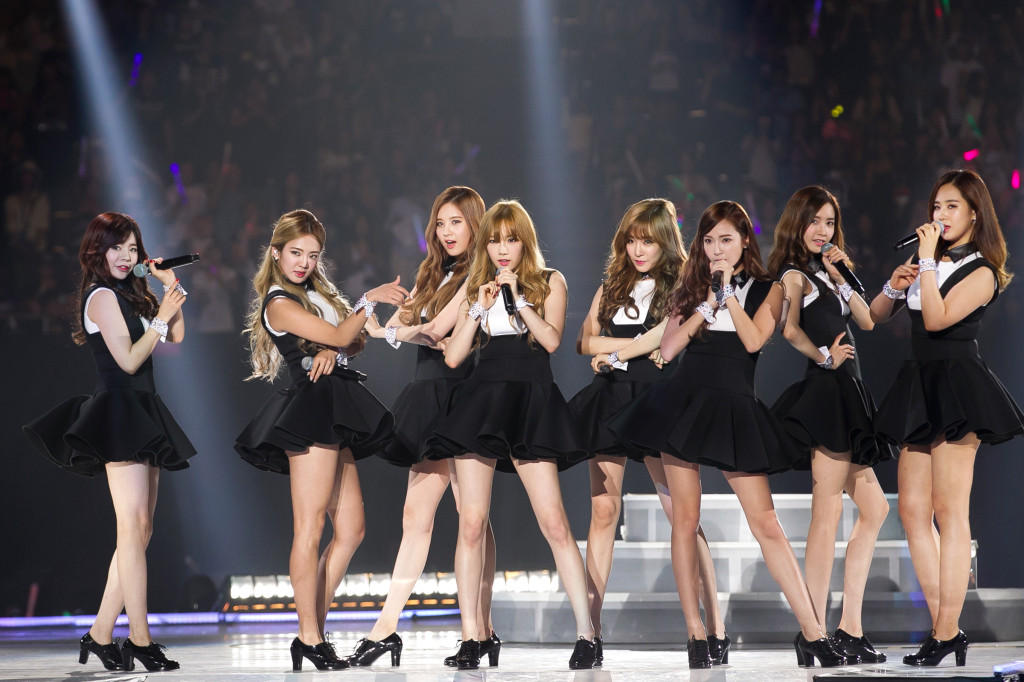 Just about every K-pop fan living in the United States has been waiting anxiously to find out who will be heading to KCON 2015, held this year for the first time on both sides of the continental U.S. Now that we know a few more acts, here's KultScene's second annual fantasy versus reality playlist for KCON.
The convention heads to Los Angeles' Staples Center on July 31-August 2 and Newark's Prudential Stadium on August 8. KCON Los Angeles will feature Super Junior, Shinhwa, SISTAR, Got7, Roy Kim, Block B, and AOA, while KCON NY, held in New Jersey, is in its inaugural year and will star Girls' Generation and VIXX.
1. Super Junior
Fantasy: "Can You Feel It?" is a song by Super Junior D & E (Donghae and Eunhyuk,) which is technically just a subunit of the group, but it's honestly one of the most fun songs from 2015 and it wouldn't be difficult for the group to sing together. A lot of fans may not know the dance, but if Super Junior wants to get the place moving, a quick lesson will get everyone at the Staples Center standing up and flailing their hands all over the place. We wouldn't be adverse to oldies like "Miracle" either.
Reality:
"Mamacita" is super Junior's latest title song, so unless the group throws a curve ball and announces a comeback before they come stateside, it's a safe bet to say that everybody at KCON LA will be shouting "HEY! Mamacita" by the end of the night.
Also Expect:
"Sorry Sorry" and "This Is Love"
2.
Shinhwa
Fantasy:
"Eusha! Eusha!" is old fashioned, but any old school fan of Shinhwa will want the group to play some of their iconic songs. We'd also kill for "Wild Eyes," or a newer song that we at KultScene personally love, "On The Road."
Reality:
"Sniper" is Shinhwa's most recent song and is absolutely amazing, so we won't mind that they'll perform it. They may perform "T.O.P," one of Shinhwa's most popular songs ever, but due to the age of many of the fans, the group may pick to some of the newer, arguably safer, sexy songs.
Also Expect:
"Venus" and "This Love"
---
---
3. Roy Kim
Fantasy: A new English song. Yes, it may be asking too much, but Roy Kim is talented and spends part of the year in the United States at Georgetown. So it wouldn't be such a stretch for him to debut a brand new song at KCON, like the ones that helped Roy Kim achieve success as a singer.
Reality:
"Home," there's no question about it. Roy Kim will definitely sing this beautiful song about the feelings of being home. Hopefully he'll bring the dog from the music video.
Also Expect:
"Love Love Love" and "Spring Spring Spring"
4.
SISTAR
Fantasy:
While it was popular in 2014, it's unlikely that SISTAR will perform "I Swear," since "Touch My Body" was a much more popular song. If they do, it will be a nice chance to hear them focusing on their vocals more than some of their more sultry dance tracks.
Reality:
We'll likely see a performance of SISTAR's yet-to-be-released summer track. The girl group is making a comeback in June.
Also Expect:
"Alone" and "Touch My Body"
5.
AOA
Fantasy:
It would be absolutely fantastic if AOA performed "Get Out." The girl group used to perform as a band, and have done so occasionally, but it's unlikely that we'll see a band performance from them. We'd also love to see "Confused" performed.
Reality:
Since hitting success, AOA has a lot of successful songs (and a new song coming out so we'll see that,) but nothing is as defining for the group as "Like A Cat," their sexy, dark song. Jimin may also perform a solo song.
Also Expect:
"Short Hair" and "Miniskirt"
---
---
6. VIXX
Fantasy: Let's see VIXX perform "Love Equation." It's a remake of R.ef's song from the 1990's, but this 2015 release went under the radar and is too cute to be ignored. "G.R.8.U" would also be a nice way to lighten up the stage from some of VIXX's darker songs.
Reality:
Whatever VIXX performs will be good and be filled with an interesting concept.The group will definitely perform "Error," one of their most dynamic songs to date.
Also Expect:
"Eternity" and "Voodoo Doll"
7.
Block B
Fantasy:
"Conduct For Zero" is another song by a subgroup that we love. Block B's Bastarz subgroup is just three members, but we'd be fine if Block B's other members left the stage to see the trio perform this dynamic song. And if they refuse to perform a song by a subgroup, Block B should attempt to silence the Staples Center by performing their vocally impressive song, "Be The Light."
And can Zico please perform at least one solo song?
Reality:
"Her" is a slightly psychotic, fun to dance to song and the audience at KCON LA had better join in on clapping along with Block B's song.
Also Expect:
"Jackpot" and "Very Good."
8.
Got7
Fantasy:
Got7 is still a new group and a lot of their lesser known songs deserve some love. If the seven member group performs "I Like You" or "Gimme," the audience at KCON may be surprised, but we'll be pleased.
Reality:
There's no doubt that Got7 will perform "Stop Stop It." The group is widely popular among American fans, so expect many people to be singing along.
Also Expect:
"Girls Girls Girls" and "A"
9.
Girls' Generation
Fantasy:
"I Got A Boy," because they didn't perform it at KCON LA last year and we still can't get over that.
Reality:
Their brand new song that we're eagerly waiting for, and perhaps a few new songs off of their new album. And "Gee." Because they wouldn't be Girls' Generation if not for "Gee"
Also Expect:
"Catch Me If You Can" and "Mr. Mr."
What songs do you want to see performed at either KCON this summer? Share your thoughts in the comment section below and be sure to subscribe to the site and follow us on
Facebook
,
Twitter
,
Instagram
, and
Tumblr
to keep up with all of our posts.
https://kultscene.com/wp-content/uploads/2014/08/소녀시대-7.jpg
1600
2400
Tamar Herman
http://kultscene.com/wp-content/uploads/2018/02/KULTSCENE-LOGO-2018-TRANSPARENT-RED.png
Tamar Herman
2015-06-11 22:08:49
2015-06-11 22:08:49
Fantasy Vs. Reality Performances To See At KCON 2015