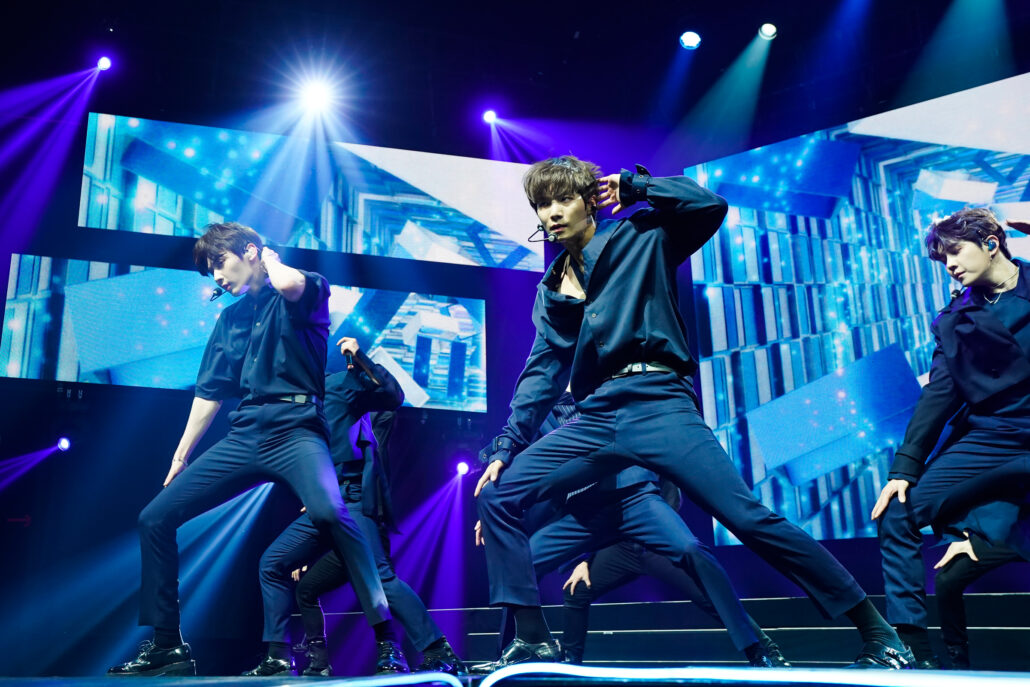 Tackling the great expectations of moving to maybe the most famous concert venue in the world, Madison Square Garden, was a big ask ahead of the five groups preparing for day 1 of KCON NY 2019. Each of them were more than qualified to perform there on their own merits but the beauty of a concert like KCON is how they play off of each other. Either by the order of their sets or through collaborations, these pairings can offer up interesting new perspectives on their work. On this day, they strived for a delicate sense of balance.
Opening this night was down to the now veteran of KCON, Kevin Woo, was on hand to introduce the night of concerts at Madison Square Garden. The former U-Kiss member was his usual bubbly and soft self; he tends to be a perfect MC thanks to this quality. He feels more like a friend than some random professional, so it was a true pleasure to be able to see him make the move back to performing after MCing for so long. He performed his two solo tracks, "Over You" and "Ride Along." They are fittingly bright and breezy for his voice and look, but he's straying into lyrical territory that doesn't fit. The player image of "Ride Along" didn't feel genuine, and that's something that can come across strongly on such a big platform.
One thing Kevin has that definitely does come across, whether he likes it or not, is that he is a potent reminder of how far K-pop has come. Around since 2009, Kevin has seen almost all of K-pop's major flirtations with breaking into the west. This gave the night interesting bookends, with Kevin himself, a member of a group all but forgotten to the world, and headliners Nu'est, a group who through an unprecedented resurgence live on amidst K-pop's most world renowned time. They feel like they're from the same era and yet remain very much in the zeitgeist.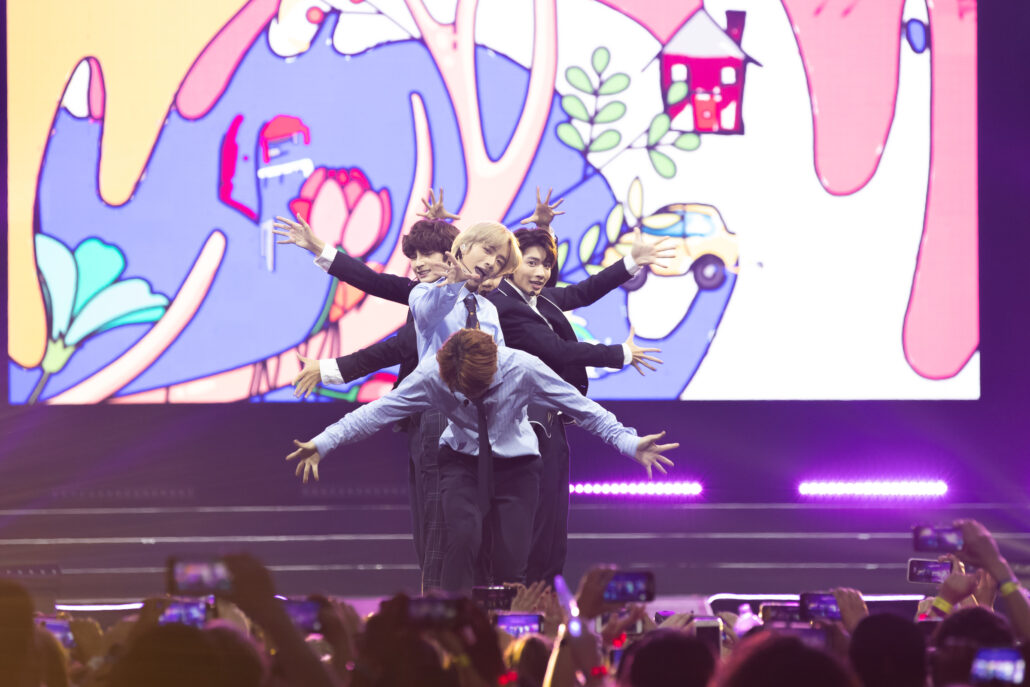 ---
---
The starkness of what comes in between those two was immediately apparent when Ateez took to the stage. They along with other fresh faced boy group The Boyz opened the night with dance performances to contemporary American pop tracks. True to form, Ateez went hard on Skrillex's remix of Travis Scott's "Sicko Mode." As would be seen later on in the night, Ateez have a very particular style of controlled chaos while on stage. They use typically strong boy group moves in very angular and aggressive ways. It's a style of dance that goes so well with the surprising ways in which they are growing so rapidly. It is in the very literal sense, breathtaking but also almost obstructive of the group at the heart of these dances.
In a smart move to counter this, The Boyz took a much more unusual approach by performing to teen phenom Billie Eilish's "Bad Guy." Watching the 13 members walk like runway models to the cartoony synth run or move possessed along with Eilish's distant vocals were moments totally singular over the whole weekend. Choosing to dance to these two melodies rather than the beat gives the performers themselves great personality. It's an effective and simple way of making a dance feel like a story. Something they clearly learned from fellow large-membered group Seventeen.
As new as these two groups are they can't compare to the absolute babies of the weekend, TXT. They were not to be held back, however, as coming along with a five track mini-album filled with gems meant they were more than qualified to be here. No one over the whole weekend would bring as exuberant a charm as they did. Decked in schoolboy uniforms, they jumped right into debut single "Crown." The unabashed giant synths of it are probably the most infectious sounds of the year so far. It's the kind of sound many might use to describe K-pop as a whole, so as an opener it was perfect. They took some time from there to talk and perform a short version of ballad "Your Summer." It was energy well saved as they took a breathless last 10 minutes to blast through "Blue Orangeade" and "Cat and Dog."
It's hard to choose one thing that makes TXT so good but it's just as hard to not say their choreography. It may be early days but it's difficult to think of a group who handles such a small amount of members so well on stage since SHINee. The way they feed off each other is so important to the way they move, as if they need each other's permission to go to the next part. They displayed a level of choreographic ingenuity that would not be topped until the weekend's closers.
"Cat and Dog" will also go down as a great track of KCON 2019. As a song itself it expertly combines the cuter aspects of TXT with the more popular hip-hop sounds of most boy groups these days. It's silly, brash, and best of all, earnest. This in turn makes it also an excellent bridging point from them into the next group Ateez.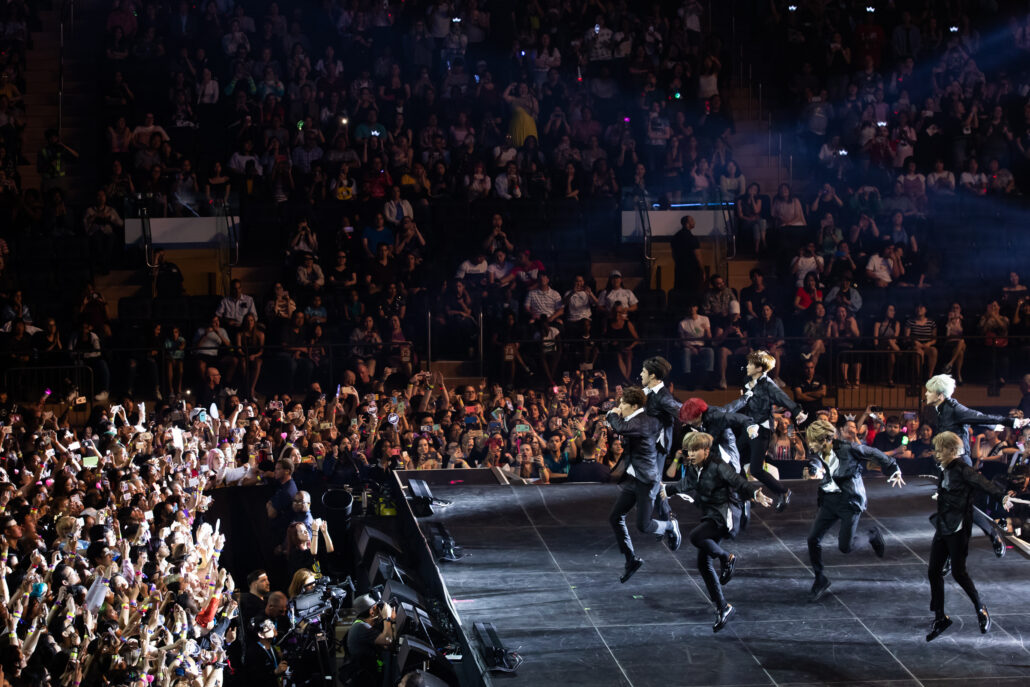 As a further balancing act before that though, IZ*ONE came out with "Highlight." "Highlight" is their most mature sounding song yet. Its stripped back R&B is helped by a pair of running synths and a trap beat, on top of which the girls eke out an elegant vocal. This gracefulness carries on in the dance as they hold up their hands and barely sway their hips, calling "look at me" in the chorus.
Not wanting to disrupt this flow too much, Ateez opened with the melancholic electro of "Aurora" and the decidedly dated tropical house of "Wave." Ateez are burdened by the fact that every concept they've tackled so far has been a clear derivation of other groups. Particularly with these openers —you can't give yourself a name when people are thinking of the groups who have done this before and better. Of course, even their next and final two tracks suffer from similar problems. This suffering only happens on track though, taken to the stage is a different story.
Closing with the heart-stopping duo of "Say My Name" and "Halla Halla," Ateez made sure they wouldn't be forgotten. The group left absolutely nothing on that stage; their sweat is now a permanent fixture of Madison Square Garden. It felt like they never had to stop, and could keep destroying the stage for the rest of the night. The chaos was still controlled but they were almost ready to let it go. It was a stunning display of control when they seemed to not want it at all. There's aggression in K-pop dances, but nothing ever came close to feeling violent until rapper Mingi jumped over someone and seemed to headbutt the air. A funny but in some ways alarming moment.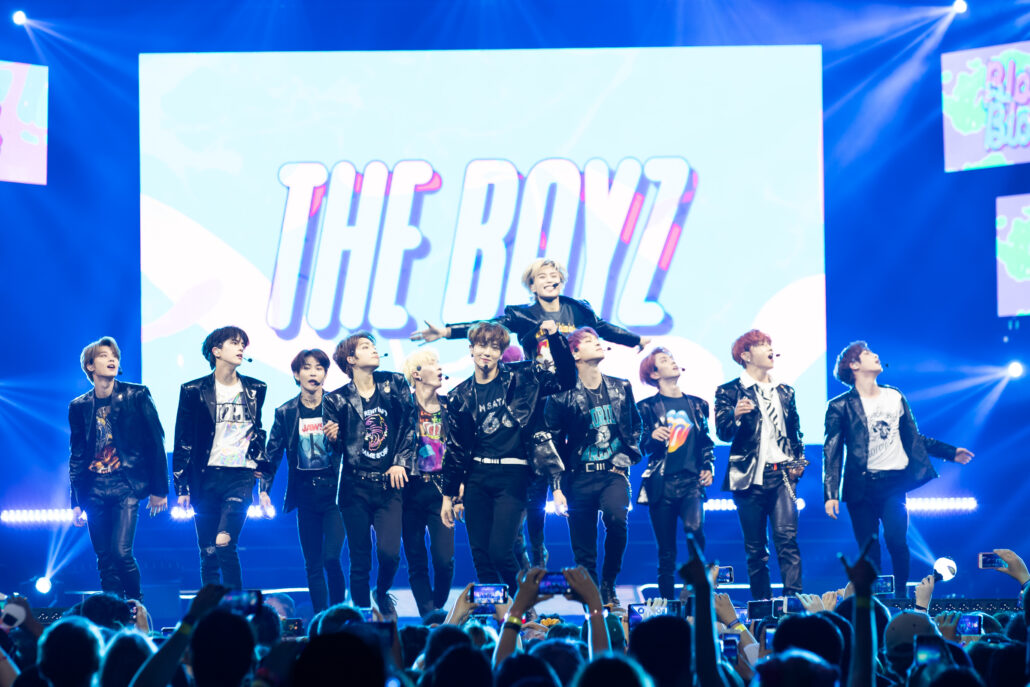 The Boyz kept a serious air to the night but still calmed things down, as they began their set with "No Air." Although a fitting follow up to what Ateez had brought, it felt lacklustre and even anonymous alongside them. This was put to bed immediately though, as the boyish charm and confidence of "Right Here" filled the place with glee. "Right Here" is one of those rare songs that starts off as if it's already at top gear and yet at every turn still manages to find something small to lift it further. Making it not only a great song but an exceptional live experience. Also it was a smart move to put in the middle of their set, as closer "Bloom Bloom" is a lesser but still fun track that carried on the great energy of "Right Here."
Needing to slow things a bit after that explosive one-two punch, Baekho and Minhyun of Nu'est came on for a cover of Adam Levine's "Lost Stars." Slowing things down was all this performance could really off as it's not a good enough or well known enough song to otherwise justify inclusion. Certainly not with the potential vocal abilities of the two men singing it.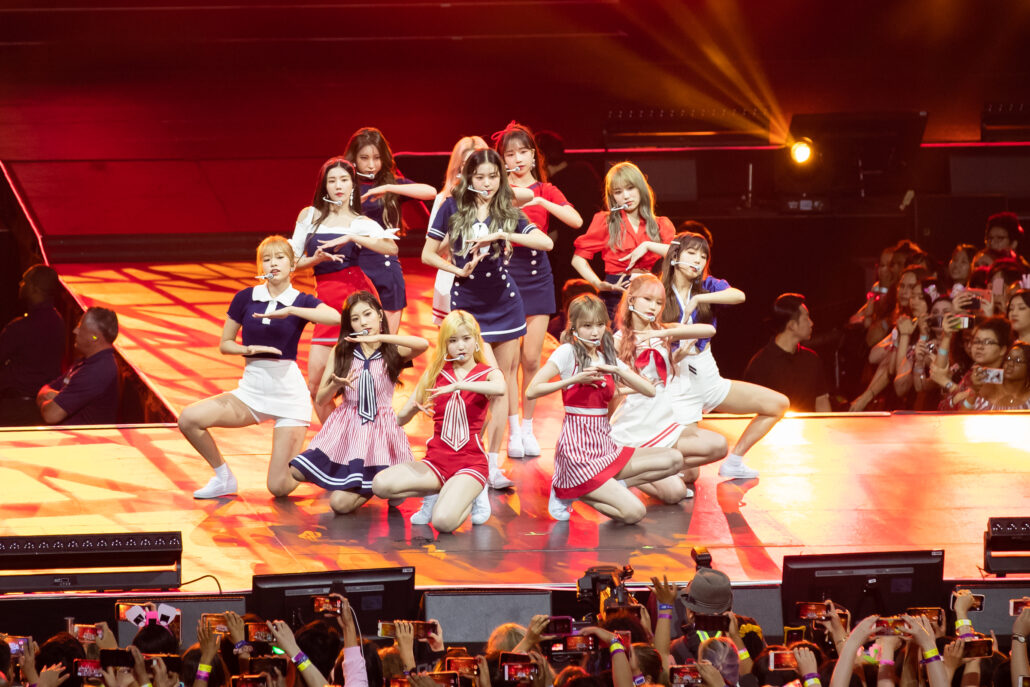 ---
---
Nothing can really inject life into night quite like a Twice knock off, though. IZ*ONE were next up with just that on recent b-side "Airplane." The cute vitality of the track and the girls more than made up for "Lost Stars," as well as giving the night its tempo back. Unfortunately, they undid all of this right after as they played two games that took up at least 10 minutes. It would be ok if the games were fun but, it was clear that most of the audience were not paying attention after the first two or three minutes.
In fairness to IZ*ONE, they have the songs to once again reignite things. They ended with a brisk quartet of singles "Violeta," "La Vie en Rose," and Produce 48 tracks "Rumour" and "Pick Me." Despite the cute image many might of them have, all of IZ*ONE's tracks have major punch to them. This is emphasised really well live, as the bass in the choruses of "Violeta" and "La Vie en Rose" hit hard, but the melodies are never lost. No one carries this idea as well as Lee Chaeyeon. Their main dancer was one of the true highlights to watch over the whole weekend, earning her the nickname, the goddess of wind, with power and grace always together and never at odds.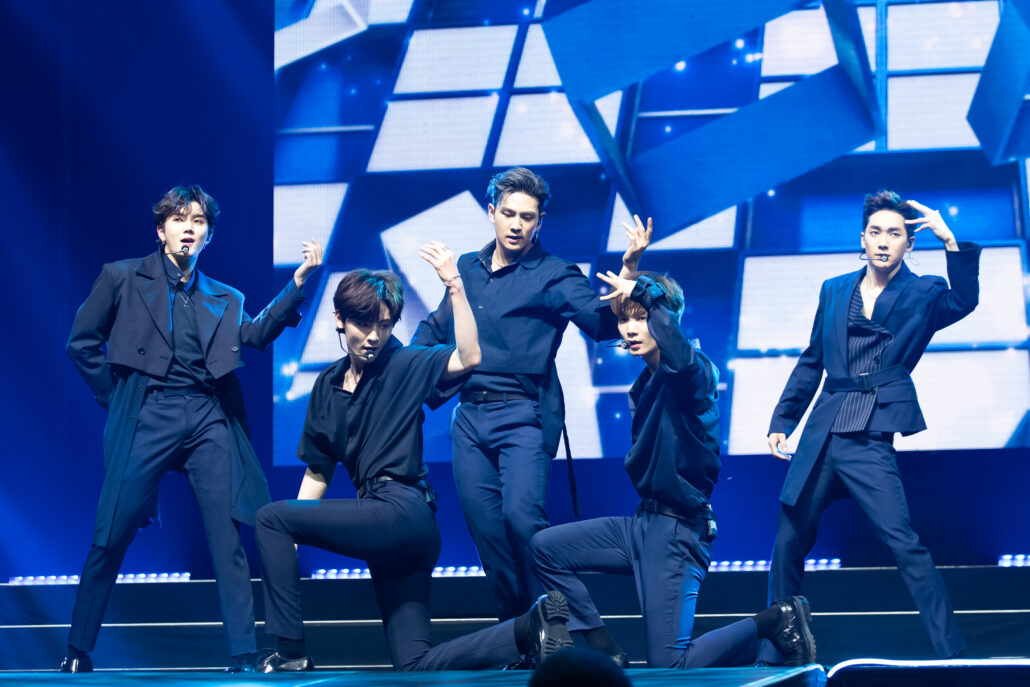 There is no better group to headline this night and to unite all the ideas that have come up than Nu'est. Newly back to full strength as former Wanna One member Minhyun returned earlier in the year. Nu'est have been hard to pin down as a group thanks to changes like this, but they have consistently shown an unquestionable level of stability in sound and performance. They brilliantly mix the harder aspects of the dubstep and hip-hop that pervades their work with a slower sensuality in how they actually navigate these influences. Even up to their latest single "Bet Bet," which they opened with, this continues. The battle between the ruthlessness of JR and Baekho, and the softer falsettos of Minhyun and Ren are on full show here. Aron sits in the middle somewhere, filling in gaps so as the others don't quite lose themselves.
From there it was pure joy. "Love Paint" was the best song of the weekend, "Segno" so sweet and uplifting, and closing duo "Look" and "R.L.T.L (One Morning)," an exemplary rendition of the dubstep, dance music work they do. The only problem was that they were one song short. "R.L.T.L" was a good song to end on but only if we had known beforehand. As it was it felt like the perfect setup for "Overcome" to drive us home. But as soon as they finished, the lights went up and the other groups started to come out to say goodbye. There was definitely a slight feeling of being cheated. This was something their labelmates Seventeen would learn from though.
From Kevin Woo through Nu'est all the way to TXT, K-pop has been through too much to recount. KCON is always good at trying to tell this story of K-pop in a few hours and this night was no exception. The flow of every group's set and the transitions between them felt natural and propulsive. Everyone had their place and performed it to the best of their abilities.
All photo credits to KCON USA
Were you at KCON NY 2019? What did you make of the performances? Share your thoughts in the comment section below and be sure to subscribe to the site and follow us on Facebook, Twitter, Instagram, and Tumblr to keep up with all of our posts.
https://kultscene.com/wp-content/uploads/2019/07/MCD_KCONNY1D_078.jpg
1600
2400
Joe Palmer
http://kultscene.com/wp-content/uploads/2018/02/KULTSCENE-LOGO-2018-TRANSPARENT-RED.png
Joe Palmer
2019-07-19 14:42:25
2019-09-04 21:28:52
KCON NY 2019 'M! Countdown' day 1 recap