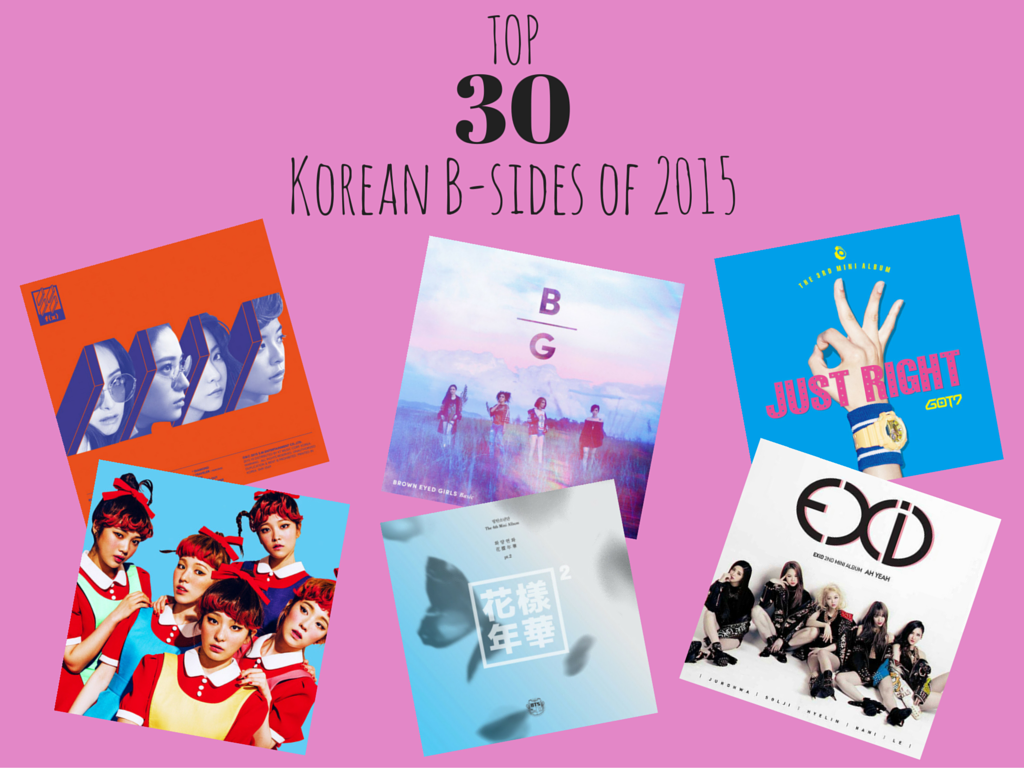 2015 is the year that could do little wrong when it came to Korean music, and just when KultScene's staff thought we were done adoring songs from last year, we decided it was time to single out our favorite non-singles. The list, compiled by several members of our staff, takes into account personal taste and the overall quality of songs as we strive to highlight the overlooked B-sides from some of K-pop's best albums.
30. Infinite – "Between Me And You"
Undoubtedly one of Infinite's best ballads to date is "Between Me And You," a song that allows all the members to show off their extremely emotive vocals. Less vocally impressive members, such as Sungyeol and Sungjong, held their own in this track and showed how much they improved since their last album. Unlike most ballads, this song didn't get boring, mostly because of the drum beat that was present throughout the song and the passionate raps provided by members Dongwoo and Hoya. This track proved that Infinite is more than just a dance group as the members showed off their great vocal talent, revealing that Infinite still has a lot of potential to grow.
29. Red Velvet – "Lady's Room"
You honestly cannot find a cuter song than "Lady's Room" on Red Velvet's stand out album "The Red." The song is about friends opening up about the boys that they like, talking together in the "Lady's Room," and overall enjoying the company of one another. It's perfect for Red Velvet's fresh and youthful image, and the song's composition is filled with synth undertones and absolute sweetness. It's an adorable ultramodern take on the typical girl group pop song, with crisp vocals and playful back and forths between the members. The falsettos and harmonizations in the chorus show Red Velvet's cohesiveness as a vocal quintet as opposed to the dance-ready choruses of many of their other songs. Seulgi's "follow me" line is a standout favorite, but the song's continual playing with different tones and styles is just absolutely fitting for the fun girl group known for its constant reinvention of itself.
28. TVXQ Yunho – "Komplicated"
2015 was Yunho's time to shine. The dream-inducing rhythmic track "Komplicated" is a trip dance song that would be perfect at any club. Heavy house influences on the trippy song fit with Yunho's vocal color and preference towards dance music. The song starts off slow with pounding beats and quieter wailing sounds before giving Yunho a moment to let his vocal color show. And then the listener is slowly drawn towards the spiraling, pounding dance breaks. The song is minimalistic with a true emphasis on the music rather than the lyrics, while still giving Yunho a chance to show why he's considered one of K-pop's most versatile singers. MonoTree is credited with editing the warped vocals on "Komplicated," and he's done an absolutely phenomenal job creating one of K-pop's best house songs of the year.
27. Shinhwa – "Alright"
"Alright" has a feel-good vibe, one in which you'll continuously find yourself twiddling your fingers and nodding your head back and forth. There's an immense sense of sexiness that exudes from their (well) aged voices. What's great about Shinhwa, and I say this in the most positive way, is their lack of skin exposure; their sexiness is purely in their natural charisma. The members are now well into their mid 30's, and with that said, it's admirable seeing them toy around with new genres of music. The incorporation of ChaCha Malone and GRAY from AOMG in composing and arranging this song, lightly sprayed a swag element to the track.
26. ToppDogg – "O.A.S.I.S"
When I think of ToppDogg, hard hitting, rap based songs like "Follow Me" come to mind, so when I first heard "O.A.S.I.S," it was a pleasant surprise. Especially considering another artist, Crush, released his own yummy R&B song with the same title last year. But rather than being a carbon copy or a lesser version, ToppDogg's "O.A.S.I.S" is a funky, disco-ey symphony displaying all the right sounds from the '70s. This track showed the boys' versatility, how they're not stuck in one genre and are open to more croony sounds. And even if the oasis in question is a girl, the true oasis is the song itself for being incredibly smooth and delicious to the senses.
25. GOT7 – "Put Your Hands Up"
Disguised as a party song, "Put Your Hands Up" doesn't imply raising your arms in the air and waving them like you just don't care. For this B-side on their "MAD" album, GOT7 play with the idea of arresting a girl who doesn't realize they're into her. Instead of relying on the talented vocal line, "Put Your Hands Up" is a rap-driven earworm reminiscent of their senior's "Hands Up." The hip-hop influence was very visible on this album, but the jumpiness and easy to follow chorus is what makes "Put Your Hands Up" super fun.
---
---
24. GOT7 – "Feeling Good"
It seems as though GOT7 is all about making their listeners feel good nowadays, and it's definitely working in their benefit! "Feeling Good" allowed members Bambam and Yugyeom, who are less likely known for their vocals, to give you a taste of their serene and soothing voices without taking the shine away from the already skilled JB, Jr., and Youngjae. "Feeling Good" is filled with charming melodies that'll easily swoop in and wrap you up into a bundle of greasy GOT7 feels. Considering how young the group is, GOT7 certainly knows how to get your hearts fluttering with their pleasantly delicate voices and sweet compliments of one's beauty and fullon wonderfulness. Instant swoon, is it not?
23. Kim Sungkyu – "Daydream feat. Tablo & JW"
Kim Sungkyu, the main vocalist of Infinite, released a great solo album in 2015 filled with songs of different genres, but "Daydream" was one of the standouts. Sungkyu's calming voice along with the leveled rapping by Borderline (Tablo & JW) was perfect and created chill vibes for the whole song. Despite only having one main melodic strand, the song never got boring because of the various ways the repetitive melody was presented, a sign that shows the high production quality of this song. The emotions in the song were shown well through Sungkyu's voice as well, which went from appropriately soft and mild to loud and full of feeling at different points in the song. It's not a typical song to get hooked onto, but it's definitely an earworm in its own right.
22. G.Soul – "Dirty"
Words can't begin to express how amazingly versatile of an artist G.Soul really is. "Dirty" is different than anything that he's done since debuting. Not only does it incorporate deep house music, but it's also sung in English! I kept forgetting that I was actually listening to a Korean artist and not an American. The lyrics were slightly raunchy and in your face, not the norm for a number of Korean singers, but G.Soul's always pushing different boundaries. And maybe it's because "Dirty" was in English, but as soon as he let out that first soulful note, my heart started doing somersaults. It blows my mind as to how well he can continuously pump out all these EPs and transition from R&B to neo-soul to house music with little to none promotions and still make it all work.
21. Nine Muses – "Yes or No"
Nine Muses tried hard this year. Three albums but little to show for it in terms of success. What they do have, however, is this delicious slice of disco. "Yes or No," for those who venture past their singles, is a song about waiting for a reply to that risky text you sent a crush. It's a lighter look at Nine Muses. Luckily, their wide ranging vocals survive the trip and the sound here allows both high pitched and low pitched vocalists to shine. It even has an adorable Instagram video which matches nicely with the modern look at love the song gives us.
20. f(x) – "Diamond"
"Diamond" encapsulates what makes f(x)'s album cuts so good. Like many of the best songs on "Pink Tape" and "Red Light," it starts off one way and slowly but surely becomes something completely different by the end. In this case, we start off hearing a plodding hip-hop beat, Luna's vocals working to make it even heavier as she delivers each syllable with an assured confidence. The song is carried like this for a while longer before Luna herself turns up again to begin lifting the song off its feet. Her 30-second long pre-chorus with Krystal adds a growing sense of euphoria ready to burst after a long build up. It then drops into a fierce electro chorus. Only f(x) could carry such an array of elements in the one song and not allow it sound a mess. "Diamond" is full of surprises, each one of them a joy.
19. MFBTY – "Let It Go feat. Yoon Junhyung"
MFBTY's "WondaLand" is a pop album unlike anything else from K-pop in recent years. Every song is different, and "Let It Go," featuring Beast's rapper Junhyung, doesn't hold back. The travel-oriented tune starts off with simple enough piano tune that leads into Yoon Mirae's English intro before turning into Tiger JK's devil may care rap about finding happiness and throwing away burdens. Yoon Mirae picks up the song with a spitfire "f- you" rap that references Kelis' "Milkshake" before returning to her singsong English lines. Junhyung joins the couple on the track with his own building rap. The song's message is exciting enough, but it's the constantly differentiating stanzas and musical styles each singer utilizes throughout the track that made us fall in love with this MFBTY hip-pop song.
18. Hyuna – "Get Outta My House feat. Kwon Jung Yeol of 10 cm"
For Hyuna's solo work, we've come to expect the ultra sexualized EDM banger with a catchy chorus or hook. And that's fine, we all grow into liking those earworms. However, for her latest solo mini album "A+," Hyuna showed us she's growing and exploring more sounds. The perfect example of this is "Get Outta My House," a slow tempo almost ballad where she talk raps about kicking a guy out of her house and the relationship. Hyuna's voice can come off nasally and borderline annoying at times. But with "Get Outta My House," she's finally found the right flow for her tone, which is even sexier and goes better with her overall image than what she normally does. "A+" was solid, especially coming from Hyuna. So if she continues to drop tracks like "Get Outta My House," we might be able to fully take her seriously as a rapper.
17. EXO – "Promise (EXO 2014)"
EXO's "Love Me Right" repackaged album definitely saved the best for last. Closing the group's second studio album is "Promise (EXO 2014)," a track that is as poignant as it for the members as it is for the fans. Firstly, member Lay helped compose and write the lyrics for both the Chinese and Korean versions, while members Chen and Chanyeol participated in the lyric-writing of the latter, giving the song a great deal of personal meaning. The alternate title "EXO 2014" emphasizes the importance that the year 2014 was for the boy group, and it's not difficult to figure out why. It alludes to former Chinese members Kris and Luhan's departure, and as if that is not depressing enough the funereal piano melody and string sections only makes listeners feel worse. But this is not what the group wants us to take away from the sentimental track. Despite all the trials and tribulations, they want to convey their appreciation for the fans who have stuck by them through all of their trials and tribulations. "Thank you, I'm sorry, I love you," raps Chanyeol. Even if you have a distaste for all things ballads, please make an exception for "Promise (EXO 2014)."
16. Kim Sungkyu- "Alive"
Sungkyu's silky voice is at its very best in "Alive," which showcases a perfect combination of wonderful music production and great vocals. The unconventional but wholly appropriate music instrumentals in the background of this track stand out on their own but also enhance Sungkyu's voice, creating this addictive and touching track. With lyrics such as "I'm better off just longing for you, that's right, I have no other choice," the best part of this song is its emotional climax, where Sungkyu is singing passionately and the instrumentals are on the brink of overwhelming his voice. The hopelessness is conveyed in such a clear manner that even non-Korean listeners would be able to understand the pain and meaning behind the lyrics, a trait that makes this song a really amazing one.
15. GOT7 – "Good"
With such a positive start to the song, how can one not automatically feel good? Sure, when looking at the lyrics, some will probably question why and how GOT7 can be so "full" of themselves, but if the members are able to confidently sing it, then where's the problem in that? If you're well put together, whether it's your outfit, hair, makeup or all of the above, then why not strut and show it off? Self-confidence and self-loving can only start with you. But lyrics aside, not only will "Good" have you in a delightful mood whilst listening to it but it also shows the diversity and unique vocal techniques with each member's voices. The smooth blending of members JB, Jr., and Youngjae's voices will surely have you swooning in no time. You don't have to worry GOT7; we've already fallen for you.
14. Jonghyun – "Deja-Boo"
One of the best things to have happened to K-pop was SHINee's Jonghyun's album "Base," and one of the best songs to have hit us was "Deja-Boo" off of said album. With this song, we see a smoother side to the SHINee leader that was previously masked in the group's more dynamic productions. Throw in Zion T. as a feature into the mix, and now you can pretty much bet on a pretty solid R&B track. And as the intro song as well, it sets the right tone for the rest of the album. The song, laced with finger snaps and a mellow bassline, is flirty yet funky, just like its coy lyrics about a woman who Jonghyun swears he encountered before. There may not be a climax moment, but the varied structure – some singing abbreviated with soft murmurs – makes it nevertheless very addicting. Trust Jonghyun to deliver yet another well written and composed song.
13. BTS – "Boyz With Fun"
Sometimes I forget how young the members of BTS really are. Their lyrics and music are usually deep and transcends powerful messages to the listeners. One would think they're all serious and no fun, but "Boyz With Fun" showed otherwise. This song does exactly what the title states. The members are cheerful from beginning to end. It's easy to sense their playfulness towards one another, even without watching their live performances. With it's hooking beat, who could possibly sit still and maintain any sort of calmness while listening to this? BTS doesn't want to be bothered with someone who's not down to having a good time, would you? What would life be like if it was just filled with humorless and full days? "Boyz With Fun" is reminder to always fill your days with as much enjoyment as possible!
12.5 Super Junior "Stars Appear"
Due to editorial oversight, "Stars Appear" was not included in the originally published version of this list. Our bad!
Super Junior's known for their dances, but some of their most memorable tracks throughout the years have been power ballads. "Stars Appear" begins with a simple piano melody before building into a soft rock song that is all about the group's decade-spanning career together. The member's vocals come together in an emotion-wrought chorus over strings and clashing cymbals, along with a lot of subtle sounds. The song comes to a sudden with an acoustic, a nearly a cappella bridge filled with Kyuhyun and Ryeowook's smooth crooning before returning to its previously-introduced tempo. The song has plenty of parts distributed so that Super Junior's members each get a chance to sing, but the real beauty of "Stars Appear" are the choruses, which have several members showing off their vocal colors backed by the rest. Super Junior's a big group, but this song gives each member a time to shine.
12. miss A "Love Song"
Despite JYP Entertainment having its best year in a long time, miss A still seemed to slip under the radar compared to their compatriots. This is a shame as their album "Colours" was fantastic and this track from it, "Love Song," is one of the best of the year. The song opens with an atmospheric piano melody that transitions into a subdued but moody verse. The intro then returns as a pre chorus before what can only be described as a crunk classical chorus. It is merely oriental strings along with a bass drum and snare but manages to be instantly danceable and energetic. This unexpected turn transformed "Love Song" from a great filler track to a genre-creating masterpiece. ''Like a tornado'' is right.
11. BEAST – "See You There"
2014 was BEAST's year — no doubt about that. "Good Luck" and "12:30" won everything in music shows and rocked our worlds. So when 2015 came around, we were perplexed by their singles that were subpar to its precedents. I say with deep pain in my heart that BEAST was a disappointment in 2015, but at least they managed to release an awesome b-side worthy of their previous album, "See You There." The synth beats effortlessly weave into the R&B influences, with the member's velvety vocals bringing the whole thing full circle. Not only are the lyrics, about a man wishing to meet his lover where they first met, beautiful, but it's the perfect example of BEAST's flawless harmonization. It's a sweet, feel-good song, but it's also the best in the entire album "Ordinary."
---
---
10. Infinite- "Moonlight"
Perhaps the song most celebrated by Inspirits for having the best line distribution in Infinite's mini album "Reality," "Moonlight" is an upbeat dance track that has Infinite written all over it, mostly because it sounds familiar to their old hits such as "Paradise." Surprisingly, this track does not have any raps in it, but perhaps this is for the better because it gave resident rappers Hoya and Dongwoo a chance to show off their amazing vocal ability. Dongwoo in particular had several high notes in the track and pulled it off very well. The producers of the track should be given credit as well because of how skillfully originally weak vocalists such as Sungyeol and Sungjong were used in the song. Yes, their parts were auto-tuned sometimes, but for once, the auto-tune didn't sound out of place and fitted the song perfectly. They were also given parts which suited their voices and allowed them to sound really good. The track was also layered with many vocal ad-libs and strong instrumentals, all in all creating one of the best songs of the album.
9. EXO – "Hurt"
EXO's "EXODUS" album from earlier this year was absolutely stuffed with addicting songs and "Hurt" is the highlight of the non-singles. The haunting instrumental opening drops into an electropop song that is addicting that leads into a dub-pop dance break. "Hurt" stands out by giving EXO everything that the members need to shine; there are individual, building solos, there are harmonization-filled choruses, some raps that don't detract from the abundance of heartbreaking crooning. The moody, angsty song's lyrics are like something out of late 2000's MySpace pages, and the narrator of "Hurt" probably could use a few hugs. "Will you take me inside the veil that covers you?" sings EXO. "Can't you make me live?" EXO does well at being the desperate lover, and "Hurt" is the epitome of that. EXO is an idol dance group first and foremost, but the artistry of "Hurt" with its ability to seamlessly introduce different rhythms and musical styles is a standout from EXO's discography.
8. BTS – "Hold Me Tight"
BTS's "Hold Me Tight" is easily title track material, if only their album "The Most Beautiful Moment in Life Pt. 1" did not already have two other singles already. The song walks us through several distinct moments, from the opening with the delicate piano instrumentals, to the body's snaps and snares, and finally to the bridge with the muffled rap. The members' long vibratos and angsty raps makes it one of the group's most emotional songs, and the harmonizations throughout the verses and choruses are exemplars to the group's talent. Moreover, the passionate mood perfectly conveys the lyrics about the regret and the desperation that accompanies a foreseen breakup. But, wait, it gets better. In collaboration with Slow Rabbit, pdogg, and the rapper line, the song is composed and written by member V, making it his first time participating in a BTS production. For a first, it is pretty impressive, but then again it is BTS, so what else is new?
7. f(x) "Rude Love"
The love of British dance music didn't end with "Four Walls" for f(x); "Rude Love" is a sprawling house ode to sex. While it is ostensibly a house track, it also seems to borrow from other British music of the same era. The satisfyingly simple piano is reminiscent of a Stone Roses or Happy Mondays track, and I assure you f(x) are picking the right influences. These pianos mix with the house beats to create an almost pure dance track only lifted by the dynamic vocals. The muffled refrains of "I'm wanting you baby" being particularly important to bringing it all together.
6. BTS – "Silver Spoon"/"Crow Tit"
BTS may not have a "Cypher Pt. 4" for us in their album "The Most Beautiful Moment in Life Pt. 2", but they do have "Crow Tit" ("Silver Spoon"), which is pretty much the same thing. On the surface, it's one of those songs that make listeners feel bigger than life with its trap beats, but at the microlevel, it's a track about originality, social expectations, and generational divides. The title refers to a Korean proverb "If a crow-tit walks like a stork, it will tear its legs," which, in turn, translates into an expression about people who ruin themselves by trying to emulate those who are better. In this case, BTS are the crows who are condemned by the superior storks. But BTS embraces their crow-like position, as supported by the implementation of crow caw beats, and thank their haters ("Thanks to the stork, my legs spread"), which explains the members' cocky tones. The track boasts of each member's' colorful voices, which are barely indistinguishable here, and it's just one of their many songs that listeners have to see live.
5. GOT7 – "Back to Me"
Before GOT7 released "If You Do" and the album "MAD," their thing was the cutesy and playful concept epitomized by "Just Right." However, on that same album, we got other just as good lively and cute jams like "Back to Me." Sprinkled with hip-hop, "Back to Me" is the sweetest song about wanting a girl back that allowed for the backup vocalists Jr. and Yugyeom to take the lead. It's impossible to hear this strong and not have your heart immediately warm up and a big smile form in your face. While GOT7's manly and fierce image was the true revelation of the year, we'll always cherish their perfectly human boyfriend concept paired with bubblegum pop/hip-hop hybrids.
4. Red Velvet – "Time Slip"
Red Velvet has had a great year and their album "The Red" was truly a wonderful one. "Time Slip" is simply exceptional though, with its use of cohesive instrumentals and a great bass. It's tempo is similar to that of English hits such as "Fancy," but comparatively, "Time Slip" has more interesting sounds (a school bell was used at one point). The vocals of the members are also showcased well here and they brought out the meaning of the lyrics because they literally transported listeners to another world through this song. The song seems like a successful experiment which worked exceedingly well for Red Velvet and I'm glad that they're defying conventional K-pop girl group standards. I'm really excited to see what else they have in store for us because they are a group with boundless potential.
3. EXID – "Thrilling"
EXID's funk-dance songs like "Up & Down" and "Ah Yeah" are great, but the girl group's vocal performance in "Thrilling" is one of KultScene's favorite songs of the year. The alluring, haunting track offers up a bevy of everything that makes EXID the fierce group we know and love. The vocal talent, the seductive voices, the take no bullshit attitude… "Thrilling" is EXID at their very best. EXID's distinct sound is clear throughout "Thrilling," and is the grown up version of 2012's "Every Night." The song doesn't hold back, and each member is given their chance to shine. The highlight is definitely the builds that lead into the singsong chanting chorus featuring Junghwa, and there's an absolutely phenomenal harmonization towards the end of the song featuring Hani's sultry voice lightly layered over Solji's belting high note.
2. BTS – "Whalien 52"
BTS is known for being K-pop's "social conscious," as they often tackle heavy subjects such as oppression and the pursuit of happiness through their lyrics, so with their latest album "The Most Beautiful Moment in Life, Pt.1" this is not any different. In particular, "Whalien 52" uses a real life solitude creature, a whale who communicates at a disparate 52 hertz wavelength, as a trope to speak about loneliness and despair. Unlike what one would expect, however, the group approaches the topics in a hopeful manner. Behind all the light piano melody and synth sounds is an inspirational song also about how one day this whale's tune will reach someone, just as how through the right effort and persistence one can leave a dent in this world. A repetitive wailing in the backing track resembling a whale song further supports the notion of how this whale should keep singing until its voice is heard, and continues throughout the tune until it ends on one resoluting cry. "Whalien 52" attests to how an unlikely muse like a marine mammal can be incorporated into both the greater message and the production of a beautiful track.
1. Brown Eyed Girls "Wave"
In the context of Brown Eyed Girls' album "Basic", "Wave" plays almost like a warm up for lead single "Brave New World," but goes above and beyond the single's radio-friendly take on ambient pop. With less bombast, "Wave" washes over its audience and allows a build of quiet tension to pervade its entirety. The instrumental intricacies are similar to "Brave New World" but work to give us something more chilled out but with a broken hearted bite, matched by breathtaking harmonies. "Wave" contains similar funk guitars and a gorgeous slinking bassline, but it's more mellow in its overall sound. Simple keys open up the song before a perfectly tight rhythm section and eventually a funky scratching lead guitar. Each of these elements are balanced delicately, coming in and out of the song to build the aforementioned tension and also to create a heavenly climax during Miryo's rap. "Wave" is one of Brown Eyed Girls' most spectacular productions to date, and it is something we'd love to see more of this sort of song from the talented vocal group.
What were your favorite K-pop B-sides? Share your picks and thoughts in the comment section below and be sure to subscribe to the site and follow us on
Facebook
,
Twitter
,
Instagram
, and
Tumblr
to keep up with all of our posts.
https://kultscene.com/wp-content/uploads/2016/01/TOP.png
768
1024
KultScene
http://kultscene.com/wp-content/uploads/2018/02/KULTSCENE-LOGO-2018-TRANSPARENT-RED.png
KultScene
2016-01-12 16:03:58
2016-01-12 17:34:51
Top 30 Korean B-Sides of 2015