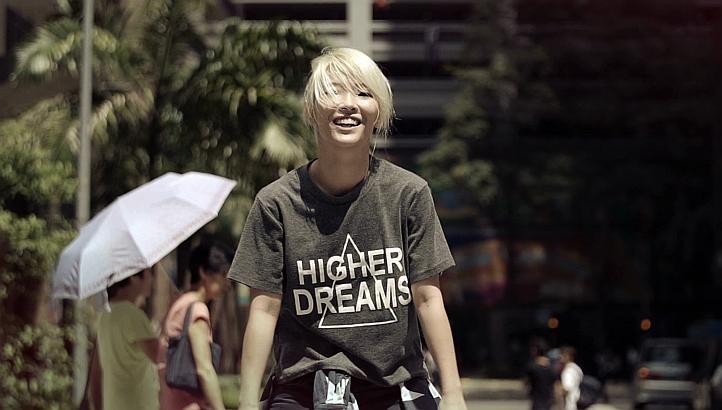 Jojo Hung, also known as a Ga-in of Brown-eyed Girls look-alike, is an average Singaporean adult with an extraordinary love for K-pop. Currently a dance instructor at Celine Jessandra School of Performing Arts, this special 25-year-old was a participant of the second season of CJ E&M's "Miss Korea" alongside 19-year-old Julia Wu, and is also a participant of ongoing reality competition "Chinh Phục Ước Mơ."
Not to be confused with the beauty pageant, Lee Hyori song, or the 2013 drama with the same name, "Miss Korea" is a reality program produced by Mnet and Mediacorp which followed the two talented individuals in their three months spent in Korea together. They received vocal and dance lessons from professionals and had the opportunity to audition at several entertainment companies such as Soulshop Entertainment. From this program, the girls learned a lot and had several memorable experiences, some of which Jojo shared with Kultscene, while also discussing her friendships, challenges, and dreams.
Thank you for agreeing to this interview. Could you introduce yourself to the readers who may be hearing of you for the first time?
Hi everyone! My name is Josephine (Jojo), and I'm from Singapore. You might have seen me recently on two reality TV programs, "Miss Korea" S2 by CJ E&M and another K-Pop singing competition currently airing in Vietnam! I'm currently a dance instructor at Celine Jessandra School of Performing Arts – a pop music school based in Singapore!
What made you decide to audition for "Miss Korea Season 2"?
As someone who loves travelling and the performing arts, I saw "Miss Korea" as an opportunity to challenge myself. Being part of a reality TV series was something that's new to me, and when the producers of the program met up with myself to discuss, I knew it was going to be a platform where I could take on another adventure in a foreign land!
When did your interest in K-pop and dancing start?
I had begun performing from a young age, and my interest in K-pop started around the same time as the debut of the boyband TVXQ. A friend had shown me their video back then, and I was blown away by their ability to sing and dance, plus their awesome stage presence. I haven't looked back since!
What were some challenges you faced during this show?
In the midst of filming "Miss Korea", I suffered a bad fall which required stitches just above my lips. The doctors said it was quite serious, and I wasn't allowed to sing or dance for 2 weeks. I remember then I had an upcoming singing exam as seen in the episodes, and the injury affected me physically and mentally as I felt rather unprepared as the exam day drew closer.
Being primarily a dancer, having to focus on my vocals – and sometimes song-writing, threw me out of my comfort zone at first, but on hindsight, I really do appreciate the opportunity given to me to grow in these areas with the help of industry experts, not forgetting the help from my partner Julia!
---
---
In what way did your life change after the show?
One of the biggest differences is that I've been getting encouraging messages from both new and old followers, telling me that they have watched the show, in and turn inspiring them to go out there and chase their dreams! I've had people on the street also recognise me, coming up to have a chat about my experiences, and wanting to find out more about what I've been up to.
Most memorably, I met a lady on the train who was hearing-impaired, and despite her difficulty in communicating with me, she made the effort to type out a sweet and meaningful message to me.
Ultimately, I cherish the fact that I've managed to help people see that chasing one dream isn't that far off an idea. Because of their encouragement, I too have gathered more courage to continue pursuing my dream.  
What were some memorable experiences you had during the show?
The long lasting friendship I've gained with my partner-in-crime, Julia. Being locked in a house together with her for over 3 months, and then touring the sights and sounds of Seoul is something I'll always fondly look back on. We grew really close during our time spent there, and during the last few days of filming, we would both get really emotional knowing that our experience was going to be over soon!
I had a lot of fun making the music video as seen in the series' last episode, where we had to write and record the song "Bad" within two to three days. Almost immediately, we headed out of Seoul to a place known as Gangwondo, where we filmed the scenes, and had plenty of amazing bonding time with the production crew as well!
The trip was always going to be special as there was Julia alongside me. Two strangers crossing paths, so different from one another, yet hitting it off so well. Plus we were constantly creating havoc everywhere we went. We still keep in touch, and we know we'll always be supporting each other in whatever lies ahead for both of us!
How did you start working at CJ?
Celine Jessandra School of Performing Arts is an establishment of Pop Entertainment, a company that is well-known for pioneering the vocal and dance K-Pop wave in Singapore. It was founded in 2006, and I had the opportunity to be part of their performance crew shortly after. After training, I started teaching my first class around 2008, and I've been here ever since! Being here, I've been able to perform in front of groups like B2ST, BtoB, and several other groups who've performed in Singapore, so it's been awesome.
---
---
What do you do currently?
I'm currently focused on both teaching and performing with CJ, as well as catching up on several other passions like learning new languages – Korean and Japanese. I'm rather busy but definitely fulfilling!
Could you tell us about the singing competition that you are currently participating in?
It's a singing reality program – a Joint Korean / Vietnamese collaboration known as "Chinh Phục Ước Mơ," where six contestants representing the five ASEAN countries were selected to compete in Korea, with Vietnam serving as the host country.
What is your greatest takeaway from this experience?
I had the opportunity to be trained in the FNC training academy, where I worked with renowned instructors who have trained successful groups such as VIXX, BTS and G-friend amongst many others. I've also learned a lot from many of the other competitors, some of whom are recognised artistes in their own home country.
What are your plans for the future? Have your dreams/personal aspirations changed in any way because of "Miss Korea"?
I'm still very much into the whole singing and dancing concept, and I haven't changed much. Maybe it has spurred me on towards working harder and better in order to be where I want to be. I'm currently working with my management company on my upcoming blog where I'll be sharing my experiences with my followers soon and it's going to be exciting so readers should watch out for it!
Any final words for Kultscene readers?
I definitely hope that "Miss Korea Season 2" has provided the readers with ample laughs and entertainment, and that they have gotten to know both Julia and myself better! Most importantly, I wish for all the readers with dreams like myself to continue to work towards them, and never give up. Cliche as it might sound, it's still very sound advice!
---
Check out the first episode of  "Miss Korea Season 2"  right here, along with the music video created by Julia and Jojo.
Continue to look out for Jojo in the K-pop industry, and one day we may see her making her debut in Korea! What do you think of reality programs like "Miss Korea" ? Do you think there are ample opportunities for ordinary people to train and become K-pop artistes? Share your thoughts in the comment section below and be sure to subscribe to the site and follow us on Facebook, Twitter, Instagram, and Tumblr to keep up with all of our posts.
https://kultscene.com/wp-content/uploads/2015/05/jojo-feature-image-e1432915453265.jpg
410
722
Anna Cheang
http://kultscene.com/wp-content/uploads/2018/02/KULTSCENE-LOGO-2018-TRANSPARENT-RED.png
Anna Cheang
2015-05-29 15:55:24
2015-05-30 02:42:20
'Miss Korea' Season 2 Contestant Jojo Hung Discusses Trying To Make It As A K-Pop Star [Interview]